Hi Everyone,
Thank you so much for your kind comments from Sunday's post about the five British designers and one design company I featured. I'm sorry if I didn't include one of your favorites. Of course, all of them are magnificent!
Today is one of those posts where I'm flying high on a trapeze without a net.
What do I mean by that? Well, I'm doing a high-low Ben Pentreath based on that magnificent "candy jar" living room that I shared on Sunday.
The reason why I'm "flying without a net" is that I'm not sure if I can pull it off!
I've done other high-low posts in the past, such as this post from 2020. And also the Ralph Lauren and Steve Cordony posts. Both of those rooms feature green and white. These are easy palettes that most people will feel comfortable living with.
Today's high-low Ben Pentreath room is far more complex. However, some of my Laurel Home Palette Collection Palettes are actually quite similar.
But, before we go more deeply into Ben's design, what is meant by high-low, in the first place?
Or, how high is high, and how low is low?
Of course, I don't know everything in this room because a lot of it is out of sight.
Perhaps there's a small seating area by a fireplace.
In addition, if there are case goods and tables, are they fine antiques? Probably. Did some pieces come from an auction? Did the clients already possess any of these pieces?
And, what about the art?
The reality is that a room can cost millions of dollars. However, for this exercise, I believe that this room costs a minimum of $150,000.00. However, it could be ten times that amount.
Could it be done for less than 150k? Oh yes, a lot less. But, how much less, at this point, I'd only be guessing.
But, could it be done for 15k?
Sure, if you know how to upholster and sew well and have a super talented artist-child in the family-like Maura Endres has. I mean, the fabric alone in this room is more than $15,000.00.
There is one more image that shows a little more, to help with our high-low Ben Pentreath challenge.
That's a lovely color outside the room. Ben makes note of the "skirting board." (baseboard) being a muddy color which is necessary.
That's one of the keys, I think with working with a lot of pastel colors. There needs to be some gravitas in the form of black, brown and some a few muddy shades. So, I definitely agree with him. It's perfect.
Ben's style is rooted in tradition but has the commonplace English decor with lots of stuff around. Some Americans like that, and some don't.
Therefore, I think it's important to note that if doing a high-low Ben Pentreath room, we are doing it "in the manner of."
Okay, it's time to dive in.
The first thing I'm going to do is– never mind. hahaha. I always forget. It's not possible for me to source an entire large room (plus a little more) and it all together and then write about it, as well?
In addition, I was going to make a mood board. Nope. That's not happening either. However, I have put together a room of furniture inspired by Ben's room in the way of a widget coming up in a bit. By the way, Ben does give credit to his two associates who work for his firm.
@tamarahales and @dangelalansbury. These are their insta pages. However, both of them are private pages.
So, no, I didn't do everything I wanted to do. However, if I had a week, the first thing I always do is make a plan. Space planning. I outline how to do it in this post.
The object for me with space planning is to map out the space, not necessarily what will go in that space.
What will end up there is a function of what's needed and aesthetics. However, I think it helps to know the optimal sizes first.
Of course, there's no one right way to begin.
Remember the big living room wall post?
And, this is one of my favorite posts that goes over seven different living room layouts.
Okay, before I put in the widget, I want to say a few things about my attempt to do a high-low Ben Pentreath room.
Some things are next to impossible to get super cheap.
Yes, yes, I know. You scored a 19th-century black and gold lacquer chinoiserie cabinet at an estate sale for 200 bucks. The people were thrilled you were taking it off their hands.
Look, I think that's positively divine, and I'm happy for you. But, the chances of me finding such a thing are even less than my becoming pregnant. (Imagine that)
But, you get the point. And, without trying, I've come across some cheap treasures, as well, from time to time. However, if I am looking for it, no way.
It's like when you NEED a new dress for a special occasion.
You go to your favorite dress shop, and there's absolutely nothing you'd consider wearing.
So, how much did you "spend," Laurel?
Okay, please be gentle. ;] I did my best. But, to do it up the best I could, I needed to pretend to spend about 40 large. Yes, approximately $40,000.00. Hey, that's a lot better than $150,000.00 or more!
Could I go lower? Yes, I'm sure there are other ways to cut costs. For example, I cut out all of the original artwork unless it's free original artwork.
Please know, I'm not saying that artists don't deserve to be paid.
Of course, they do! But, I give out free advice all of the time. Some of you know what I'm talking about. An acquaintance might say, "Let's have lunch; I just want to pick your brain."
So, yes, artists definitely deserve to be paid. However, if you have a super-talented family member, or maybe you are a great painter, then it might be only the materials you're paying for.
Also, as I said earlier, you can save a bundle if you can sew.
Well, Laurel, what about getting furniture, say on Facebook marketplace, like sofas and chairs and reupholstering them?
Yes, you can do that. Or reupholster what you already have. But, here's what you need to know about that. If you're not doing the labor yourself and you live in a major metropolitan area, it's probably going to cost you about $1,500-$2,000 to have a typical sofa reupholstered. It's a tremendous job as they have to take the old sofa apart, down to the frame, and then build a new sofa as if from scratch.
That's not including the price of the fabric. That could cost you anywhere from $500 to $5,000 or more for an 84″ sofa!
But yes, I know that you might have found a workroom that will reupholster your sofa for $500.00. Please tell us who it is! haha!
What about all of that bullion fringe, Laurel? Don't you think it's a bit much to put that on every piece of furniture?
Well, actually, yes, I do. However, I believe the designers probably think that too. I think it's meant to be part of the fun of the room– fringe for days! But, of course, in your interpretation of Ben's room, you don't need to have bullion fringe on everything. I had a sofa years ago with bullion fringe, and I loved it.
So did Peaches.

Here he is, circa 2014, keeping my samples warm. Sooooo cute!
Okay, let's get back to our high-low Ben Pentreath super cool candy jar living room.
Do you Brits say living room? Or do you call it a parlor? I know my South African ex-laws called it a lounge.
As I said earlier in the post, we can't see a good portion of the room. However, I've seen other rooms that Ben has done. Oh, and I've been to his house in Dorset. lol
You can see just how thrilled those boys were to take a photo with my giggling self, but I wasn't leaving until someone took it. That was one of the best meals I ever had, prepared by Charlie McCormick, in the blue shirt. And, yes, they are both super tall, charming, and verrrry sweet!

There's my orange handbag! I thought it looked quite lovely amongst their lovely kitchen furnishings.
Incidentally, I love radiators like this when they make sense. Mine is running sideways, and it's in the way.
Here you can see Ben's and Charlie's Staffordshire Dogs on their mantel.
Here's a better shot of the mantel as I was walking in. Somehow I got the picture before they all poured through the door.
If you want to see more from my trip to England in 2017, you can look at the posts, beginning with this one.
And then, it's the next five posts. After that, the England posts trail off, but I like this one where I attempt to recreate the paint colors in Ben's home.
Okay, time for the furnishings widget. There's a brief caption underneath each image. If you click on the individual photos, you will be taken to the source where it's sold. Some things are one-of-a-kind, but many are not.

I hope you enjoyed the furniture I put together. Of course, I there's a little Laurel spin on it. That's the beauty of "copying." It's never the same as the original.
OH! I did find the pillow fabric. I did. But, I found it on some weird website, and it didn't say who it belonged to. I used the Laurel method as outlined in the back of Laurel's Rolodex, and it worked to find the fabric.
However, when I tried to put this photo, a much larger sample of the pattern into the Google images search box, and nothing came up at all.
Just one note before I sign off about the wall color.
Well, actually, what's in the room is wallpaper by De Gournay! As usual, I have no idea what it is. It's a gray blue-green. Of course, we will not be putting that in; we'll use paint. So, if you own the Laurel Home Paint Collection, there are many shades similar to Ben's room in the collection of 144 Benjamin Moore paint colors. And, there are also some wonderful Farrow and Ball gray blue-greens.
xo,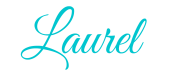 PS: Please check out the newly updated HOT SALES!