Hi Everyone,
I hope you're having a good week. I have some great news.
Yes, I have my Instagram account back!!!
I haven't posted yet, but I hope to soon. Please follow me if you aren't already.
***Oh, and please follow my gorgeous friend Natalie Reddell. (Commander in Chic)***
Natalie is not only super-talented in all things life-style related, she's a stunning beauty, the sweetest person ever, AND screamingly funny!
Like what happened to me, her Instagram was hacked, except in Natalie's case, she did not get her account back. No, the crooks DELETED everything she had worked years for and some 65,000 followers. Disgusting!
She's just starting to build it back up. You can also listen to Natalie's cool podcast here.
So, in honor of my getting my account back, I'm doing a post all about the color pink.
What does that have to do with Instagram?
Absolutely nothing. Haha, except the post is full of a lot of beauty, and getting my account back is a beautiful thing.
In addition, I'll be sharing some of my favorite designers who frequently use the color pink and do so beautifully.
Plus, there will be some of my favorite shades of pink paint.
But, hold on a sec. I see some glum faces out there.
Oh, I bet you're the folks who aren't so fond of the color pink. Am I right?
Okay, fair enough. I'm going to address that too. I'm hoping this post will change some of your minds. However, it's okay if it doesn't.
I do realize that some love the color pink, and some hate it.
This post will examine the color pink to discover why that is so and ways to incorporate the color pink in your interiors.
Poor Pink. It's really not fair that such a lovely, peaceful color has received the kind of treatment it has.
It all begins when we are born.
If you're a boy, you're assigned – BLUE
And, if a girl, you're assigned – PINK
(Remember those fraternal Pantone twin colors Rose Quartz and Serenity back in late 2015?)
So, right there, in one fell swoop, we made the color pink unacceptable for the male gender.
However, I do believe there is a trend to change that.
The Western Company
There ya go—a handsome young, blue-eyed model posing as a cowboy in a pink shirt. That works for me!
Still, for the majority, they wouldn't dream of dressing their BABY boy in pink.
And then, there are the associations we have with some shades of pink.
Bubble gum pink = cheap
Cotton candy pink = the same thing
Peptol Bismol pink = gastric upset
Adding these visions to the mix, and it's obvious why many of us don't conjure up good thoughts about the color pink.
However, the biggest issue with the color pink is that men have been brainwashed to see it as a feminine color and not one they would ever want to live with.
That is, at least American men. I do believe that European men might not have as big of a problem with the color pink. And, the British especially seem to love it, based on many walls painted pink I've seen.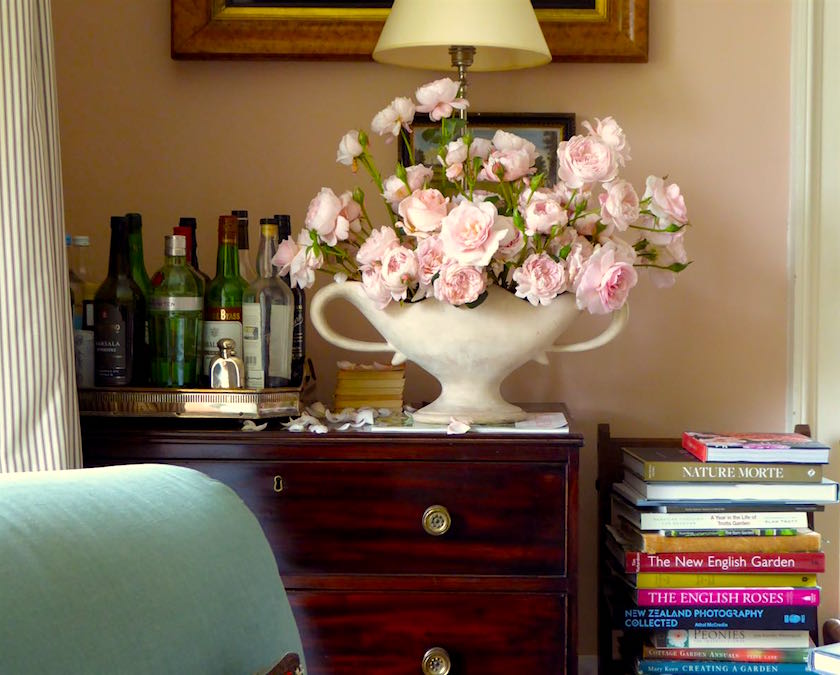 For instance, Ben Pentreath of the legendary warm-dusty-pink that I think I came pretty close to matching in this post.
So, how can we use the color pink in our interiors so that more men will like it?
What I think and what I believe is also great for all pink rooms to some extent is that there's a masculine Yang to give pink some oomph.
Above and below from the Laurel Home Paint and Palette Collection, Benjamin Moore Opal, a beautiful, warm, pale dusty pink.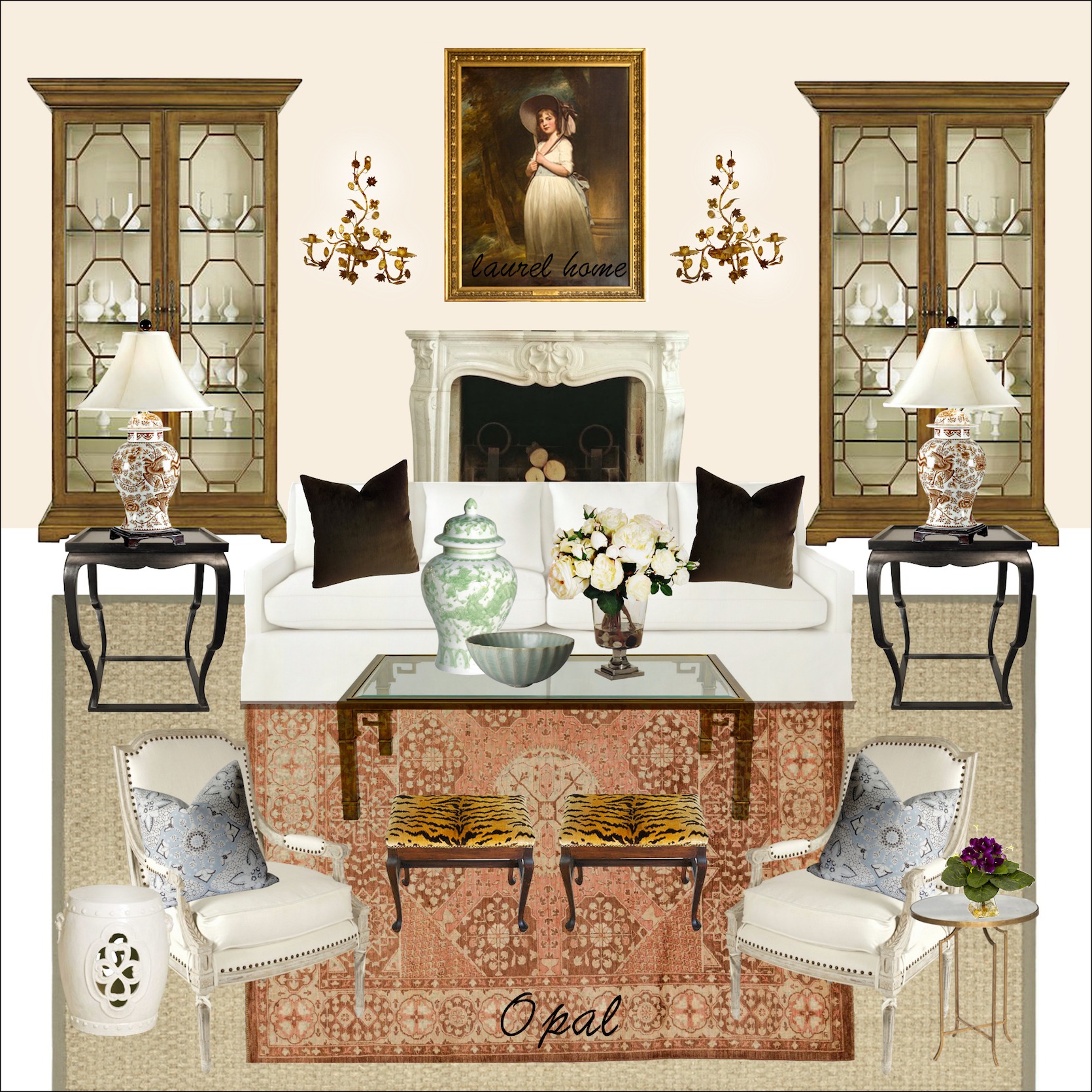 One of 40 mood boards in the Palette collection.
In addition, as you can see in this post, the paler, warmer pinks will appeal to more men.
In fact, some of these are so dusty that they are veering ever so close to the barfola "pinky-beige."
Alas, pinky-beige, if done right, is not so gag-awful.
I know you think I've been sniffing glue, but just trust me on that one for now.
Here, let me show you an example of pinky-beige-taupe that's beautifully done.
Penny Morrison via House & Garden
While it's not a clear pink, I think this is a shade of pink that most men wouldn't mind. And, I love the hunky charcoal color of the dining room walls. See how the deep color, plus the jewel-tone accents, bring life to a color that could very well not look so great.
There is an ancient post about rethinking pink, which you can read here.
And of course, much has been said about Ben Pentreath's gorgeous living rooms with pink walls.
You can see Ben's living room:
But many interior designers and lifestyle mavens are embracing the color pink.
And it's not just people born between 1980-2000 – aka Millenials and their favorite color – Millenial pink.
Aerin Lauder designs for Williams Sonoma Home.
Others who embrace the color pink
Suzanne Kasler
Suzanne brought her fondness for the color pink to her collection of home furnishings at Ballard Designs.
How charming is this, for a child's or guest room, by Suzanne Kasler, for Ballard Designs.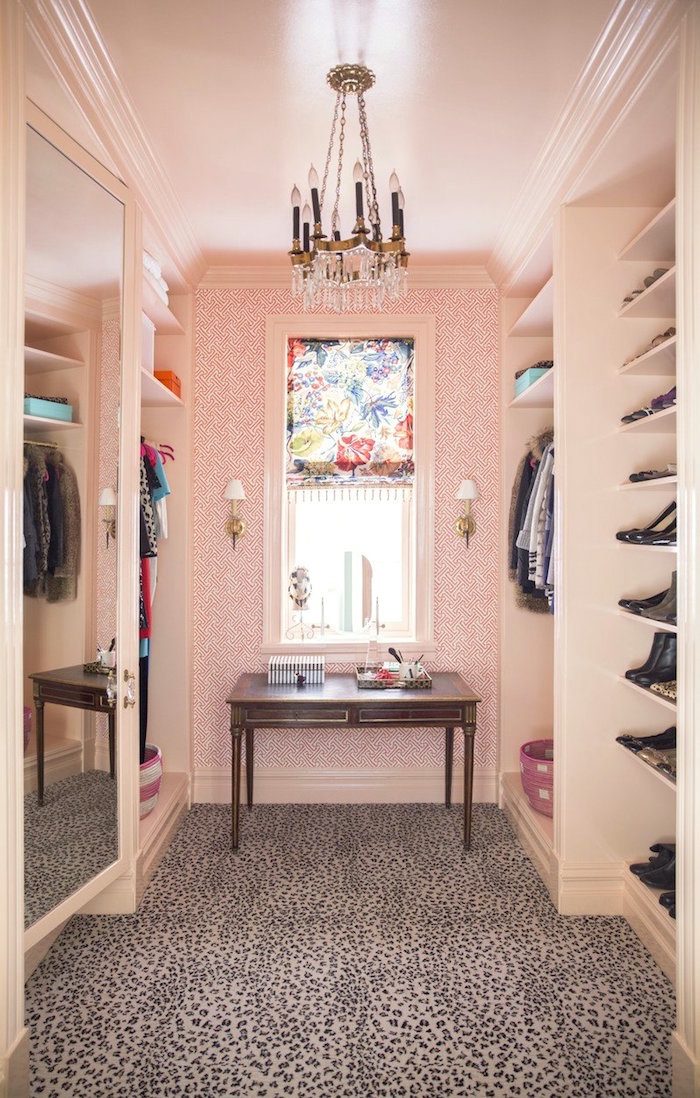 Fabulous pink closet!
India Hicks above and below loves pink!
You can see more of India here.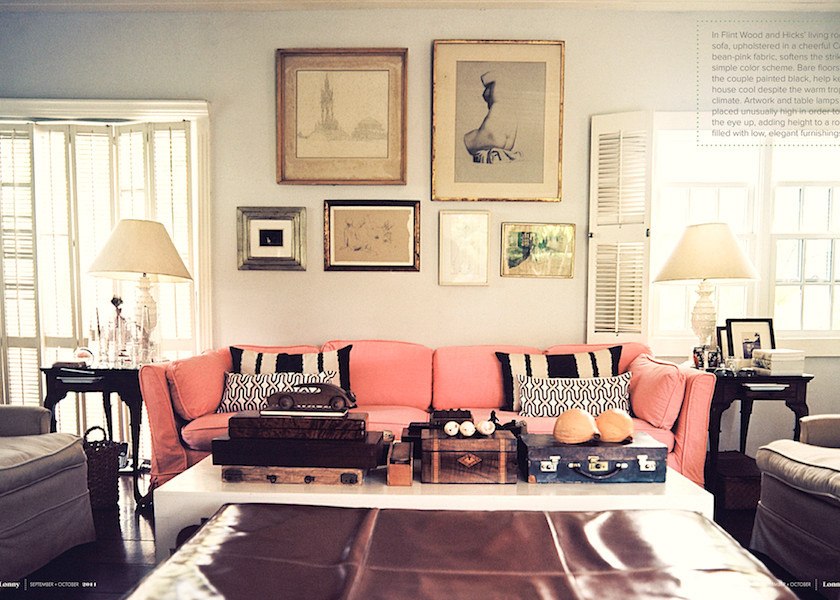 The touches of black look fantastic with pink!
India Hicks, who I was lucky to get to hear a talk a few years ago, ADORES pink. But, of course, she's British royalty (one of Princess Di's bridesmaids and a great, great, great-granddaughter of Queen Victoria!) Anyway, they adore pink!
Jamb Fireplace Mantels – London
Caroline Sieber London home library dining room
Edward_Hughes_-_Juliette_Gordon_Low 1887
The color pink is frequently seen in fine art.
Let's look at a detail of that dress.
And please check out the post about fireplace Mantel styling that this image was previously seen. There are a number of beautiful photos that have pink in them.
Pink is also a fabulous house color for doors and siding. At least it is in the south.
An oft-photographed door in Charleston, SC. Unfortunately, I could not find the photographer for this image.
Another lovely home with quite a weathered black door. But I love the classical surround, and the pink clapboard looks great!
In the Laurel Home Essential Paint Color/Paint Palette Collection, there are 9 gorgeous shades of the color pink. And there are 135 other beautiful colors—all colors by Benjamin Moore.
Thefullerview.Tumblr – pink peonies – via the style-cocktail
Below are three of the pink colors from the Laurel Home Collection.
You can see a room in opal here.
Here's a palette of colors with sunlit coral here.
You can read more about the Paint Collection here.
Another very pretty pink paint color is Farrow & Ball's Pink Ground.
It is probably their most popular pink paint color with a lovely amount of dusty warmth.
Ben Pentreath, London home, Pink Ground-Farrow & Ball walls
Above is the Ringwold wallpaper we did several years ago.
It's one of my favorite wallpaper patterns.

A beautiful, soft shade of pink
We also saw this room before in this post about ceiling paint colors.
And below, I created a widget with lots of beautiful home furnishings featuring the color pink.
Please click on any image for more information.

Well,  hope this post gave you some good ideas for using the color pink in your rooms.
So, for those of you non-pink lovers, how do you feel now? Please tell us in the comments.
The reality is that at night a warm, soft pink is probably the most flattering color there is. That's probably why so many bedrooms are the color pink, I think.
xo,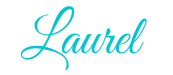 Please enjoy the newly updated HOT SALES!