Dear Laurel,
It should really be "Oh, Laurel,"
Ten years ago, we moved into our dream home. We built it. I did everything "right." I didn't want to muck this one up.
I mucked it up.
It's not that I hate my home, I hate the beige decor.
Beige, beige, beige
and more beige!
My decorator INSISTED that my penchant for white would look "dated."
Ha! If anything white, from what I can see is more wildly popular than ever; love it and I love gray too.
Some will say that gray is going to look dated too, but one of my favorite posts on your blog is the one you wrote about the fact that gray is an ages old classic color.
I also love the post about the cool gray paint colors and the warm gray paint colors.
Hmmmm… haven't seen anything about beige colors on your blog. Now, why is that Laurel?
Oh wait. You don't have to answer that one. I have the answer.
It's because beige decor SUCKS!
I'm a sucker for listening to that lame decorator. Totally kicking myself. And I can't even go and kill her, because she passed away two years ago. Geeezzz, I feel like a cruel, insensitive cow for even saying that!
You don't suppose that it was the beige that killed her do you? If it was that, then I'm sure to be next.
That is how much I hate it. In fact, it's made me feel a little ill since day one.
And yes, there's a husband. There's always a husband, isn't there? A husband who is as content as a bee in May– until I start opening up my yap about the beige decor!
Fortunately, I've been embezzling money from our bank account for our entire 15-year marriage and stashed it in a private money market.
You know… 100 dollars here, 50 dollars there. Believe me, he doesn't miss it. I look at it like saving for an emergency on top of our retirement savings.
Oh, stop looking at me like that! Yes, I know… I'm an awful person, but my mother did it and her mother…I come from a long line of wives-who-pilfer. In fact, we've started a facebook group! 🙂

Mom told me that it would come in handy one day. Well, she's right!
Painting, floor refinishing and a few pieces of furniture we've got covered; thanks to my youngest who blessedly stuffed an entire roll of toilet paper down the commode and caused a massive flood. We had the insurance adjuster over here like the next day. I read somewhere to do this because over time, the damage doesn't look as bad as when it's fresh. It worked. We got a good settlement.
The worst offenders are the kitchen. Beige on beige on beige and the three bathrooms. More of the same.
We picked up the " beige scheme" in the upholstery, rugs, pillows.
"Monochromatic is the way to go," she said.
Just writing that makes me throw up a little in my mouth. I want more gray and white.
Can you mix beige and gray? I doubt it.
Please. I've learned my lesson. Always follow one's instincts.
I will tell my husband that my mom gifted us $10,000. That's how much I have available. That doesn't include the insurance money. If I were to do this up the way I really want to do it, it would be at least an additional 30k, but that ain't happening.
Thanks,
Paige Onbayje
*********
Hi Paige,
Well, I think that you need to give your youngest a big box full of sharpies for his birthday and let him go to town!
As for the "stealing." Well, it's not a bad idea, to have a rainy day fund, but why not tell him that you're doing it? No judgment. (or at least not one that I'm publishing) ;] But you know your husband. And I do know that some couples have disparate ideas about money.
The good news and there's a lot of it, is that you're way ahead of the game with the catastrophe. We had a couple of insurance floods too. Thank God for faulty plumbing!
Okay, enough story telling. Let's get down to business with this beige decor debacle.
It sounds like the biggest problems are the kitchen and bathrooms.
Cabinets can be painted.
That was easy. Well, not easy, but doable.
But if the backsplash is beige and the counters are a beige stone, then it might look funny to have white cabinets.
Don't go TOO white. You'll still need to stay with a creamier tone for kitchen cabinets.
If there's room in the budget, I find that changing the vertical in-your-face elements is far more beneficial than the horizontal counters.
If there's an island, perhaps just change the island or the perimeter countertops, not both.
But over-all with a lot of beige decor, the problem isn't so much the beige. There are lots of beautiful beiges. The problem is the sameness– the lack of a beautiful, rich, complex color scheme. And usually the lack of both white and black and other dark colors.
I have harped on this numerous times and I am sure to keep on. As long as I see banal rooms that aren't quite coming together, because this rule wasn't heeded, I will continue my quest.
But it's more than that.
Let's not think just beige and gray, but other colors as well.
I also find that some gold is helpful to spice up a room.
And even in a monochromatic beige room, a shot of chartreuse or coral, dark blue– even brown can make it have more depth and beauty.
This is actually an extremely extensive subject because there are hundreds of ways we can go.
Here is a post from a year ago with a similar idea.
When it comes to beige decor, who says that beige and gray don't look good together?
Ever go the beach on a cloudy day?
Gray and Beige. Right?
Hey. If it's good enough for Mom Nature, it's good enough for me.
But we need to throw in a bit of drift wood, some seaweed, some pretty beach glass and a dead fish or two.
Francisco Miralles via Sothebys- Spanish Painting On The Beach
This turn of the century beauty is estimated to be worth between $20,000-$30,000.
Guess that's not in the budget. ;]
An ephemeral excerpt from a painting at Ruby Lane Antiques– $7,250.00 (not in the budget either)
A Sargent– priceless
Speaking of Sargents. This is actually my photo of his magnificent Spanish Dancer taken with my I-phone 7 two weekends ago! I was with my son, Cale at the Isabelle Stewart Gardener Museum in Boston where this beauty Lives. It is HUGE. This is not the entire painting. And the museum is wonderful too!
Alas, if you are looking for some soft decorative art that's far more affordable, here are a few things I'm loving these days.
And yes, we've been through this before. There's MORE affordable and local. I'm assuming that you live on a deserted island in a shack on the beach with high-speed internet.
This Soicher Marin Cloud print is so pretty!
Here it is again in this wonderful art wall, sold as a set and it's on sale too.
It's like they coordinate without looking all matchy.
The dimensions of these don't show on the page, but I have a geeky way of getting them.
Here they are, clockwise from top left
41.5″ x 23.5″          6.5″ x 23.5″ 6.5″ x 23.5″
13.5″ x 31.5″         21.5″ x 17.5″
Fabulous vignette from Studio McGee. They say that they have the art piece above in their studio.
Did you know that they have a fabulous shop on their website?
Well, they do and it's one of the nicest collections out there, I think.
And here's one of my favorite fabrics in gray and beige.
Schumacher's Hothouse Flowers in Mineral
Here it is done up in a pillow from Spark Modern
And now for some more roomspiration (and some furniture too)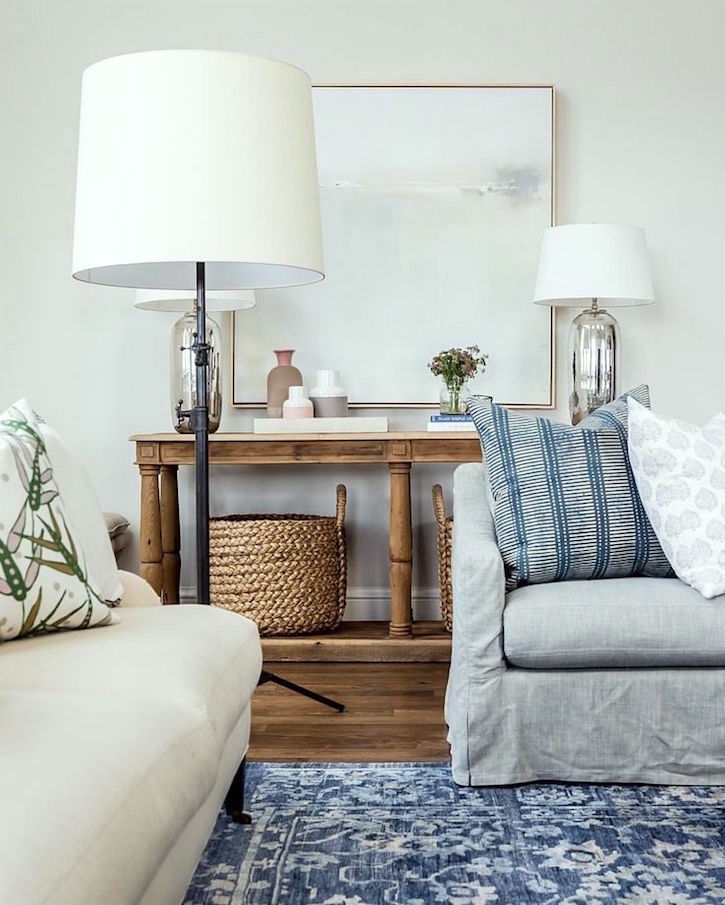 Another beautiful vignette from Studio McGee.
When you think about it, we're almost always working with beige or brown if we have a hardwood floor and any other wood for that matter.
Gorgeous Miramar rug that they sell on their website
Here are a few of the dozens of rugs that from McGee & Co.
And they have a lot of gorgeous classic contemporary and new trad furniture.
It's a little like hiring them, but not really. :]
Fabulous pillows to light up a blah beige room. (they have a lot more than this)
Incredibly stylish home of Sara Ruffin Costello. You can see the rest of it here.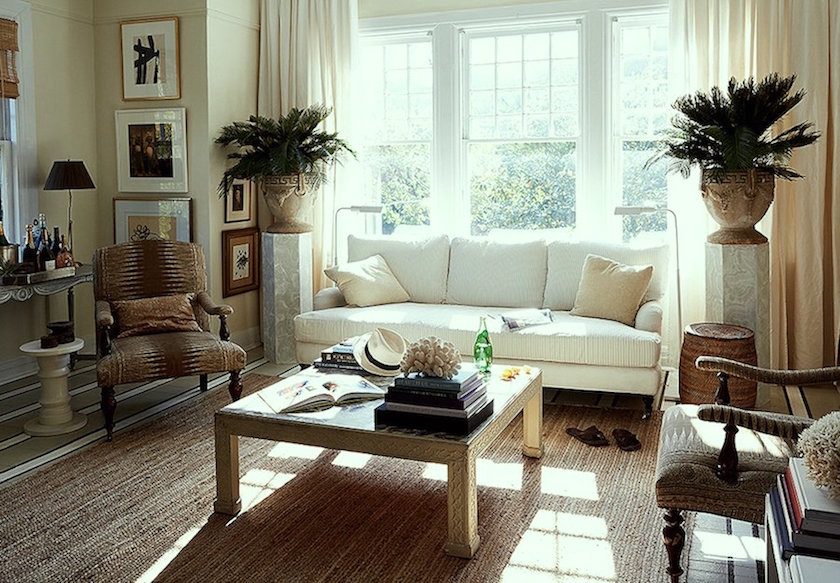 William McLure does tone on tone beige (and everything else) to perfection.
BTW, his beautiful doggie, Baylor passed away recently.
Lovely den in shades of gray, beige and brown  – all furniture from Williams Sonoma Home
Lovely ottoman from Williams Sonoma Home
And the faux bois occasional table is so chic.
I always love finding these small tables to use when there's not enough space for something larger or next to a slipper chair.

In fact, Williams Sonoma Home seems to specialize in gray and beige furnishings!

Love Williams Sonoma Home and they are having a 20% off sale at this time.
No pressure, but today's the last day!
And now for a little treat to spice up your beige decor
In honor or the one year Anniversary of the Laurel Home Essential Paint Collection and the six month Anniversary of the coordinating Palette and Home Furnishings Collection, I've created three coordinating palettes using colors from the collection. I think it's a total of 23 out of the 144 colors.
For paint collection owners, yes, I know. I owe you a monthly bonus board!
I promise to get it to you tomorrow.

Palette number one has lots of whites, pale and dark grays, a little beige and a hit of chartreuse; plus that wonderful, warm bronze-y color Cleveland Green.
For those of you who don't own the Paint Palette Collection. (yet) :]
The idea behind these palettes is not that you go and paint each room in your home one of these colors. No way! You might use two or three, OR you can also combine these palettes with other palettes in the same palette family. It's all spelled out in the two-part guide which is nearly 500 pages filled with tons of info and inspo.
The palette indicates the colors that work together. They might be in a piece or art or a fabric. And of course, you don't have to use all of them. Paint collection owners have 40 boards along with the furnishings and sources!
Palette #2 incorporates more color.
I added in another row including some deep blues and a wonderful coral.
But you could also add in more greens or even green and blue. Like I said, there are a myriad of different ways to go.
And because I love squares, here's a square palette with just the neutrals and blues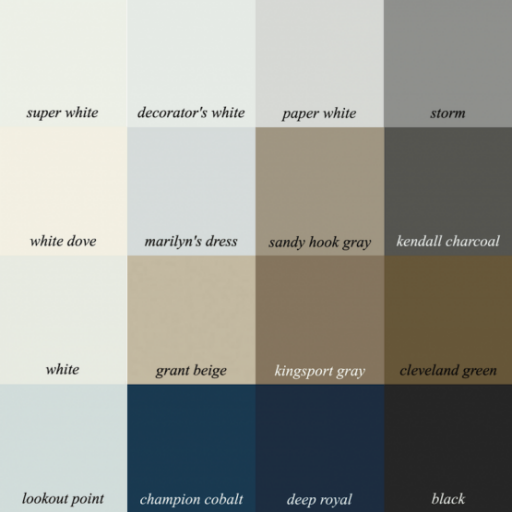 The upshot to all of this is that beige is not a dirty word. Even if you only had a few hundred to spend, there's so much one can do with accents and art to wake up a room.
Room we did a couple of years ago.
And a bunch of yellow-green hydrangeas always works!
xo,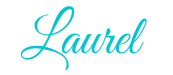 PS: If you're still looking for ideas for Father's Day please check out a curated collection I put together. You're still in good time for the 18th.