Hi everyone! Surprise! Sarah McGee here, reporting live for duty. I'm super-duper excited to give Laurel a hand this week!
(please be gentle; I'm a blogging virgin!)
Laurel received this letter recently from Bianca, who throws the most delightfully detailed dinners I've ever seen. I would include the images of parties she's shared, but she'd rather keep that private for now.
Instead, ala Laurel, please enjoy this painting by John Singer Sargent.
"My Dining Room" (also known as The Lunch Table) John Singer Sargent – circa 1883-1896 Smith College Museum of Art – Northampton, Massachusetts (United States) Painting – oil on canvas
I can tell you, however, that there is not one item Bianca overlooks when she decides to celebrate with her friends and loved ones; from cocktails, to the menu and especially the tablescapes.
Here's what she wrote Laurel about the issues with her eclectic dining room:
Dear Laurel,
"…When I set the table, I never look only at the table. It has to work with the whole room, and I have never seen a room that will work for people like me (I know I'm not the only one) who love tableware. Pinterest is full of people like me…
I found your blog several months ago and I've been slowly reading all the old posts, but found nothing addressing my particular problem:
How do you design a dining room for someone who LOVES to cook, coordinates the table setting to the food, and owns about 20 different sets of dishes? Most are simple but some have a pattern and they're all different colors.
Our dining room used to have a red oriental rug under the table but I took it out because it didn't work with the rust tablecloth I use for Halloween and Thanksgiving, or the green dishes I use in summer. I covered the rust chairs in cheap black slip covers because they didn't work with the red tablecloth I use at xmas, or the pink dishes I use in spring. The room really needs a rug (floor is Canadian birch) but what color goes with everything? I have some dishes that are white, and some that are ivory.
The dining rooms you've featured are all gorgeous, but most of them aren't set for eating, and the few that are have the dishes coordinated with the room. While I love that idea… I could never make do with just one set…"
-Bianca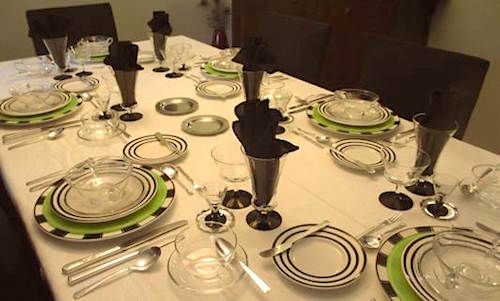 Dearest Bianca,
It's Sarah McGee aka: McGizzles on instagram. Maybe you remember me from a post that Laurel did about me several weeks ago. Shock of the day, number one.
Then, shock of the day number two, she asked me if I was interested in giving you a hand because she knows that I adore dishes and I said, "is that a question? I'm on it sister!"
Therefore, I will answer your question with my deepest thoughts on your already charming eclectic dining room – just, um……. give me a second while I…erm…pardon me, but I have to…
SQUEEEEEEEEEEEEEEEEEEEEEEEEEEEEEEEEEEEEEEEEEEE all over the place because I'm writing on Laurel Bern's blog!!! There could be a Laurel fan club and I'd be all up in it. She's the coolest, kind, funny and talented but keeps it real. I'm trippin' out right now. And seeing myself running around and high-fiving all the other readers!
I mean I can't even, can you even?
Okay. Sorry. I've taken deep breaths and collected myself.
ish.
BACK to you, lovely Bianca, and your Dining Dilemma (holy cow, I did not know how to spell dilemma – on my third attempt spellcheck just filled in with "lmao").
Ah. I see why you're frustrated, B! You have some seriously knock-out place settings with tons of personality, but when we put them in this room, they sort of go lifeless.
Or have too much life. Either way, I'm feeling a disconnect and the balance is off. And while we want your hard work on your table to shine, we need to set it up with the proper backdrop for a beautiful eclectic dining room!
In order for the table to look pretty, the whole room needs to support that. When we walk into a room, we're taking it all in at once as a whole. The big picture, so to speak. It's the ambiance, the feeling we're after first, then we move on to appreciating the details.
Additionally, we want our elements to compliment each other, but not be matchy-matchy pants. We aren't all about decorating garanimals-style (you millennials may have to ask siri about garanimals). ;]
So.
Where do we start?
We start with eclectic dining room inspo!!!
And that means colors schemes, furniture, lighting and accessories. And it doesn't have to be a dining room. It's the feeling, we are after.
As I like to have choices, I am going to consider a few directions and narrow it down from there.
First up, a boring ol' answer; if you want to coordinate with every color ever, then we go neutral and play nice. And don't get me wrong. Neutral is gorgeous. I'm a big fan of neutral.
But, in this case, with the Victorian cupboard and the colorful dishes, it's not going to work. We need COLOR!
And I feel that the room needs to be more fun, like the dishes.
Laurel talked about painted ceilings here:
https://laurelberninteriors.com/georgeous-ceiling-paint-colors-and-one-thats-often-not/
That might be an option to consider.
I don't want to spend a ton of time on neutrals, so I'm going to move on to my next option.
When I'm in doubt about a color story that plays well with others, I go to my tried and true scheme: black, white and green.
From now on, I'll refer to them as "BWG." Those are the colors that go with EVERYTHING!
BWG is like the cool group of girls that you've always wanted to hang with, And they're so cool that they will play well with just about anyone.
This BWG color scheme is versatile in that it can be classic and timeless; while at the same time, it can be fresh enough to earn a slap from your mama. 😉
When I look through these images, I can't think of a color that would give me a case of the sads if introduced to the mix: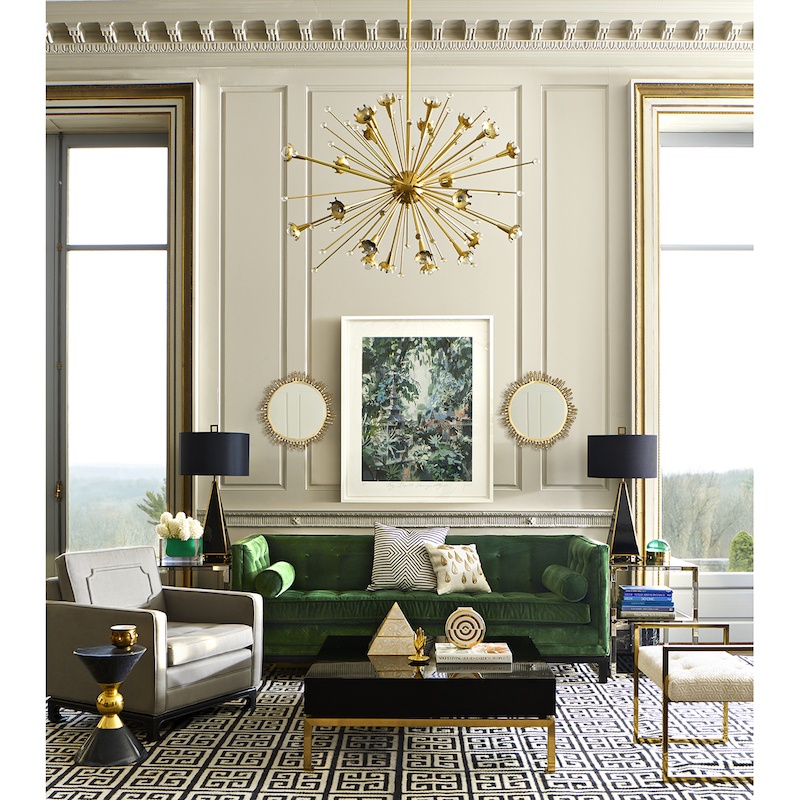 (oh! I just saw that they are have a huuuuuuuge sale right now!)
Daniel Romualdez for Tory Burch
(there's an interesting story about Kelly in that link above)
Now, to introduce a little more color
Ben Pentreath managed to pair BWG with grey and purple. PURPLE! Who'da thunk? Right?
Oh, I forgot to mention Bianca loves art deco!
My face is a big ole heart faced emoji.
And if I could get a drum-roll or something of the sort, I would like to suggest the following. Now, this may make you nervous, B, but please hear me out.
If you want to use any color dishes/table cloth/glassware, might I suggest making your dining room color friendly and using
EVERY

.
COLOR

.
E

V

E

R

.
Okay. Maybe not quite that dramatic, but I'm proposing that we embrace LOTS of colors. I happen to think this is what's around the corner as far as "trends" go. And if I have only one super power, it would be that I'm pretty good at trend predicting.
However, I do not find the following images to be "trendy". I think they are timeless in that the people who live in these rooms love these rooms. And that's what really counts, guys. To L O V E your home. To that end, I urge you to take some risks.
Don't be afraid.
Do what you want, do what gives you the happies!
And if people don't "get" it they can suck an egg.
K?
Every room that I ever get an effusive compliment on in my own home is always a room that I've just went all in on, no apologies. Because it shows who we are!
There's love in that and personality and it comes through and speaks to the guests you care to share your home with.
And now here's for some real fun. Check out these talented designers who I admire immensely.
Colette Van Den Thillart house
Love her work!
Above and below by the insanely talented Summer Thornton. I've been a long time fan of hers and I know that Laurel is too.
For more of Summer Thornton, you can click here, here, here, here and here.
Dining room by interior designer Summer Thornton featuring F Schumacher Miles Redd Brighton Pavillion wallpaper
Look at this. Just look at it!
le sigh…..
There's another great pic of that glorious wallpaper here.
Now I feel the urge to go repaint every room of my house. Before I do that, though, I will get my head out of the clouds, dear Bianca, and tell you what I would do. And I'm going to work very hard not to completely break the bank!
Let's revisit our pic of Bianca's eclectic dining room, as is now:
Bianca has a list of musts.
She needs to keep the following (for now):
Chairs
Table
Paint color – Although, if there was one relatively cheap fix she could do, I would definitely paint the walls are a far more saturated green. Laurel has at least four greens I could see in this room in her paint collection.
At least one of the storage pieces
She needs to keep quite a few of her items, as she doesn't have the funds to make big adjustments right now (sounds familiar, I know that pain, sister), but as Laurel always says, we need to have a plan.
When you settle on the plan, keep the plan. Love the plan. Protect the plan. Now I've said plan so much that it sounds funny. plan plaaaaaaaaan.
Break down your plan into a prioritized check list and check things off as you're able to get to them.
But the biggest, most helpful element you can do for yourself is to KEEP FOCUSED ON THE PLAN. It's very very very easy to stray from the path and be distracted by other shiny objects along the way. Don't do it! It's a waste of time and money.
That is how an eclectic dining room can go from cool to crazy-pants-horror-show in no time.
Might I share my suggestions for said plan?
Cool! Don't mind if I do.
Let me say: I adore the cupboard/dresser to the left. It's absolutely beautiful. Sadly, though, I feel that this big guy is too big for the room. It's rather massive. And the one place it could work, which is against the back wall, actually won't work, as it leaves no room for an end chair.
I'm going to suggest moving that big boy out of the room and using the buffet for storage and serving. I would move it to the wall where the cupboard used to be. To pretty it up, I would consider using a great mirror for added light.

I love the villa mirror from Aperture Mirror from Anthropologie!
Maybe we could put a lovely patisserie stand for interest?
She has enough dishes and other lovelies to do some gorg accessorizing.
Next up, and I believe is the most important, the back wall. That is our focal point.

Now these Chinoiserie  dudes from William Sonoma are pretty pricey. But they are gorgeous and they offer a heck of a bang for the buck. They incorporate a nice palette of colors, that will help free up some choices when designing your tablescape:
Another idea that would be quite charming and a lot less $$$ are these colorful prints from Ballard Designs
Now that we have that finished let's put something on the check list to get to later. How about we give a nod to Bianca's love of art deco, and use this paper?
In the whooooooooole room.
Golden Geo Removable Wallpaper – Walls Need Love
Self-Adhesive Wallpaper?
Oh yeah, now we're talking.
OR, we could have an accent wall in the back with beautiful flowers and an art wall on the adjacent wall.
Now, let's choose a new chandelier
I looked at numerous chandeliers and feel that this piece is very important
That will do very nicely I think. It's stylish and fun!
You can see it in a room here.
This Alabaster buffet lamp from John Richard would add beautiful lighting to the buffet.
And then to round out the lighting, I would add two lovely sconces flanking the mirror over the buffet. check out these beautiful sconces!
If Bianca paints the room a more saturated color, I would do a sea grass rug.
Laurel has linked to a really affordable one in her collection of beautiful rugs on sale.
Otherwise, this handsome Anatolia hand-knotted rug at Williams Sonoma Home is so awesome. I love the antique look of it! And it just happens to be on sale right now. 20% off. Use code: HOME  – That's easy.
By the way. Have you seen Laurel's Hot Sale's page? I want everything on the vintage page. And do you know that she has hot clothes on sale too? Those leopard pumps on sale at Ann Taylor have my name on them! But I'll let you pick up a pair too. But really, she finds such pretty things and looks especially for items with super high ratings and/or she owns some of the hot clothes as well.
Oh, one last thing for the plan
I would definitely consider switching out the chairs down the road… Or up the road, if possible as this chair is on sale! It's perfect!
Loving this classic Tia dining chair from Anthropologie and as I said, it's on sale and under $300! I think it looks a lot more expensive than that. And it's fine that the woods aren't all matchy as long as the tones coordinate.
Well, I could keep going… But I'm sure that you have better things to do like clean your oven? 😉
Do you guys have any ideas, you'd like to share?
The mood board above includes a few different ideas.  Hope that you guys like it. It's always a challenge coming into the middle of a situation. But I think that adding a lot more color will help make the room feel more cohesive– and fun!
*Please keep in mind, I'm not working with actual dimensions here, we always need to measure twice before making commitments. These are more of an idea for direction and scale.*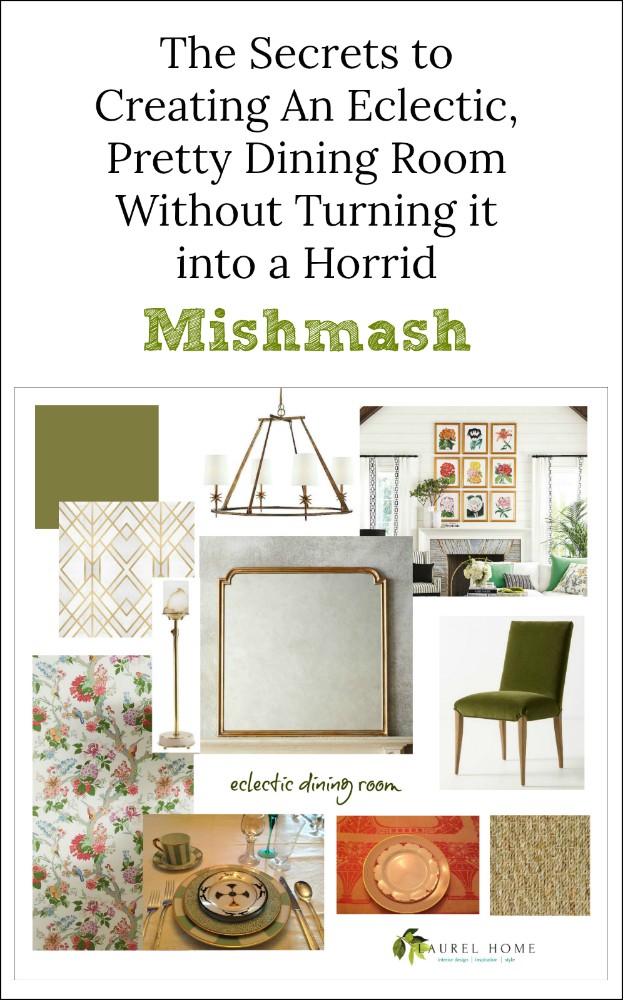 Love and good luck to you, Bianca, on whatever direction you decide to head towards!
Thank you again, Laurel for trusting me with your blog!
xo,
Sarah
aka @mcgizzles on instagram. Please follow me. I'd be tickled green!
PS: MOM! MOM! Look at me! I'm on Laurel's blog!