First, let's discuss what an open concept home is. (in case you've never heard of that term.)
It's a home where the common living spaces, great-room/family/living + kitchen + dining are all open to each other.
It's a concept, alright. But is it a good idea?
It depends.
It's certainly a contemporary affectation and if one frequently has large gatherings and enjoys that aesthetic, then sure, but otherwise, I would consider this option very carefully–especially for a smaller home. And, if you'd like help fixing your open concept too open home, please check out this post.
And, you might also enjoy this post about an open concept loft space in San Diego I pretend renovated.
Recently, an apartment, actually one that is exactly like my apartment went on the market.
It was sold in 2014 months for 167k. The new owners did a massive renovation which included an open concept floor plan. And for some reason, are selling it just months later.
However, before I get started here, I want to emphasize that my aim is not to embarrass or make it difficult for this apartment to sell.
With this apartment remodel, they've done a fine job of that on their own, IMO.
And, not everything is bad. In fact, a few aspects are rather nice. However, there is much going on with this renovation that I think is going to make this place difficult to sell.
The point here is to learn and grow as homeowners and designers so that we don't make the same mistakes.
And believe me, I would be very happy to wrong about this apartment remodel.
However, remember this apartment mess for sale from last August?
Not to gloat, (too much) :] but it has enjoyed a modest price-cut and it is still as predicted, on the market.
However, make no mistake; the apartment like mine did need some attention. But, it got a little too much attention.
Before embarking on a major renovation of any kind including an apartment remodel, a checklist is in order
In this case, we know that apartments, especially have a finite cap. It's up to the owner, but if it's important not to spend more than the place is worth, that is an important consideration.
How old is the home and what style?
Our building is a gracious traditional-Tudor style building with thick walls, large windows, high ceilings, architectural mouldings, ribbon banded oak floors. And it was built in 1927.
I think it's very important to respect the age of the building.
The inhabitants. How old are they? Are there children?
What is the neighborhood like?
What are the other homes like?
The ages of the adults in my building range from 25 – 120. ;]
This apartment for sale is exactly like mine except it does not have the bay window in the living room which you'll see in a sec, but otherwise, it was exactly the same.
I say, was because it is very different now.
Now, I'm sharing with you several photos of my place when it was empty back in 2012, so that you can see more clearly the changes.
When you walk into the apartment, you enter a cozy vestibule (where the realtor is standing) which is one of my favorite parts. To the right as you walk in, is the kitchen and straight ahead is the living room.
My charming entry with ribbon banded mahogany inlay on oak floors. The kitchen is on the left and hallway at the bottom left. This is the favorite part of my apartment because this entry and the little hall it connects to connect to the living kitchen, living room, bathroom, closets and bedroom.
You do not need to walk through any living spaces to get to another living space.
Most one-bedroom apartments have a design which requires one to walk through the living room to get to the bedroom.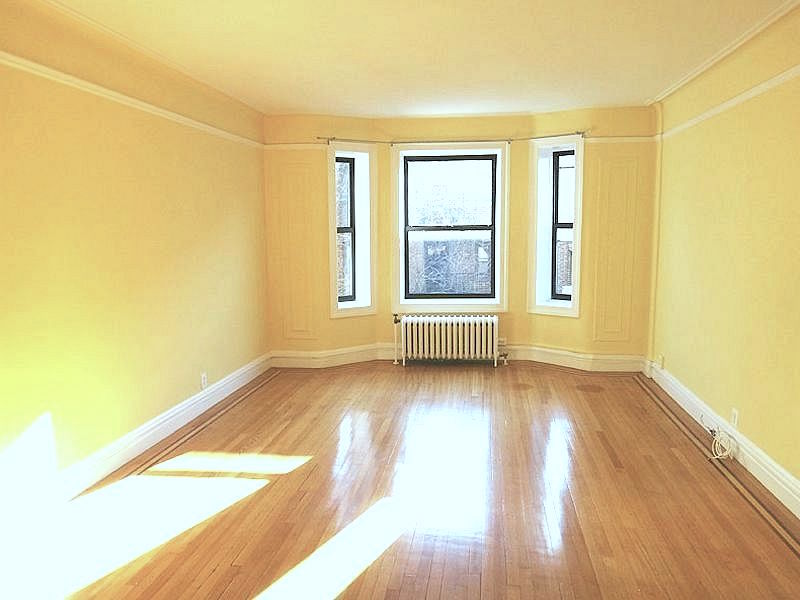 My sunny living room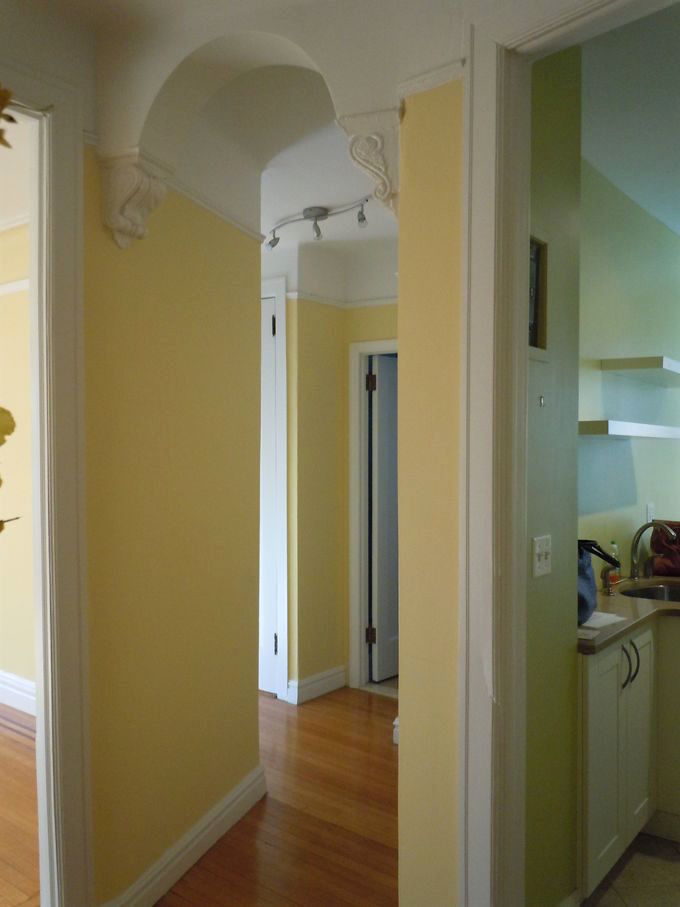 Just past the kitchen which you can see the sliver of yellow-green is more of my favorite part, connecting the welcoming entry. I adore this small winding hallway with a lovely arch and corbels. EVERY apartment in the building has at least one of these arched doorways with decorative corbels.
EVERY ONE.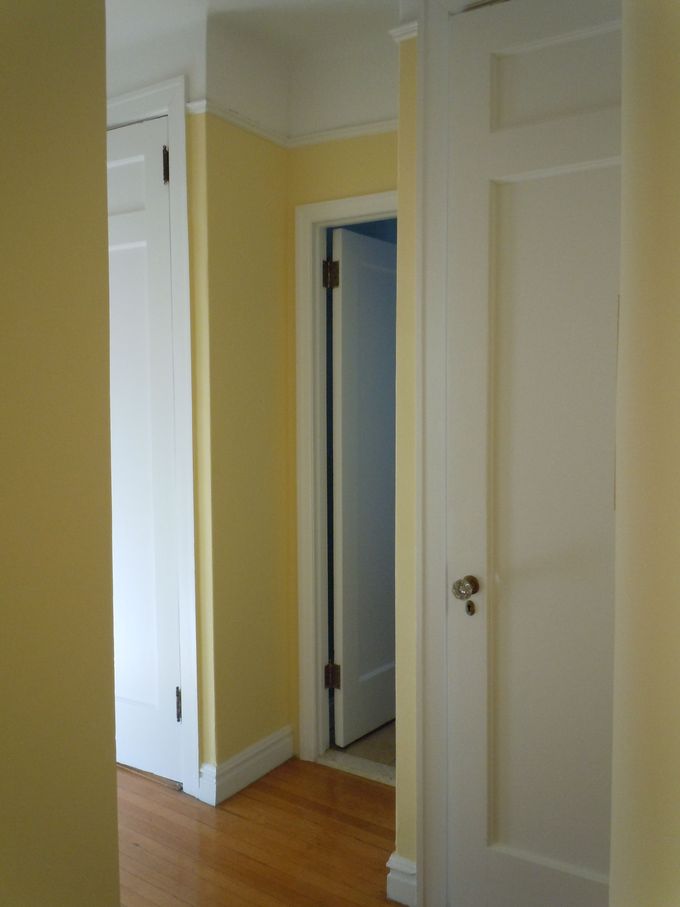 Walking through the little winding hall, we come to a closet that I use as a utility closet.
Next, is the bathroom.
Then another closet
What I love about this hallway is that one cannot see the bedroom from the entrance. There is a sense that the apartment might keep on going. I think this makes the apartment feel more home-like. And I love that one does not have to walk through any room to get to another room!
And then finally is the bedroom. For a more updated version of my bedroom please look here.
Awww… back in early 2013 with my darling Peaches who passed away on Dec. 2, 2014.
I miss you so much Snooky!
And, please note the plethora of paint samples thrown across the bed.
As an aside, here's the proof that I, too, can obsess about paint colors with the best of 'em. It's why I put together this nearly 500 page, two volume paint and palette guide to help with the selection of your paint colors.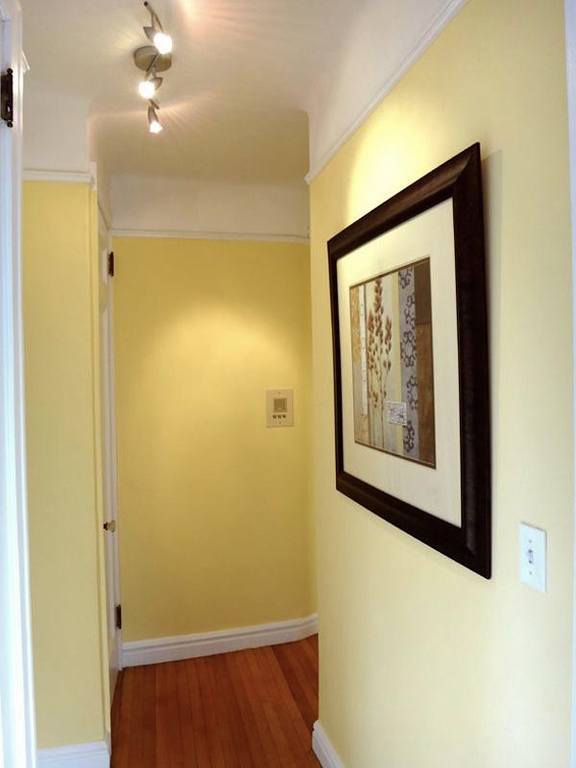 Looking back from the bedroom at the winding hallway. (bathroom and closets are on the left)
Because of the way this is configured, if one has a guest staying in the living room like when my sons come to visit, I can barely hear a thing. We put my Zuber screen over the door-way and it is also very private for them.
A look back from the living room into the entry, kitchen and then the beginning of the winding hall on the far left of the entrance.
Here is the same view from the newly renovated apartment.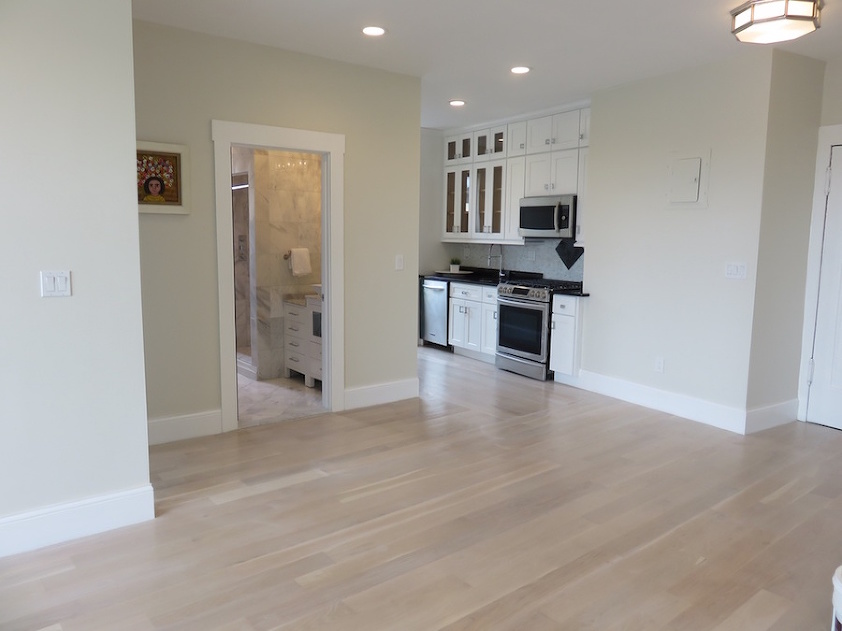 Gone is the cozy entrance; you walk straight into the living room.
In addition, gone is the charming cove ceiling and all of the mouldings, the arched doorway. and ALL of the walls.
Above is a sketch of my apartment drawn to scale.
The open concept apartment remodel – floor plan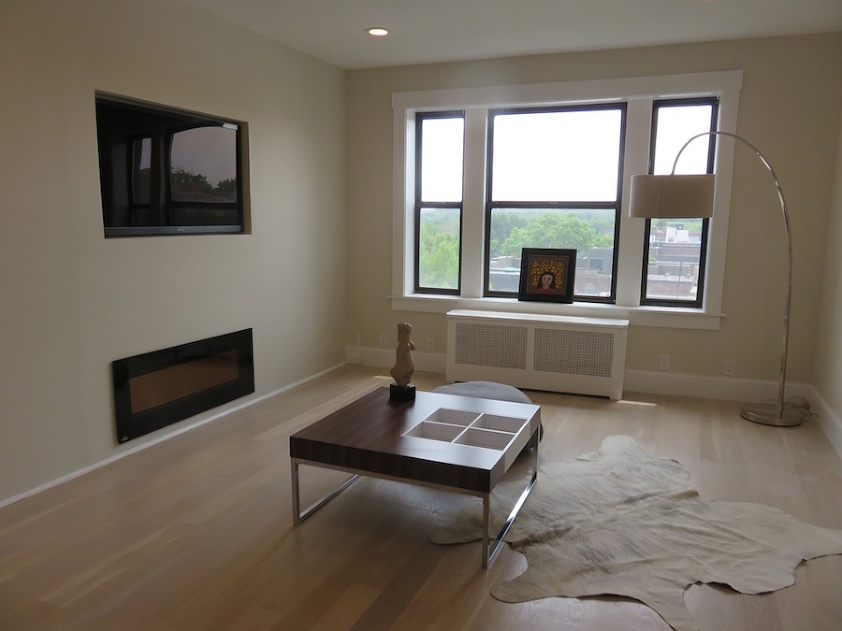 The living room stripped of all architectural features including the wonderful cove ceiling details and all mouldings. Click here for some great ideas for treating a long interrupted living room wall.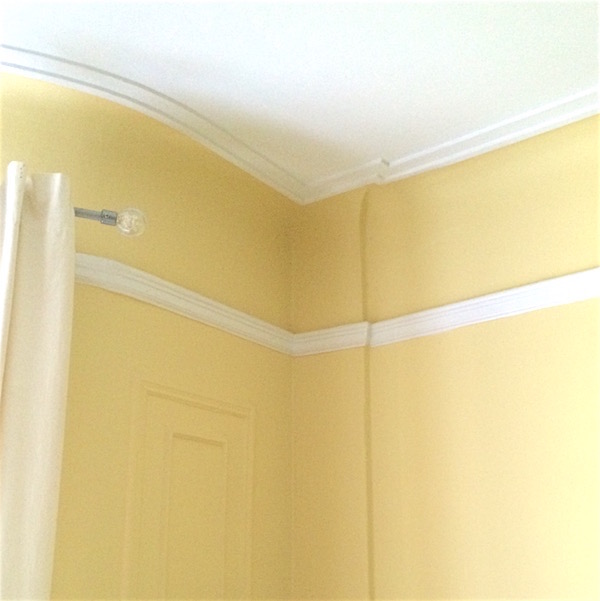 Here, you can see my apartment with the cove ceiling and moulding. I love the curved wall which becomes the bay window. Here are some great ideas for the best bay window treatments and measuring guide.
True, the renovated apartment is different as it hasd no bay window to begin with, but it did have everything else.
Above and below the apartment remodel.
Actually, I did find two very small images before the reno, to show you what it once was. (clashing colors aside.)
Yes, this is the same place two years ago. Please notice that the original floors look to be in great shape.
Folks, please let me remind you that this is a very quiet building. There are no parties here.
NEVER. And at least half of the inhabitants are over 60.
This looks like a swinger's pad. Right?
These people need a lot of space to well… swing, I guess.
But let's look at the first image again.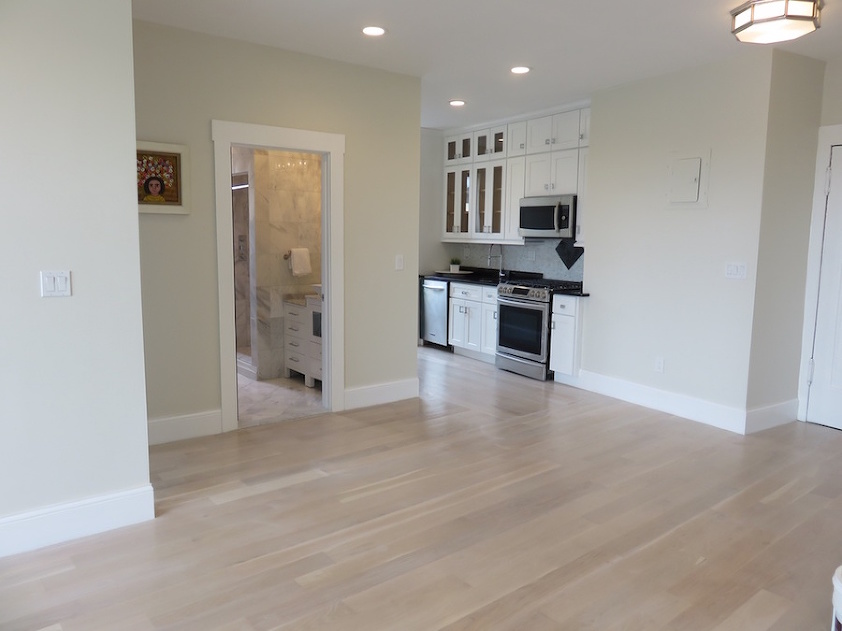 See, it goes like this.
You are a guest at a party at the swinger's apartment when suddenly you have to make  a poo.
You go into the bathroom to make a poo and when you come out everyone is going to know that YOU were the one who made the big stinky poo.
—because the john is in the middle of the LIVING ROOM.
No, wait; that's not right.
It's actually in the middle of the DINING ROOM!
***
Oh, I'm just warming up.
Please observe what else is missing.
BOTH CLOSETS that were flanking the bathroom.
In all fairness, they probably did create an access to the one closest to the bedroom from the bedroom, but they don't show that.
Still, this place is already low on closets and to take that one out just to make the bathroom longer, is not a fair trade, IMO.
Let's go into the bathroom to see what's doing there. (that's a New York colloquialism, if you don't already know that.)
I am positive that this bathroom had the original subway tile from 1927.
The bathroom. pre-renovation would've looked like the one above.
After.
I don't mind the bathroom. However, I don't understand why the vanity is on two levels and I wouldn't have clad the walls in marble. But I don't hate it.
There's no tub. There are some people who absolutely must have a tub and if you don't have one, they are probably not going to buy your place.
Aside from all of that, the bathroom is by far the best part of this reno.
Let's scoot over to the bedroom.
My bedroom is actually the favorite part of my apartment.
It's what SOLD me on this place.
Here, stripped of every vestige of its former glory, it looks like one of the rooms at the new hospital cardiac unit they built down the road.
No mouldings.
And what is going on with the window and door casings in this mess of an apartment remodel?
To find out the appropriate window and door casings,(interior trim) click here.

They stuck up some flat boards, didn't even bother to miter the corners and the top rail hangs off like some Adirondack hunting lodge. (in fact, the home of my former boyfriend, 3.5 years later does have this kind of moulding!)
Laurel???
Yes?
When are you going to talk about the floors?
I am not going to talk about the fake hardwood floors; the fact that they took perfectly gorgeous vintage floors– removed them, along with that wonderful ribbon mahogany banding and then stained the new ones the color of cat gromitz. I'm not going to talk about that.
But I am going to talk about the fact that they chose a white paint which clashes horribly with the pinky beige floors and then they put in a lot of gray marble which also clashes with the floors AND the walls.
I'm also not going to talk about the big black monolith they embedded in the wall in the living room. Here are some great alternatives for hiding the TV.
Of course, swingers like TVs, I guess. But swingers do not live in this building.
If only, but I have yet to find evidence of the like in three and a half years.
APARTMENT REMODEL – THE KITCHEN
At first glance, the kitchen has some very good points like the cabinets going all the way up to the ceiling. Bravo!
However, the first thing to catch my eye is the clashing back splash.
And what IS that thing over the stove? Anyone?
Why do people feel the need to embellish that which requires no embellishment?
However, I'm dwelling on minutiae when the most important issue is that they created a kitchen without enough cabinets and no counter space.
It's a galley kitchen, but for some reason, they chose to make it a one-sided kitchen. It doesn't help that they removed the wall that was there, but I guess they wanted a larger dining area outside the bathroom?
What else?
The fridge. I would not have put the fridge so close to the window and would definitely get a counter-depth fridge. (although, I read maybe here that someone did that and hates it, so if anyone would like to chime in about that, I would be grateful.)
But… I haven't gotten to the best part yet.

Price
They put this baby on the market at $299,000 and then dropped the price to 270k–the next day!
(update as of August 27, 2016. We just had a another drop in price and now it's 260k.)
The comps in this area that have sold recently are at about 165k-190k.
But who is going to pay 40-50% more and for an apartment with a ton of wasted space and a bathroom in the dining area?
There is another apartment in the building that's been on the market for nearly TWO YEARS, that's priced at 169k.
Oh dear. Somebody didn't do their homework, it appears.
What surprises me most about the reno is that any renovations have to be approved by the co-op board and I can't believe that they would be allowed to remove so much of the apartment's character and walls. My feeling is if you want a modern apartment, then purchase something in a newer building!
OR paint it all white and put in modern furnishings. That's a wonderful look.
photo: Bruce Buck
This is a typical bedroom in this building. (and far nicer than most)
I don't know what happened with this apartment remodel or why they are selling so soon.
But, I think especially if you live in an apartment at this price-point, one needs to be super careful of any renovations unless you don't care if you are going to lose thousands of dollars and/or have your place sit on the market for months or years because you screwed up.
Apparently, they've been watching too many episodes of Property Brothers. ;]

What is the upshot of all of this? How could they have avoided making so many mistakes?
Well… they should've gotten some professional help. I don't think there's a realtor anywhere in these parts who would advocate taking down all of those walls.

They needed a designer
to coordinate colors and finishes and
make sure that the layout was optimal and tasteful, while meeting the homeowner's needs.
ensure that the apartment had ample storage and counter-space for preparing meals.
Help the homeowners to work with a suitable budget.
Spend where it will give them the biggest bang for their $$$.
I think over-all, these homeowners made several mistakes with this apartment remodel that prospective buyers aren't going to like:
They removed all vestige of old-world charm this building is known for
They spent too much money and frequently, on the wrong things
They created a place with no sense of entrance and no place to hang a coat that is not in the bedroom. They could've put up a nice closet by the kitchen!
They created an inefficient kitchen which is sorely lacking in storage. My kitchen that's the same size has at least 50% more storage. (and seven drawers!)
The

only

closet is in the bedroom.
There is no bathtub.
The colors clash.
There's a gross TV embedded in the wall.
And a matching black bathroom door which you can't see here.
The bathroom is located smack dab in the middle of the living dining area.
There's no sense of privacy — It's like a hotel suite, not a home.
And, it's WAAAY too expensive compared to the other apartments in the area that have sold recently.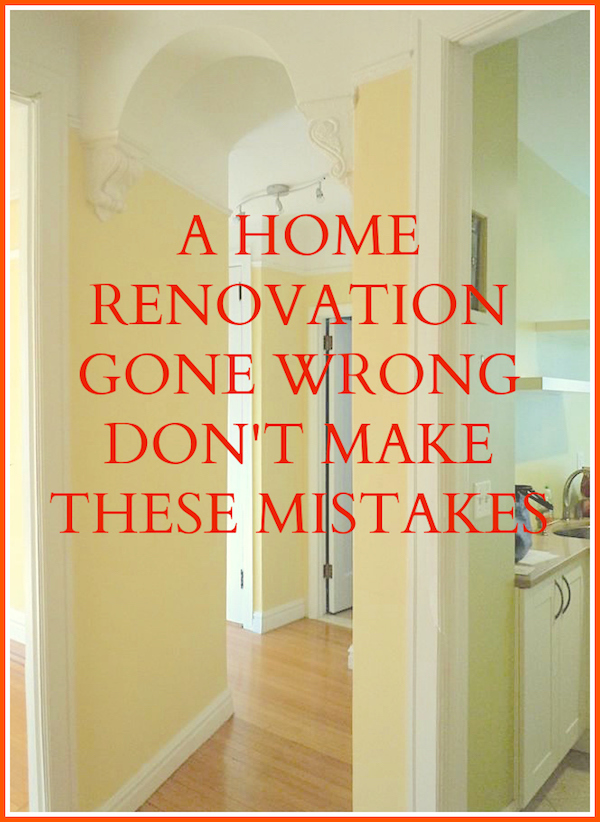 What is your feeling about this open-concept one-bedroom apartment remodel?
I'll look forward to hearing your comments.
xo,