Recently I got a real "Dear Laurel letter." Well, actually, it was a comment. She has difficult windows.
Well, a difficult window situation. I asked her to send me a photo because it sparked an idea for a post.
Sometimes. No wait. Not sometimes. Frequently, in newer homes I have no idea what the architect was thinking. Clearly, he wasn't thinking; not about window treatments. However, even if he wasn't, there is much that is not-that-great design-wise.
This home is very lovely, but there is the issue with this window.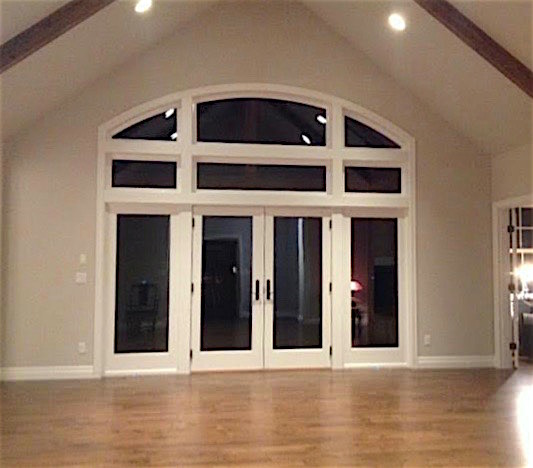 She was a little nervous because I had said never to hang the drapes below the transom.  First of all, I guess I should say "almost never."
This is a situation where we have two transoms. It's funny because this is the kitchen and it seems like maybe this was built at a different time?
But the window in the great room is a problem child for sure. But not a big problem. I made a little graphic to show two different options.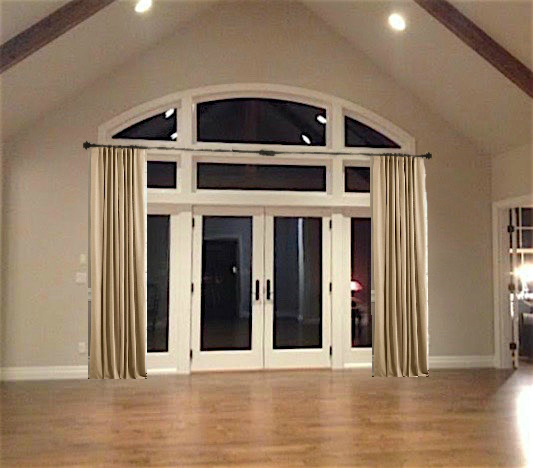 The third option would be to go all the way up, but the sharp angle of the ceiling means the rod would have to come in further and I think it would look cramped and weird.
I vote for option number 2. It balances out the large transoms and creates more drama.
Is option number 1 a mistake? No, it's not a mistake but it's not helping anything either.
Let's look at some other difficult windows
Some of these were handled beautifully. And some well…
transom windows
Marisa Lafiosca
Billy Roberts via Atlanta Homes and Lifestyles
Wonderful treatment in this library. I love the layering of the treatment for light control.
Luxe
Great solution for a large window with French doors and then a smaller window.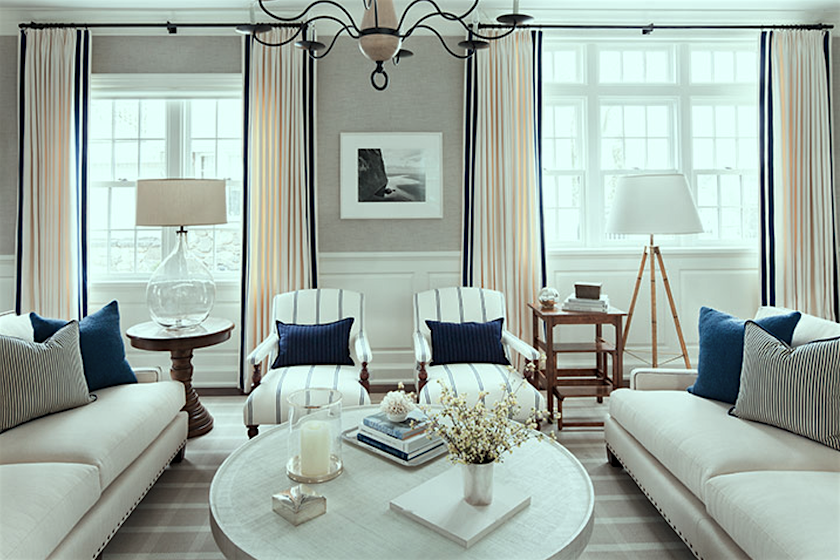 Susan Bednar
Beautiful living room. Sometimes the crown moulding can be a challenge, but it looks like they got it just right.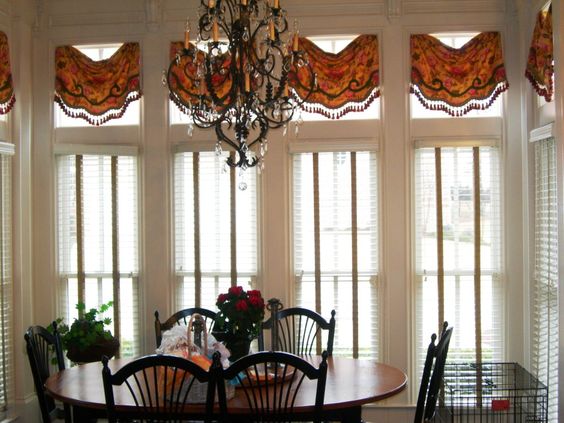 They didn't get it just right.
I would've been fine with a little Roman shade layered over the blinds.
Palladian and arched windows
These are very often troublesome for obvious reasons.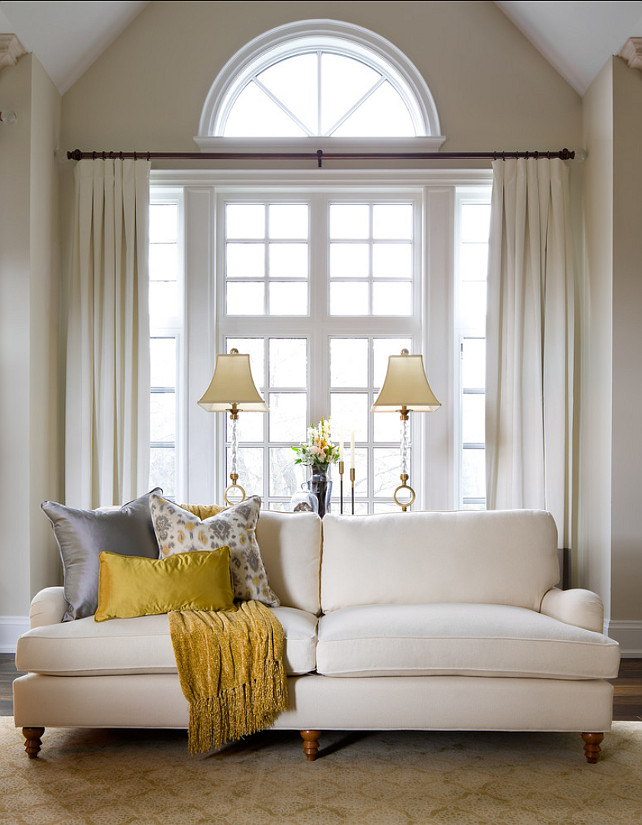 Jane Lockhart
Perfect.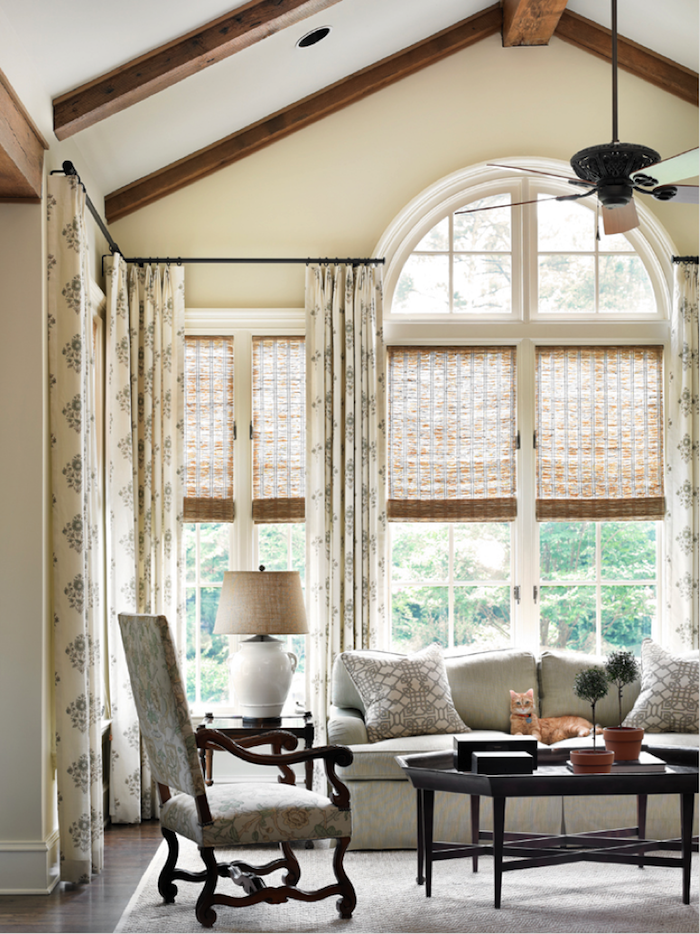 Chris Holt
This is an especially challenging situation. We have a corner and a Palladian window that doesn't follow the natural line.
The solution is to hang the side drapes and follow that line along the back wall.
Hotel Particulier
Normally, I'd like a little wider panel flanking these doors, but the simple panel seems to understand that it is not the star of the show. Nosiree! Not when you have these exquisite French doors and arched transoms.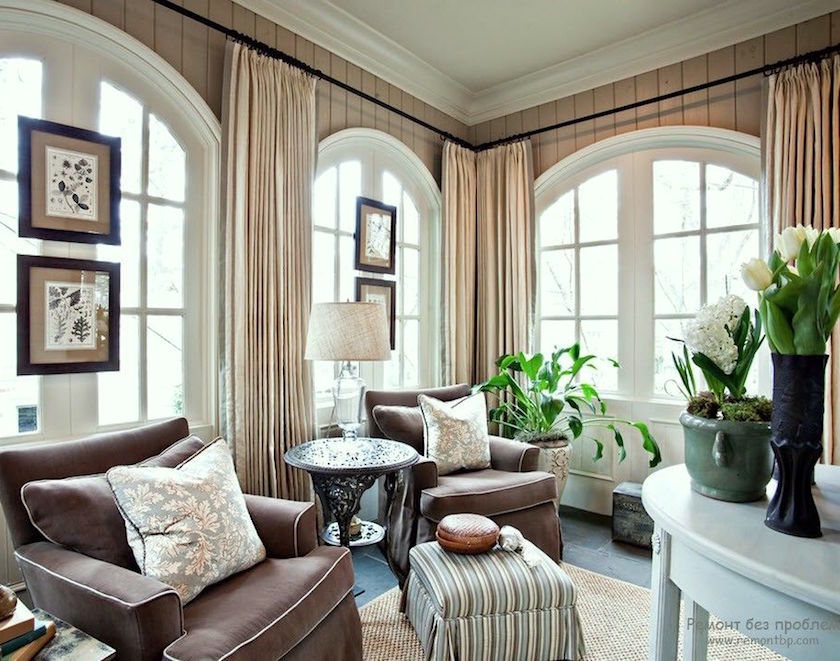 original source unknown
This is a good example of a rod that logically goes over the arched windows.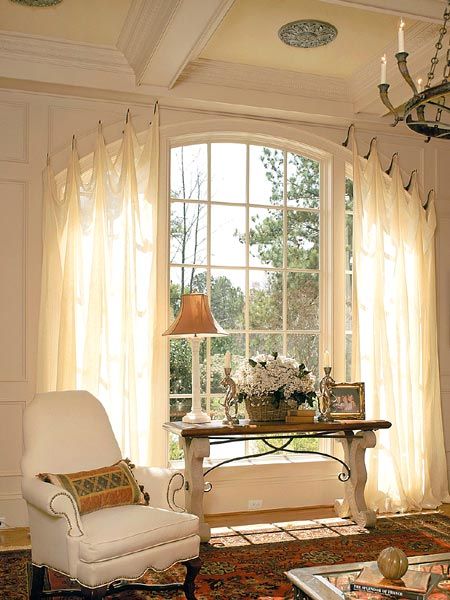 No. I would've run the rod across like the one above. And please no scary hooky things.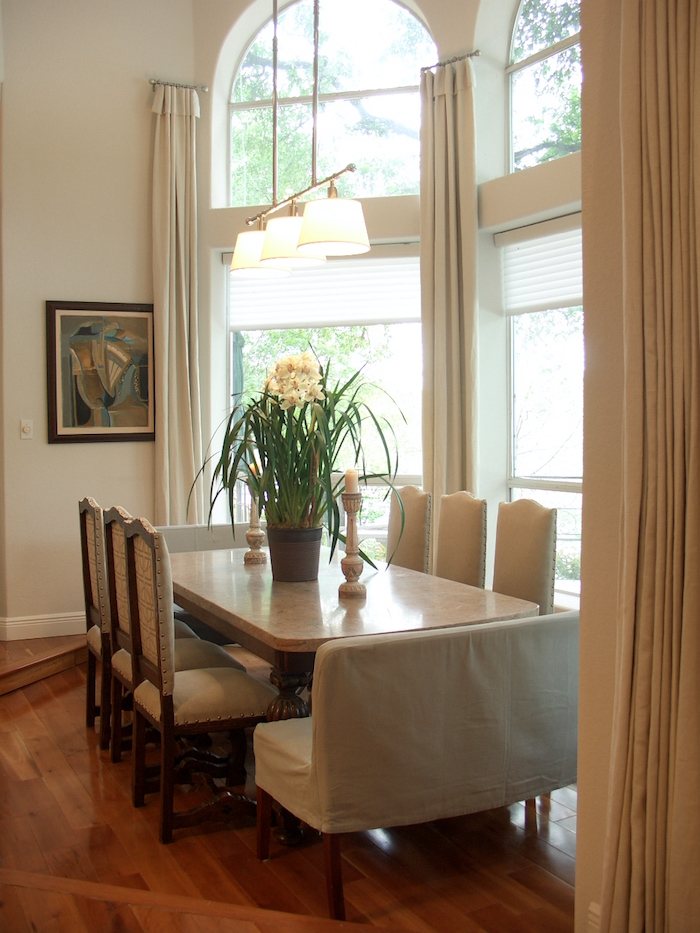 No. Please. No. I wouldn't have done any drapes here, unless perhaps it was possible to go above the arch.
And no truncated rods! I never saw this until a few years ago. It's so bizarre, IMO. The drapes should look like they can close even if they don't. And please move the painting over so the drapes aren't eating it.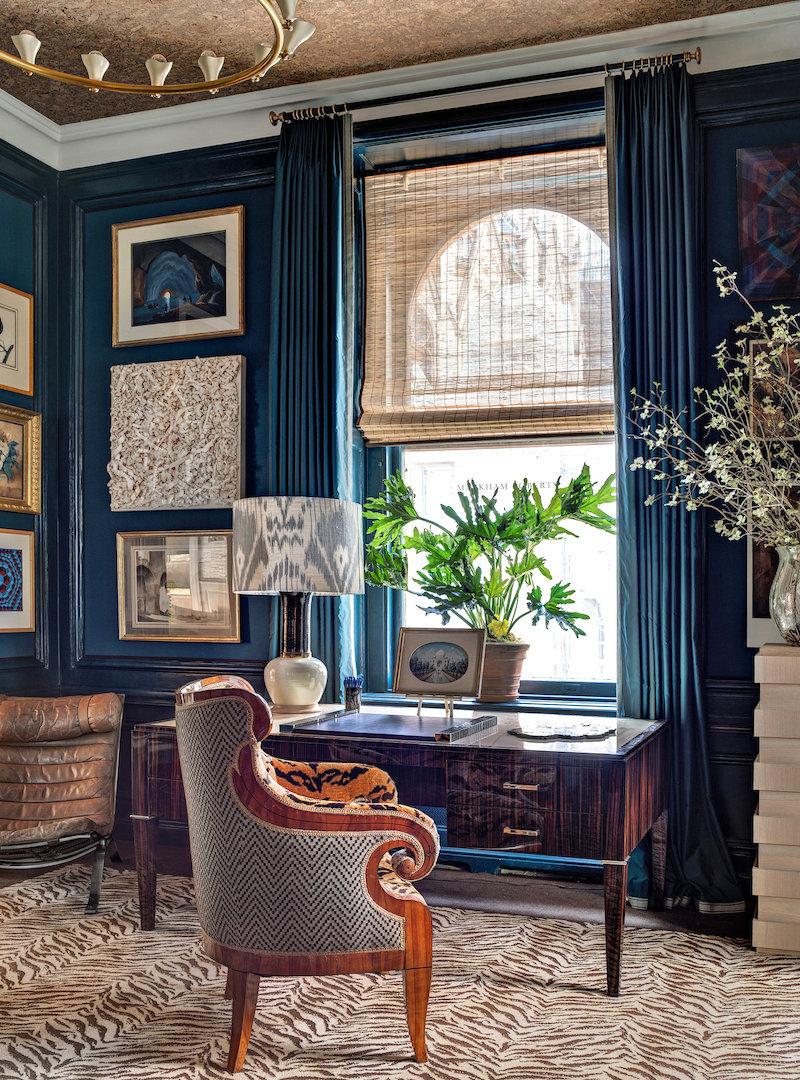 This is from Markham Roberts's fabulous room at the Kip's Bay Showhouse. His window treatment is beyond glorious. And he used a panel and a half which even if the drapes are not meant to close is the appropriate amount of fabric for this size window and ceiling height. I met Jamie on the Design Bloggers Tour last fall. Super nice guy and obviously, supremely talented. He was unveiling a line of furniture for Theodore Alexander.
corner windows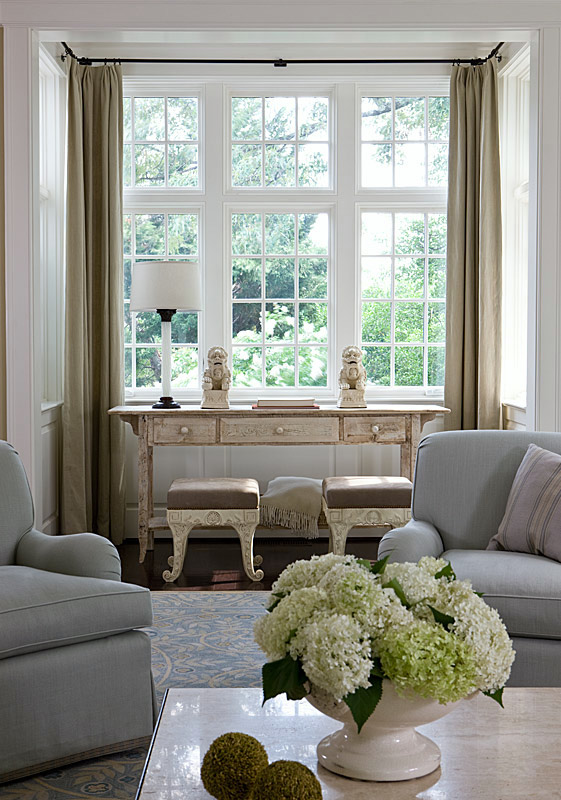 I adore this room but I would love to see double the amount of fabric on this window. It doesn't even look to be a full panel.
It looks great on the other windows. The fabric looks heavy and rich.
super tall windows
Wentworth Studio
Great job for this contemporary living room.
Phoebe Howard can do no wrong.
bay windows
Meredith Heron
One of my fave living rooms ever! I think Mer has redecorated it since this was taken. I met her last spring and found out the room is only 9 feet wide!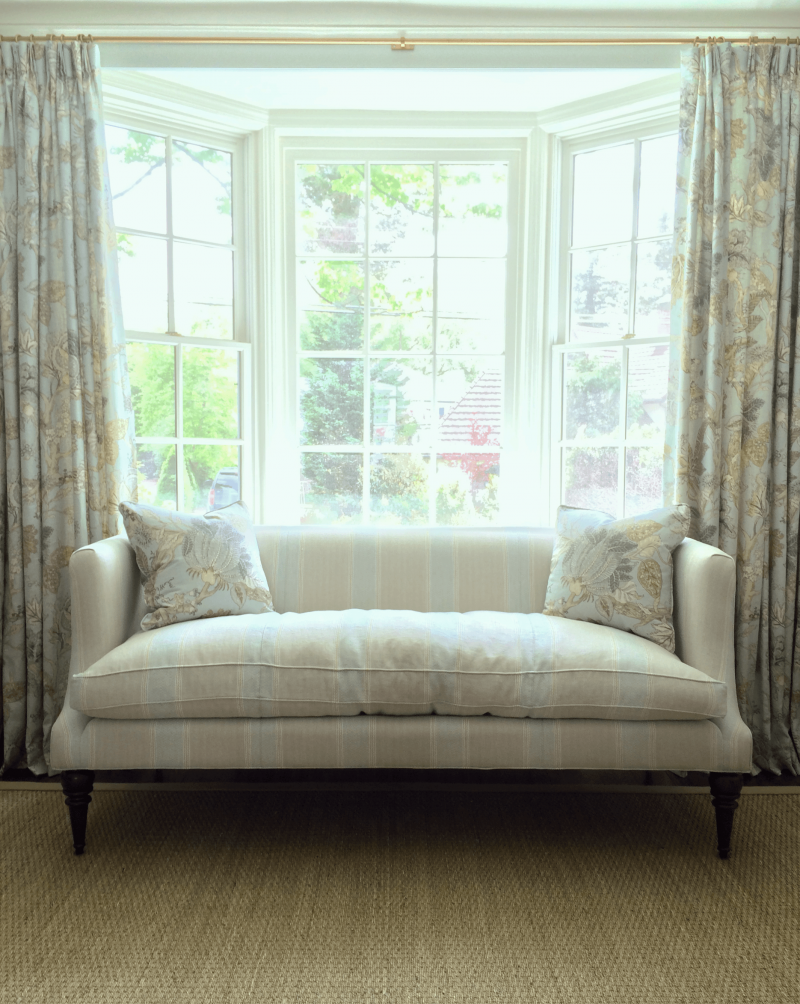 This one's mine. (if you don't remember)
This is a bay window with a deep sill so the drapes have to be mounted in front. When we measured for the drapes, (I needed Mario's assistance for this one), we didn't realize until the valance came down that there was NO PLACE to put our rod. It's difficult to see here, but the window frame and opening was flush with the ceiling! Fortunately, we had time and the builder created a 4″ soffit for us to hang our drapes on! It looks so much better too!
***Note to self: Insist on the window treatments coming down if at all possible before measuring. I probably won't, but I should.
small windows
Jennifer Reynolds
Can't tell you how much I love this!
This is obviously a basement room with tiny little slits for windows.
They put up some silhouette shades and drapes and then created "windows" with art. Brilliant!
windows of different heights
Exquisite room by Patricia McLean for the Atlanta Symphony Showhouse. I'm sure she wanted to shoot the architect. When you look at this image it looks weird, but then below it makes sense because there's at least one other door with a transom. I think she did a great job with what she had to work with. It's not that the room is an architectural failure. It's not. It's gorgeous, but I wish that the architects would take into consideration the fact that we are going to want to put up drapes.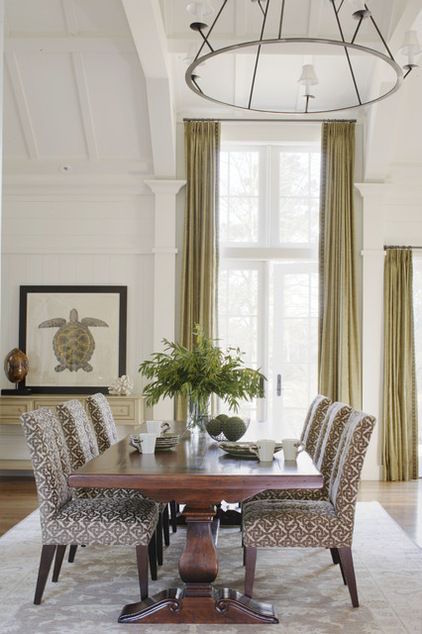 Here, I would've left off the drapes and just put Roman shades on the doors. But I'm not faulting the designer. Again, the architecture is not helping.
windows too close to the fireplace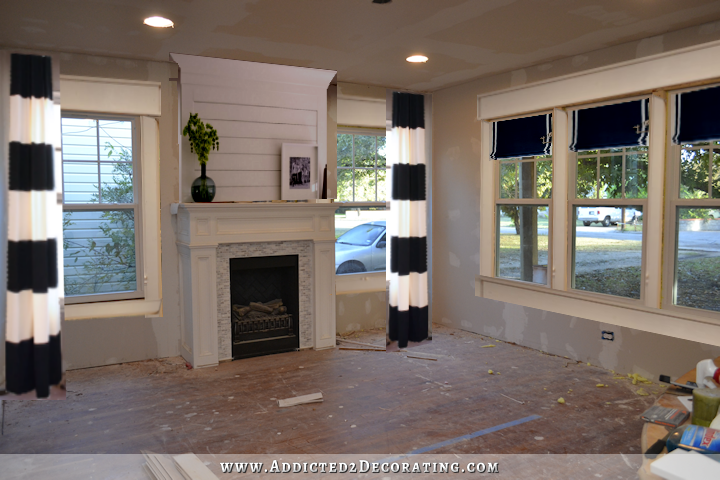 addicted 2 decorating
I love what Kristi has done here and especially that she has combined drapes and Roman shades. Since the windows on the right are different from the windows on the fireplace wall, this is a viable option. In so doing, it breaks up the sameness and makes the fireplace wall that much more of a focal point.
Story Time
About 16 years ago I had a client who had built her home and had been in it for about 10 years. I did her living room. There was a lovely fireplace in the living room but the windows flanking it were 1 inch away from the mantel.
One inch.
Nobody caught it. There was a good three feet on the other side of each window.  If the windows were 18″ over the windows would've been a good distance from the FIRE and centered.
We did drapes pulled back to the opposite sides and it really helped create the illusion that the windows were not so close.
Soft pretty eating area. Here, I would've done drapes with a ROD on the window on the left and then Roman Shades out of the same fabric over the built in area.
Daun Curry
This is a woman with nerves of steel (or else some really good prescription drugs) ;] and an AMAZING workroom. Think about what it took to pull this baby off!
And a Greek Key to boot!
Okay, I'm sure I've missed some goodies out there. I know I have, because there are a zillion difficult situations. Please share in the comments anything that you've encountered.
For some other hideous decorating mistakes I've made, please click here.
xo,