Dear Laurel,
I know you've gone over this and over this. I've read all of your posts about white and love them. However, I'm still driving myself nuts. My husband is no longer talking to me and the dog runs for cover every time I take out my paint brush. I would ask you to do a paint consultation, but I'm afraid that you'll write about this crazy lady on your blog.
Never mind. I am crazy. Stark raving bonkers. Please, please make it stop. Just tell me the ONE color; the one white trim color that will look good with everything!
Sincerely,
Olivia C. Depressed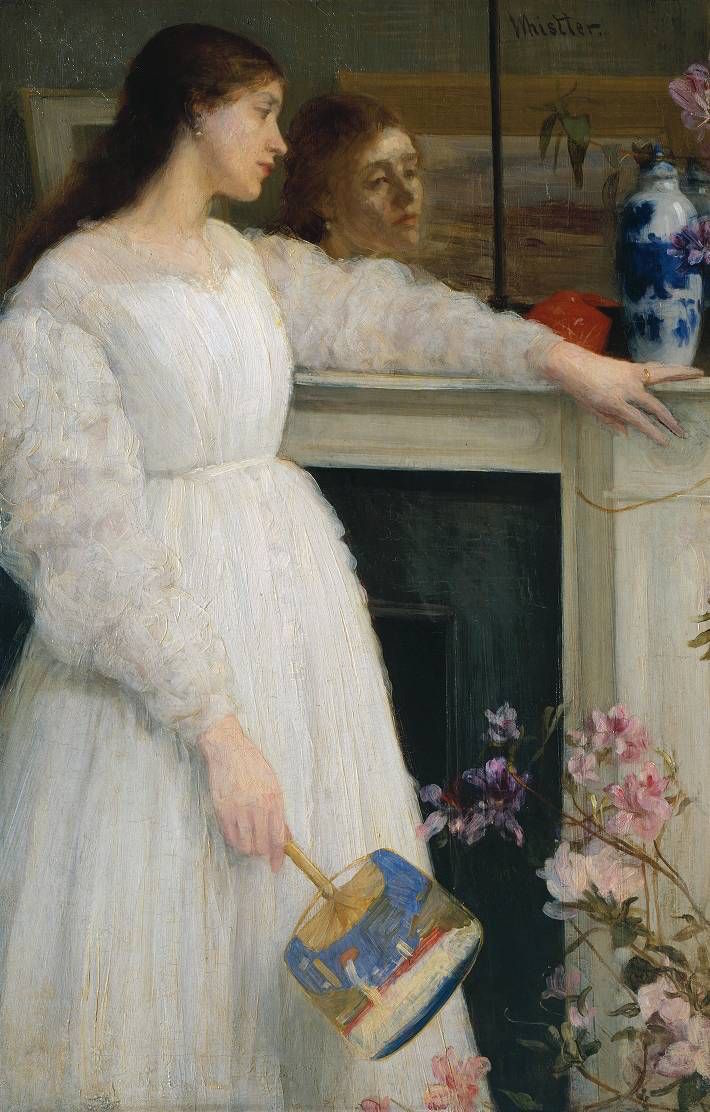 James Abbott MacNeill Whistler – "The Little White Girl – 1865"
Dear OCD,
There, there now. Why so glum?
Although, I fully understand your frustration. Many years ago, I too drove myself to the edge of insanity. I made dozens of trips to the paint store, frothing at the mouth. I could just sense the bored clerk snickering to himself…
oh, here she comes again, let me go grab the spit bucket………………..
Then, in a torrent of, "I've-got-this," I mixed TWO Pratt and Lambert whites together. Really not necessary and it wasn't really that great, either. That was 19 years ago. Since then, after helping 100s of people select their white trim color, I got a lot better at it.
After a while, I began to realize a few things when selecting white trim color.
one, if the color is dark, the trim, ideally needs to be a little deeper white. Otherwise, the white may appear to be insanely bright by contrast
yellows definitely need warm but none-beige whites
blues also need non-beige whites
I generally stay away from cool, icy whites– just because I don't like them.
Warm doesn't necessarily mean yellow
The next thing I'm going to say is:
STOP IT!
I mean that in the most loving way, of course. Just stop it. Stop driving yourself nuts and here is why.
I'm going to let you in on a little secret.
A little secret that's going to shock the drop cloth off of many a color guru.
A lot of the time, it really doesn't make that much difference.
John Singer Sargent – Helen Sears (excerpt) 1895
What, are you some kind of a sadistic freak, Laurel? Stop messing with me!



Haha! Okay, freak maybe, sadistic, never! I'm completely serious! Based on experience, I have found that a number of trim colors will do just fine in a lot of different situations. And they are the ones in this post about the only six white trim colors you'll need.
There, doesn't that make you feel better already? I mean, does your pearl necklace only go with one outfit?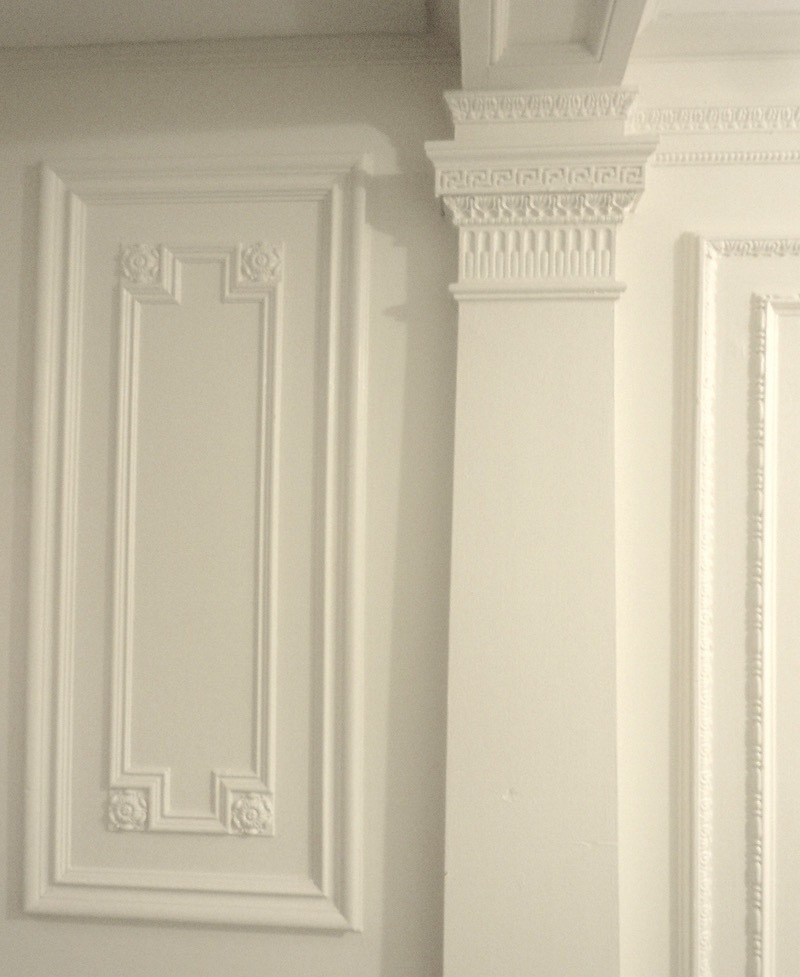 A photo I took two summers ago at a beautiful inn in Boston while visiting my son.
The problem is… well, it's simple. There are just way too many whites to choose from. We could get rid of 3/4 of them and still have more than enough to choose from. Please see 20 great shades of white paint. And then you read something that buys into your fear that you'll make a mistake. And maybe you did make a mistake one time. Did you learn from it?
White is the most reflective color. It's reflecting light. The light changes color. It's like the sky. God didn't expect mom nature to pick just one color for the sky. Right? And that sky, clouds, exposure is going to change your shade of white throughout the day. So, while it may be the most difficult color. It's also the most forgiving color.
John Constable – Cloud Study 1822
If you stick to the warmer whites, you'll almost never have to worry about icy, unless the contrast is too great. But maybe you want that stark contrast!
The issue here is that you want only one color for the entire home.
This is a very valid point because then you don't have to rack your brain. (as much) :] So, one day, your three-year-old decides to practice his writing on the wall with a sharpee. You'll probably want to touch that up. Now, you're racking your brain–was that the mascarpone or the creme brulee? Oh wait no. It might've been swiss coffee… Life is confusing enough. I usually recommend sticking to one or two trim colors throughout the house if possible.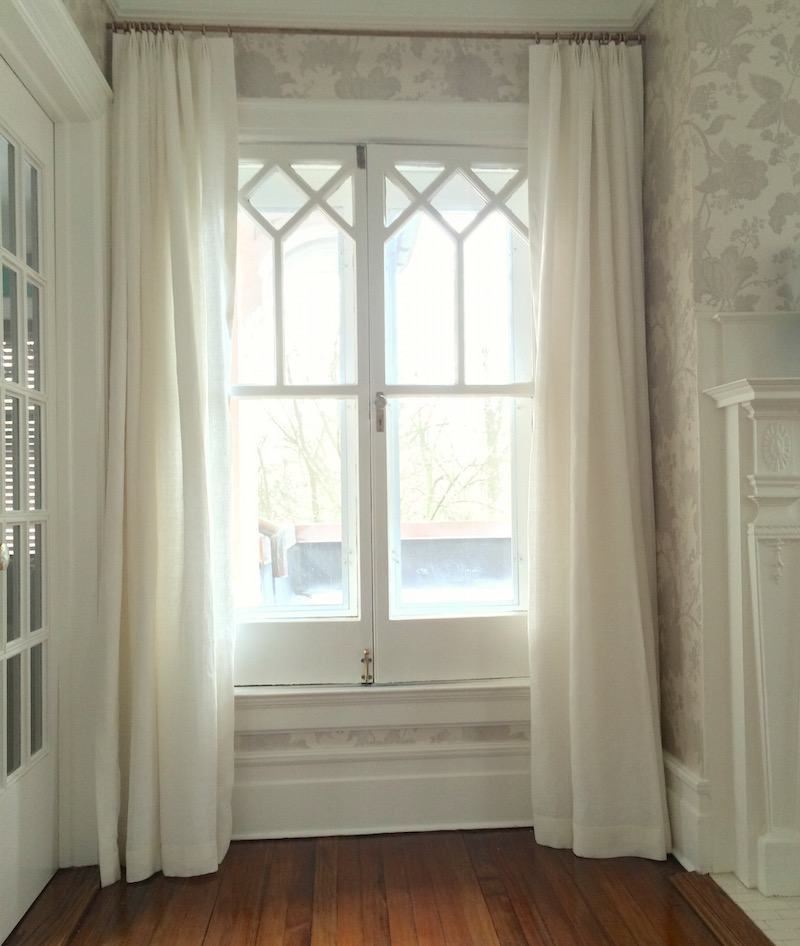 From a recent installation we did in a Bronxville bedroom
(trim color is Benjamin Moore White Dove OC-17)
If you only want one trim color, then what needs to be taken into consideration are the kitchen and bathrooms. The cabinetry needs to match the trim– or at least be very close. Toilets, bathtubs and sinks are usually pretty white. No, the paint doesn't have to be an exact match, but of course, it needs to coordinate. That means one of the whiter whites.
White on white. Gorgeous cabinetry and millwork by builders George Hummel and Associates
For bathrooms, plain old Benjamin Moore White, usually looks pretty durn good. My bathroom is this color. Why? Because that's the way it came. In fact, the trim all throughout the apartment is painted in plain old white. The reason I didn't change it is because I wasn't sure what I wanted to do and, I hate gloppy trim even more than trim that's slightly off-color.
So, is plain old outta the can white, the IDEAL trim color? Well, it's in the top 20 best white paint colors because with a lot of colors it looks pretty good. However, sometimes it looks very stark and sometimes it looks a little dirty. Plain white actually has a good amount of gray in it.
So, that leaves about eight other possibilities for white wall or trim color if you are only using one trim color in every room in the house.
All colors by Benjamin Moore (not an affiliate link, but it should be!)
Chantilly Lace – OC – 65
Cotton Balls – OC-122
Mountain Peak White – OC- 118
Simply White – OC-117
Snowfall White – OC – 118
Super White – PM – 1
White Dove – OC-17
So, which one which one?
Here's what you do. take eight pieces of paper with the names on them, put them in a hat, close your eyes and pick one. OR, play a game of eeny-meeny-miny-mo.
Oh, Laurel, please stop being so glib and tell me the best one!!!
Gee, sorry. I thought I had made my point. They are ALL the best one. Yes, in some situations, some are going to be a bit better than others. However, the differences are so minute that the average person will not be able to see the difference.
Did you hear me? The average person will not be able to see the difference between the colors above. And only you, (and your mother) are the only ones who even care one hoot.
But you want only one trim color.
Fine.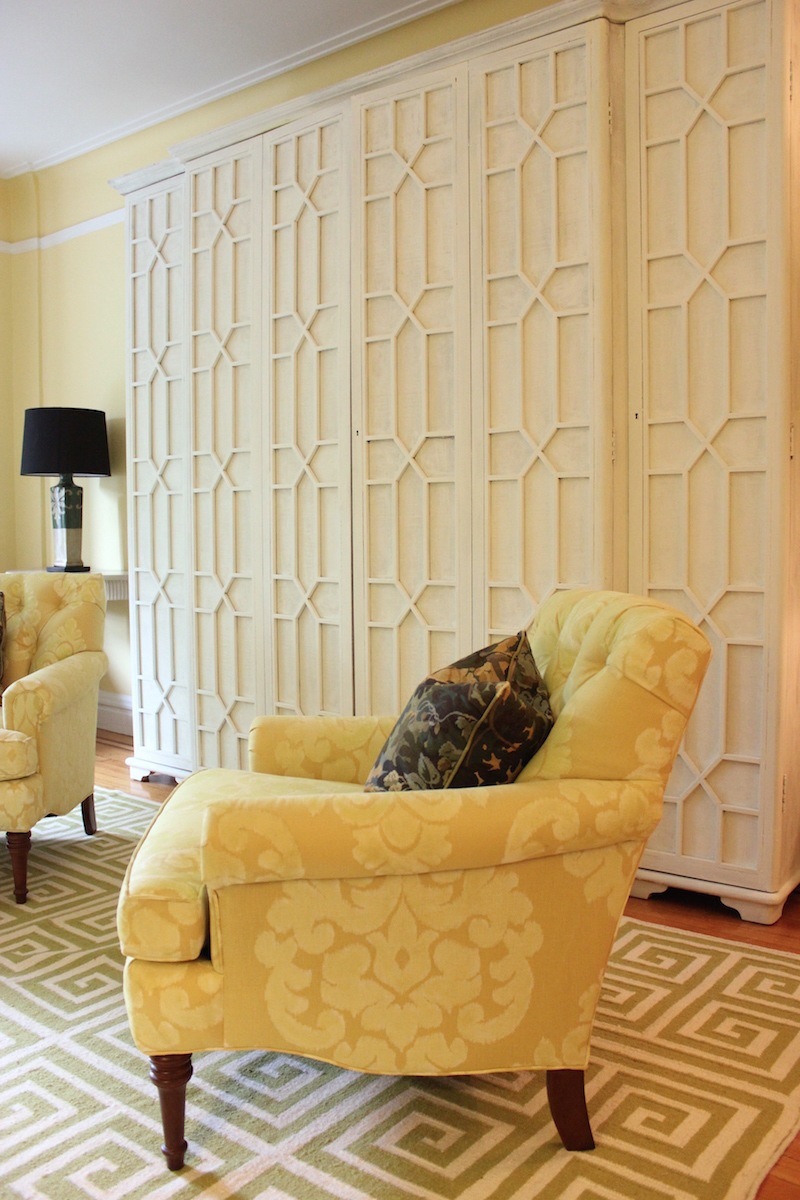 My living room in Bronxville with a cabinet painted with Cotton Balls
Yes, yes? Why Cotton Balls, Laurel?
Well, you asked me to pick ONE. I've used it many times with both light and dark colors and it's never failed me. It's warm and soft, clean and bright and not yellow.
Stop looking at me like I have six heads. Last time I checked it was only three. Is this the worst problem you have? Please. Little Smile?
That's better…
*********
By the way, just in case some of you don't realized, OCD is not a REAL person. Or if she is, she's really me! I totally understand the anxiety that comes with selecting colors, especially white! But I had a teacher in design school that tried to set me straight.
"It's not brain surgery, Laurel."
it took me a while to fully get it.
John Singer Sargent – The Fountain Villa Torlonia, Frascati, Italy 1907
What about the rest of you? Is there a favorite white trim color/white wall color you have. OR, one that didn't live up to its promise? I'd love to hear your opinions about THE most difficult color.
And if you liked this— please feel free to share!
Do you love white on white as much as I do?
Well, if you like it even half as much,
please enjoy the following grouping of white on white home furnishings.
For more info about the products and their sources, please click on the individual images.

xo,

PS: If you're still not convinced, please check out this post about the only six white paint colors I've ever used.