This post is about my favorite Benjamin Moore warm gray paint colors or sometimes we call the color, greige.
Greige if you don't know is a term for a color that looks like yesterday's oatmeal. It's become wildly popular.
In plain English, it's gray and beige combined. When darker, the term is bray or you got it, brown and gray.
Again as in the previous post about cool gray paint colors, I'm going to focus on 9 fabulous Benjamin Moore warm gray paint. Like before, I'm sticking with the lighter shades. I feel that 9 is a good number to give some variety without being overwhelming. And it looks nice on the little graphic for your pinterest boards. ;] [please find that at the bottom of the post.]
Before I get into the colors, I feel the need to get something off my chest.
It's about photos and computers. As you know, photography has come a very long way in recent years as has computer technology. However, what I have discovered is that the camera does not necessarily see color the way our eyes do. Furthermore, our computers interpret the colors with their filter.
Therefore, what you see on your screen ain't necessarily what you get. It's always been that way. Before the digital age, I found that photos were often yellow and/or red tinged. Now, I find they tend to go blue and/or purple. They went way blue/purple when I was using a PC. On the macbook, far less so. That's what I'm using now, which tends to go more yellow.
As a designer, it drives me a bit nuts because I want to represent the colors as closely as possible. Alas, it's impossible. When I look at photos I edited on my PC on my Mac, I'm horrified. I've decided that in the scheme of things, that this is not actually very high on the horror scale and to just live with it.
So be it.
Oh, wait. One last thing, I promise. The colors below are NOT necessarily what the room was painted. That is impossible to know. In fact, it's a bit of a joke. However, it'll give you an idea at least, I hope so.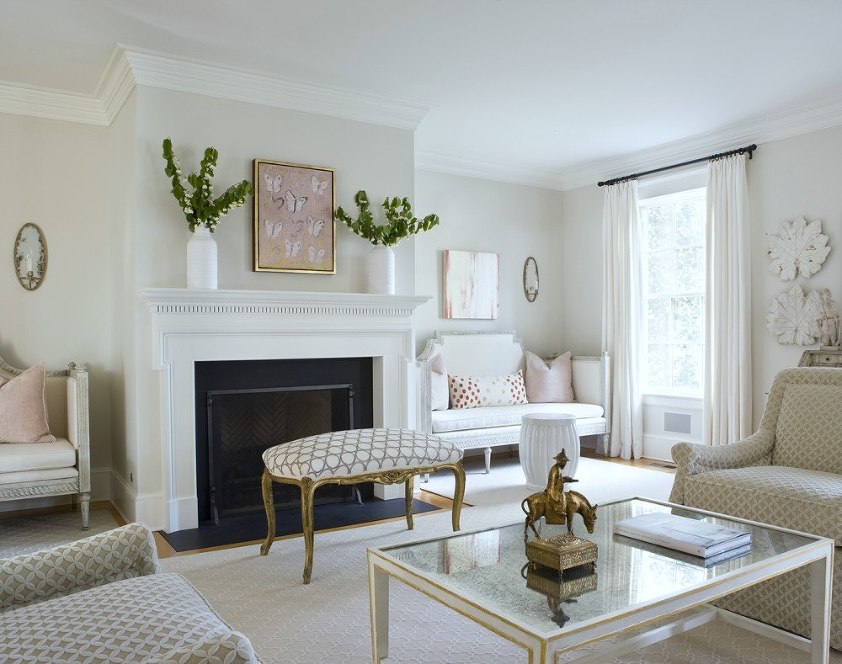 Ivy Lane
CLASSIC GRAY 1548
Classic Gray is a pale, pale gray with warm undertones. Very pretty. I've never used it, but it's one of Loi Thai's go to colors and that is recommendation enough for me.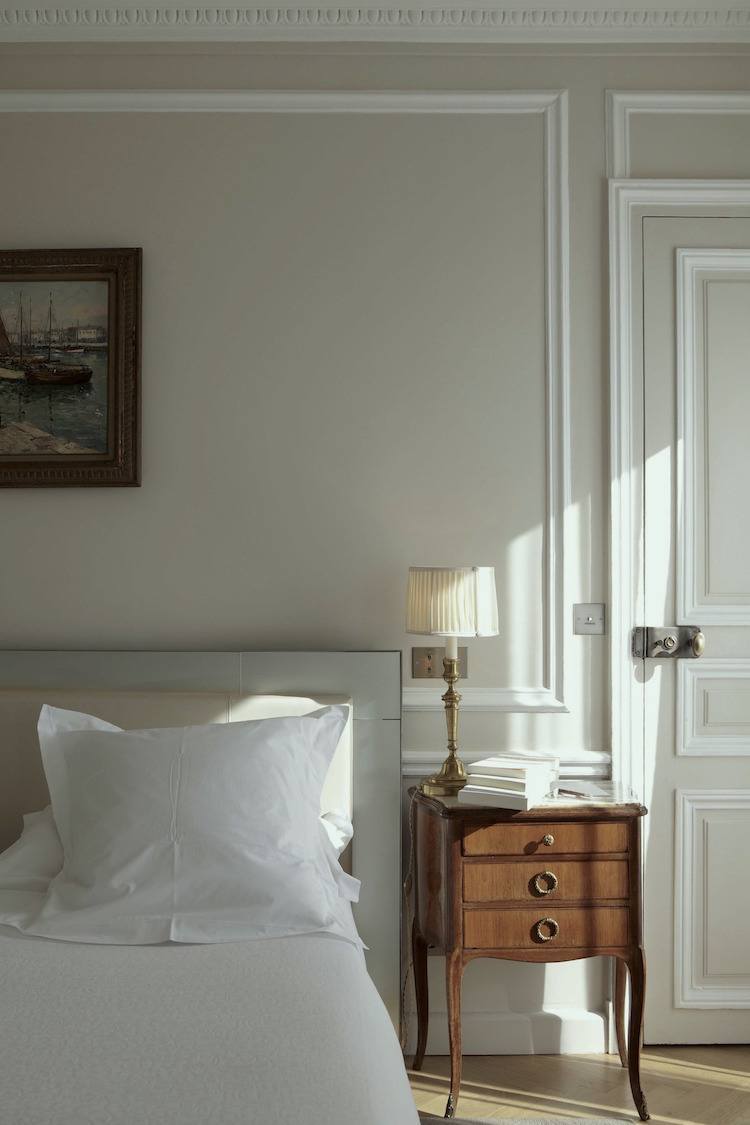 PALE OAK OC-20
Pale oak is a true greige. Again, I've never used it, but it's one of Candace Olsen's colors. 'nuff said.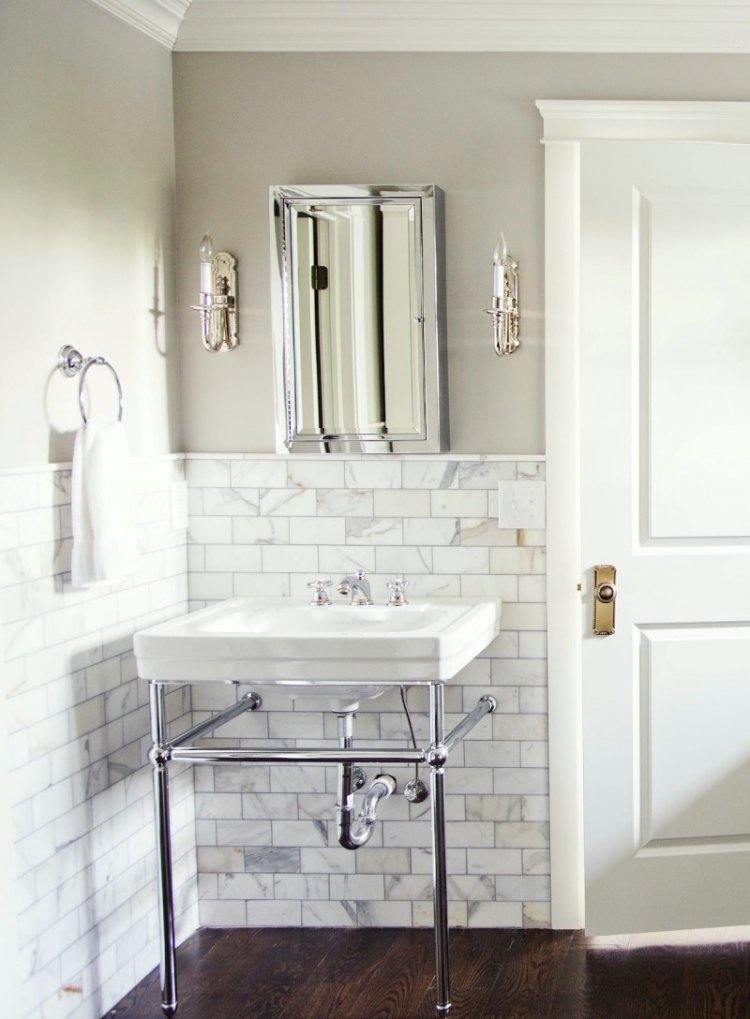 Marianne Brown via HGTV Blog
Pale Oak again in a bathroom with a deep red mahogany floor. The marble looks to be calacatta gold, or something of that ilk.  By the way, for those of you who know how I feel about a lot, not all, but a lot of shows on HGTV, their website is like a completely different company! It's terrific!
ASO Showhouse Kitchen by Matthew Quinn via Jennifer Shoenberger
this photo…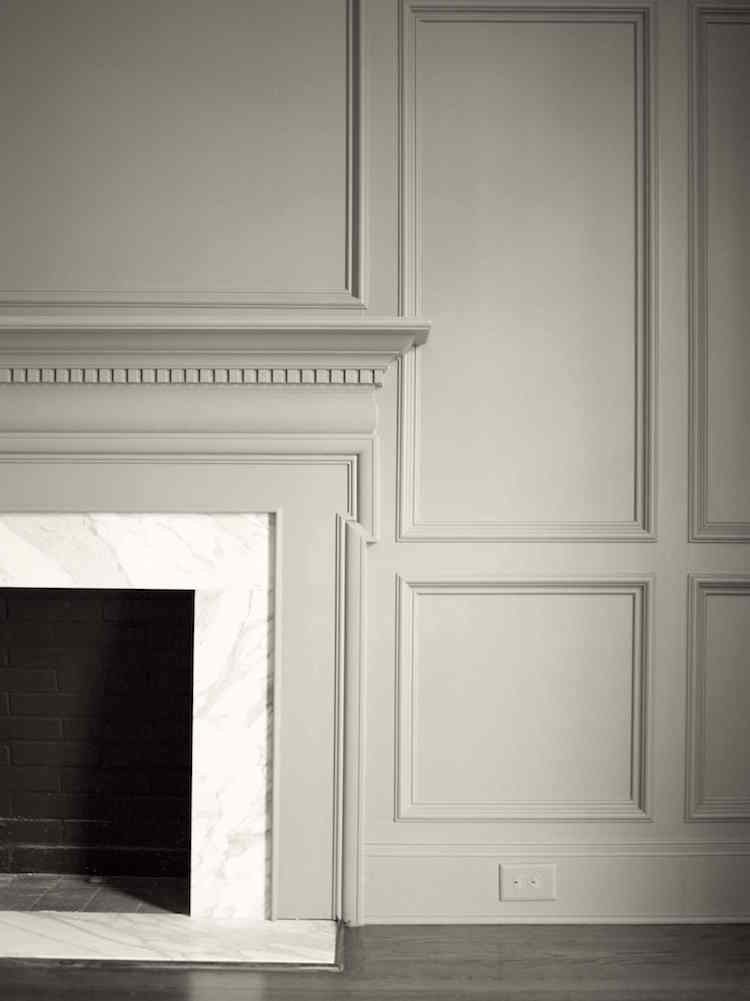 and this one…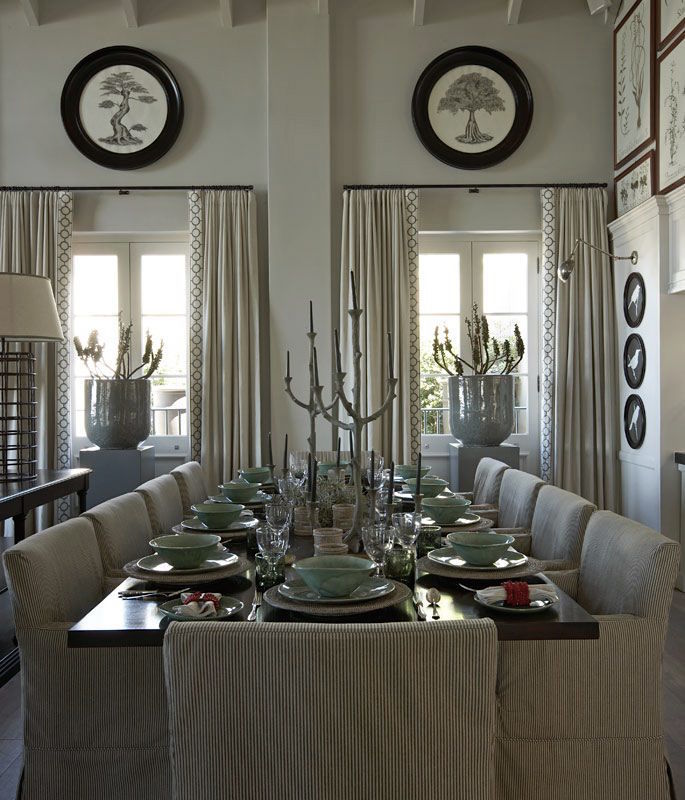 John Jacob
REVERE PEWTER HC-172
and this one are all representative of hands down the MOST popular warm gray of them all! And guess, what? I JUST specified this one [or rather the clients selected it] and saw it in person for the first time yesterday. It's going in two identical very small bedrooms with a pitched ceiling and dormer window on one side.
We took the color all the way around and it is perfect! It's a gray with a lot of beige in it, but it can also look a bit silvery or warm or every so slightly taupe or khaki depending on the light. But I find that with almost all of the warm grays that they can vacillate between slightly red/violet and green/yellow undertones.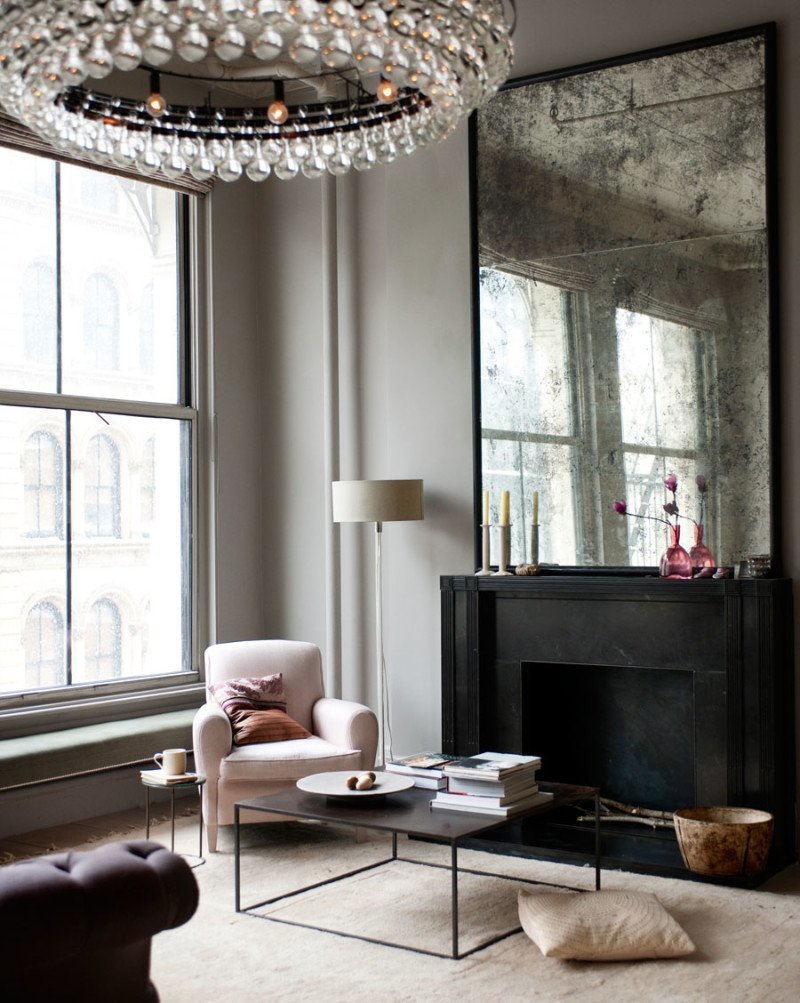 Rum Hemma
GRAY OWL 2137-60
Gray Owl, really could've just as easily gone in the last post about cool gray paint colors. Its one that I think straddles both worlds pretty evenly. However, it does have some greenish, yellowish undertones which makes for a lovely non-cold gray which is also very popular.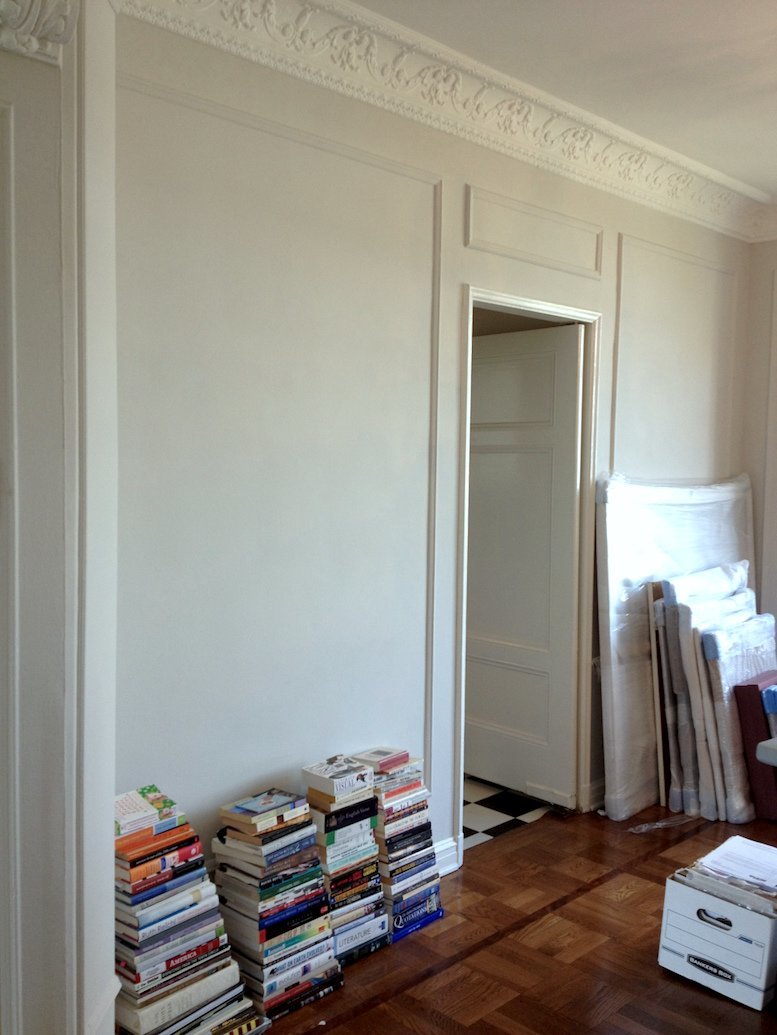 via
EDGECOMB GRAY HC-173
Alright. I have to admit that I was a bit on the fence about this color. Sorry, but on the chip, I think it looks like cat puke. However…………………. I researched this one 'til the cats came home and could not find one person who had anything but the most glowing love for this color. Anyone? Any experience?
But good case in point. The chip is only a SUGGESTION. AND… never, but never look at a color horizontally. It's going up vertically [unless of course, duh the ceiling] and you have to stick the chip flat against the wall! For more tips on how to get the color right, the first time, please look here.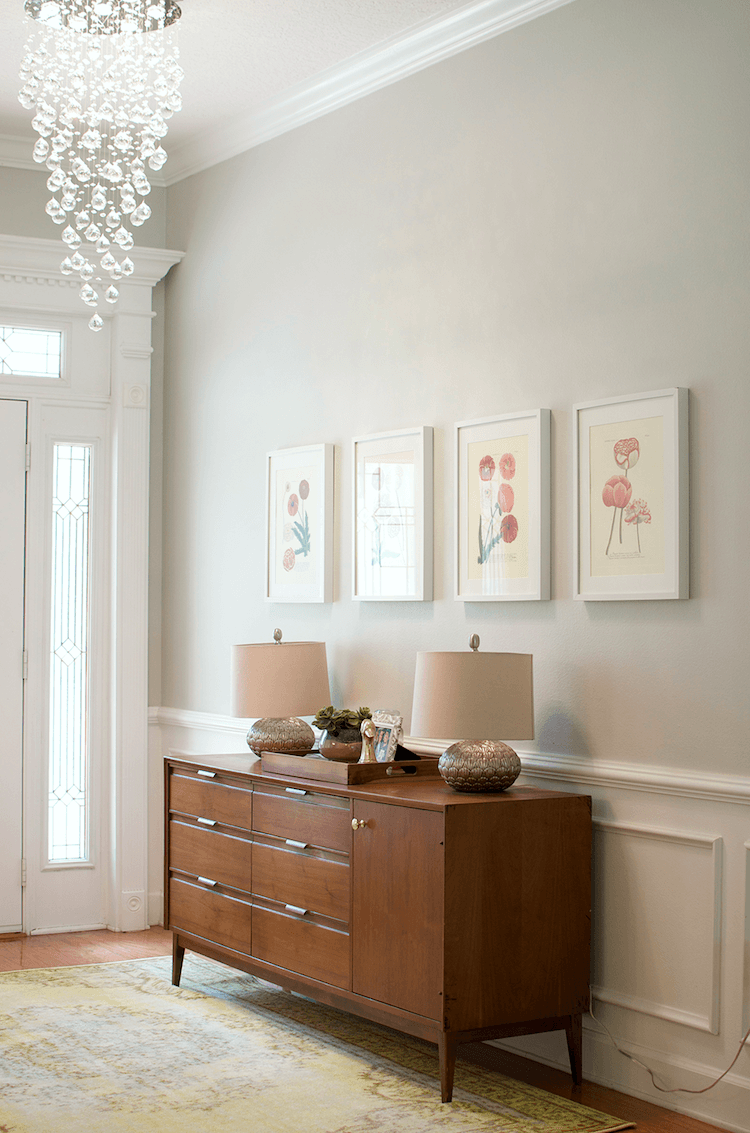 Fabulously Vintage
BALBOA MIST 1549
I have used this one! My client last year was so cute. She went out and must've gotten about 30 test quarts. And then she made big poster board samples of every color. She really did it the right way and loved this color the most. This went up in a very large great room with cathedral ceilings and a big stone fireplace! Very interesting. The color is so, so pretty! It's not anything that you would ever go… "Oh, what IS this color?" It's just a whisper of a soft warm gray. On some walls, a very slight, slight, slight lavender undertone, but then on others, very slight, slight, slight green undertones. It's just warm, light and lovely. You can't go wrong with Balboa Mist.
COLLINGWOOD 859
Another fabulous image by Phyllis Higgerson of the Henhurst Blog. If you don't know her blog, I heartily recommend it. She has fabulous taste and her home is exquisite. You might recall her astonishingly gorgeous images from her day with Bunny Williams!
Scott Yetman interiors | photography by Leona Mozes
SHALE 861
Shale is a color I haven't used. It appears complex and rich and is the darkest color here. Although, it is not at all dark. It is on the light side of mid-range. I think it's a warm gray that would appeal to both men and women.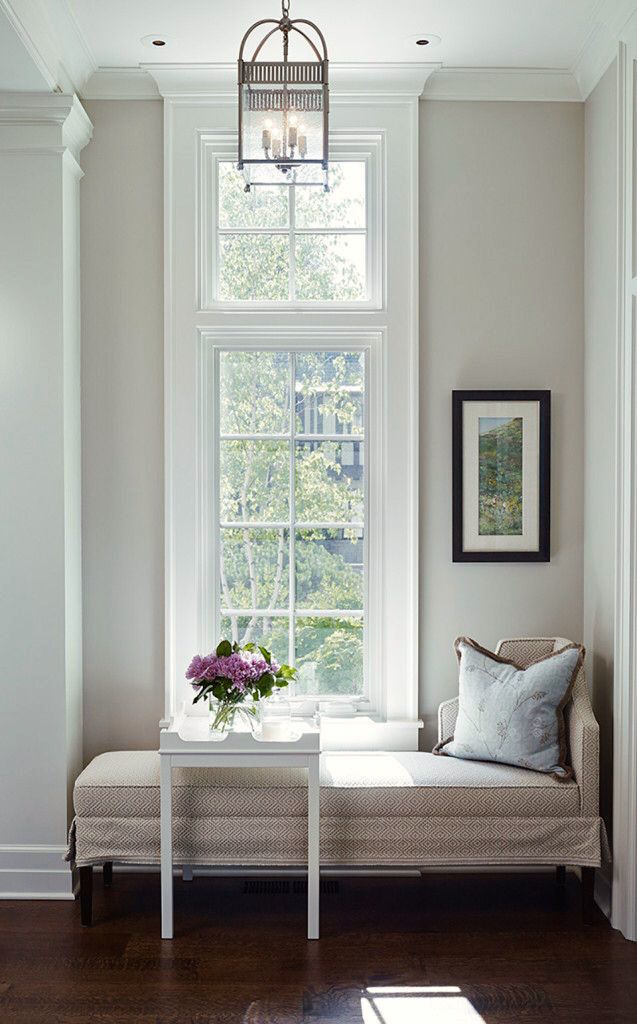 James Thomas
Fabulous transitional living or family room. Beautifully styled bookcases too.
Warm grays look wonderful with dark rich blues.
Ben Pentreath
 ABALONE 2108-60
And finally, Abalone.  I used Abalone last year in two bedrooms in a lake house. Well, one is more of an office. One room is more sunny but the other one faces due north and is dark. The color looks gorgeous in both rooms. There is a very subtle undertone of violet, but there's enough brown and gray to keep it from ever looking purple. It's a very lovely color. I highly recommend it.
note: 10.15.2017 – apologies. I had this image incorrectly credited to John Jacob, another fine interior designer, but this is from Ben Pentreath's and Bridie Hall's fabulous shop in London Pentreath and Hall.
And here's the graphic for your Benjamin Moore Warm Paint Colors for your pinterest boards
For more helpful wall paint info, please click on the following links.
The perfect white trim color for your warm gray paint.
20 great shades of white paint.
Love Farrow and Ball but not the hefty price tag?
Here are all 132 shades matched to Benjamin Moore colors
And are you possibly looking for Benjamin Moore cool gray paint colors? If so, click here.
By the way? Do you need any Benjamin Moore Fan Decks? You can get them below.
xo,