Recently, I had a request to do a post on what to do with the durned TV? And since it's the eve of THE biggest TV day of the year— Le Super Bowl, I thought it would be perfect timing to tackle [ahem] the beast.
It really wasn't that long ago that decorating around the TV was not only a problem, but sometimes a really big problem. The TV was big, boxy and the only solution was to stick it in an armoire or have it sitting out on something. Remember?
Southern Living Idea House
I remember in the early days of my career [mid-90's] I found myself in many a home that seemed to be made entirely out of windows. And where there weren't windows, there were doors or stairs. No walls. One time, on an initial meeting in one such home, I suggested to the prospective client that she consider covering up the windows flanking the fireplace. After-all, there were about 30 other windows. We could then install two matching cabinets and one could house the TV.
She looked at me like I had three heads and then I never heard from her again. haha.
However, in other projects, we did on occasion cover up a window to put in a built in. Nobody missed the window, but the pay-off was huge!
Now, of course, we have our beautiful sleek flat screens. We no longer need the bulky equipment or if we do, it can go in another room. Still, we're not completely satisfied because now we have the option of putting the big black thing on top of the fireplace.
Focal point?
Maybe. Maybe not.
Let's explore the options for decorating around the TV.
Or rather incorporating our TVs into our home decor.
To start with, we have two obvious choices.
We can see the TV at all times
We have the option of hiding the TV
If we're hiding the TV or seeing it at all times, it can still go pretty much anywhere. That's great!
Here are some of my favorite ideas for hiding the TV over the fireplace
Blue Egg Brown Nest
I love these folding panels using the art prints. When closed, it looks like pretty prints over the fireplace.
I am not fond of that fake art that rolls up or something like that.
Above and below is the fabulous work of Raymond [RL] Goins These are hand-painted scenes that he turns into a flat screen TV cover.  Just gorgeous and they truly are a unique work of art.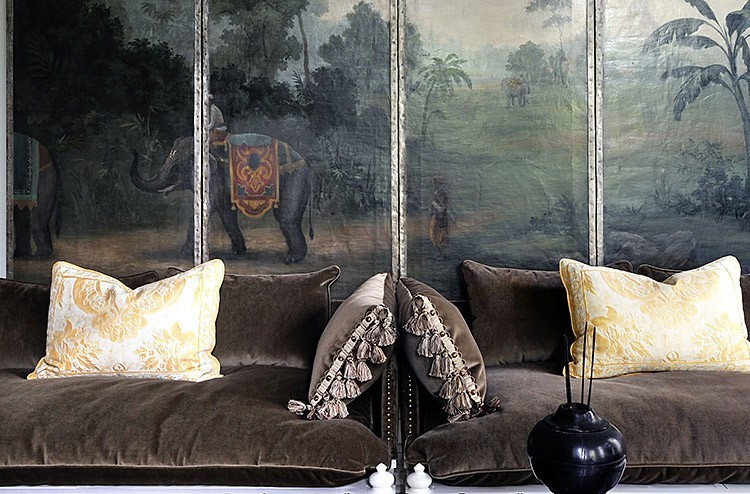 Amy Howard
A fabulous earthy, rustic TV surround
Platt Builders
Traditional pocket doors in a built-in fireplace surround house a flat screen TV
Looks like a William and Mary-style highboy, right?
Nope. Not really.
Pretty cool, huh?
Bunny Williams via Mark D. Sikes
This is from the Kips Bay Showhouse from 2009. Bunny used a Victorian cabinet to house a small TV
Shelterness
Another screen with art prints
Katrin Cargill
A free-standing cabinet perfect to house a wide-screen TV. Of course, you can use any kind of cabinet you wish. And it can even be a bookcase because we no longer have to deal with the big box. That's a big help!
Phoebe Howard
An antique Swedish or French Secretary could be used to house a TV
Giannetti Home
Fabulous living room with a built in TV over the fireplace
Mark D. Sikes
I love how unobtrusive the TV is in this traditional library
Lynn Nigro in Lonny
This appears to be three free-standing cabinets side-by-side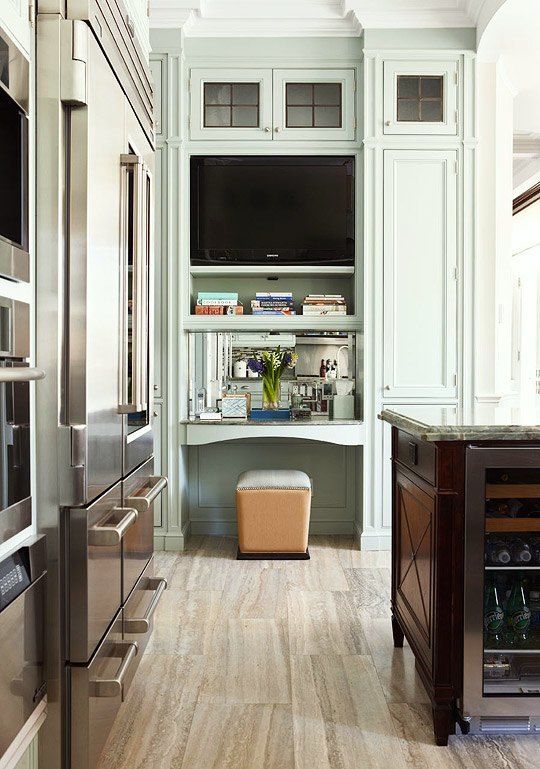 Dee Dee Taylor Eustace
This has to be one of the nicest TV installs in a kitchen I have ever seen.
Anna Dorfman
Yes, I realize that there's no TV. ;] My point here is that a dark wall is going to hide the TV far better than a pale one. That's something to consider.
Decorating Around the TV with Art
The rest of the images will incorporate the TV into a wall of art
Jill Danyelle
Little Green Notebook
Check out her tutorial on how she refinishes that Parson's console!
Coastal style. The table in the foreground is actually a ping pong table!
Matthew Kowles for Lonny
Hunted Interior
A gas fireplace. I like how the black ceiling and dogs balance out the TV. The strong rug also plays into the balance of this composition. Very well-done!
Hunted Interior
Table skirts are coming back! But this time they are tailored and chic!
Anna Bond
This looks like a dining room but I think it's really her office. Cool!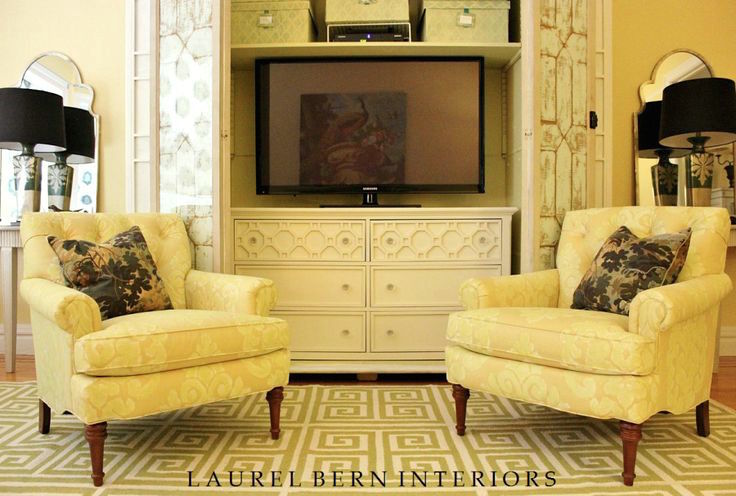 What do you do with your TV? Is it out in the open or behind closed doors?
If you watch the Super Bowl, please enjoy it. Quite frankly, despite being from Indiana, I couldn't care less; never understood the game and don't get its appeal. but then again, I'm sure that there are many who don't understand why I enjoy writing a blog! :]
xo,

Save