Hi Everyone,
I hope you had a great holiday!
I'm in New York and having a fantastic workation!  But, I was having dinner with a friend this evening in Bronxville, outside, but under a secure tent when a huge thunderstorm hit and a bolt of lightning was so close, we all felt an intense jolt of energy. The wind nearly blew the tent away!
As promised, today is Part II of Dottie's home, the fantastic kitchen makeover.
And, as the headline says, I think it's completely accessible and perfect for Dottie's home.
Most of you probably saw the exterior makeover of this home, but if you didn't, you can go here to see it.
Here's what Dottie had to say about the home and why they purchased it.
Five years ago, my husband and I bought a c. 2005 pseudo-Craftsman home with a great location, layout, and yard.
However, it was not my dream historic home. However, we saw the potential, so we decided to buy it.
Slowly, we began painting every room and filling it with vintage and antique furniture.
Recently, we decided it was time for a "minor" update to bring the very brown kitchen in line with my style.
The update I had in mind was what Laurel would call a kitchen botox. So, my botox meant keeping the 15-year-old appliances and working around the existing layout.
Please know, Laurel, that I am a loyal follower of your blog and always go back to your "unkitchen" posts. And, especially Nancy's kitchens (her own and Melissa's). I kept thinking how amazing it would be to have Nancy design my kitchen, so I summoned my courage and sent her an Instagram message one day in November.
However, courage was unnecessary, as Nancy is such a kind and open person.
And, phew! How lucky I am! Working with Nancy is like talking with a friend who happens to have exquisite taste and equal enthusiasm for my kitchen – and I do consider her a friend now! After I shared more information and pictures, she agreed to help.
Yes, yes, yes, and yes! I feel the same every time I talk with Nancy. That's Nancy Keyes, who's become a great friend, now.

During our first client/designer phone call, Nancy put forth an overall design concept for our kitchen makeover that kind of blew me away.
She suggested:
changing out the cooktop and wall ovens for a beautiful range,
removing the upper cabinetry to create a hearth-like niche around the range,
turning the wall cabinets into floor-to-ceiling pantries,
and installing an integrated refrigerator to blend with the pantry wall.
Despite reading all about unkitchens, somehow, I had never considered such changes for my botox kitchen makeover.
Okay, I realize that 99.999% of you skipped the above part, lol, and have already checked out the kitchen makeover. So, if you have time, please go back and read now. Thank you. It's okay. I'll wait for you to come back before giving the official tour. ;]
One more thing. I have all of the specs and SOURCES used for this kitchen makeover! So, I'll be interspersing them, and then most of them and a few extras are in a widget at the end.
Time to begin with the kitchen from the real estate listing.
The kitchen went from this:
To this
And, from this more recent iteration, above.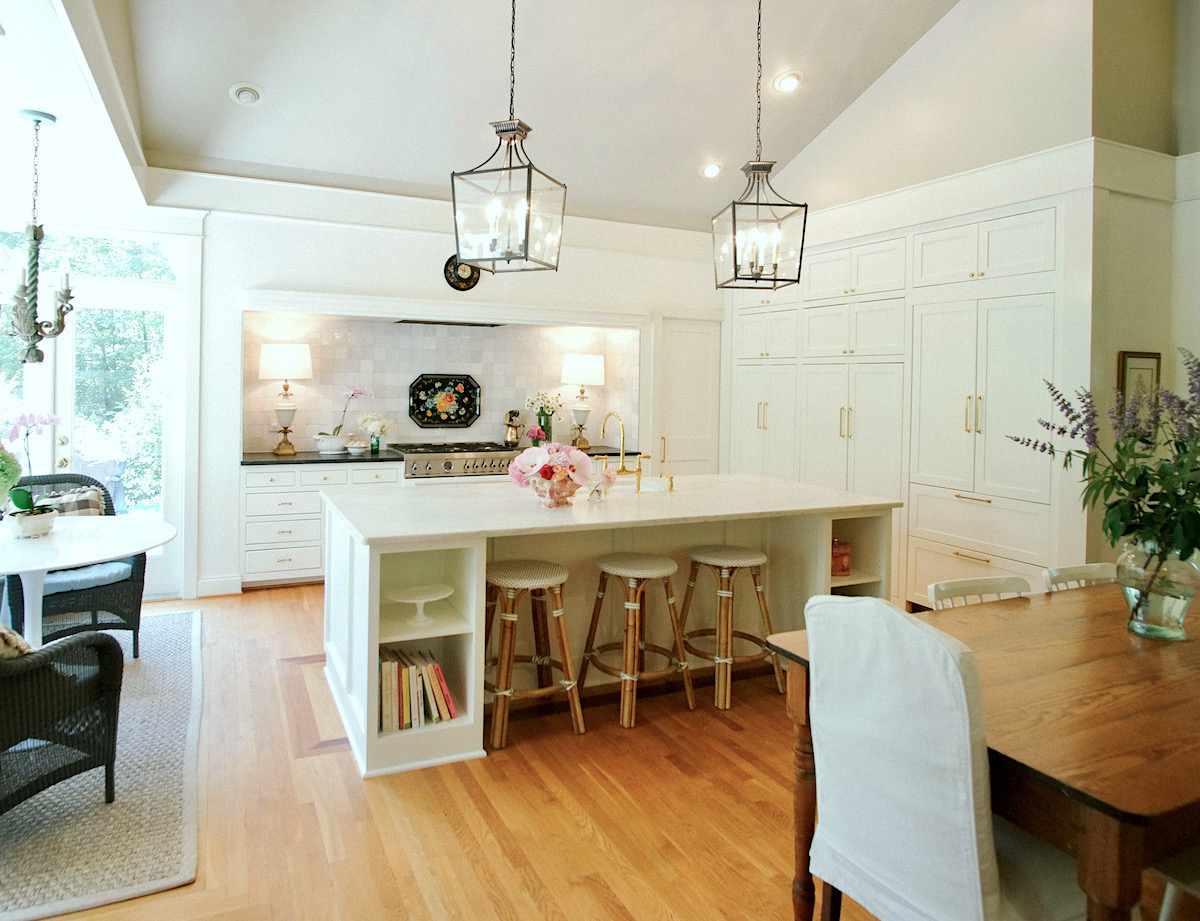 to this
Dottie went on to say about her kitchen makeover:
I knew from the start that I wanted a white kitchen, not a cold sterile white as that would look out of place in my home.
Nancy told me upfront that she rarely does white kitchens these days.
But, she always listened patiently and with an open mind. After I sent her at least half a dozen inspiration photos of white kitchens, she said, "I am convinced that you do want a white kitchen." Ha! Nancy gently nudged me until I came around to Wimborne White from Farrow & Ball, a very slightly creamy white, as the best color for everything. And, I mean everything. I was afraid at first, but again, Nancy knows what she's talking about. In addition, I ended up painting my adjoining living room walls Wimborne White, too.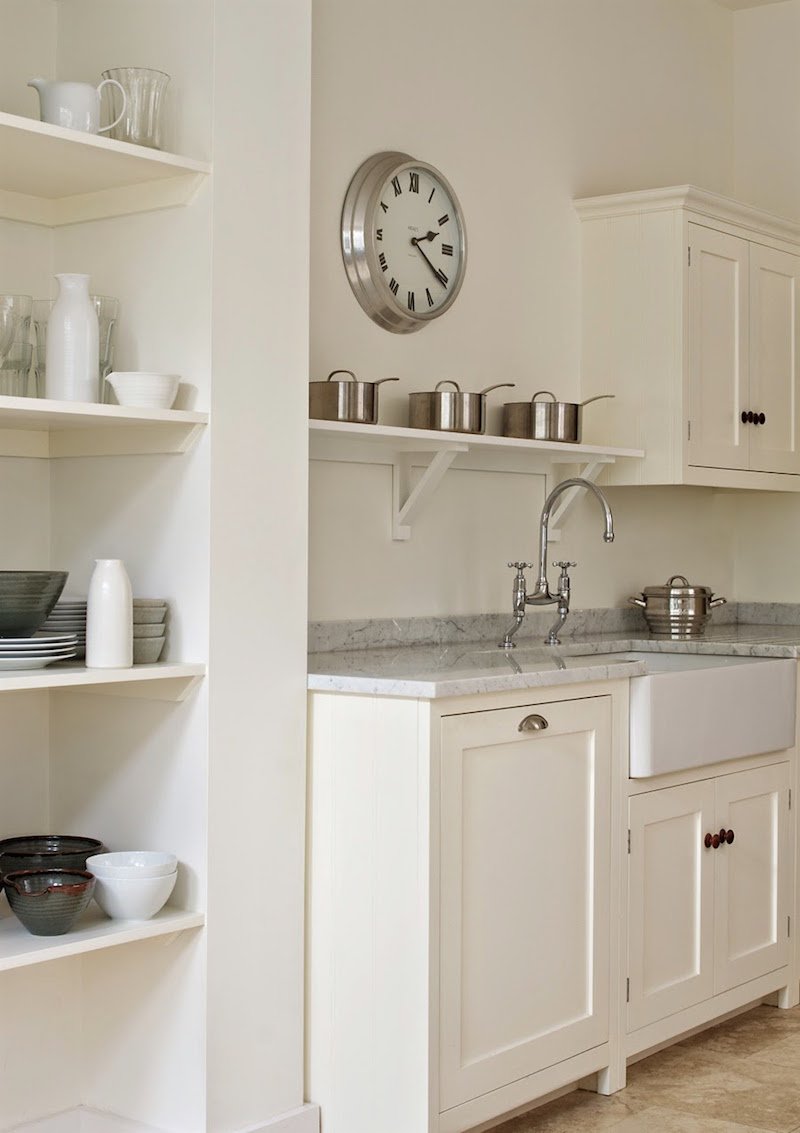 DeVOL kitchen painted Wimborne White.
It's funny, but shortly after the cabinets were ordered, you published a post about some of your favorite Farrow & Ball paint colors. I was very excited to see that Wimborne White is one of your favorite Farrow & Ball paint colors.
Please also see 12 fantastic Farrow & Ball cabinet colors for the perfect English kitchen.
Also, you can now purchase Farrow & Ball Samples and paint online!
Nancy said about that fantastic Zellige backsplash:

In an early convo, Dottie brought up the Zellige tiles. And, we did discuss the possibility of subway tiles, but in the end, the Zellige won out. We love how it looks in your client's kitchen you did a couple of years ago.
Anyway, I'm so glad we went with the Zellige tiles from Cle Tile. It's one of our favorite elements.
Hold the phone, girlfriend! Oh, please do tell! Yes, the tile is exquisite, but THOSE lamps.
Oh, yes. We found that lamp and a lot of other things at Chairish. In fact, Chairish has hundreds of vintage Stiffel lamps!
Laurel, your posts about hiring a decorator, were just as helpful. I realized that the best collaboration is with someone you'd invite over for dinner. And, that's exactly how I felt about Nancy — immediately. But, not only that, I trusted her eye and advice implicitly.
Therefore, my husband and I quickly decided to go 100% with Nancy's plan for the kitchen makeover.
She made us realize that keeping the old appliances was asking for big trouble down the road for various reasons. And, it made sense to "bite the bullet" and do them over now, as well. I can't tell you how happy we are that we made that decision!
Nancy and I considered pretty much every 36″ range option before landing on the white Bertazzoni Professional (a sexy beast, for sure!).
Bertazzoni Dual Fuel 36″ Professional Range self-clean oven
Vent-A-Hood 36″ Dual Blower Liner
Oh, man, this is a showstopper! Nancy has confessed to me that this is her favorite range.
Dottie went on to say:
At Nancy's suggestion, I looked into a Liebherr integrated fridge as a slightly less expensive alternative to a SubZero. I wavered a bit about spending so much money on a fridge. But, I am so happy I did, as it brings the design together perfectly. (Hot tip: I used regular 8″ cabinet pulls on the refrigerator and freezer panels, not the larger and vastly more expensive appliance pulls. They work great.)
Love this!
Nancy and I had so much fun shopping together on Chairish, eBay, and Facebook Marketplace.
She either found the pieces for me or virtually held my hand as I hemmed and hawed over every little decision to an embarrassing degree. (Really, she has the patience of a saint.)
Even design details that I had in mind already would not have worked out without her. For example, I brought up the idea of zellige tile for the backsplash, then almost went with subway tile as a safe choice until she gently nudged me back to the zellige. (Thank goodness, because the tile is my favorite part of the kitchen!)
Sheffield Chandelier 4 Light Lantern
Another big deal to this kitchen remodel was the marble island.
I wanted Carrara marble, but finding a nice slab turned out to be a huge challenge. I almost settled a couple of times, but Nancy suggested that I may want to continue looking. Late at night, I stumbled upon an Imperial Danby slab online in a different city. Once I had it priced out, and Nancy approved, I bought it right away!
Read an important post about marble kitchen counters here.
Cabinet Hardware
You might enjoy this post about some kitchen combos I put together for you last year.
I owe my absolutely gorgeous marble island to Nancy, gently pushing me not to settle.
By the way, I sealed the marble myself twice with Stonetech Bulletproof Sealer. Now, there's no worry about staining and etching. Honing the stone has helped a lot with that, as well. The soapstone countertops by the range work well for messy cooking tasks.
Perrin & Rowe Georgian Bridge Faucet
Perrin & Rowe Georgian Soap Dispenser
The coffee station is now tucked away behind closed doors for a cleaner look.
One of the aspects I love is how seamlessly Nancy worked in as many of the old cabinets as possible with new cabinetry. That undoubtedly saved a lot of money with this kitchen refresh.
I love how the white cotton duck slipcover knocks back the formality of this English-style chair.
Well, all I can say is bravo, ladies. This was a magnificent collaboration, and I'm so happy it was a wonderful experience.
Nancy told me that all of the flowers are from Dottie's garden and the eggs from her chickens!
I love all the personal touches that look like they were a lot of fun to collect.
And, it's made me realize, all the more, that it's the accents that make ALL rooms warm and homey.
So, to help you create this look, or something similar, below is a widget with everything and a few things that aren't in the kitchen but the same spirit.
Other items like the lanterns and stone are linked to in the post above.
While Dottie's tile is from Cle Tile, I linked a few cool sources for Zellige that I found on Etsy. To read more about the Zellige tile, go here.
Real Zellige is a Moroccan tile and has a rough, antique look. If it's less than about $9.00 a square foot, it may not be real Zellige.
One last thing here about Zellige is that it is most commonly found in the 4″ square size. However, if you click on the images in the widget, you'll also find some rectangular tiles. So, you can do Zellige, AND in a brick subway tile pattern, as well.
Please enjoy all of the items and sources, mostly supplied by Nancy and Dottie.

But, guess what? I'm going to have another beautiful and accessible kitchen makeover for you to see very soon.
This one, too, follows the same footprint.
Just a little teaser. It features Raphael by Sandberg in green in the butler's pantry, and it is gorgeous!
Thanks again to Dottie and Nancy for so graciously sharing their labor of love and sources!
Please follow on Instagram.
Dottie – where you can see more pics of her beautiful home and garden!
xo,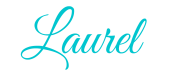 PS: Please check out the newly updated HOT SALES!
PPS: Folks, this is a snark-free zone. Therefore, if you want to criticize something here, be it the words I choose, or anything else, please refrain. You may write me privately by responding to any email you receive from me. Thank you so much.