Hi Everyone,
And, a very Happy 4th of July to all of my fellow Americans!
Guess where I'm headed to?
Yes, I'm taking a trip back to New York to visit friends! It's my first time back since I left on that frigid day last  December.
In the meantime, today's post is a little shorter than unusual.
I know how busy you are. That's because you're either building an arc or putting out a fire (depending on where you live).
OR, you're shopping online, taking advantage of all of the great 4th July sales.
So, think of this post featuring one awesome home exterior transformation as the starter course for the main course that should be arriving Tuesday into Wednesday.
Then, you'll see a gorgeous and very accessible remodeling of this kitchen.
As you know, I'm not a fan of upper cabinets going over the counter. However, what's going on that range wall doesn't make sense. It looks like they ran out of money and didn't have enough for the four missing cabinets. I'm not going to talk about the tile. Obviously, this is the before.
However, I don't mean to be a tease, but you're going to have to wait to see the results.
But, I think it'll be worth it as I'm also going to give you the information on every single item put in the new kitchen. And, with the sources! Oh, it's so good. I want to be sure to do it justice without staying up until 3:00 AM.
So, where did this kitchen come from?
Drum roll…
~~~~~~~~~~~~~~~~~~~~~~~~~~
It came from our very own NANCY KEYES!
(some 40 posts are mentioning Nancy, one of the most talented interior designers I know!)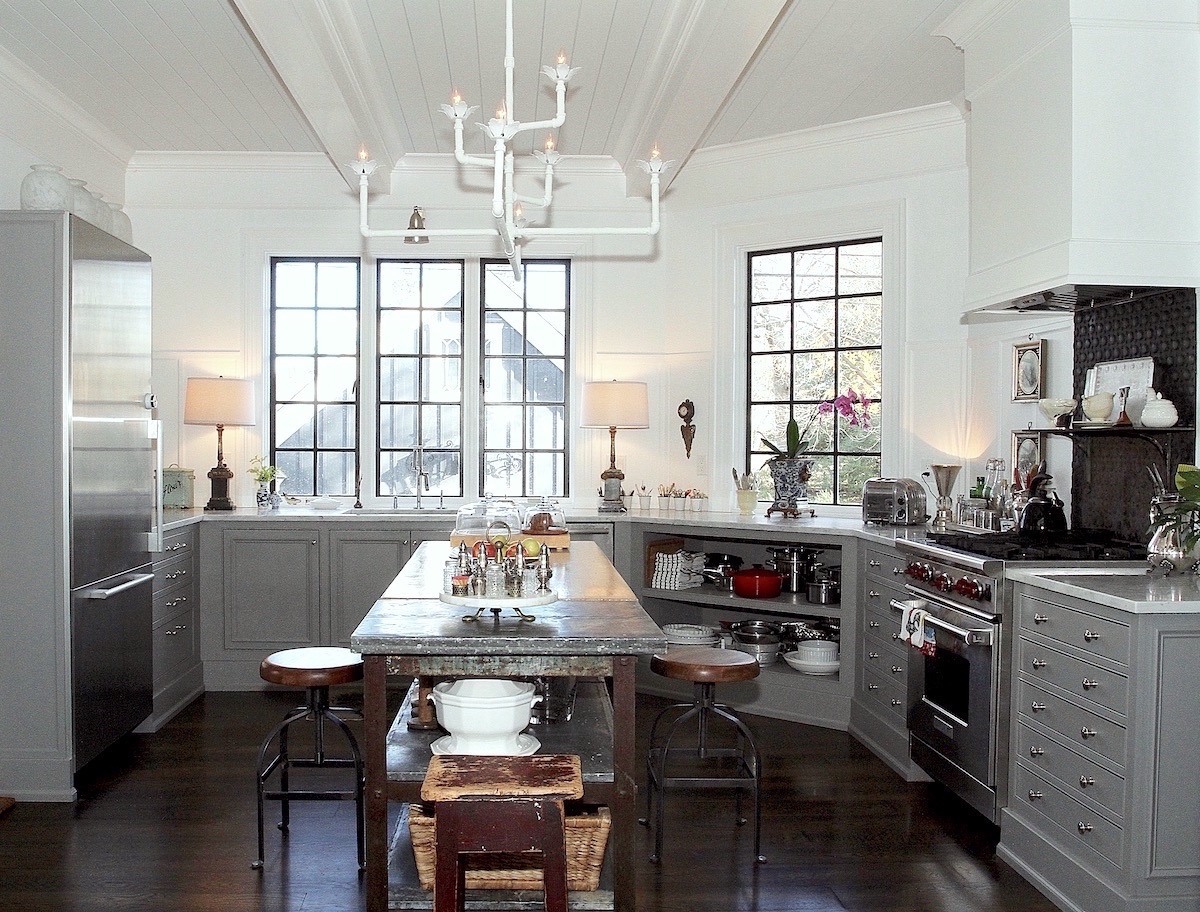 Yes, Nancy Keyes of the giga-gorgeous kitchen with the cool gray cabinets with NO upper cabinets. And, so stylish, it is too.
And, it's the same Nancy who designed the world's most incredible silverware drawer.
Plus, there's her super-stylish living room.
And, this sophisticated powder room.
.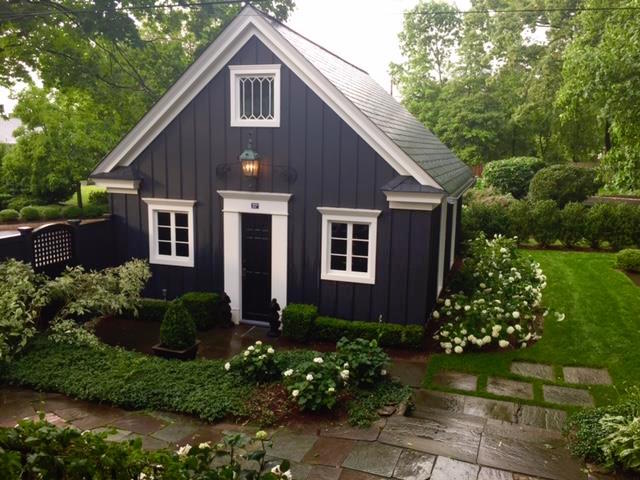 And, who could ever forget Nancy's jaw-dropping GARAGE painted in Benjamin Moore Racoon Fur. In fact, based on this one pic alone, I knew it had to go in the Laurel Home paint collection.
Wait, Laurel! THAT is a garage???
lol, I know. I've told Nancy that all I need is a pillow, blankie, mattress, and a microwave oven, and I'll be all set.
So, knowing that Nancy can do no wrong when it comes to interior and exterior design, you may well imagine how excited I was to learn that Nancy has a new kitchen to share with me. I mean, with US!
Oh, I almost forgot. Of course, she also helped our lovely Melissa with her home and kitchen refresh a few years ago.
Here's what Nancy said:
Laurel,
I have to tell you. I don't really want to work anymore.
Believe me. I hear you, Nancy! haha.
However, because of you, Dear Laurel, I've had a few requests from lovely people. Alas, the timing was off, so that I couldn't help them out.
But then, several months ago, I received a message regarding a kitchen remodel from a woman named Dottie.
Blessedly, everything Dottie wrote resonated with me perfectly.  Plus, the timing was perfect, and there was just that "something" that clicked between us. You know it's a little tricky to do a remote project, but I could tell that we spoke the same design language. I know you know how important that is.
Uh-huh…

Then, amidst the kitchen work, they needed a new roof. And that led to painting the house. In typical fashion, we had three days to decide on the paint colors.
Oh, I hate that! But, yes, that is typical.
Here's the house before the much-needed home exterior transformation.

Ya think it needed it, Laurel? lol
Oh, my word! That is positively scary, Nancy. I mean, does anyone actually use that black hole masquerading as a front door? Welcoming, it is certainly not!
During our rush to pick an exterior color, Dottie mocked up several choices and then a light bulb moment, Furlow Gatewood's peacock house.
I scoured the internet and held samples of the pictures in his book. Then all of a sudden, I remembered you "cracked the code" on the color a while back in this post.
photo via Rod Collins
So, we have you to thank for that, too. It suits her gardens so well.
Gosh, I barely remember writing that post.
Nancy sent me a whole slew of photos. Or, rather, her darling husband, Marc, did.
Some of you may recall that Nancy's talent isn't confined to the inside of houses. She's equally talented in her exteriors.
Who could forget this beauty, Nancy's old home in Atlanta from several years ago?
It triggered a memory of one of my favorite posts about before and after home exterior makeovers and paint colors too!
Plus, this post about some of my favorite exterior paint colors.
And another post about some beautiful before and after home exterior shots.
So, guys, I have to go and fold laundry. ;] But, let's give another big drum roll for what I think is one awesome home exterior transformation!
~~~~~~~~~~~~~~~~~~~~~~~~~~~
First, the dreary before
and then the after
Ta-dah!!!
Oh, I can't believe it's the same home. This is a young family home and looks absolutely perfect to me. Great job, ladies!
Please pin to your Pinterest boards.
You may also pin it to Instagram, but please tag me @laurelberninteriors and @nancy.keyes.design when you do so.
And, please follow us both. That is greatly appreciated!

I adore this exterior makeover so much. And, now we can plainly see there's a handsome door that's also beautifully styled.
For more front door inspo, please go here.
The green looks so fresh with the new plantings, as well.
Thank you, Furlow Gatewood — Again!
By the way, Mr. Gatewood is turning 100 next month!
Well, everyone, I hope you enjoyed this gorgeous home exterior transformation.
Laurel, wait. Don't go!
Yes, What is it? I'm trying to pack. ;]
Aren't you going to tell us the paint colors on the fabulous home exterior transformation?
Oh, blimey, yes! Thank you so much for reminding me. ;]
The main exterior color is Benjamin Moore Kennebunkport Green hc 123.
The trim is Sherwin Williams SW 7008 Alabaster.
And the front door is also Sherwin Williams sw 6522 Sporty Blue.
Thank you so much, Nancy and Dottie, for generously sharing your time, talent, images, and much more! I can't wait to share the stunning kitchen!
For some more beautiful home exterior ideas featuring painted brick, please go here.
Again,
Happy
4th
of
July,
Everyone!
This is one of the biggest shopping weekends of the year, and there are great savings to be had. So, please check out the newly updated HOT SALES!
xo,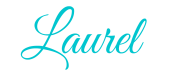 PS: If you're wondering, the featured image for the post is Nancy's own home exterior transformation!