Dear Laurel,
My husband and I adore your blog! We especially like the rooms you show with wainscoting and wonder what you think about rooms with peaked ceilings? We'd love to do wainscoting but wonder if the top of the walls would look naked!
I know you don't answer individual letter-writers, but I bet it would make an interesting blog post.
Thanks!
Elizabeth
Hey Guys,
That was a real note from a lovely reader, Elizabeth.
Ahhh… the longer I'm studying interior design, the more I believe wainscoting, and applied wall mouldings, are the key to beautiful rooms. (excluding purely contemporary and modern architecture)
In fact, it is such an important topic that I've discussed applied wall mouldings in well over 100 posts since April 2012.
So, if you're stuck, maybe bookmark this post so that you can have a resource guide of sorts for wall mouldings of all kinds from the baseboard all the way up to the crown. Of course, this also includes doors, windows, and their casings, picture rails, and all decorative wall paneling.
However, today, this post is going to focus only on wainscoting.
What IS wainscoting?
Well, once I had a little argument with my old boss from the mid-90s. Mind you, she had never taken one interior design course, and I had three years under my belt, including numerous advanced drafting courses. (A skill I rarely use. haha)
Anyway, she said that wainscoting was what you see in the image below.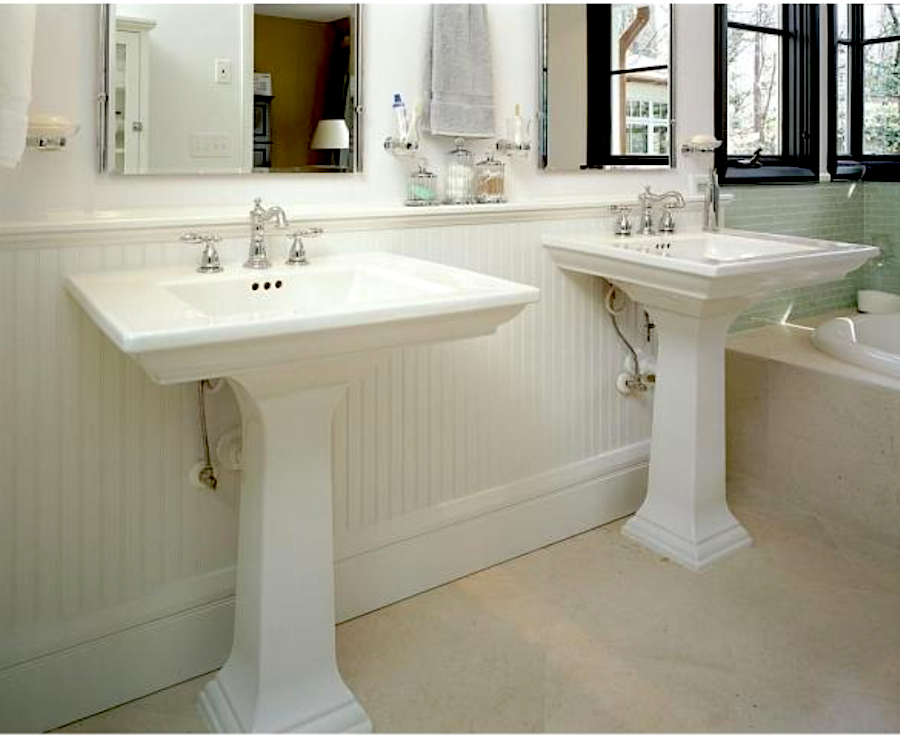 And, yes, she's right above and below wainscoting available at Home Depot.
Well, half right. This IS wainscoting; it's a type of wainscoting that's made with beadboard paneling.
However, it's not the only type of wainscoting, even though my boss insisted that it is. And, she did not know the term "beadboard."
Moving on…
Most of the time, when I think of wainscoting, I think of the classic design consisting of a chair rail (or cap), panel moulding, and baseboard.
In addition, there may or may not be a rail (horizontal, flat piece) and a stile, a vertical flat piece. I remember the difference because when I think of rail, I see a railroad that runs horizontally.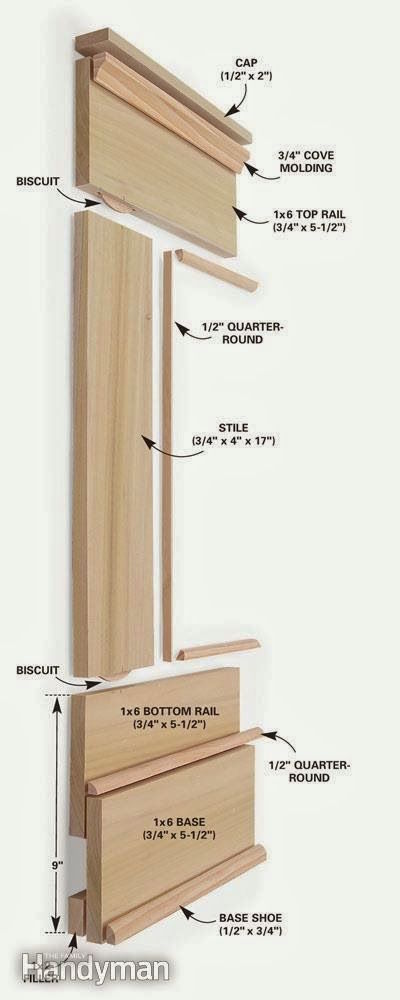 A breakdown of wainscoting from Handyman
The chair rail can either be a horizontal piece with a specified profile or even a small solid crown moulding.
I made this graphic (below) to show the basic components of what goes into traditional wainscoting.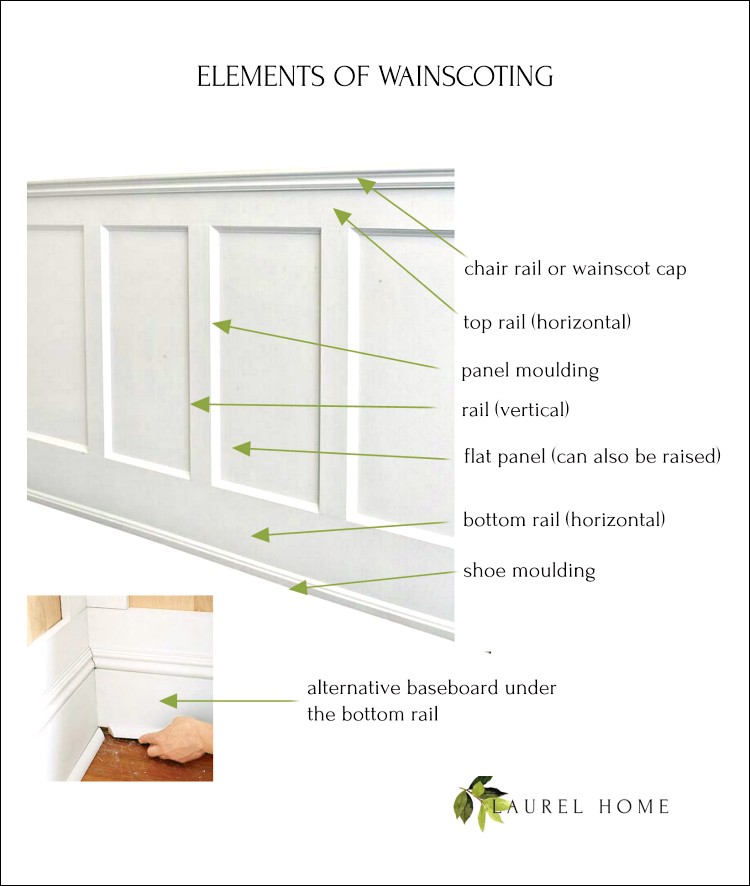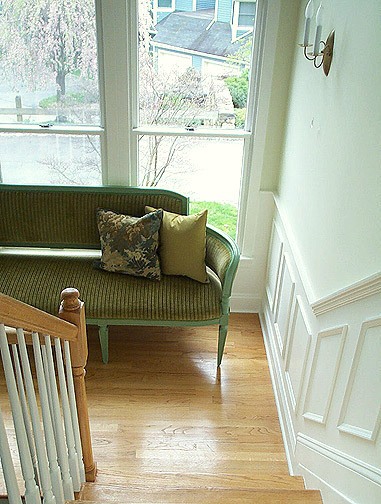 In our old townhouse in New York (above), I had installed wainscoting consisting of a small solid crown used as the chair rail. Then, they applied picture frame moulding and then a staircase.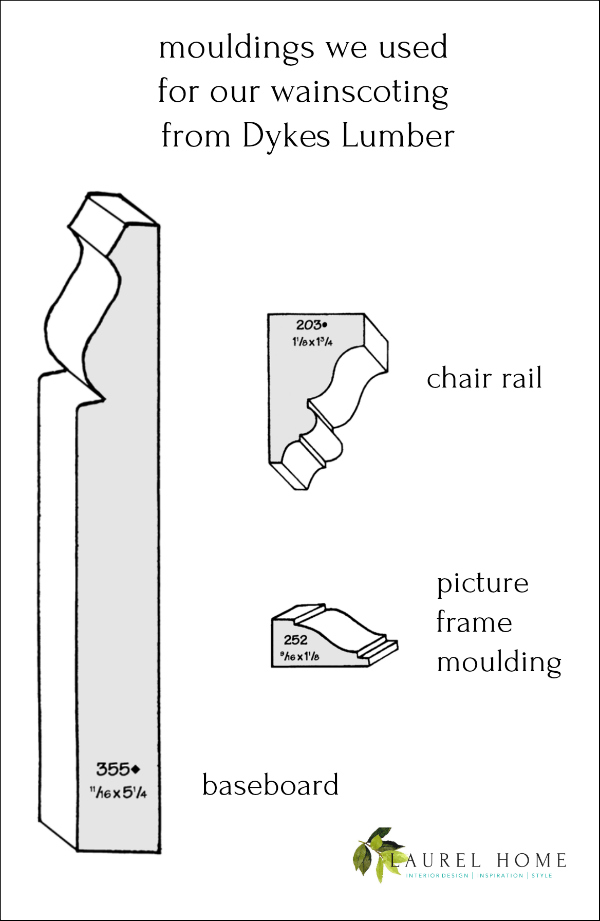 Here is what we used from Dykes Lumber.
When it's all painted, you could not tell that there was no rail and stile. Doing it this way is quite valid and saves a lot of money.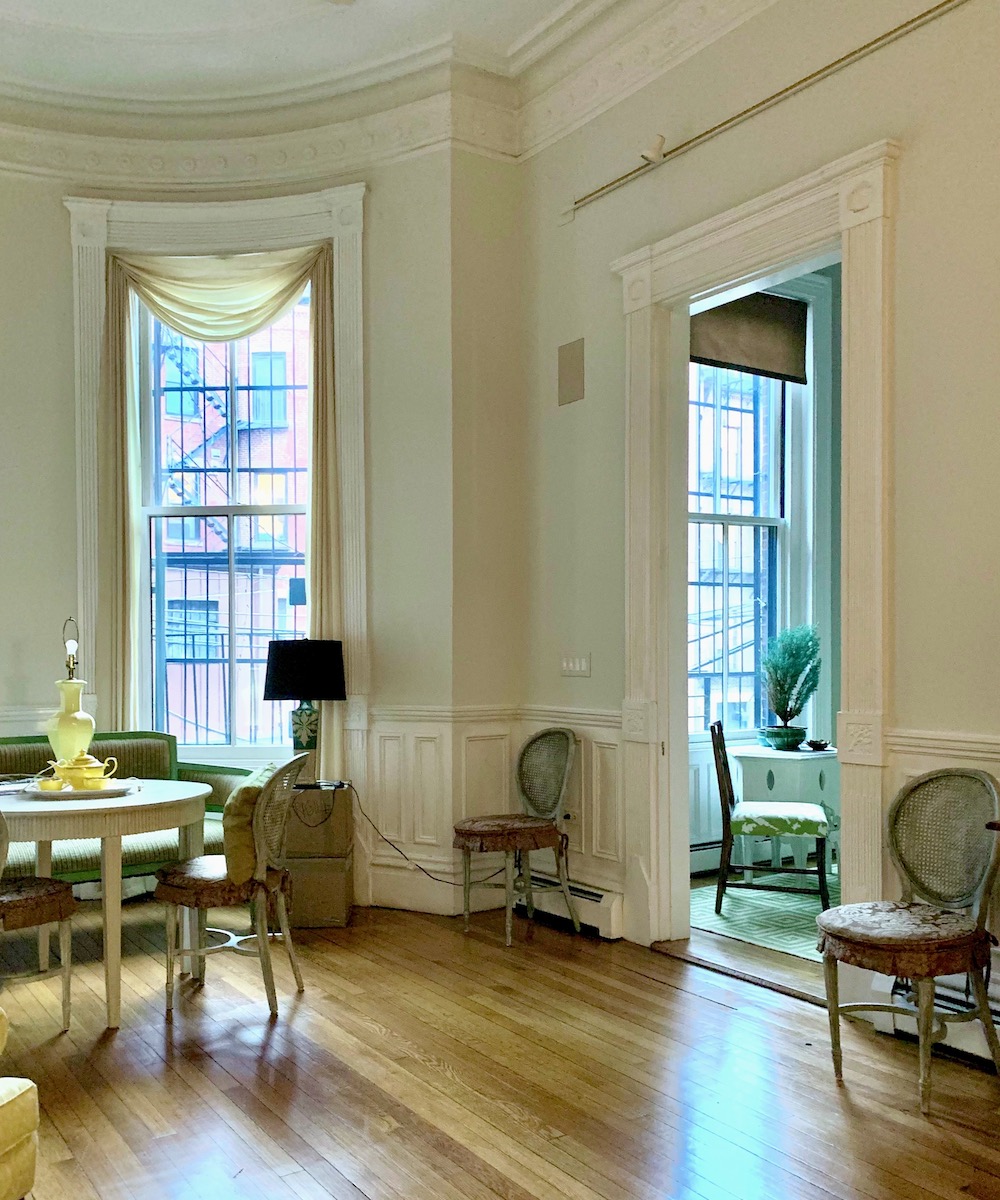 However, the wainscoting in my new Boston apartment built-in 1880 is the real McCoy with a rail and stile. Again, you have to get right on top of it, to notice that the center panel is recessed more deeply than the surrounding rail and stile.
Are you asleep yet? ;]
Above and below is from the exquisite home of Steve Cordony and his partner in Australia. Some of you may recall my post featuring this amazing home, Rosedale Farm.
Steve's wainscoting paneling is the applied kind without the rail and stile.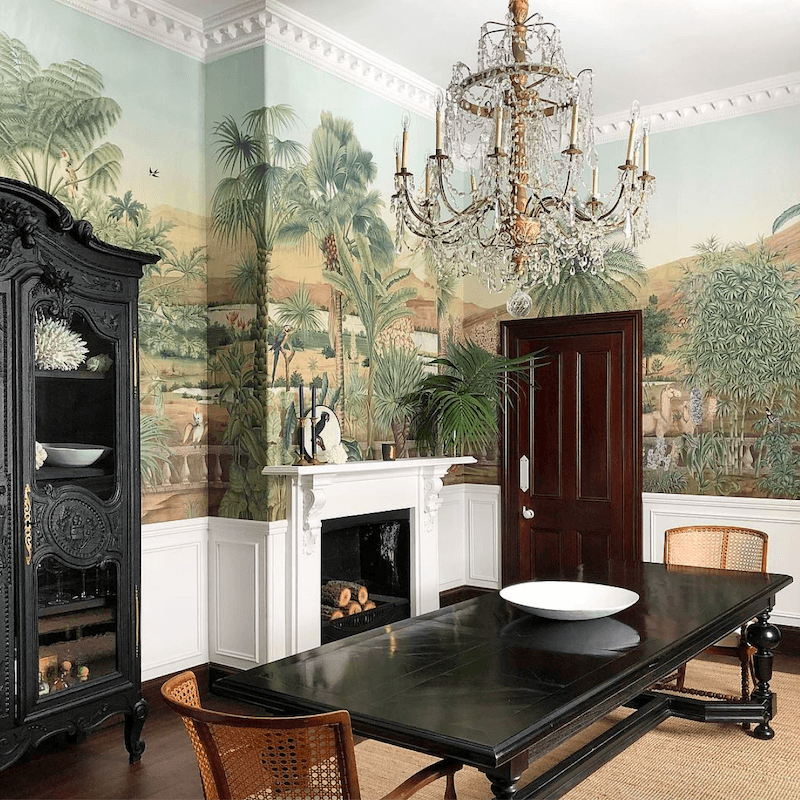 Please follow Steve Cordony on Instagram here.
Now that we've seen three types of wainscoting let's go into further details. Then, we'll look at many more beautiful examples.
Wainscoting (pronounced Wayne's coating) or the alternative term, wainscot had its origins around the 14th century in Holland. Not only was it decorative, but it was also a means to protect the lower half of the wall as well as provide insulation in homes. After all, they didn't exactly have central heating, and as we all know, the warm air rises.
Over time, numerous variations have taken place, so let's go over them.
Today, wainscoting may go on the lower third of the wall, two-thirds of the wall, or the entire wall.
But the one thing you must never do with your wainscoting is applied it half-way up the wall.
Oh man, I saw this once during a consultation in a dining room, and it was horrible! I whipped out my tape measure, and yep, the top of the chair rail came in at exactly 48″ in a room with an eight-foot ceiling. Tres ugly.
The cure would be either ripping it out and starting over OR adding additional wainscoting so that the wainscot would go up approximated 2/3 of the wall. An attractive scale would be so that the upper panels are square. But all in all, sometimes one just has to cut their losses and do it over.
Well, Laurel, how high should the wainscoting be?
That's a good question. Generally speaking, one can't wrong with "the rule of thirds." For an eight-foot ceiling, that would be about 33 inches high off the floor. We did ours at 35," and it was perfect. This is for the standard lower third of the wall wainscoting.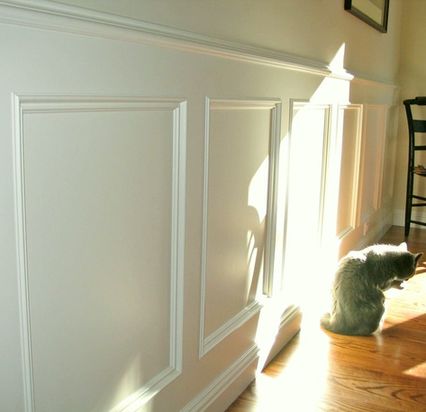 wainscoting very similar to our old house
In my opinion, when in doubt with mouldings, go smaller, not larger. Under-scale is better than over-scale. Of course, we don't want to see dinky proportions in a room with a 12′ ceiling, but we need to be careful with 8 feet and lower.
In fact, with the soaring 13.5-foot ceilings, my Boston living room has a wainscoting height of 40″. However, the baseboard is a whopping 11″ high, and the chair rail is 3.5″ high. This is at least double what we typically see these days in new homes, whether the ceiling is 8 feet or higher.
Traditionally wainscoting is made of wood, or it can also be made out of MDF board.
You can even get it made out of plastic, but I prefer to draw the line unless there's a compelling reason. However, I rather love these polyurethane mouldings from Orac Decor.
We saw a beautiful crown moulding here.
You can purchase Orac Decor mouldings at Wayfair or Overstock.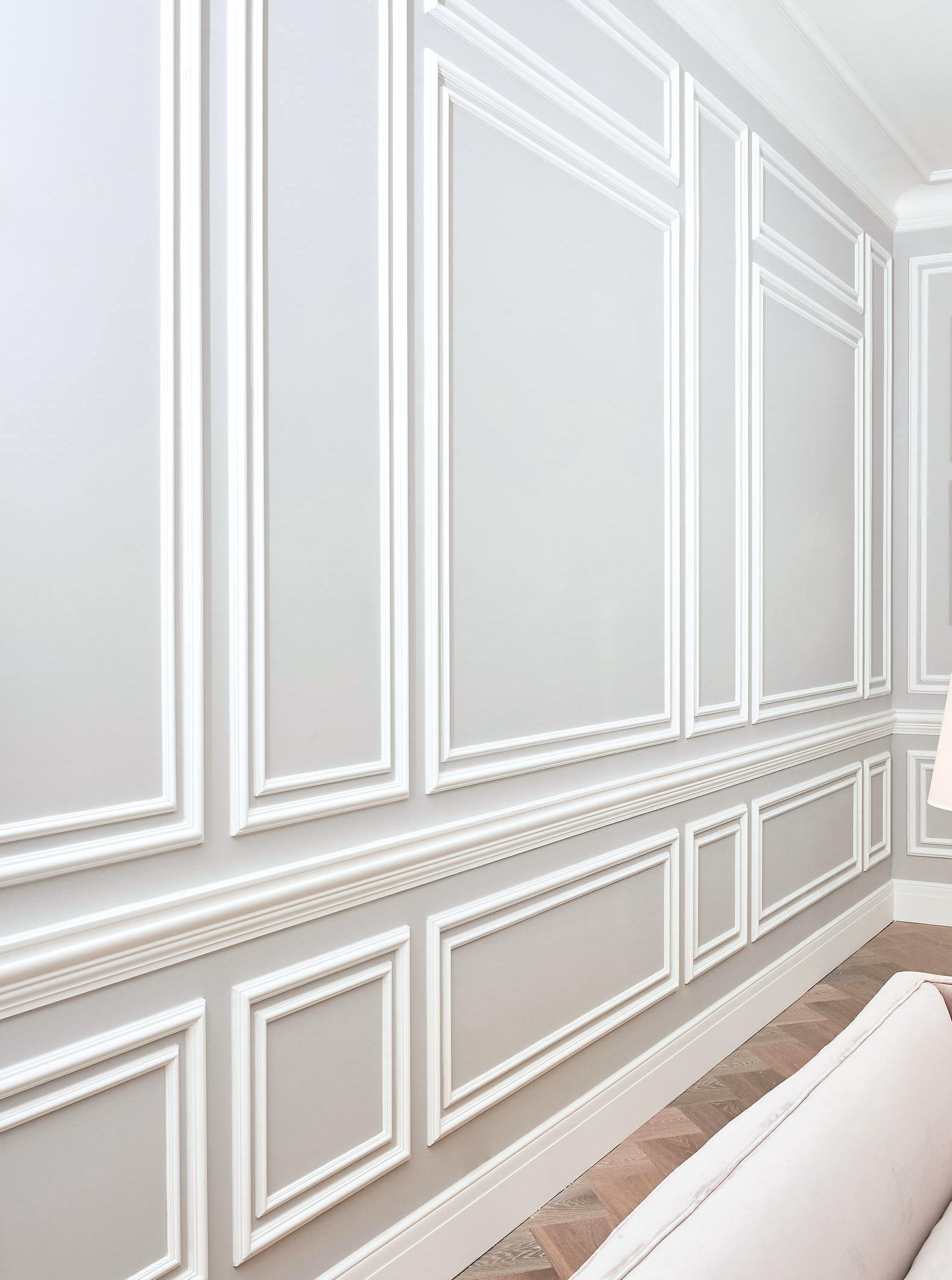 orac-decor- photo – Verne Gazeuse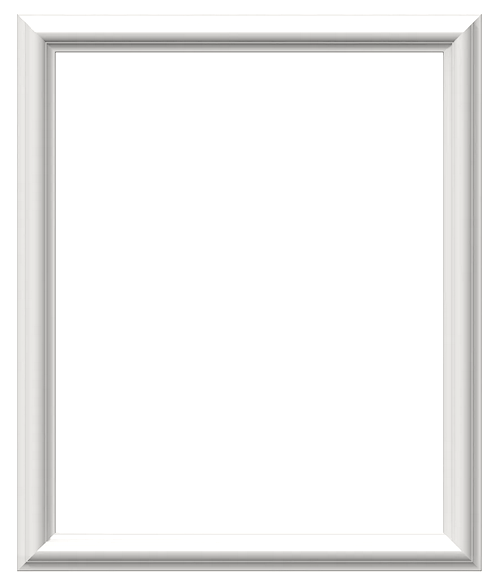 Orac Decor even makes a preassembled picture frame moulding that just gets glued onto the wall. I recommend keeping the spacing even between the boxes and increasing or decreasing slightly on the ends. You can space the boxes about 3 or 4 inches apart and not less than 2 inches on the ends.
Let's delve further in and begin at the top with the chair rail, wainscot cap, or dado cap. Dado is another word for wainscot, but it does not necessarily have paneling, nor it necessarily made of wood.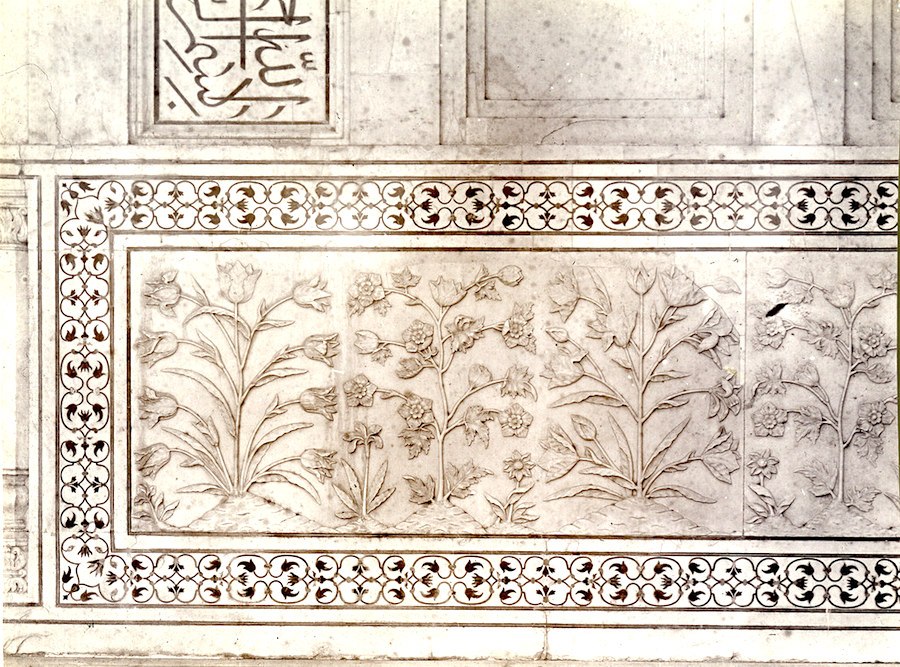 via Flickr
Above is the exquisite carved stone Dado of the Taj Mahal.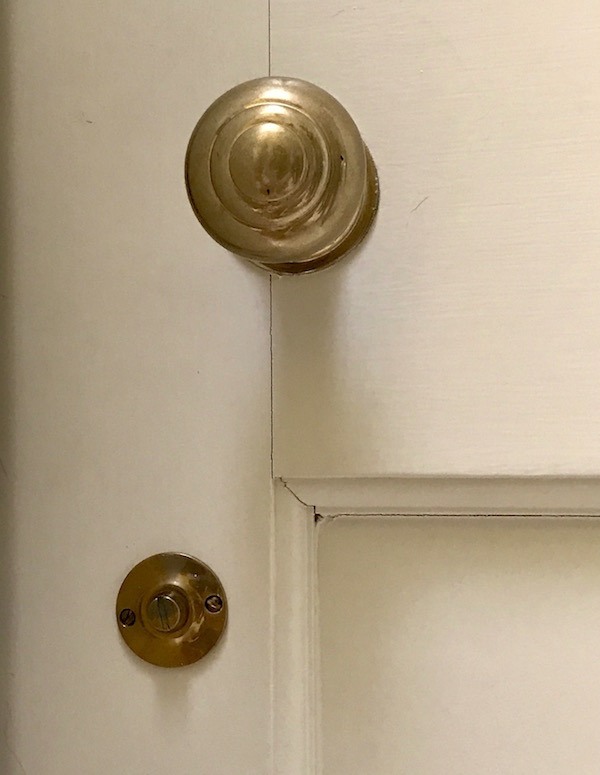 This is a door designed by George Saumarez Smith of Adam Architecture in a photo I took during my trip to England. Here we can see the bead moulding inside the panel on the door. Why is it slightly cracked? Its wood and wood expands and contracts. It's not a defect. But, it gives a close-up view of the rail and stile as seen on a door.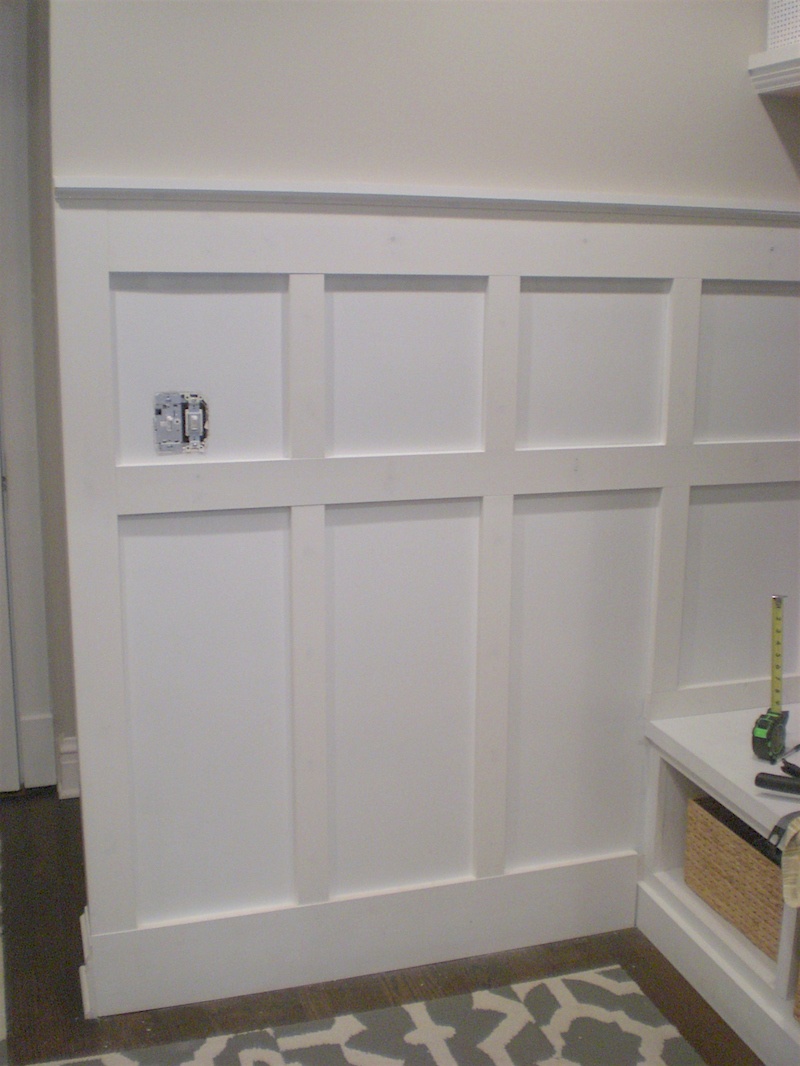 There is no bead or picture frame molding in shaker style or what is commonly called board and batten.
It's just flat pieces of wood. There are a ton of tutorials on Pinterest on how to do this because this is the easiest to apply. And it suits a lot of folks who want a less fussy look. The one linked above gives the exact proportions they used. I respect people who can make things like this!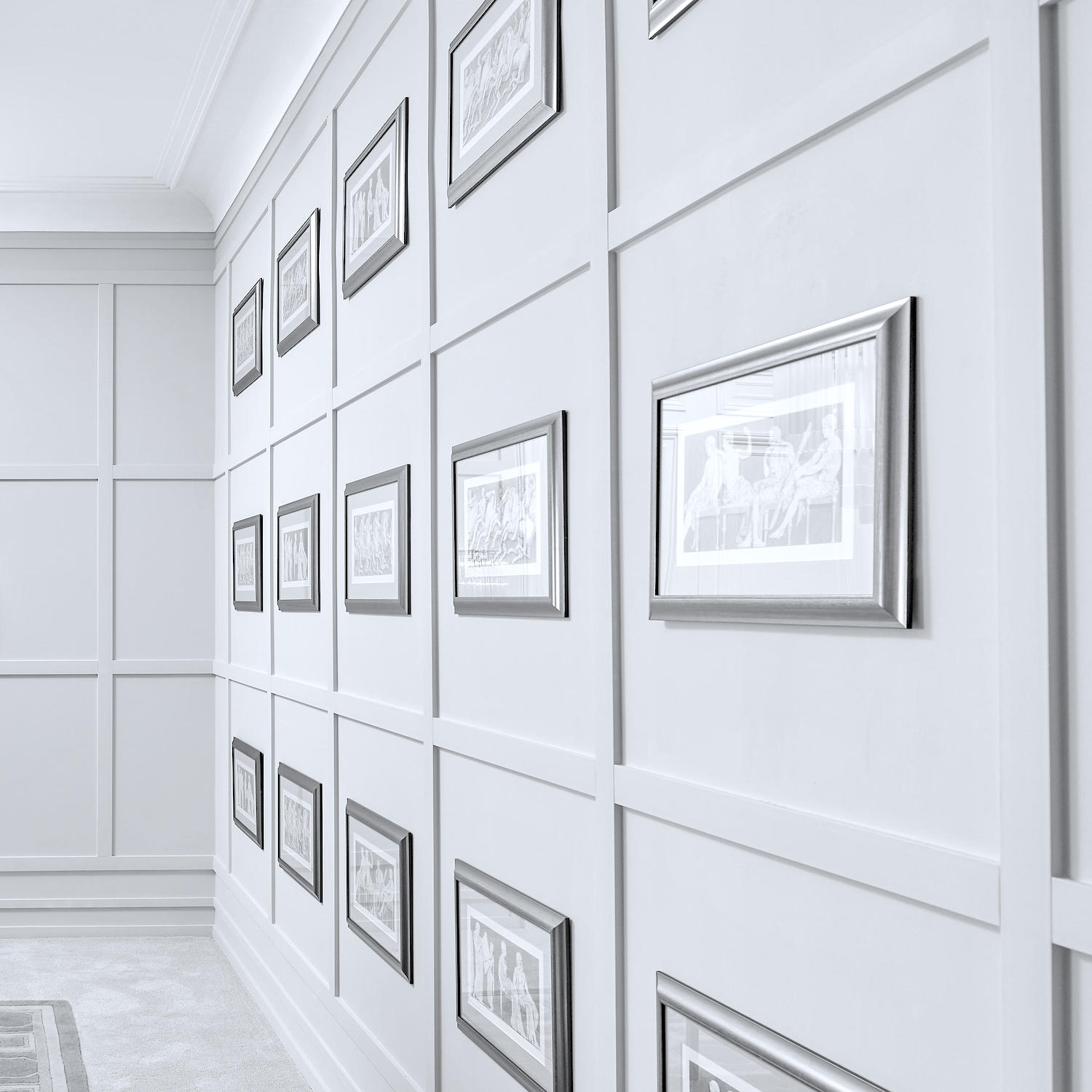 Orac Decor makes a board and batten applied wall moulding.
More ideas below for traditional wainscoting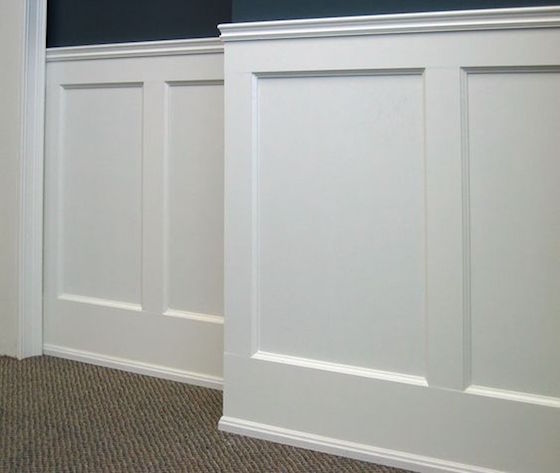 source unknown
Recessed Flat panel with a bead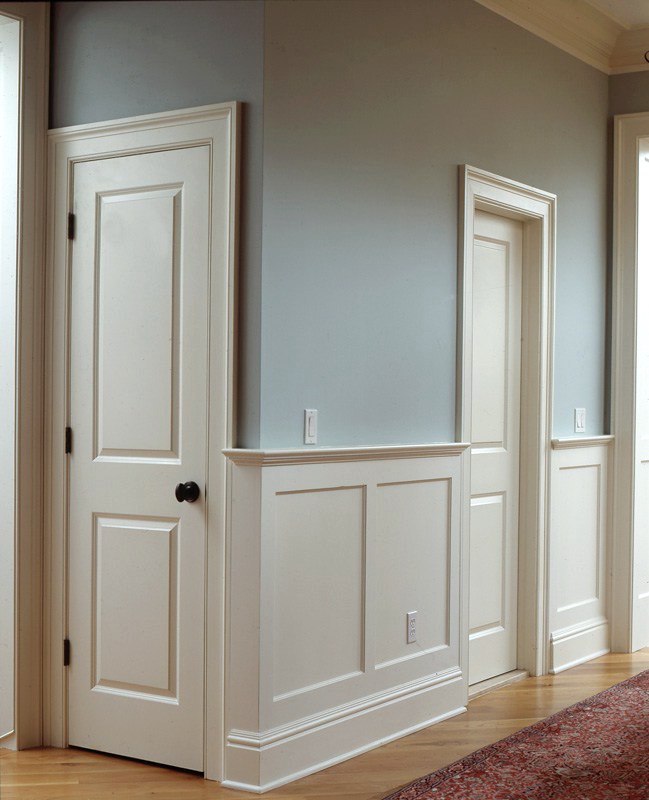 Doors have a raised panel and the wainscoting a flat panel. I don't think there's a bead, but there could be.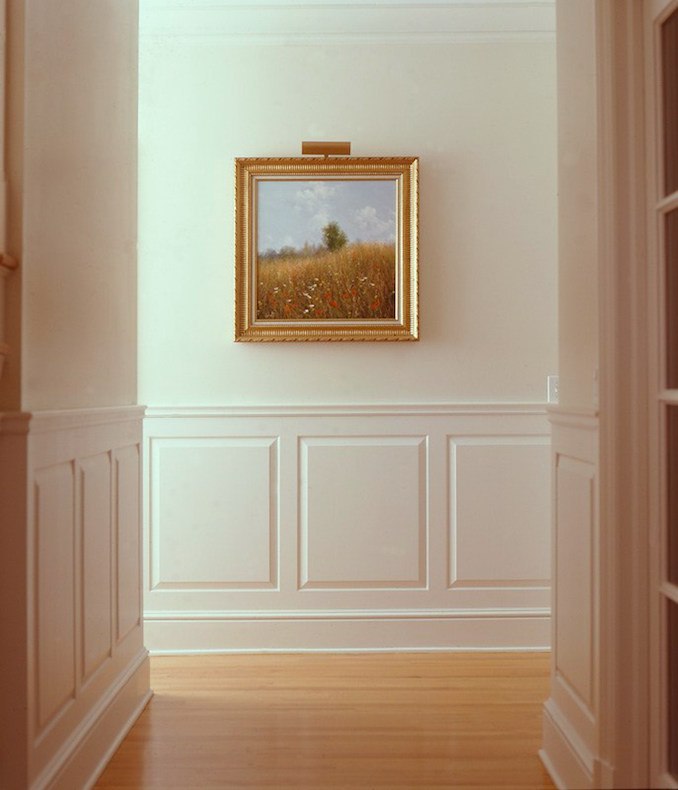 Beautiful raised panel wainscoting in perfect proportions.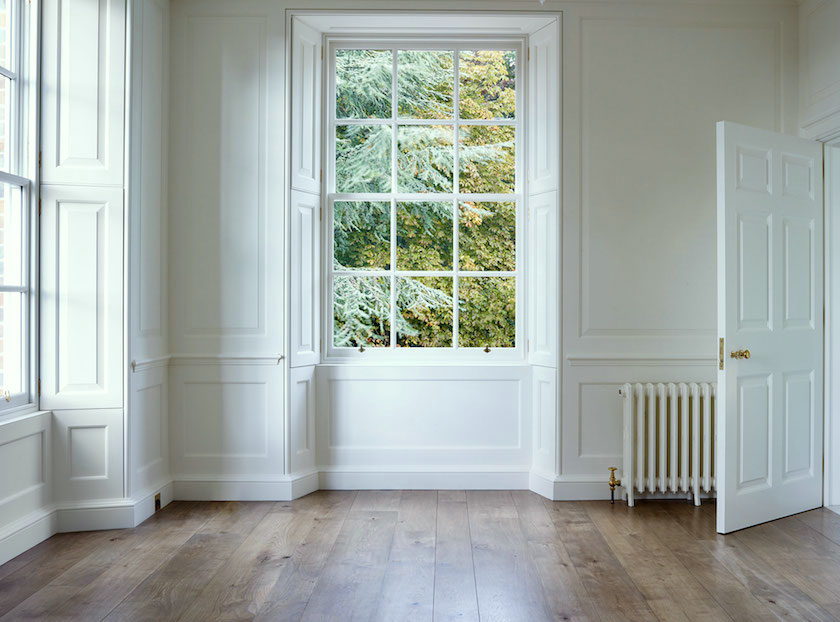 One of Ben Pentreath's magnificent creations. We did visit this fabulous place but were not allowed to take photos. Ben IS allowed, haha, and this is his image. As you can see, he did a combo of recessed flat panels on the wainscoting and raised panel moulding on the shutters and doors. Gorgeous, gorgeous home!!!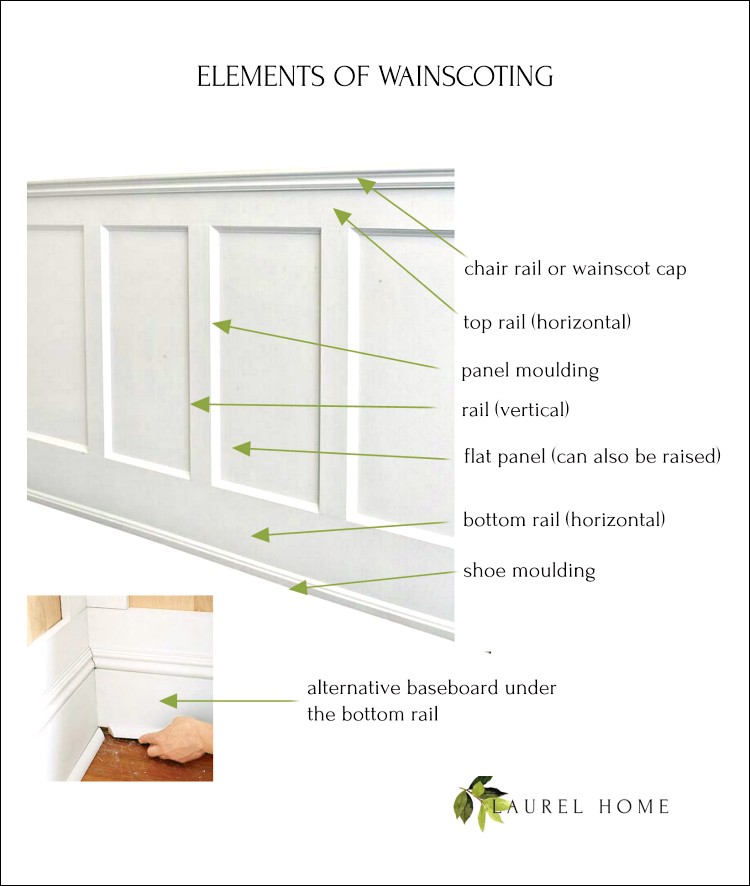 (Repeating my graphic, so you don't have to keep going back and forth.)
The baseboard can be a separate piece (or pieces); the baseboard can also be an extension of the lower rail, as shown in the graphic.
Finally, is the shoe moulding, also known as a quarter-round. This is not an essential piece. I did have this in my old home. Neither my Bronxville apartment nor the Boston Apartment has a shoe moulding.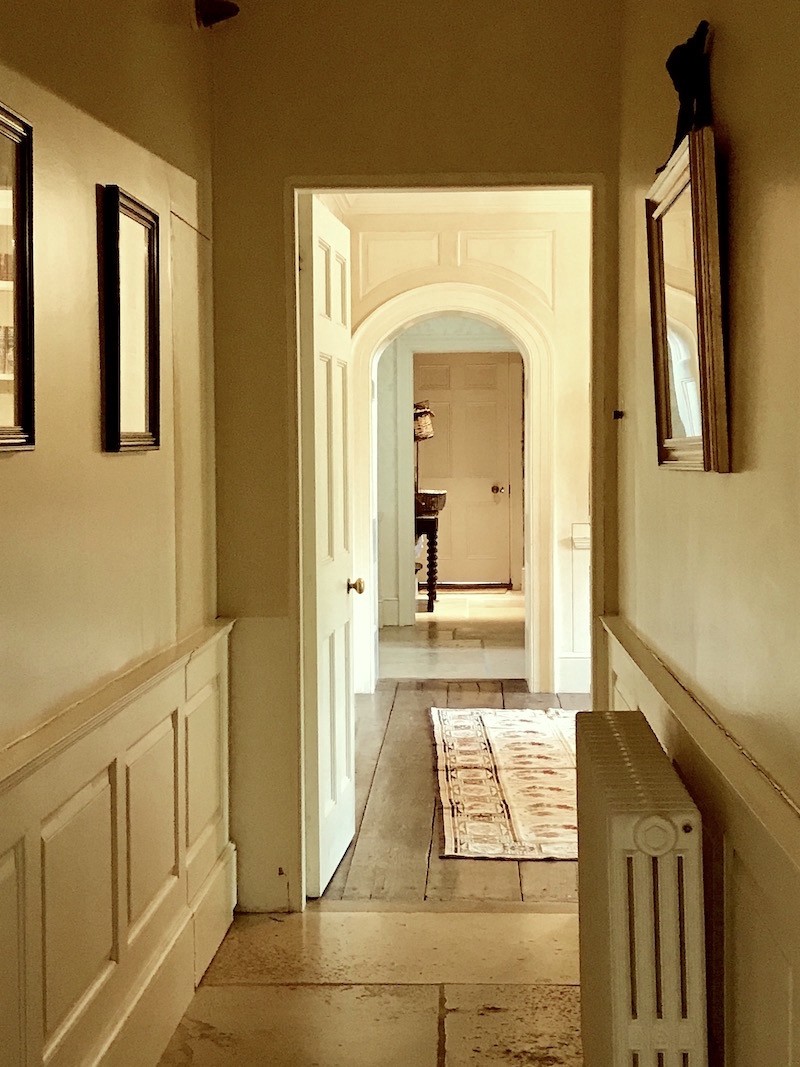 You may recall this lovely image I took of an Adam Architecture renovation in Winchester, England. And what do we have here? An enfilade!!! And a beautiful raised panel wainscoting. And something I JUST noticed. There's a 'hidden' door on the left just before the first doorway!
Below is more applied straight to the wall moulding, a bona fide way to do wainscoting.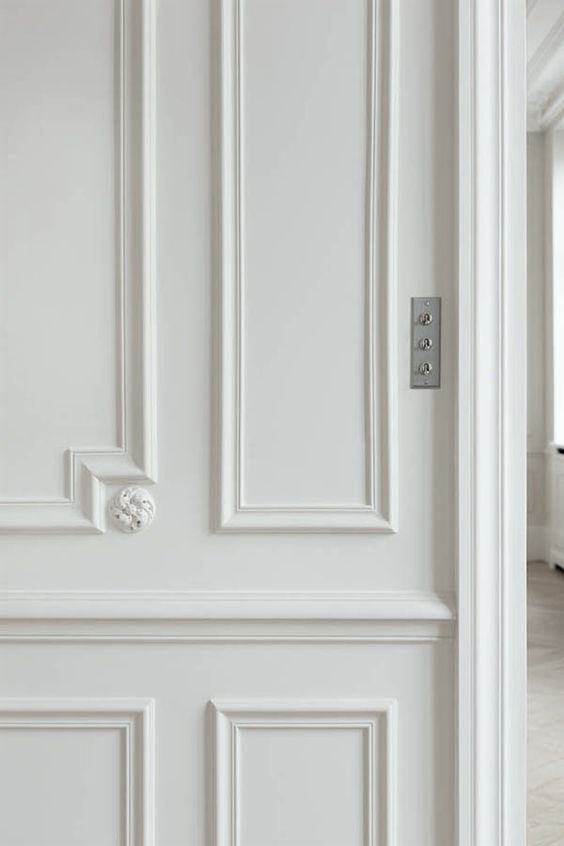 A beautiful French apartment. Sorry, the source is unknown. But if it's good enough for the French, it's good enough for me. This is a tall wall, so the moulding is beefier than what we used for our eight-foot-high living room.
Oh, dear. I haven't answered Elizabeth's question about if she should do wainscoting or not!
She sent me a photo of a room similar to hers.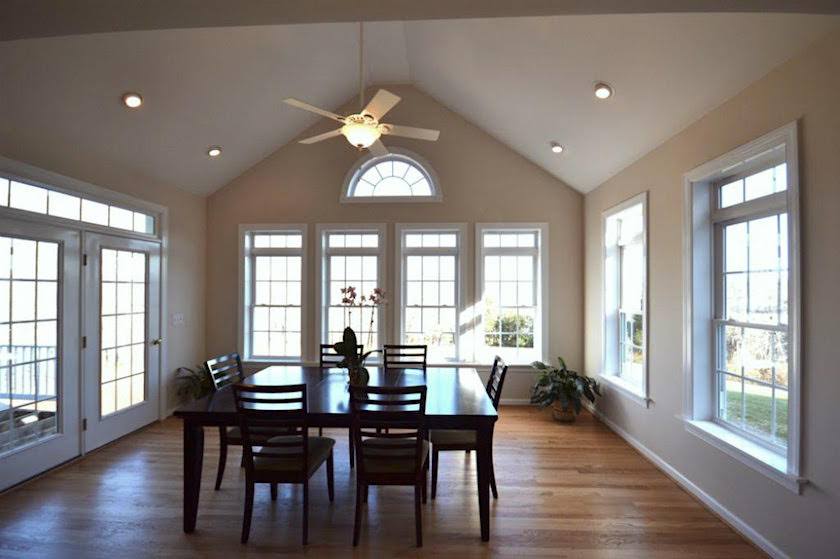 This is a very lovely room. And I agree with the decision to paint the ceiling and walls one color.
It looks like they just moved in because there's nothing but a table and chairs.
I wouldn't bother with the wainscoting in this room because if you put up draperies, there won't be enough wall to make a difference by the time you do that.
If doing wainscoting, however, where the windows come down low, like this, I hate it when they make an L-shaped box. That looks weird. In this case, I would do one box between the windows and then a horizontal box under each window.
But again, unless there will be no drapes, it's hardly worth it. The other situation where it doesn't make a lot of sense is if the furniture covers nearly the entire available wall.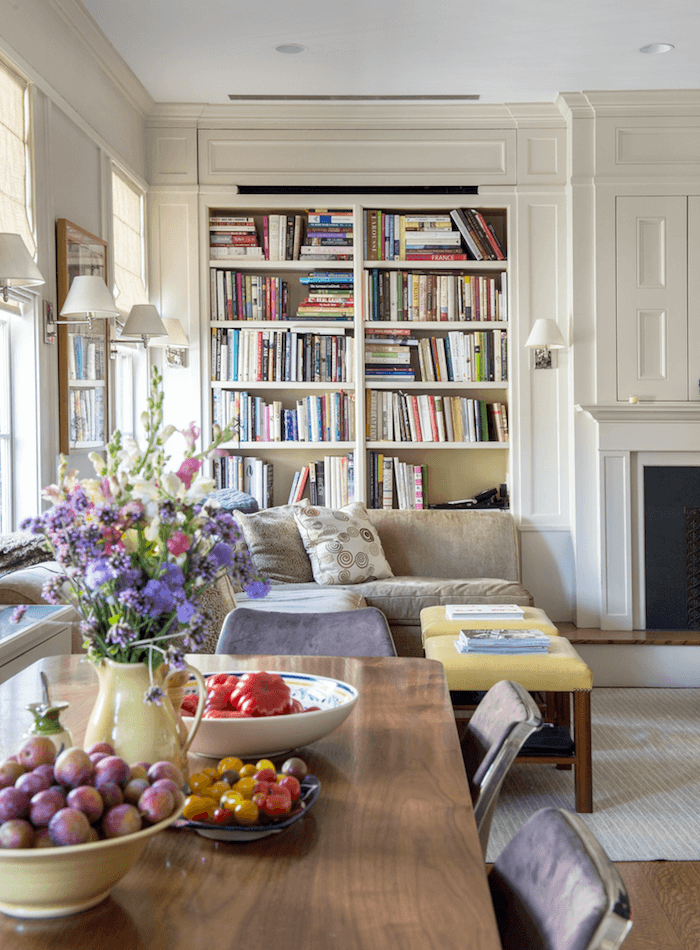 Beautiful New York apartment with charming mouldings. Via New York Times.
Well, I hope that this answered some of your questions regarding wainscoting. But if not, please fire away!
There are some good ideas in this post too.
And also this post about how to deal with a boxy boring home.
xo,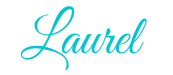 PS: Please check out this weekend's wonderful hot sales!