Hi Everyone,
Before we get into 40 of the Best Etsy shops for home furnishings, there is some news on the new apartment front.
This has been an incredibly stressful experience. And, one thing I learned is that 3 weeks is not enough time to get approved for a bank loan. And yet, that is all I was allotted. Well, they missed their deadline, which was Friday. The lawyers and mine Ron Segal (who's terrific!), extended it until yesterday at 5:00 PM.
Well, I submitted my 31st document at 1:30 PM. I couldn't believe that they needed anything else. I have excellent credit, no debt, a hefty down payment, and a steady, consistent income. Alas, I'm self-employed. Anyway, I got an email at 4:55 that the mortgage had been approved and to prepare for the closing, which is THIS FRIDAY!
OMG! So, I'm headin' to Boston tomorrow.
Everyone keeps asking me when I'm moving. And, I'm not sure because I have to sell my place in Bronxville. Does anyone want to purchase it? lol, I am going to list it for $249,999.00. This is the best location in Westchester County! If you or anyone is interested, please let me know, and I will give you my realtor's info.
Okay, time to talk about today's topic, which is about 30 of my favorite Etsy shops for home furnishings for 2020-2021.
I'm doing this Best of Etsy post for two reasons:
There is an old version of this post, and some of the shops don't exist at this time.
The other reason is that this will be a part of my much larger guide of 100 of my favorite Etsy shops for home furnishings.
If you are ever looking for your download link for Laurel's Rolodex or any of my other products, please do a search in your email for SENDOWL. That should work.
Please do this before contacting me. That is unless you dumped your entire hard drive into the ocean.
The categories that you'll find in the big guide run the gamut. I keep finding the most extraordinary sources. And, most of them are so reasonably priced!
Here are some of the main categories in the new Etsy Guide, which will contain about 100 fabulous sources.
Fabrics and, of course, custom pillows, custom window treatments, custom slipcovers
decorative hardware of all kinds
art – this category has expanded a lot
home decor, both vintage and new.
new furniture
vintage and antique furniture
lighting both new and vintage
Do you know how many Etsy shops there are?
Millions
Therefore, doing a guide (that doesn't take six months) to put together the 30, no wait, 40 best Etsy shops is probably a little crazy.
Okay, it's a lot crazy.
But when did that ever stop me? haha.
Before I go on, I need you to know that every link here is an affiliate link. And if it's not, it's an oversight. :]
That means that if you buy something (And, by all means, it's absolutely fine if you don't.) I might make a little commish at no extra charge to you.
I've been combing Etsy for years now and have discovered some of the most awesome Etsy shops for home furnishings.
Before I go on, I shouldn't presume that everyone knows what Etsy is.
Etsy, if you don't already know, is an online market of items with an emphasis on hand-crafted, vintage, and antique.
So, let's dig in and begin with:
Best Etsy Shops for ART
There are many wonderful sources for new and vintage art; much of it is original art. And I'm always finding new and wonderful sources.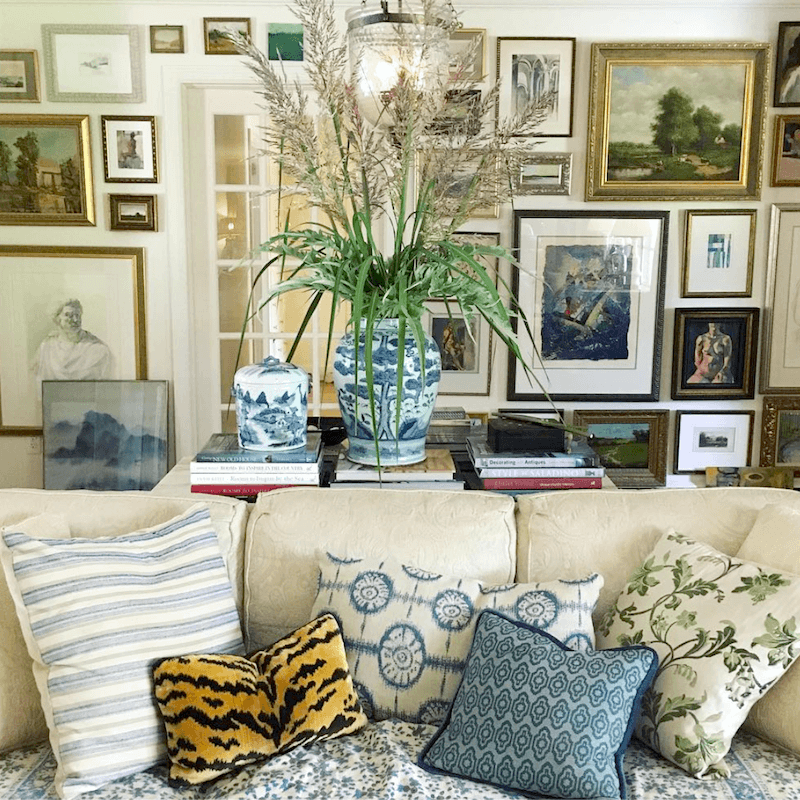 You might recall a post about three years ago where I attempted to kill myself by virtually recreating Maura Endres' incredible art wall.
And, there are many new and wonderful sources in this section:
Bruno Monteiro – miniature, charming paintings. But I think that he'll do something larger for you if you ask.
Gallery Paintings Art – Large collection of original oils on canvas, beautifully rendered. The one above is from their collection.
Studio 155 – Lovely source of small original landscapes and seascapes. I bought one earlier this year!
Lola Donaghue – Large colorful abstract prints. Reasonably priced.
Rendered Impressions – lovely original oil on canvas. Most have a Matisse-like quality.
White Barn Studios – more charm. And these prints are from the artist originals. She also does medium-small versions.
A while back, you may recall that I did a post about some fabulous Chinoiserie wall panels, and most are from Etsy.
Actually, it was two posts. Here's the second one about affordable scenic wallpaper.
Best Etsy Shops for COLLECTIBLES
Amazing Silver – An extensive line of vintage and antique silver pieces. I featured some lovelies in this post about lovely Sarah McGee a while back.
Chante Duc – French antique and vintage collectibles and home furnishings. Gorgeous creamware, transferware, and the like.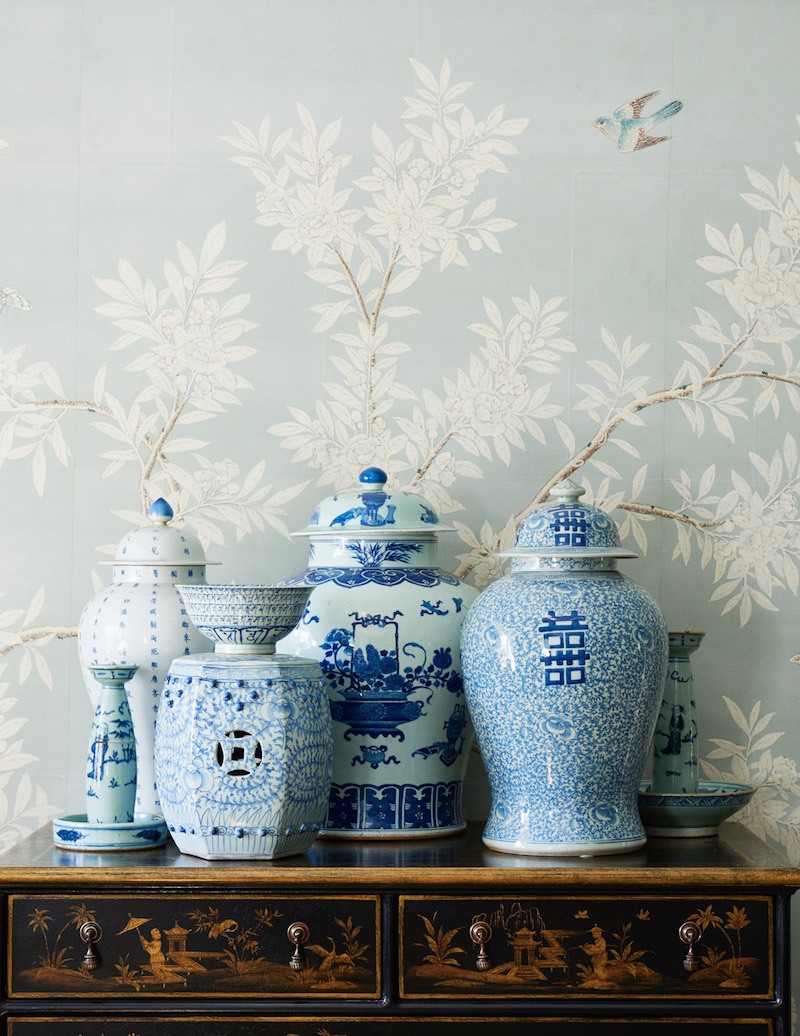 Mark D Sikes – gorgeous vignette featuring Chinoiserie furnishings and porcelains
EastAntique – This source has hundreds of gorgeous antique Chinoiserie porcelains and Asian ceramics.
Golden Lotus Antiques – Gorgeous porcelains and beautiful Chinoiserie furniture, and more!
Maintenant – Exquisite French antiques and vintage pieces.
Tao Accents – They carry Legend of Asia and have the best prices I have found online. They don't show most of the pieces in their Etsy shop, but I'm sure they can get anything for you.
The Ironstone Cottage – Guess what they carry? And it's all gorgeous!
Vintagerous – Fabulous vintage glassware and china. Very colorful.
Here is another post from a while back that featured a lot of Etsy beautiful collectibles.
Best Etsy Shops for FURNITURE
AntiqueByZRM –  This source has exquisite Asian antique pieces
Bucks County Estate Traders – They have everything. HUGE COLLECTION!
Chatsworth Antiques – Local source I have been to several times. They always have beautiful vintage and antique furnishings at excellent prices, like the serpentine sideboard above.
Deja Vu Decor – Fabulous vintage pieces and art.
Diane Maries Home – Another place that takes vintage furniture pieces and fixes them up.
Craft of Indian Art – carries beautiful bone furniture.
Liberty & 33rd – More fabulous vintage furniture
Meraki Home Design – She takes vintage pieces and refurbishes them with glossy paint and new hardware.
Vintage Refined Decor – Beautiful vintage pieces which they will gladly make even more beautiful with paint. They can be customized in any painted finish you like or, if stained, can remain that way too. Great prices!
Liven Up Design – Incredible custom-made benches out of gorgeous fabrics and grass-cloth covered tables of all kinds and more. Above are two small navy grass-cloth-covered consoles. However, they make all kinds of tables, beds, and other pieces. It's a very cool source.
Verona Vintage Home – Cool vintage pieces.
Silla Ltd – Exquisite collection of high-end antiques and art. Really, it's a must-see.
Stenella Antiques – Some wonderful traditional vintage furniture and antiques.
Best Etsy Shops for LIGHTING
While there's a lot of lighting on Etsy, it's a little spotty for shops that focus only on cool lighting. However, in the last year or so, some new sources have cropped up. Or, they have come to my attention.
Birchard Hayes – While they have a large collection of furniture and art, they have an extensive collection of vintage lighting.
Cristalleria Murano – Gorgeous Murano glass chandeliers. There are two in the widget below.
Marjorie Baskerville – Gorgeous Decoupage lamps like the one above
Best Etsy Shops for PILLOWS – Fabrics and Window Treatments
If I don't comment, it doesn't mean that they aren't as good. They're all wonderful! However, my eyes are turning into squares. haha
Well, I guess we all know that if you want to find cool pillow covers, Etsy is a terrific resource.
And, if you want to learn ALL about throw pillows, click here. They're more complicated than some think!
Elegant Fabrics – 100s of gorgeous high-end fabrics from Lee Jofa and Scalamandre, and many others. I gather that these pieces are remnants. But the prices are really fantastic! Oh, and it's based in Canada.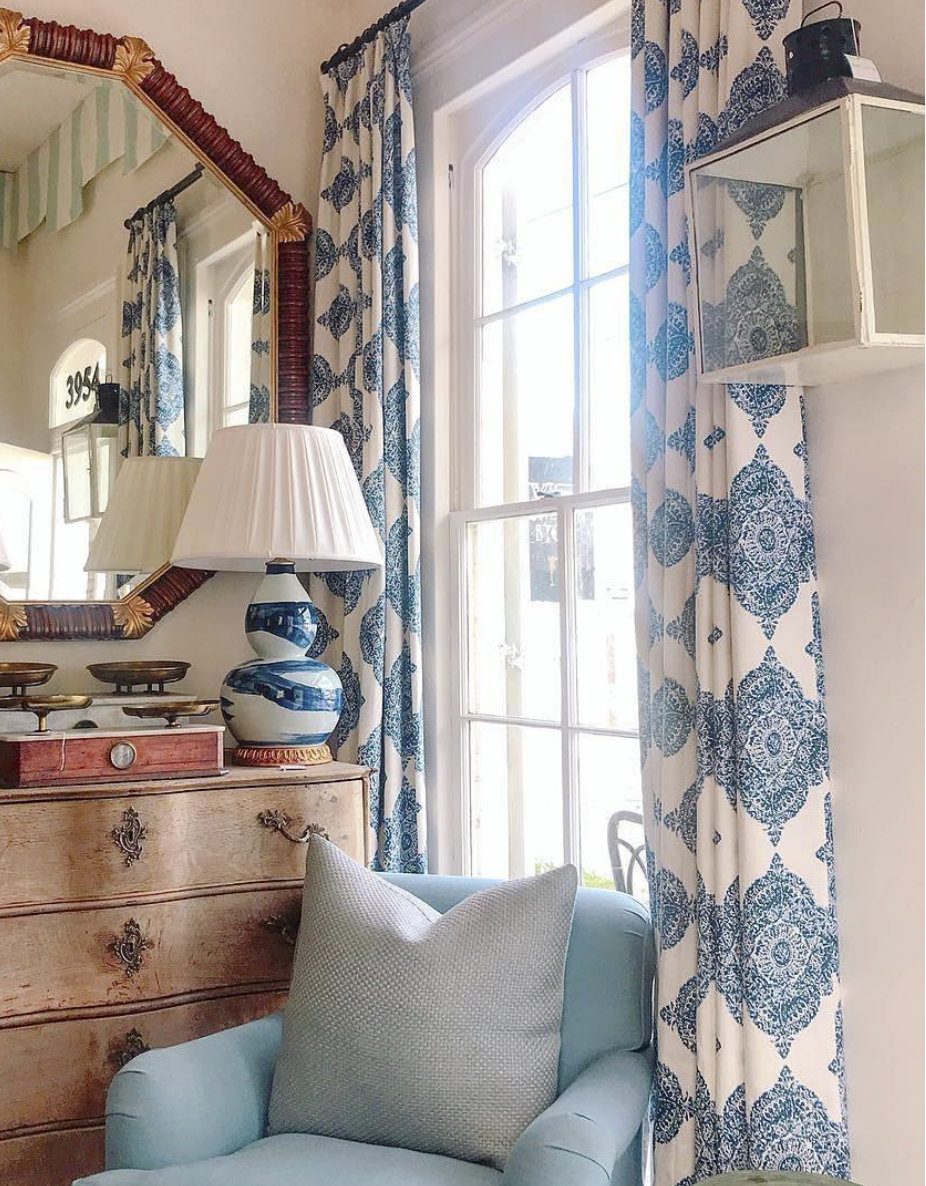 JLL Home Store – Gorgeous window treatments and pillows. (See above) The drapery fabric is by John Robshaw for Duralee. We did it for Roman shades for a job a few years ago. You can see it here. There are two blue colorways, and I believe that ours is the lighter one.
Lynn Chalk – pillows and gorgeous custom window treatments. Her pillows are more expensive, and I'm not positive, but I think that she includes the down and feather inserts.
If you're looking for pillow inserts, here's a whole bunch of them. Please remember that if the pillow is 16″ on any side, the insert needs to be two inches larger. Smaller than 16″, one inch is fine.
Motif Pillows – Many beautiful designer fabrics and featuring some of the more obscure fabric designers such as Peter Dunham, Robert Kime, and Schuyler Samperton
Many of these companies feature in the Laurel Home Essential Paint Color and Palette Collection's palette portion. And a lot of these sources are in Laurel's Rolodex as well. There is another update coming in November, and the vintage section will be updated, as well.
Etsy shops for RUGS
But, this source below has hundreds of fine rugs. They are located, coincidentally, near where I lived in northern Westchester– Katonah, NY.
Old New House – has thousands of rugs of all shapes and sizes. Most are vintage and antique. I don't recognize their names, but they are part of the Dilmaghani family, and that is a well-known, respected source for fine Oriental rugs in Westchester County.
Oh, dear me! Heavens to Etsy!!! :]
I almost forgot the best part, some of my favorite pieces from the 40 of the best Etsy shops for home furnishings.
Here it is!

please click on any image below for more information
please pin this image to your Pinterest boards
Of course, this is less than half of what you will find in the new guide. And, there will be many new categories. I can't wait for you to see what I've unearthed!
xo,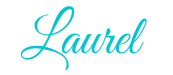 PS: Please check out the newly updated HOT SALES