How y'all doing?
Holding up alright after the big holiday?
Well, one reader might have just dropped to the ground, for she has no idea that I've devoted an entire post to her emerging talent and lovely home.
It's our very own budding interior decorating star Sarah McGee!
AKA – MCGIZZLES
yes, you, sweetie.
She's on instagram and comments on the blog frequently.
Sarah first caught my attention a few months ago after I did a post which featured some cool Anthropologie murals.
This Anthro mural is in her girls' bedroom
BTW, if you're an Anthro fan, I would head over there the second you are finished with the post. Well, it doesn't have to be the second, but soon.
And that is because they still have their ENTIRE line. EVERYTHING on sale at 30% off!!!
(but only for one more day- ending November 26th at midnight)
Anthropologie Linen Harper Sofa
And the Ben Pentreath clone sofa is going for $999.00 WHAT???
So, tell us Laurel, why did you decide to do a post about McGizzles?
Well, she's from Indiana.
Next question?
That's all?
No, of course it's not all. It's all I can manage to get out right now. :]
But Sarah has all of the ingredients I think, to be an interior decorating star.
1. She's very talented– Immensely creative.
2. Young
3. And adorable– there's the screen name and a vivacious personality to match. And she also comes with an adorable McGizzle husband and two adorable McGizzle daughters. The McGizzles positively reek of darling!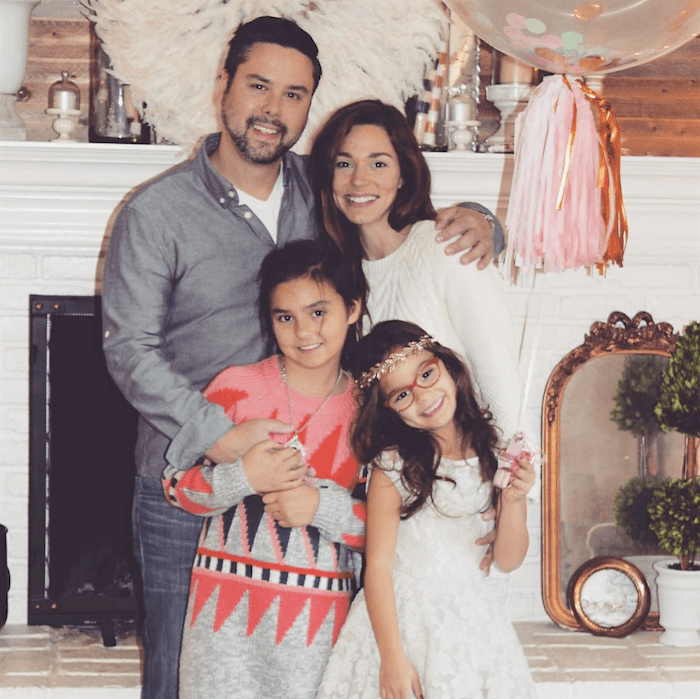 Seeeeeee????????
4. And I think that I just saw her running for the nearest rock to crawl under out of crushing embarrassment. Sorry, hun. Come back! We need you here. It goes with the territory.
5. And finally, Sarah has quite an engaged following on insta and people have started to take notice.
But here's what happened today. I woke up not knowing what I was going to write about.
Yes, I know. Every blogging coach in the entire cyberverse is shaking a cyber fist at me. Fine. But in a lot of ways, I prefer it this way because it means that the topic is one that is current and meaningful. Well, that's the hope, at least.
Then, I remembered that I wanted to do a post about Etsy. You know. Heavens to Etsy or some cornball thing like that?
And largely the post is a lot about Etsy because in the upcoming widget, most of the vendors are from Etsy shops, the rest except for a few are from Anthropologie.
Since I know that Sarah is a huge fan of Etsy as am I and Anthro, it is logical to give her the focus because she has the young, hip, Boho-Granny-Chic-Anthro look down.
And while some may maintain that this look is the typical millennial mish-mash grounded with an under-dyed rug, Sarah also has a clear sense of history and the balance of form and color that's necessary for really great design.
However, what really had me going was Sarah's Thanksgiving table.
To be honest, I thought I had fallen into the land of the sugar-plum fairies it is so delicious.
Here, let me shut up and I'll show you.
Is this fun or what? Sarah says that it's wildly impractical. So what? it's divine in its conception. And there is nothing about it that shouts out THANKSGIVING!
And I love that! It's just warmth and happy times.
(The source for the agate name cards is forthcoming in the widget.)
Then Sarah states that she will never iron her napkins– not even for instagram!
And that is what makes McGizzles an interior decorating star!
She has a clear sense of who she is and what she's doing and if you get it and like it, great and if not, that's okay too. I did not even notice that the napkin is wrinkled. I spent a good 20 seconds trying to figure out what it was! haha!

A pretty vignette, always with touches of whimsy grounded with a more serious damask wallpaper.

A charming bar cart with a painting she picked up on Etsy. Not sure of the vendor.  Behind the cart, we can see a glimpse of the spotted wallpaper from Thibaut.
Another view of the bar cart and more of the wallpaper
Here you can see the wallpaper better.
Accentu Peel and Stick Spotted wallpaper
Before I found out that the wallpaper is the Thibaut, I had found some alternative versions. One is a peel and stick wallpaper from Accentu on Etsy. Please bear in mind, that while at first it might seem to be a far less expensive alternative, the size of the roll is about 24″ x 9 feet. Where as the Thibaut roll is most likely 27″ x 33 feet.
The advantage, however, is that the paper can be removed if you're in a rental or need to remove it for some other reason easily.
Another alternative that's very cost-effective is to use this stencil by Royal Design Studio.
Shoes by Gucci. This is a link to a similar pair
Well, thank you Sarah for unwittingly sharing your lovely home with us.
Please, everyone, if you are on instagram, please follow Sarah. Her posts are a lot of fun, gorgeous and of course, there's much more to see over there!
And below is my channeling of Sarah's style. I did take the liberty of adding in a little more color to some of the living room furnishings.
Linen Harper sofa from Anthropologie
It is mostly because I needed to get in the Ben Pentreath sofa clone from Anthro that's on sale right now for only $999!
Please enjoy the widget!
A lot of these items also make great gifts– especially if you have some vintage lovers on your list.
And if you're interested in more great gift ideas, please check out both the hot sales page and the holiday shopping pages.

I will probably post on Tuesday this week instead of Wednesday.
xo,