Last night I was so exhausted, I actually went to sleep at a normal hour. As is often the case, I had already started a post about something else and then changed my mind.
I realized that I've never actually done a post about bedrooms.
People occasionally ask me why there are no bedrooms in my portfolio.
That is a very good question.
one, I'm not always so great about photographing my jobs
two, I did part of the bedroom and the parts I didn't do, I'm not that fond of
three, the sheets are wrinkled. Oh, don't worry, mine look like something the dog dragged in. However, in a photograph, each wrinkle will look like, never mind. You know.
four, I took photos but they suck and therefore didn't use them.
I have done plenty of bedrooms and am happy with how they turned out. There's one I'd love to photograph, but the client doesn't want to finish it. I don't ask questions about stuff like that.
What Makes For a Perfect Bedroom?
Whatever that is to you.
By the way… You know all that stuff that they say such as, you shouldn't watch TV, work, eat, exercise….blah… in your bedroom. That's nice. Do we really need to hear that? I think that you should do whatever the hell you like. If you want to eat three meals a day in your bed (and you're not sick) then please do so. Work. Absolutely. Why not? Just my thoughts. I think we stress ourselves out too much stressing over stuff that's not worthy of it.
Laurel's Perfect Bedroom Tips For Making Your Bed

I can probably explain this better in photos:
via
Silk Sleep
Once Wed
What's wrong? Why are you laughing? You don't like the way these beds look?
Oh, I bet you were expecting something like this:
1. euro sham
2. standard sham
10. bed skirt
Phoebe Howard
Yes, yes, of course. That's incredibly lovely. But common' now. Whose bed looks like this? Do you know what it takes to make a bed look like this? It takes a team of anal retentive people who are sitting there like little nerds ironing away for hours and then primping, pulling tugging, taping, (yes, taping) staple gunning, hot gluing… and then the photographer arrives.
 I dunno. Call me lazy.
Yes, I'm lazy. I just take my sheet and fold it back over the comforter. Sheets are from Target. That works.
Bed is made. And it gets a chance to air out too! Did you know that you lose a cup of water when you sleep?
I have more for you. Something for everyone–the lazies like me. (I know that you're out there!) and the OCDers who still fear the "bed police." (aka- MOTHER)
DID YOU MAKE YOUR BED YET?
Ouch. No, I didn't. What are you going to do about it? :]
An unmade bed is a great substitute for smoking. It's rebellious, looks cool but isn't apt to give you cancer.
However, if you genuinely enjoy ironing… I admire that a lot. I wish I did. :]
Alright. Let's move on…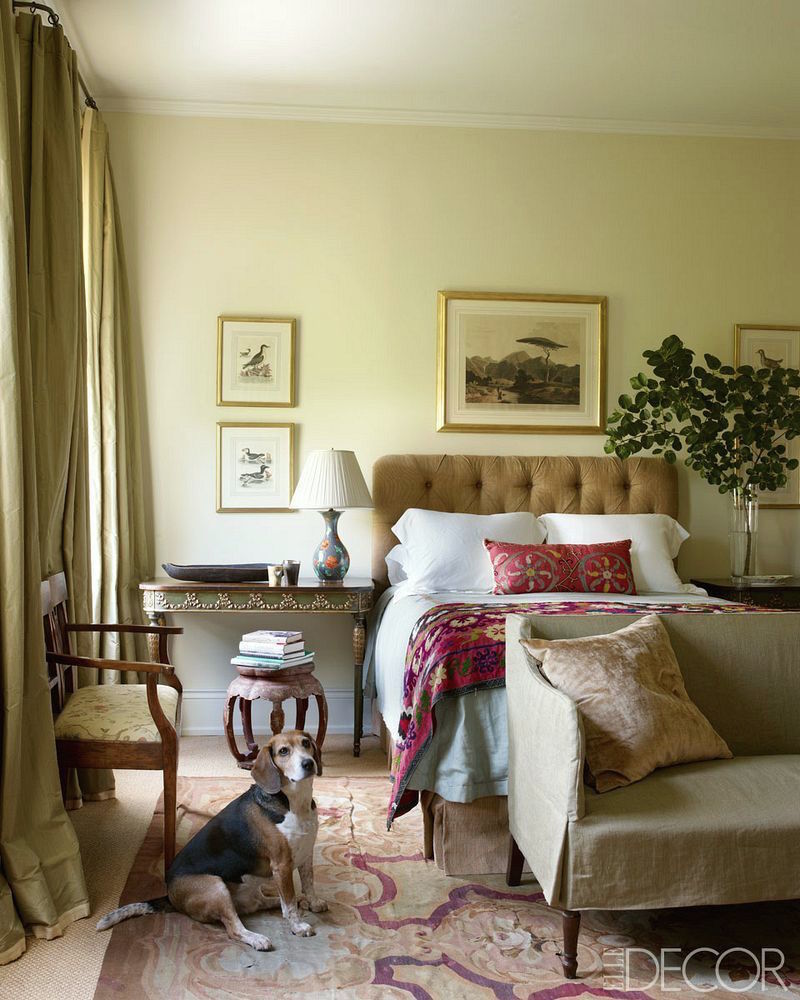 Julia Reed House
Nick Olsen
via Domaine
I think I just want that Greek Key table!
Restoration Hardware Hotel Bedding
JK Place Roma
Yes, this is a hotel! No yucko beige and gold here. No, aubergine carpet and pine green walls. It may not be for everyone, but for a couple of nights, I think it's awfully darned awesome!
JK Place Firenze
These hotels reek with elegance and class. Why can't they do that here?
These last four images are of the magnificent JK Place Capri, a hotel that has been featured here many times.
It's not all blue and white at the JK Place Capri. But there is ALWAYS plenty of pristine white. No ironing, just lots and lots of bleach! lol
All three of these hotels were designed by the incredible architect, Michele Bonan
A girl can dream, can't she?
Sweet dreams…
xo,