Today's post is a HEAVY reworking and combination of two old posts, but the new focus is on problem ceilings. It's a subject worth reviewing periodically.
And, that's because a bad ceiling can really bring down a room. (no pun intended) :]
The ceiling above is not one of the problems. We first saw this beauty here, last summer.
There are about six major types of problem ceilings.
So, let's jump in a go over each one and the best solutions.
Probably the most common problem ceilings have is:
The ceiling is too low.
Ceilings are pretty much like fashion models. The taller, the better. Everything looks better in a room with high ceilings, big windows and architectural interest. Then, it's a lot easier to decorate.
Alas, not all of us are fortunate enough to have soaring ceilings to work with.
Some of us only have eight feet, or even SEVEN feet until we hit the ceiling. One of my largest and most favorite projects from 2001-02 was an antique home in Northern Westchester County. I was lucky to have it published in Better Homes and Gardens.

Above is the exterior.  You can't tell here, because everything is in perfect proportion, but the ceilings in all but the new addition which was a reworking of an attached garage (on the far left) is only seven feet high.
You can see several images of the home here.   There, you will also find lots of great ideas for dealing with lower ceilings.  But, the most important thing to remember is that like this house, everything must be in proportion. And every maneuver possible must be used to take the eye up.
Some of those tricks to make a ceiling appear as tall as possible include the addition of:
Also, check out 16 ways to make your small rooms look larger.
And, there's another device for making the ceiling appear higher that I talk about in this post about the best ceiling paint colors. And that's painting the ceiling a light blue-green (but not too bright). The link has some great colors. And there are more in the Laurel Home Paint/Palette Collection.
What about painting the ceiling super dark?  Is that good for a low ceiling? After all, dark colors do make walls and ceilings recede as we discussed in this post.
However, a super-dark color is also going to feel heavy and if it's a large room, it's most likely going to feel oppressive.
But, in a small room, like a bathroom, painting the ceiling navy or black can be an effective technique to lift the ceiling higher. And it can also be quite chic.
Above and below is Nancy Keyes' fantastic renovated master bathroom.  The ceiling color is a soft black  – Benjamin Moore Onyx.  And yes, Onyx is one of the Laurel Home collection paint colors. It is a touch softer and warmer than a pure black.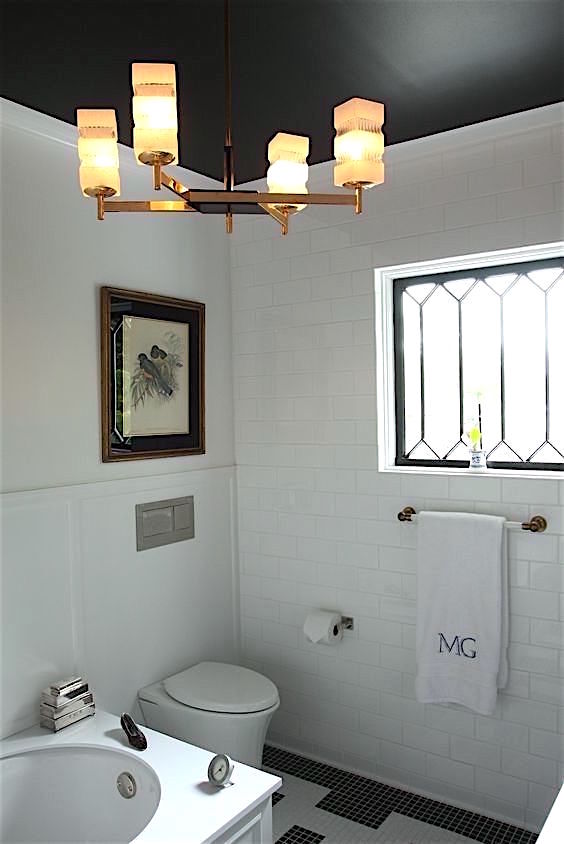 Nancy actually sent me these images over two years ago! What's funny (to me, anyway.) is that the before pics are also gorgeous!
Leave it to Nancy to create a gorgeous room, in any case.  There may have been some other issues that lead to the reno, as well. I love both the before and after!

However, Nancy's ceiling looks to be nine feet. I reckon that the black ceiling would still be fine in a bathroom with an eight-foot ceiling.
Here are some more ideas for dark ceilings
And, please check out this other fabulous bathroom that Nancy Keyes did.
But, what if we have a room with a low and expansive ceiling?
Yes, that's one of the worst problem ceilings.
There's only one ceiling issue that's worse.
A low, large, expansive POPCORN ceiling. (the post linked to also has a lot of great ideas for problem ceilings)
I can't think of one decorating issue from the 20th century that confounds me more than the all-too-common popcorn ceiling.
I'm sure that there must've been a logical reason for it. Did they think that it helps with acoustics? Not much, I don't think, but they sure do suck much of the available light. They're just another one of those bad ideas made popular in the second half of the 20th century. And, here we are.
How many of you are lucky enough to have one of these abominations?
So, first, let's deal with this problem and then we'll discuss how to handle a low, expansive ceiling.
There are two basic ways to get rid of the hideous popcorn. However, it depends on if you have a ceiling that looks more like fossilized seven-minute frosting, or more like painted corn grits.
In either case, it is possible to remove a popcorn ceiling.
However… Honestly. Really. I definitely recommend having a professional take care of it. But, if you insist, please make sure that your ceiling and paint is free of asbestos and lead. Wear protective gear. And, please consult with a professional at the very least.
IF the popcorn is very even and low, it is possible to cover it with various products.
1/4″ sheet rock
ceiling tiles. Some of them are quite nice, these days.
Wooden planks or shiplap.
White-washed boards in a beautiful room by Sarah Richardson
Anaglypta wallpaper. Although, you will most probably still need something between the paper and the popcorn.
What is anaglypta wallpaper?
It is a heavy, embossed wallpaper that can go on the wall or on the ceiling. It is usually made of paper or a cellulose product.
Here is one pattern that's either the same or very similar to what I had on my kitchen ceiling for 16 years. You can purchase it here. I loved it! My boys always said it looked like paper towels. haha. The pattern is much larger, however. It's paintable. I had it professionally installed and then the contractor painted it high-gloss white.
You can see a bad photo of it here.
And, a better photo of anaglypta wallpaper on a ceiling. (sorry, original source, unknown) There are numerous patterns to choose from. As you can see, it mimics the look of a tin ceiling and so, works best for older homes or a home with a quasi-vintage look like our old townhouse tried to have. haha.
Bug again, if you wish to cover a popcorn ceiling, you might need to put something between the rough ceiling and this paper, even though it is quite heavy.
For an expansive and low ceiling as in an open floor plan, here's what I think is a good idea.
I would add either beams or very shallow coffers. (we'll get to that in a sec)
Sometimes the beam will make sense, because there's already a post holding up the ceiling somewhere. That is a logical place to run a beam if there isn't one there already. But sometimes there's the one post and what would make sense is to add a beam going perpendicular and possibly another post, or not.
For instance, in our old townhouse. There's a post located just as you are coming up the stairs from the front door. It's difficult to see here, but there's a steel beam, covered with sheet rock running along the length of the room attached to the post. You can see it better if you go back to the original post.
If we had wanted to, we could've run a faux beam running perpendicular and intersecting the post. I don't think that would've looked good in this case, however.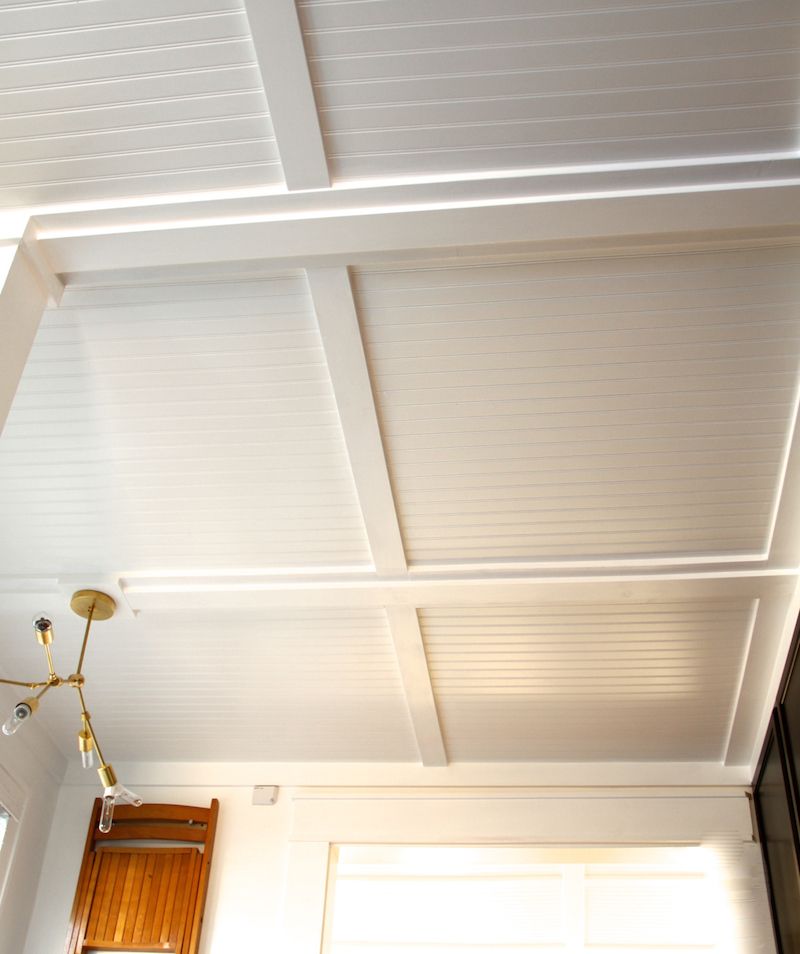 I think a better solution would've been to do a very shallow coffer, with or without beadboard. Something like the ceiling above.
Below is a classic coffered ceiling. This room is easily nine feet and maybe ten feet high, up to the top of the ceiling.
This classic living room by Joseph Kremer is perfect.
If you look in my portfolio, there are numerous examples of beautiful coffered ceilings, both shallow and more traditional like the one above.
Should you paint the inside of a coffered ceiling?
I never have, but you can. I think the ceiling should be high. And certainly for a coffer as deep as the one above, it needs to be at least a ten foot high ceiling.
Next up in Problem Ceilings are those pesky attic ceilings with all sorts of angles, dormers, pitches. It can get confusing as to what's the ceiling and what's the wall?
I usually paint it ALL ONE COLOR. In so doing, it will help the room look softer and less choppy. I usually do a shade of white or cream. But I've also done khaki and gray.
Beautiful office before done by Nicole Balch of Making It Lovely for the One Room Challenge™.
Look at all of those crazy angles!

And the finished room! Great job!

The wall-color is Benjamin Moore Brandy Cream oc-4 and 1030
Fabulous bathroom. I love the accent of the aqua above the tile.
Tim Barber
His work is totally awesome!
for more blue ceiling and wall ideas, click here.
The next kind of problem ceiling sometimes are tray ceilings.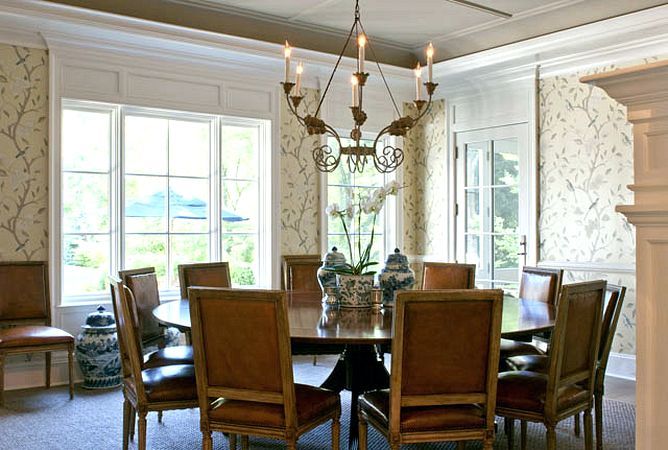 I think painting the ceiling the taupe provides great balance in this elegant dining room. This is also a wonderful solution when there's a large space above the window. The architectural detailing is beautifully done here.
source unknown but the color looks like Benjamin Moore Quiet Moments. (one of the Laurel Home colors.)
I love what they did here. It's like little trays which I think look fabulous as they coordinate with the French doors. Beautiful design!

Striking entrance by Laura Covington. Pale blue, grey, greens are absolutely gorgeous for ceilings.
Again, source unknown. But, I adore this charming galley kitchen and they way they handled the little tray ceiling.
The rest of the post is not so much about problem ceilings, but some interesting ideas for decorating more regular kinds of ceilings.
Oh my, this was stenciled on! I have a lot of respect for someone who has the skill, patience and spinal column strength needed to accomplish something like this. If you like this or just want to fantasize about the possibility or can afford to have someone else do it, please take a look here. It's an incredible site filled with tons of wonderful images.
Here's the same pattern done on the wall, reversing the dark and light. I rather love it!
Source unknown. But I love this stenciled design on the ceiling
Instant warmth and texture of the grass cloth on this ceiling in this elegant room by interior designer, Brian Gluckstein.
Love how designers Deb DePeter and Becky Tellefsen took the paper all the way around to the ceiling. Again, I think this is a great look for a smaller space like this entry.
An immensely elegant bathroom by Kerry Joyce.
Love the planked and lacquered teal ceiling treatment.
And below, we'll finish with this beautiful breakfast room ceiling from a project I got to work on a few years ago. The client was inspired by a room she had seen in a magazine and her builder copied it!
You can see the rest of this lovely home here.
And here's another post with lots of architectural ceiling detail and some breathtaking ceilings.
xo,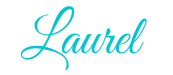 PS: Please check out the newly updated Hot Sales. Okay. My catalog says that the Serena and Lily sale was supposed to end last night.

See???
However, the promo code: DECORATING still works for 20% off. I don't know for how much longer, however.
***Oh, I almost forgot.
In my last post about 20 timeless kitchens, I linked to a wonderful blog post by a fabulous kitchen designer, Heather Hungeling. Her post gives a thorough review of the new Azerocare treatment mentioned in my post
that makes marbles impervious to etching and stains from acidic and oily foods.
Save