Dear Laurel,
I think I have read every post you've ever written about paint colors and I'm planning on buying your essential paint guide bundle.
But, in the meantime, my ceilings are making me crazy!
And you know how they always talk about "the 5th wall?"
Well, upstairs the rooms have dormers and pitches and it's more like the 6th, 7th, 8th and 9th walls, in some places!
Then, there's the great room that has a vaulted ceiling with beams.
The other rooms are nine feet and the kitchen has a very pretty coffered ceiling.
What I'd like to know is how to choose the best colors for the ceilings and then what colors to paint the trim as well.
Alotta C. Ling
Hi Guys,
Alotta DOES have a lot of ceilings!
But the fact that she's having nightmares because of them has inspired me to share what I hope will be some helpful advice.
Are you ready?
okay?
Oh stop looking at me like I just told you that Snow White is a serial killer!
via CNBC
I mean, do you walk around looking up like this all of the time?
Ohhhhh… look at my ceilings and please pass the butter.
No, of course not! You're busy living your life, and I promise you that when you're fretting over stuff like whether your kids will get into a good college, that you'll rarely if ever look at your ceilings.
But there's more.
The older I get, the more I adhere to the KISS method for as many things as possible. Anyone in IT knows that KISS stands for Keep it Simple [and] Stupid.
But it's true. Simple is the word. Why make things more complicated than they need to be? Isn't life difficult enough as it is without adding to it with things that aren't all that important. Having great looking ceilings is not that big a deal, most of the time.
But Laurel STOP!!! Please just SHUT UP FOR A SECOND!
Yes, loves; what is it? I'm listening.
Well, it might be nothing for you, but for me/us it's very difficult because
I don't want to make a mistake.
Or, have a boring ceiling
I want something smashing.
But I'm afraid of making a mistake.
First of all. What makes you think that it's easy for me? Sure, it's easier than it was 30 years ago, but none of this is easy. Ever.
And nobody stressed more about her paint colors than me.
After I became more experienced with my home and that of many clients, I realized that all of that stress was largely unnecessary. That's what I'm trying to say.
But,  please know that If you want something smashing, it requires skill and experience. And there are many variables. Therefore, I'll do my best to attack the most common issues. But if I don't hit all of the notes that you need and you're needing more help, please seek out the advice of a professional.
Some rules of thumb regarding ceilings.
99% of the time, if the trim is white, it is always going to be fine to paint the ceiling the same color as the trim.
This next rule is a big one. Please listen carefully. Maybe write it down, so that you'll remember. ;]
If the walls are white, paint the walls, trim and ceiling the same color. The same shade of white paint.
Here are the only six shades of white I've ever used in my entire 25 years of being in this business.
I've specified zillions of times all three elements being painted the same color and no one has ever taken out their shot-gun. Not even once.
No really. It always looks great and it always looks like three slightly different colors which is very beautiful.
I prefer flat ceilings unless the surface is perfectly smooth. A shiny ceiling will show every flaw.
The walls can be in matte or egg-shell. Egg-shell is great for darker colors.
And I recommend doing the trim in semi-gloss or satin.
More info here about getting your paint sheen right.
Really, Laurel? You paint everything the same color? That sounds so boring.
But if you think that white on white is boring, let's look at some "boring" white rooms where everything is painted one color.
And no, the back color is NOT a different shade of white. This is all one color. Benjamin Moore Decorator White or something close to it. (my bad. It's Winter Snow oc-63) Why does it look this way? It's all about the lighting.
Darryl Carter.
Here, the wall might be a shade deeper. Either way, it's a gorgeous room.
Well, what if the walls are not white?
If the trim is white, then paint the ceilings the same color.
What if I don't want a white ceiling?

You can still paint everything the same color.

If the walls and trim are white or even if the walls are some other color, 99% of the time, a soft blue ceiling is wonderful.
This is a post about different colors for a ceiling with lots of blue ones.
Here are some other ceilings that aren't white.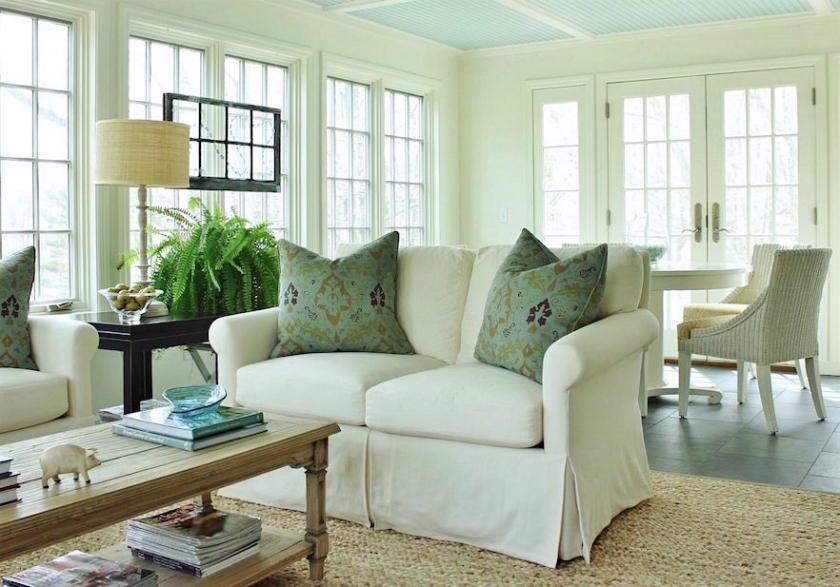 A room I did several years ago. The ceiling is Benjamin Moore Palladian Blue
Werner Straub photo for Traditional Home
Fabulous bathroom. I love the accent of the aqua above the tile.
What about dark ceilings?
Here are some ideas for dark ceilings
Okay, then. What about my attic rooms that have eight walls. No joke. There are so many angles, it's driving me crazy?
Paint it ALL ONE COLOR. In so doing, it will help the room look softer and less choppy. I usually do a shade of white or cream. But I've also done khaki and gray.
Jacquelynne P. Lanham and Shope Reno Wharton – Architects
Love this beautiful soft pale blue taken all the way around the room. The trim is all painted a cream. It looks like Benjamin Moore Ivory White 925 which is one of my favorite cream colors. Here's a nightmare ;] of a job where we used ivory white extensively.
All of the colors I've ever used for rooms like this are in the Laurel Home Essential Paint Collection which also comes with the palette collection using the 144 colors.
Oh wow! Really, Laurel?
Yes, really. :]
Oh, and I've finally updated the testimonials. They are on the page that speaks specifically about part II of the paint collection, the paint palettes.
Here are some more ideas for ceilings.
Tim Barber
His work is totally awesome!
Beautiful office before done by  Nicole Balch of Making It Lovely for the One Room Challenge™.
Look at all of those crazy angles!

And the finished room! Great job!

The wall-color is Benjamin Moore Brandy Cream oc-4 and 1030
Another Tim Barber beauty. This room has a very beautiful subtle wallpaper pattern. And please notice the painted brick on the fireplace. Imagine how horrid it would be if it was red brick. For more about horrid brick you can check out this post.
Okay, I'm starting to feel a little better about my ceilings.
Good. :]
Oh wait. What about coffered ceilings? Should I paint the flat inside a different color?
Well, I never have, but I have seen some situations where it is quite beautiful. But remember that it's going to be a design element that's going to call a lot of attention to itself, so it means a good balance in other parts of the room.
The other thing about coffered ceilings is something to look out for. Any ceiling can have a tiny coffer like this.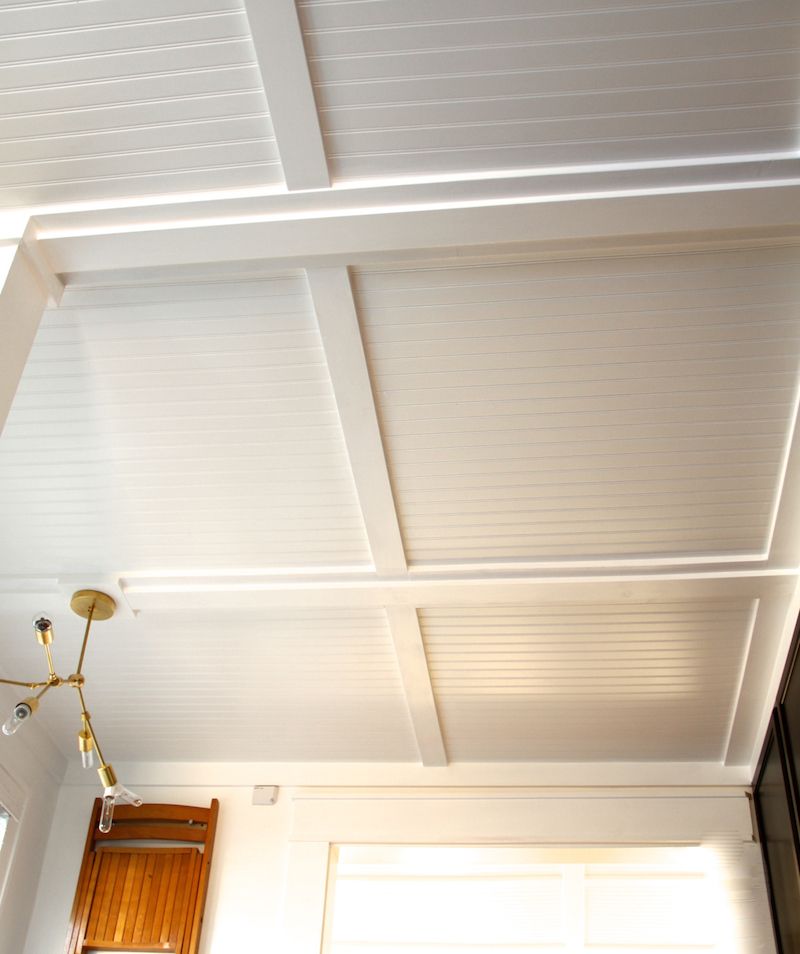 And this is a fantastic post in the link. This is a DIY, although, I would not recommend that. But what's really cool is that they did this to cover up a horrid popcorn ceiling.
But unless your ceiling is super-duper high, I prefer the traditional coffers not to be deeper than six inches. I've seen some that are deeper and they look too heavy, IMO.
This classic living room by Joseph Kremer is perfect.
And that brings me to tray ceilings.
Ahhhh… if there's any hallmark of bad post-modern-traditional architecture, it's the ubiquitous tray ceiling, commonly seen in the master bedroom and other rooms.
ugh.
I say, ugh because they are often too big and too heavy and sometimes there are multiple trays causing a lot of confusion as to what gets painted what.
They disturb me so much that I don't even want to post any. So, I'm not. But most of  you probably know what I'm talking about. And maybe you have one.
Don't fret. You do not have to make it worse by painting it in stripe-y colors. I would just paint it all one color. Sometimes it looks nice to paint just the very top a different color.
But here's a sweet tray ceiling in the most charming galley kitchen ever. Sorry, source unknown. If anyone knows, please let me know and I'll add it.
Other treatments for ceilings.
Shiplap and barn siding are very popular for ceilings these days.
This is reminding me of the project we did for a new build a couple of years ago.
Well, I hope that answered some of your questions about ceilings.
Happy President's Day if you're in the US!
xo,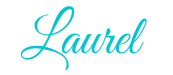 PS: Spectacular weekend for sales. Please check out the newly updated pages with dozens of my favorite home furnishings– on sale!