Oh dear… I'm in trouble already. Why, you ask? Well, first of all, let me make it perfectly clear that I adore Mark D Sikes. I want to marry him and have his babies… The whole shebang!
;]
And I am incredibly happy for his well-deserved success for his extraordinary designs, collections, licensing agreements, speaking engagements…
You may recall that he's in the top 20 designers I would hire and that was then. Mark is now in the top five!
I wasn't at this spring's High Point Market, but the buzz is that his collection at Henredon was the darling of the market and deservedly so.
Mark's design philosophy brings me such joy. He says that a room done today would've looked good 30 years ago and it'll still look fresh 30 years from now. Oh, how I love that!
But…
You knew that there was a but coming didn't you?
We can go to Henredon and purchase the "Mark D. Sikes look" but it's going to come with a hefty price tag.
How hefty?
Well, we're probably talking somewhere in the range of $100,000+ retail for a whole living room full of furniture. And I'm not saying that it's not worth it.
As an aside: I did find Mark's blue sofa on Houzz (with the help of my wonderful colleague and friend in Austin, TX, Patrick Landrum) for eight large. But I would expect to find it for an even higher price elsewhere. BTW, Do not buy anything on Houzz. Just please don't. I don't like the way they do business. Not at all.
(as a further aside. The company is a SHAM! Patrick contacted Henredon and they have no business alliance whatsoever with this these crooks!)
The sofa is definitely worth the money, along with the incredible collection of fabrics that Mark designed for F. Schumacher.
But, I know that most of y'all aren't going to be able to swing that.
So, today, I'm doing another high low – get the look for a lot less.
Again, to be clear. This is not to demean, or take anything away from Mark or Henredon. Folks who can't afford it are not their customers, and folks who want the look but don't know how or where can benefit. Win-win as I see it.
Before I go on… however.
The furniture I'm going to present is not of the same quality as Henredon.
I can't vouch that it's going to hold up in most cases. I went by reviews and what I've seen for myself in person.
First of all, let's take a look at some of Mark D Sikes' incredible designs.

photo by Amy Neunsinger
Mark loves blue and white and he loves neutral beiges, creams and whites too.
You may recall this fabulous living room for the Southern Living Idea show house he did last year. He incorporated pieces from the new line at Henredon. What a fabulous collection.
That I'll never be able to afford.
sad face.
This is Mark's patio and where I want to be laying on the day that I die.
For more pictures of Mark's glorious home, please click here.
A beautifully layered room, designed by Mark peppered with a beautiful blend of exotic furnishings, some traditional and little modern thrown in to keep things interesting.
These beautiful blue sofas and chairs are part of Mark's new line at Henredon.
The fabric on the occasional chairs is Montecito Medallion from F. Schumacher.
I would use it for pillows to save money like Annie Anderson did.
The photo is from her lovely instagram feed.
Beautiful Chinoiserie Cabinet and chairs from Mark's Henredon collection.

Pretty stunning isn't it?
Here's the first preview of crazy prices. (crazy good) I found this bed for $280.00 on Overstock!
WHAT?
And it has gotten excellent reviews! You don't suppose this is the bed in the first bedroom image? It looks the same except for the headboard fabric which could have been changed, of course.
Not everything Mark does is blue, cream and beige.
But I love his use of one main color family mixed with whites and neutrals. Fabulous bedroom!
More from Mark's Henredon line. Very handsome and classic. Me like!
More pieces. So elegant!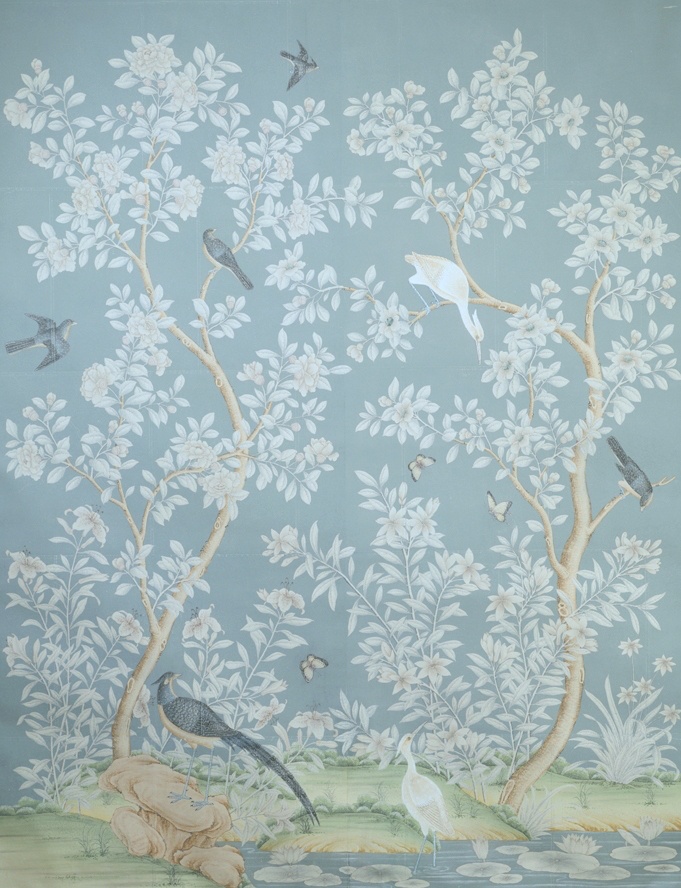 There is nothing more heavenly on this good earth than this Chinoiserie hand-painted wallpaper from Gracie. This is the paper that you put on the walls with the removable paste so that you can have your casket lined in it.
Gosh, Laurel is a little morbid tonight. Sorry. But hopefully, you're getting my point.
In fact, the beautiful Melissa Hawks from the Well Appointed House (one of my favorite online sources for chic, classic home furnishings) – did exactly that. No, not her casket! She's still very much with us, but she did take her (it was Gracie or Zuber) wallpaper with her when she moved!
And who wouldn't! This paper retails for about $1,500– a panel– maybe more.
One panel. Three feet wide. Ten feet high. Thirty square feet.
Now, you could do what Mark has done and just frame out say three on a wall and save some money that way. I love that treatment. But it's still very expensive.
A wonderful source that I added last November to Laurel's Rolodex is Mural Sources. These panels range from around $199-$280 a panel. That's better! Still not cheap but if doing them as pieces of art in a frame, would be wonderful. There are dozens of gorgeous designs.
And now, for the budget-friendly furnishings inspired by Mark D Sikes' brilliant designs.
1. Safavieh Slip-covered stripe chair for $379.00
How wonderful is this little chair!
2. Safavieh Gateless Mist Blue and White Chinoiserie Garden Stool for $88.00
Safavieh is a smart company. About ten years ago, they got with the program and started importing far less expensive merch than their usual high-end stuff. Oh, they still have the expensive stuff too. Like Henredon, for example. :]
3. Butler Bone Inlay Mirror for $595.00
Love these bone inlay mirrors! I have one from Serena and Lily but sadly, they seem to have discontinued it.
4. Overstock exclusive Indonesian Blue and White Print Drapery – one panel is $86.00
For a more custom look with ready-made drapes, hang from hooks with rings. Do not use the rod pocket (with the rod threaded through) and especially if there's a ruffle above the pocket! That looks terrible, IMO.
5. Safavieh Hampton Cream Pillow Top Bench for $220.00
6. Safavieh Christina Eggshell Console for $182.00
This piece is so pretty and I can't believe it's under 2oo bucks!
6. again – oops! World Market Gold Arley Accent Table for $80.00
Mark has a little gold tri-pod accent table. It's not $80.00 ;]
7. Crate and Barrel Trevor Apartment sofa – starts at $2,200.00 – As shown –  $3,848.00
We've been through this. Lee Industries makes this sofa for Crate and Barrel. There are many others as well. I have found that One King's Lane has a lot of more affordable and stylish sofas like this one that I love from Robin Bruce.
8. Dwell Studio Bone Inlay Hathaway End Table  for $142.00
9.  Safavieh Abelard antique Gold Cocktail Table for $644.00
10. Pier One Eliza Chambray Blue Chair $550.00
Years ago, my neighbor that I was helping with her home went out and got a little chair from Pier One. Super cheap. Super comfortable and the quality appeared to be excellent.
11. Safavieh Sahara Navy Nailhead Stool for $132.00
12. Safavieh Randy Light Blue Stripe Slipper Chair for $270.00
This classic slipper chair comes in several other fabrics. All of them are delightful.
Mark loves stripes and loves mixing several different ones. Just make sure that they are different enough from each other.
13. Jalan Miami Bone Inlay Stool.
They aren't listing the price, so it might not be cheap, but it looks almost exactly like Mark's stool. I was so happy to find it.!
14. Safavieh – Kyros long sofa or console table for $1476.00
15. Vintage Drexel Black Lacquer Chinoiserie China Cabinet found on Chairish for $1,295.00
Oh me oh my! This one made my day! I can't believe that someone didn't snatch this up the second it went up.
16. Overstock Kerala Print Drapery panel for $48.00/panel
This is an alternative to the other drape. But also, it's so inexpensive that if you can't afford the Schumacher fabric for pillows, just get a couple of panels (depending on how many pillows you'll need.)
17. Scalamandre Le Tigre accent pillow found on Etsy at Southern Shades for $125.00.
That's a superb price for that pillow because the fabric is one of the most expensive in the land! Spark Modern also has a ton of gorgeous designer fabric blue and white pillow covers and other colors too, of course.
18. Pair of Bamboo Chairs from Charlotte and Ivy for $2,259.00
Okay, not cheap but also not Henredon prices either.
19. Visual Comfort Small Natalya Chandelier for $4,200 at Circa Lighting.
oops! A little dose of reality. I do love this piece. Didn't look at the price when I stuck it on the board. I owe you one. :]
20. Safavieh En Vogue Dining Chair in Navy Cotton – Two chairs for $377.00
This chair comes in a zillion different fabrics and I have seen some of them at the Safavieh store near me. It is very comfortable and the ones I saw were of surprisingly good quality–especially for the price.
21. Harlan Rustic Java Double Pedestal Extension Dining Table for $1,525.00
I love this slightly rustic/casual yet traditional pedestal dining table. It can seat up to 10 and that is a great price for a big table like that. Forewarned, that shipping and installation is going to set you back some.
Well, as usual, spent far too long on this. Don't feel badly. I could eat this for breakfast, lunch and dinner and never tire of it!
Oh man, before I forget, if you don't have Mark's fabulous book. This would be a great time to get it.
Great gift for Mom for Mother's Day too! Also please check out the book list above.
xo,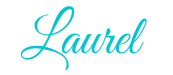 This post contains affiliate links for products that I love to share.