It is possible that almost everything I've been lead to believe about yellow paint colors is a lie.
And that misconception is, to be verrry careful or you'll have a big blinding mess of YELLOW in your face.
It is true that a little dab of yellow will do ya. Or is it?
Recently, I started to  rethink this.
The other day, you guys might recall that I posted an image of William McLure's gorgeous dining room with the bright yellow walls.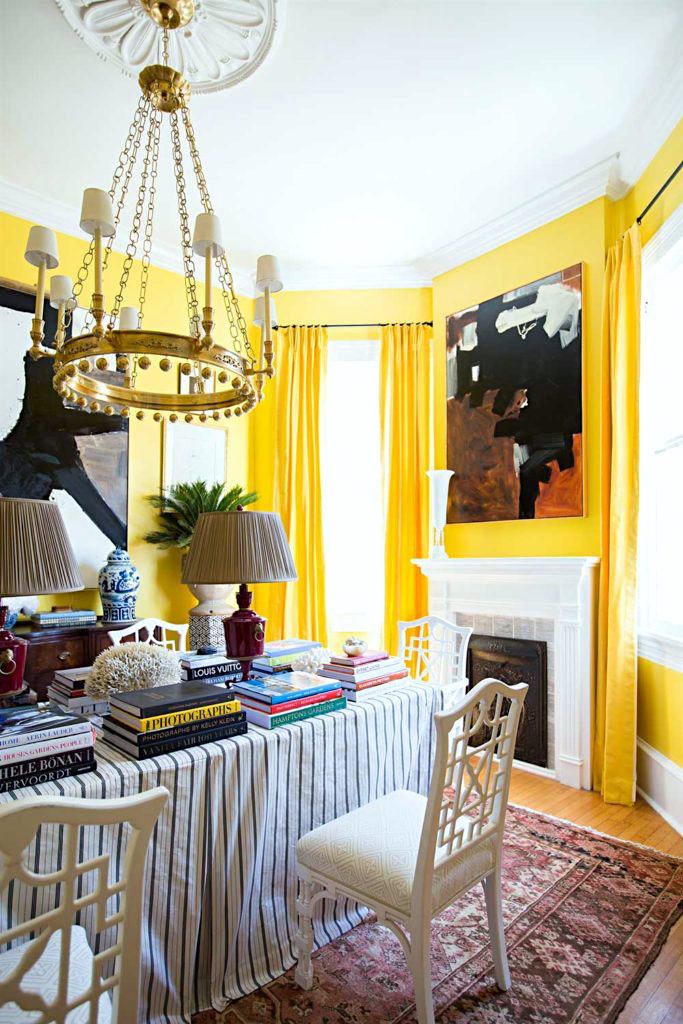 I'm quite mad about this room actually.
First of all, I have never painted a room this intense a yellow. In fact, there are a lot of colors I've never been able to use because I live in quite a conservative area and it's an uphill battle.
No joke. A couple of years ago, I chose one of those nice sage-y historical colors for a client's dining room with two walls of windows. When I came back a few weeks later, the color looked odd to me. I inquired. The wife sheepishly confessed that her husband thought it was too dark. And she caved in. What? ;]
You mean like the emperor thought that Mozart's composition had "too many notes?" No, I didn't say that, but it took a lot for me to not convey my horror. Okay, horror is a little strong a word for paint that was "cut by 50%," whatever that means. They mixed up two quarts of the color and then put in 2 quarts of the base? I dunno. In this case, they went from sage to Crest Toothpaste.
The point is… there would be a snowfall in June before I would get to do something like William McLure's fabulous dining room.
In defense of those who hate yellow, it is true. If you don't use it correctly, it could create a hell of a room from which there is no escape until the guys in the white coats come to take you away.
I get it.
There's a reason one is not supposed to look at the sun.
But let's go back in time…
Nearly 250 years ago.
Remember this handsome dude?  He penned along with a bunch of others the Declaration of Independence and was the third president of the USA. Thomas Jefferson.
And some of you know what's coming.
He built this magnificent home in the manner of Andrea Palladio who we discussed here.
This drawing was done by Jefferson who obviously had keen architectural skills, in addition to being a statesman. The building of course, is Monticello.
Well, it was at that time, that someone developed a color called "Chrome Yellow." It was all the rage–if you had the bucks to afford it. The figured out a way to make this super saturated yellow with synthetic pigments.
I read that previously, one of the ingredients for yellow pigment was cow urine. Are you kidding me???
Fragonard was one of the first artists to use the synthetic pigments in his celebrated painting.
And President Jefferson (before he was president)  used it in his magnificent home that he designed and had built.
Oh, how I wish there was a painting or something, but no. I couldn't find anything.
Then, I don't know what happened, but for quite a while, the main dining room at Monticello looked like this.
Yawn. We really should've stayed united with England. I mean, it's nothing objectionable, but that's just it. It's utterly banal—a woosy color for a room so grand.
Well, a few years ago, they decided it was time to repaint and I'm not sure how it came about, but Ralph Lauren got involved and donated the paint and then put it in his line.
Clever guy.
And he calls it Monticello Yellow.
Makes sense. :]

And here is the beautifully restored dining room.
It makes my day when they put back stuff the way it was originally intended.
Love the plain white swag. Excellent choice.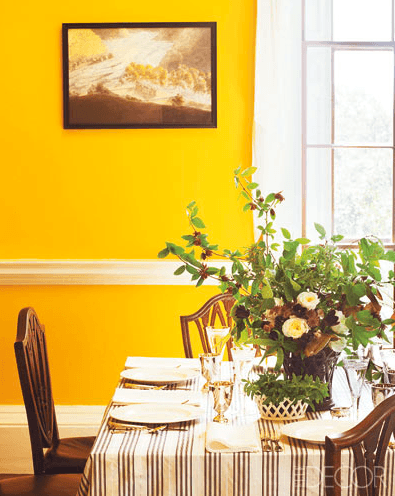 Have to say that I rather love it.
BTW, if you are looking for a Benjamin Moore equivalent the Ralph Lauren color, please check out these two colors.
SUNRAYS 343
SUN VALLEY 350
Also, please have a look at Pratt and Lambert  ALE. My fan deck is almost as old as Thomas Jefferson, so the number might have changed. Mine says 1723.
And Farrow and Ball BABOUCHE is very nice too.
It's not easy to find rooms in this color.
But, this saturated yellow is actually a very classic color.
There have been others who've embraced these strong, saturated yellow paint colors.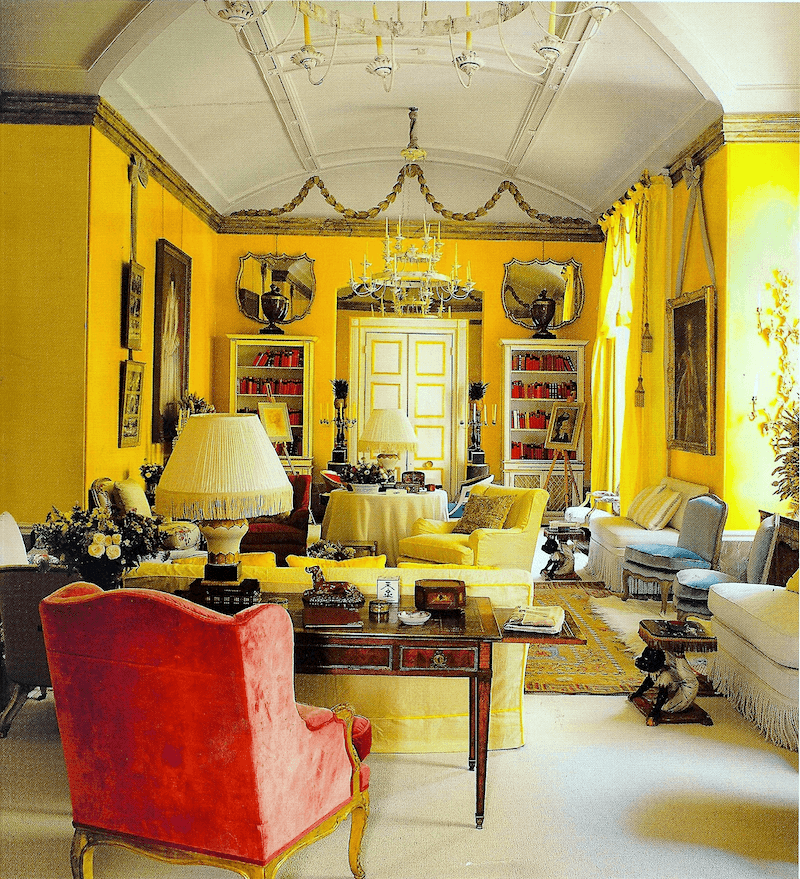 I'm sure that many of you recognize Nancy Lancaster's iconic room for the Colefax and Fowler show room in London. I'm not sure when she decorated this, but she bought the business in 1948, so it was probably around then. I think this particular iteration was a recreation of her original design. It appeared several years ago, in the magazine, The World of Interiors.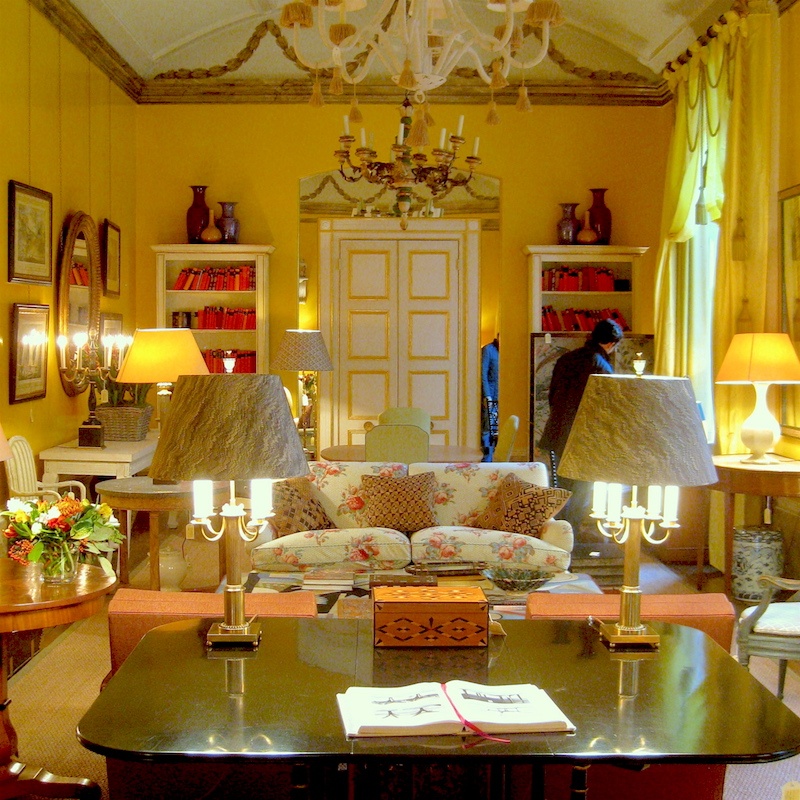 Above and below, two recent images of the Colefax and Fowler showroom in London. They recently moved after many years at this address.
Another iconic English designer, Jasper Conran. It's ironic to me, that he's associated with contemporary designs, but his taste obviously runs otherwise. I could definitely live here!
Fabulous vignette by Nick Olsen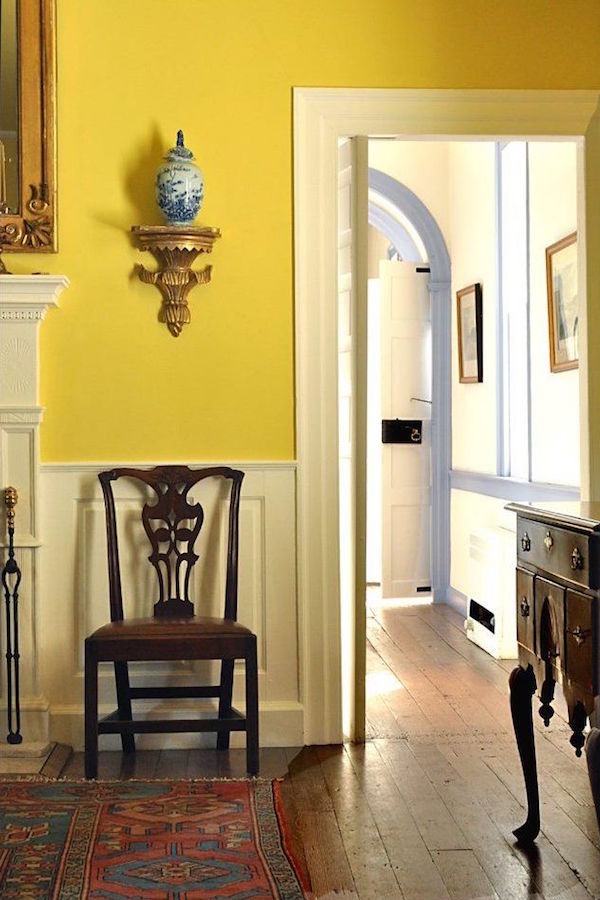 Another historic room with yellow walls. I so wish I could see more and also the original source. If someone knows, please let me know.
A recent room using  Benjamin Moore Sun Rays Designed by Annie Elliot of Bossy Interiors. Great name. This image appeared in Apartment Therapy.
Fabulous yellow fabric in the Chinese Pavillion at Drottningholm.
The unmistakable stamp of Miles Redd
I admire that lad's courage. His rooms are like a garden of exotic delights.
So, let's examine what it is that makes these saturated yellow paint colors work?
Here is a board from my paint palette collection. I thought I had shared it but couldn't find it in my image library, so maybe not.
This is Benjamin Moore LEMON GROVE, one of the colors in the Laurel Home Paint Collection. It is by far the jazziest one, but the idea is to have a wide variety of colors.
These bright saturated yellow paint colors love white, cool tones and muted colors too. Sure, one can have some  bright tones, like Miles did. But I love the cool rich tones of old art with these bright yellow colors.
I put this image of an excerpt of my zuber screen on instagram.
Hey, I'm about 100 shy of 5,000 followers. My birthday is Tuesday, maybe you can help me reach that goal by then by following me. I am trying to post once a day. I will never take over your feed with tons of images.
And here's the screen in my Hawthorne Yellow living room.
SUNRAYS 343 – Benjamin Moore
LEMON GROVE 363 – Benjamin Moore
SUN VALLEY 350 – Benjamin Moore
BABOUCHE Farrow and Ball
MONTICELLO YELLOW – Ralph Lauren
Pratt and Lambert ALE 1723 – Benjamin Moore
How do you feel about these saturated yellow paint colors?
I have to be honest. I love them in the photos, but not sure if I have the courage. Well, I would have the courage to do William's dining room. And then the rest of the house could be mostly white.
Did anyone notice my new pin it button? I have it set to be on all the time. If you find that super annoying, I can set it to hover. That's on desk top/tablet. On mobile, it won't hover, but at least it's finally THERE!  I was so happy when I got that to work! I know that a lot of you are reading the blog on your phone and now you can pin away to your heart's content!
For those of you interested in the Super Bowl, hope the game goes well for you! I've never had any interest in football and don't understand the appeal. But that's what makes the world a more interesting place. It would be pretty dull indeed, if we all liked exactly the same things.
xo,