Hey Guys,
I promised and here it is… A post about your kitchen backsplash. Countertops will have to wait because this one is pretty long as it is.
We touched on it a bit in last Sunday's post about kitchen trends but since a lot of you are interested, I am delving deeper into the topic.
Let's just jump in because there's a lot to cover with the kitchen backsplash
And I know what you're going to say…
Laurel, I'm so sick of plain white SUBWAY TILE! It's so boring. So unimaginative. Gosh, it's going to go out of style one day…
Yes, it might, but it hasn't in over a hundred years so I'm putting my money on that one.
But here's something else I bet most of you have never considered.
Are you ready?

You don't have to have a kitchen backsplash!
Allan Ramsey "The Artist's Wife"
There there now. Why so glum?
Yes, I realize that you've been fretting about this all-important decision and now I'm telling you, you don't need to worry; you don't need to have a kitchen backsplash?
That's right. You don't need to.
Good night.
Wait, Laurel, you can't just leave us like that!
Sorry, but yes, I can and I'm going to show and tell you why.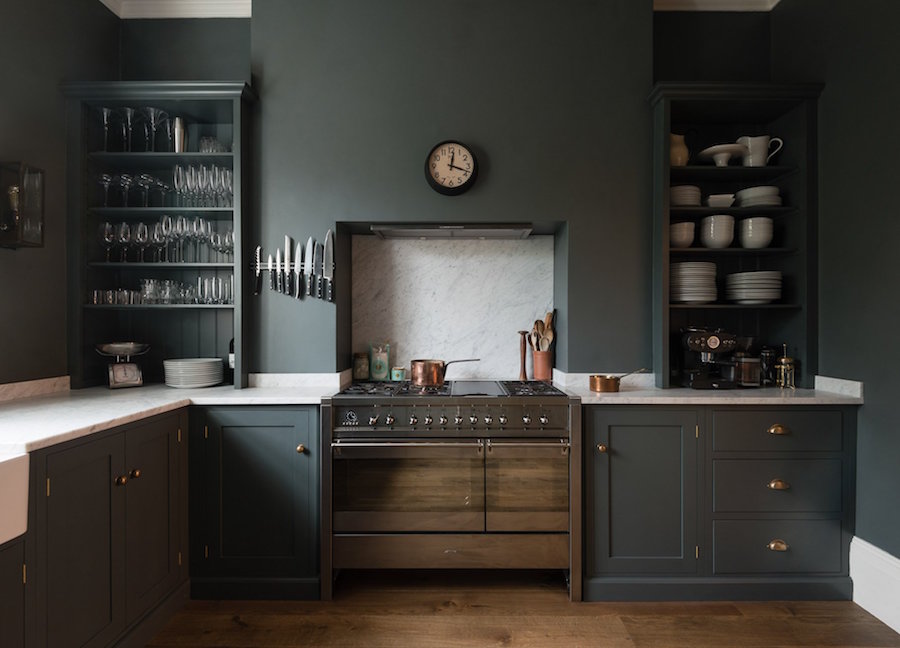 It's because of him.
This is the one… The one I've been looking for all of my life!
DeVOL Kitchens
This is the kitchen I'm going to run away with to a deserted island paradise. We'll take along a couple of other rooms, a comfy bed, a bathroom…
and oh, we'll need a hot chef.
Alain Allegretti via Huff Post
He'll do. ;]
Laurel, have you lost your marbles?
Um, perhaps… But the marbles are right there in my hubba, hubba kitchen. Tall, dark and handsome and adorned with a delicious Carrera marble lip of only 3″;  not 4″, not 5″, not 6″ but a small 3″ lip of the same.
And ahem. Notice what's NOT there?
There is only one simple backsplash slab of the same marble over the giga-gorgeous range.
It is perfect. I am so in love with this kitchen and it is exactly what I'm talking about when I speak of today's Unkitchen. This kitchen could go ANYWHERE! It's neither really modern, nor traditional but a perfect blend of both. There is no huge bulk of upper cabinets looming over us!
And there is plenty of storage in this kitchen.
One thing, I'm missing is a fridge. There is a long bank of tall cabinets on the wall opposite the range, so it might be hidden in there.
But Laurel!!! I thought you had a thing for white kitchens!
Oh yes, that's right I do. Well, I can't stay on the island forever. During monsoon season, I'll head back to the mainland. (yes, Alain will come with me, silly) Maybe to this one below.
Another cool DeVOL kitchen. This is a British company and I love what they are doing! The kitchens are so simple and natural looking. Very unkitchen. Above, the only backsplash in this kitchen is a pattern above the range. I think that this is wonderful because it makes the backsplash special.
Another lip and they are making it out of wood? I wonder how that works in the sink area. Presumably it's a wood that doesn't mind getting wet like Cedar, perhaps.
Another DeVOL kitchen. This is more like our kitchens and there is a simple white subway tile backsplash. Those are fabulous shaker-style cabinets. So pretty.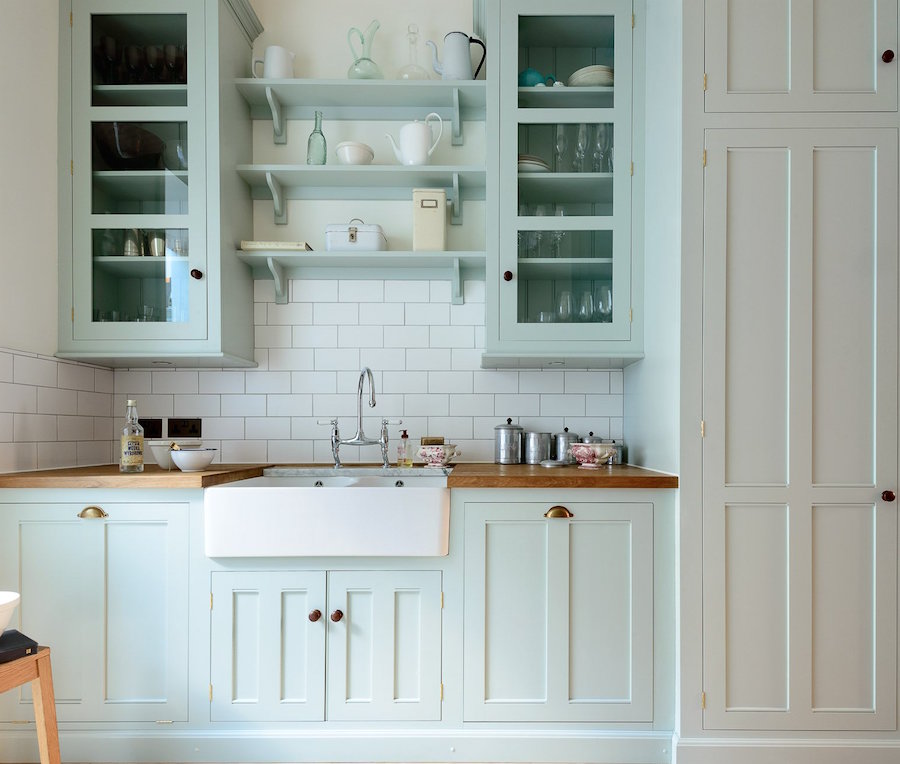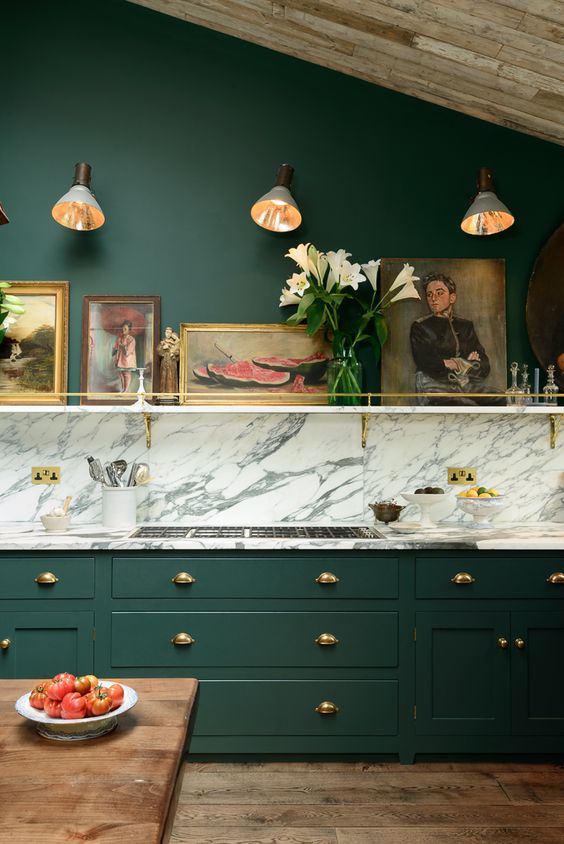 And this is one from last Sunday only I couldn't find where it was from until I was looking through the DeVOL website.
There's a marble slab for the backsplash that is the same as the counters. This is a great choice but I really feel strongly that unless it's something contemporary, please keep it light.
I had a client a few years ago who moved into a home in Rye and the previous owner decided to "fix it up." He put in the most hideous orange-y granite. I would not have been able to live with that.
Please check out this talented architect and designer's portfolio. Her work is pure and full of white walls. So, anyone afraid of white, please check her out. I don't think you'll think her designs are at all boring.
Design Jenny Wolf   – Photo: Emily Gilbert
Natural brick is cool in this semi-rustic kitchen.
Shiplap is fab in this country kitchen. There is a type that looks like wood but is stone. If this is wood, I would worry about the flame from the range. No?
Jacquelyn is a young very talented designer. Her interiors are fresh and very pretty. I love this hexagonal honed Carrera marble backsplash.
The kitchen we did two years ago with a Calacatta Gold Marble backsplash over the Wolf Range.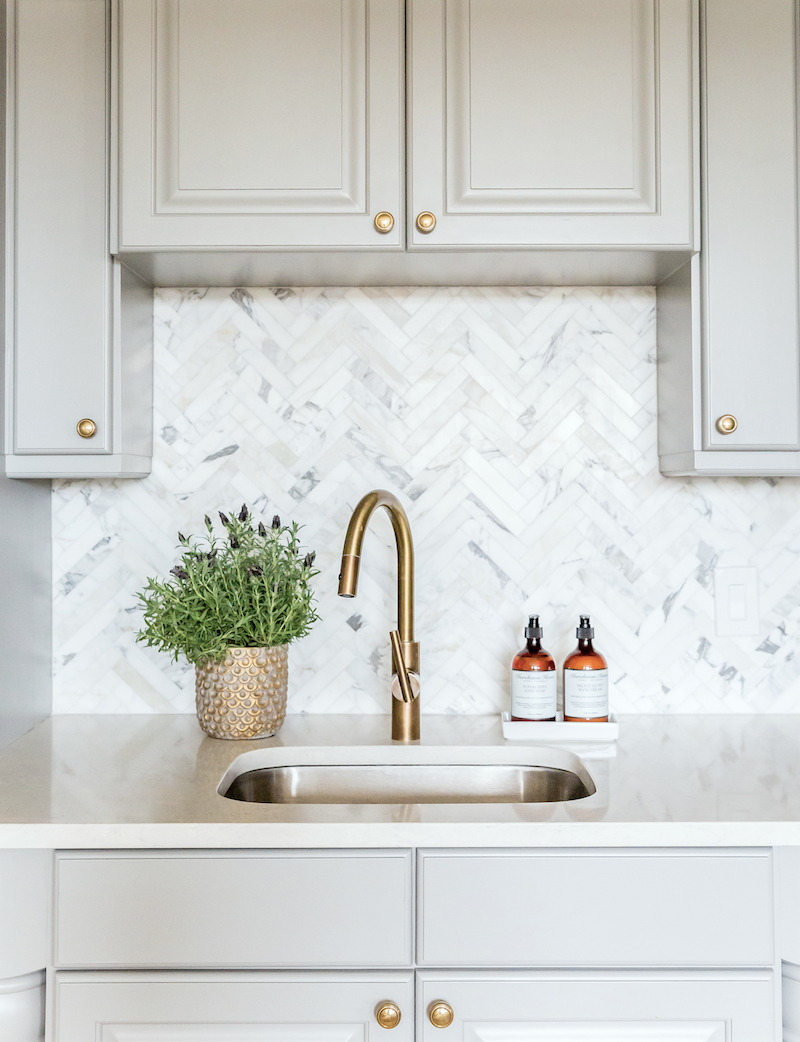 More Carrera, this time in a herringbone pattern.
This is also a herringbone, but they call it a straight herringbone. Not sure which I prefer.
Design – Nastasi Vail    photo – Genevieve Garruppo

We had two other views of this kitchen last Sunday. I quite love this one! (I might have to cheat on my tall dark and handsome DeVOL – haha!) Love the simple subway tile with white grout.
The question. To white or not to white the grout. If I had to choose, I choose white, but sometimes I do like the darker grout. Just depends on the kitchen and what else is going on.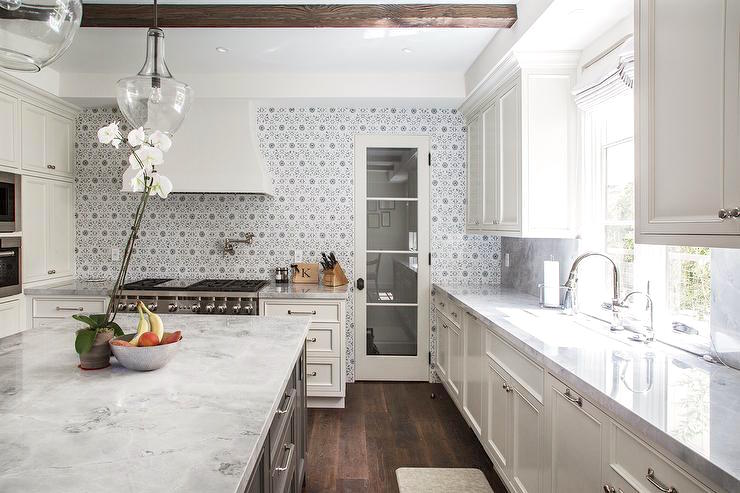 photo – Bethany Nauert

Another kitchen from last weekend with a delicate pattern on the cement tile. If this was all over the kitchen it would be too much, but it's way cool on the one wall I think. And I love that they go clear up to the ceiling.
Counter to ceiling tiles is another popular trend. It's good on one wall, if it suits the space.
Another wonderful cement tile in this fresh kitchen which goes into a family room. This is a beautiful focal point.
I believe the  tile in Joanna Gaine's kitchen is this one; Walker Zanger's Dquesa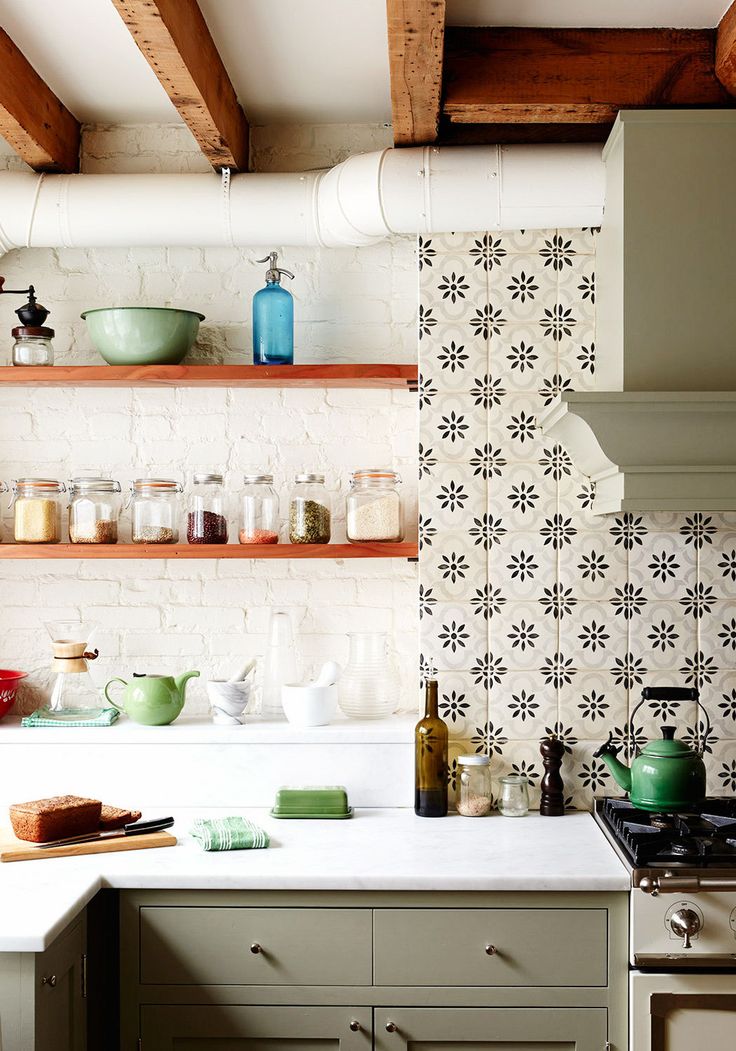 A more graphic cement tile. I think it's wonderful as an accent over the range.
source unknown
I love glass tiles, especially when they have a slight color variation.
Another beautiful DeVOL Kitchen. Love the warmth of the herringbone floor!
Gosh, I'm thinking that perhaps our founding American fathers were wrong. We should've stayed tied to Great Britain. And we should've kept the tea, paid the damned taxes… oh well. We didn't.
Walker Zanger handmade white subway tile.

Handmade ceramic tiles are far more expensive than the others. But if you can swing it, they are the most beautiful because of the slight variations. There are machine-made that mimic handmade. Not sure about that. I think they look fake usually.
These mini subway tiles are another option.
This is a pretty gray-blue stone called Blue Celeste available at Ann Sacks.
I guess to sum it all up. For the most part, less is more when doing a kitchen backsplash and if you don't have one– it isn't the end of the world, either. Isn't that nice to know?
There's no need to do a shiny, tacky paint either. Benjamin Moore's matte formulation is washable.
What do you think of backsplashes? Do you have any favorites?
Could you live with just a small lip instead of big to do? I definitely could!
xo,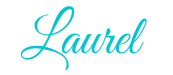 Save
Save
Save
Save
Save
Save
Save
Save
Save
Save
Save
Save
Save
Save
Save
Save
Save
Save