The last several months I've been working on a job very close by. Lovely client. Gorgeous home which they've been fixing up.
One of our projects was the downstairs powder room.
dum dum dum
Clearly could use a massive update and upgrade! A little foreshadowing with the two wallpaper samples.
My client M, had visions of a fantastic jewel box. I love it when clients have a vision.
She wanted it to be smokey and enigmatic. She shared this showstopper with me.
Karen Aston
We couldn't do it exactly like this because of the wonky wall to the left. And the wall was really bizarre so first piece of business was to address that. The contractor added a lovely curve. (the stair case is there and the curve follows that line.)
We knew that we had to have the black wainscoting.
Next, came the wallpaper.
I got a sample of the Romo paper and it left us not very enthused.
Nor did the green and black colorway. It's not that they are bad. They aren't right.
We both really wanted to see more black. So, I looked for some more inspiration photos.
Scott Snyder
Yes, that's the idea!
I also picked up a mess of other wallpaper samples. (two are in the first shot of the old powder room)
Several were lovely.
Cool, from Thibaut, but too busy.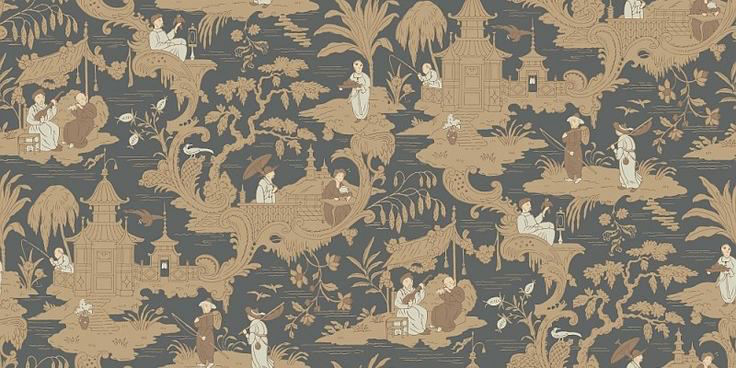 Above and below from Cole and Son.
All nice but not quite right.
That's the one!
***
M had already purchased this way cool pendant from Currey & Co. We loved how it looks rather nest-like. Perfect!
***
Then, the sink. I've never done a console sink before and was excited about that because I think that they are way cool.
This is a sleek one from Waterworks.
Cass Brothers
I found several nice console sinks and one from Kohler but it was too large by only about an inch! So, we did the Memoirs sink and toilet which I've always loved.
We chose a soft coral color for the ceiling which picks up the same shade in the paper and selected the perfect black for the wainscoting. It's one of the blacks in the Laurel Home Essential Paint Collection coming out on May 10th.
We uhhh.. selected new shades for the sconces. (this is the old one. I guess that's obvious)
I suggested a new glass shade from Rujuvenation. They have a large selection of plain and art glass shades.
And here it is!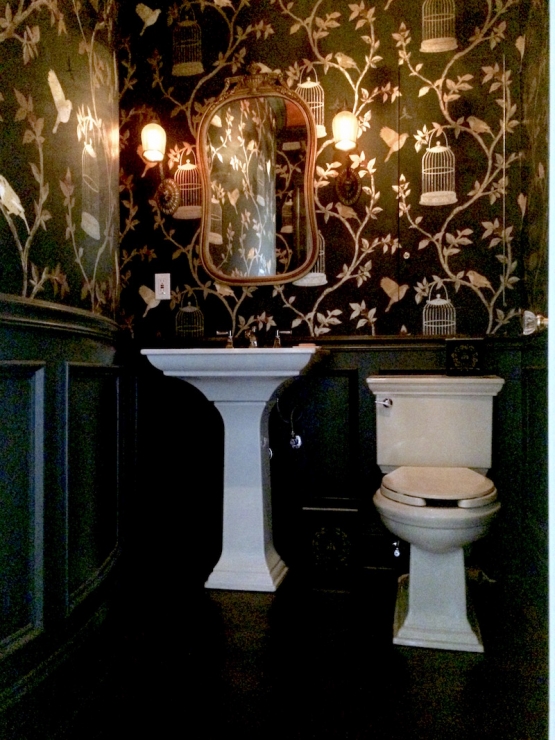 Yes, this is the SAME powder room!
Over the toilet is a hidden medicine cabinet. We painted the inside of that the coral too.
Sorry, these are so grainy. I'll take better shots later with my good camera. I wanted to show a better shot of the curve. It looks like it was always there! It really is like being inside of a jewel box! It's actually quite serene to be in there. And the lighting is magical! M already had the mirror and we love how it mimics the curve of the vines.
Here are some more black bathrooms. Black or a deep rich color is great for a powder room or small bathroom. It's a great place to experiment with something dramatic. The payoff is huge!
Mark D Sikes
Pinterest Addict
Abigail Ahern via Lonny
Studio McGee
via Mad About The House – it's actually an ad from Corian Dupont.
This one is not quite black but have to say that I rather love it!
Would you do a black powder room now that you've seen these?
I will still "see" you on Sunday, but I won't be "here." haha.
I'll be in Italy in case you didn't see that!
Can't believe I'm finally getting to go!
ciao, ciao,