Dear Laurel,

I only discovered your blog a few days ago. I think I was up until 3:00 AM the other day because I couldn't put it down. Thanks. I'm just joking. I wish I had found you a month ago. We just painted our living room. I wanted it to be that soft silvery, calming pale blue paint color I'm seeing all over the place.
I chose the most beautiful pale, blue I've ever seen.
The painters came. I went to work… came home and eeegads! My living room looks like the baby's nursery. No wait. I wouldn't do that to my baby. It's horrible. It's like the most annoying, cloying baby blue. How could this have gone so horribly wrong?
Betty Blueper
Dear Betty,
I bet you didn't test the paint. But please don't beat yourself up. What you did wrong is as common as corn flakes. You went to the store. Maybe you didn't even bother to bring the paint chip home. But even if you did, you probably put it down flat on a table to look at it instead of flat against the wall where it's going to live. Looking down on the color, is not the color.
Looking at it at the store or outside in your car is also not the color.
Still, no one ever told you this, so how were you supposed to know?
But take heart. The color that people most often mess up is blue. Why? Because when you want to paint a room a pale blue, we have a tendency to be seduced by those "pretty" blue colors. But when they go up, look out! We ignore the really great colors because they look so gray! But gray is what makes pale blue soar when it's painted on a wall— or a ceiling!
[tweet_box design="default"]Today, I'm going to give you nine seriously wonderful pale blue paint colors that don't scream BABY BLUE![/tweet_box]
What is the trick?
I'm going to tell you right now.
Please go and fetch your Benjamin Fan Deck. The  "Classic" one.
Do you have it?
Good.
Now, please rip out everything between 547 and 854. Common'. I'll wait.
All of them, Laurel?
Okay, there are about 20 colors in there that are good, but the rest, unless your name is Miles Redd, Mary McDonald or Katy Ridder, please stay far away. Some of those colors should be illegal they are that bad.
I really wish Benjamin Moore would have codes something like this:
*** = GREAT COLOR, GO FOR IT!
xxx = SUCKY COLOR. SORRY, WE'RE JUST MESSING WITH YOU. hehehehe…
(sadistic freaks!)
Fortunately, there are many, many lovelies in all of the Benjamin Moore fan decks.
Again when choosing pale blue paint colors, think gray.
And don't forget to test!
Here are some beautiful Benjamin Moore Pale Blue Paint Colors

(please note that the corresponding photos aren't necessarily the color but something fairly close.)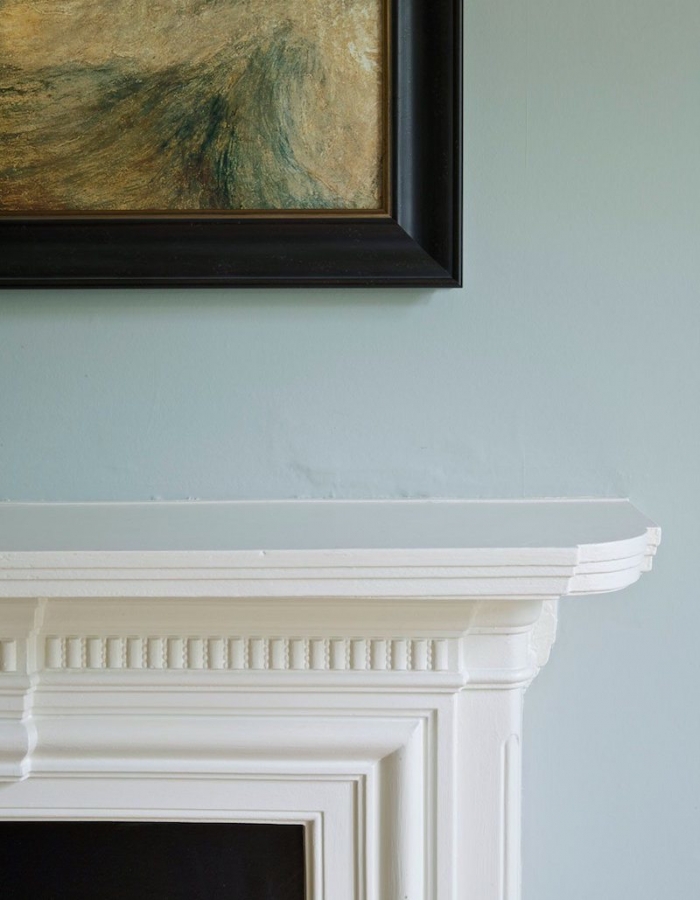 GRAY SKY 2131-70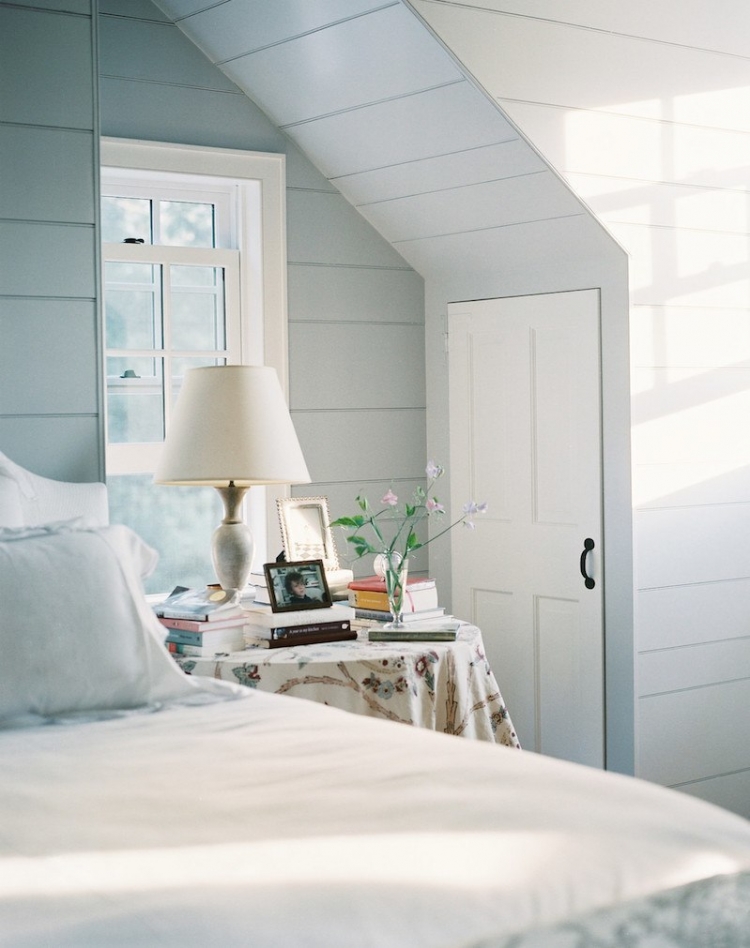 Deborah Needleman via Lonny
LOOKOUT POINT 1646
Mona Ross Berman via Lonny  photo: Courtney Apple
QUIET MOMENTS 1563
Interesting room, isn't it? I think what makes it work, is the calm soothing color on the wall!
Suzanne Kasler  photo: Tria Giovan
SEA FOAM  2123-60
Charlotte Moss
SILVER CREST 1583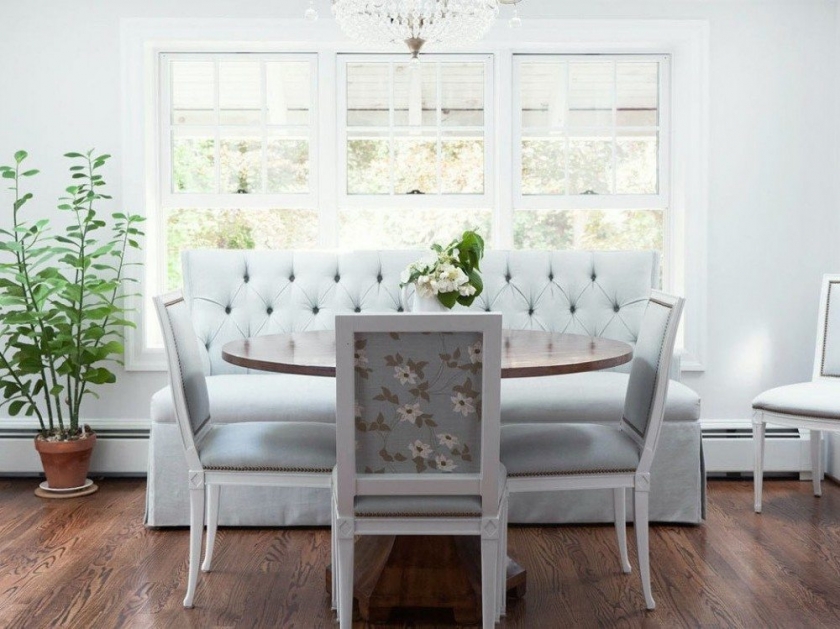 Naomi Stein
I don't think the walls are actually blue here, but this has to be the most beautiful eating area I've ever seen! I would be the one who would slobber marinara sauce all over the settee and while I was cleaning it up would knock the coffee over.  If this were mine, I wouldn't serve my guests anything but saltines and seltzer. ;] By the way, those gorge chairs, I recognize as one of my faves from Hickory Chair by the wonderful Suzanne Kasler. Love the floral fabric on the back. Really smart.
Summer Thornton
ICE CAP 1576
Don't forget the ceiling! A pale blue-green-gray is amazing on the ceiling.
Those pagoda pendants kinda took my breath away.
I made it my mission for about 30 minutes to find those pendants and I did it in 20! I found them on Circa Lighting. 
That made my day!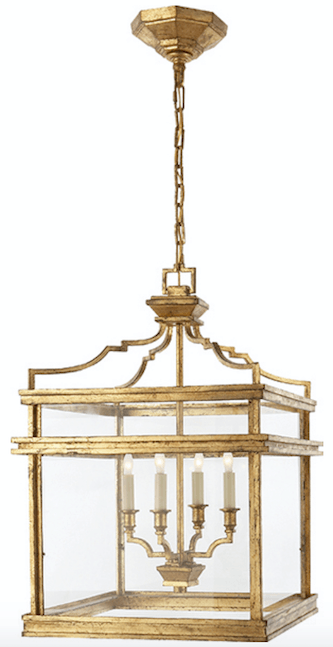 Coincidentally, Circa Lighting is opening up a new showroom in New York City next month and I've been invited to attend the opening reception. Since they're one of my fave vendors, I'm going!
Gary McBournie  photo Julian Wass
PICNIC BASKET CSP 730
We just did this color in a master bedroom and it's very pretty!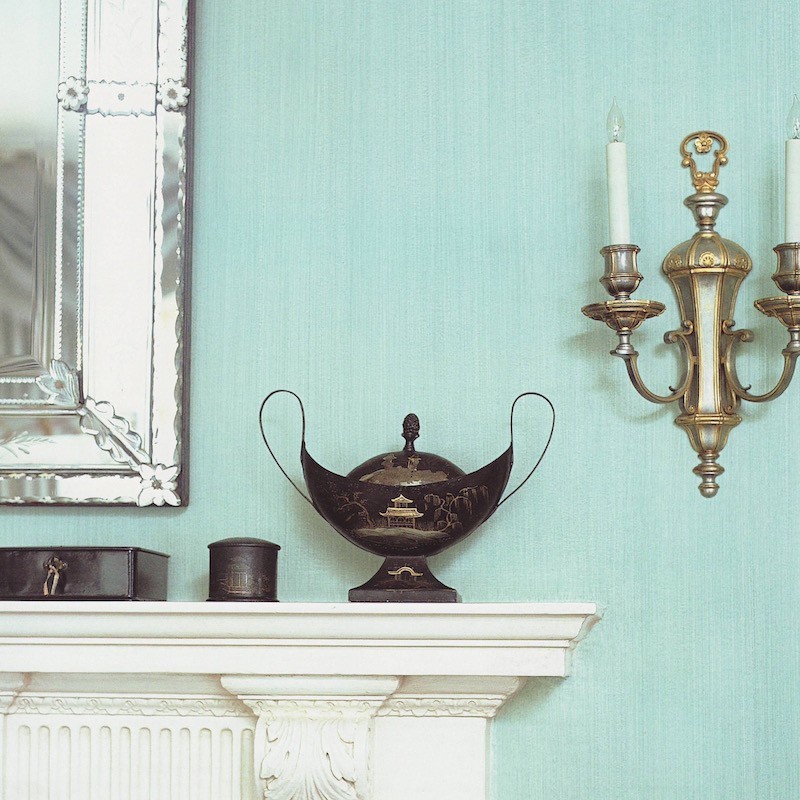 via
GLASS SLIPPER 1632
This isn't glass slipper. It's a strie of these two colors. MYSTICAL BLUE 792 glazed with FADED DENIM 795. But since you've ripped them out of your fan deck, sorry, you'll have to use something else. Actually, this looks nothing like those two colors! I added this, because I love the photo!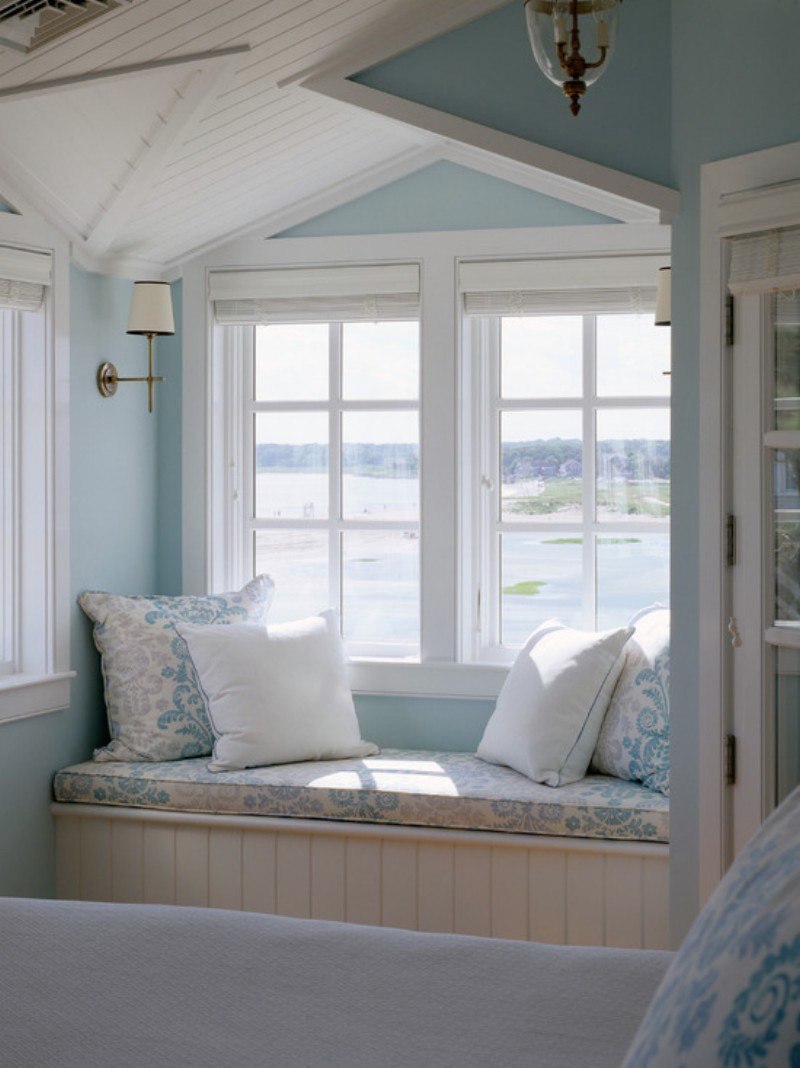 Pholhemus Savery DaSilva
WOODLAWN BLUE  HC-147
Woodlawn is the bluest of the pale blues here but it's a definite winner!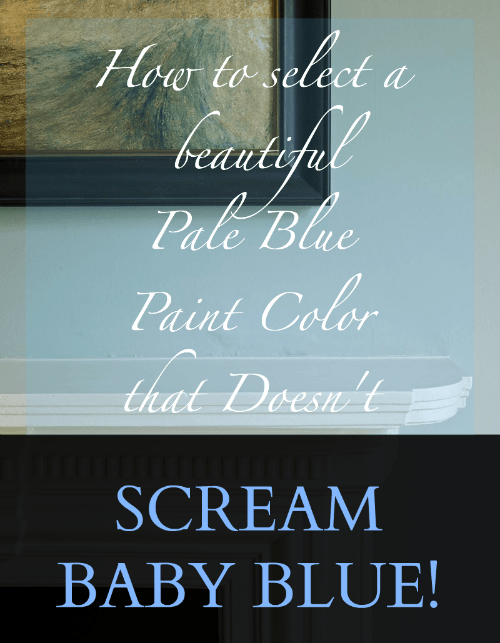 I know everyone says that it's the end of summer now, but until it's around September 21st it's still summer in my book! Whatever your views are. Please enjoy!
xo,