Hi Everyone,
Oh, man. I tried to make a video about the best white paint colors for kitchen cabinets.
I even took a shower and put on make-up.
Alas, it's horrible. Oh, it starts out okay.
I am 1000 times better in the silence of your imagination.
What inspired this post is that yesterday, Mel, my lovely kitchen designer from Crown Point Cabinetry, came over.
She measured both manually and with her laser. It's a great way to double-check, kind of like using the paint color by name and its number when placing an order.
If there's something to be OCD about, measuring is definitely one of them.
We also went over the fine points of the design. And, it's all done. There are a few small tweaks from what you saw about six weeks ago; please scroll to the bottom. But, overall, it is the same.
So, after we discussed the design, Mel asked me what white kitchen cabinet paint color I had selected.
"Hell, if I know. One of them," I quipped.
The perfect professional, she ignored me and whipped out her paint chips.
She began holding up one white paint color at a time.
They are all from Sherwin-Williams. While I am familiar with many such as Alabaster and Dover White, they are like people I met at a party ten years ago. Many Benjamin Moore white paint colors are like old boyfriends. Some are even like old husbands. ;[
Many may recall a post I wrote a while back, but I have updated many times about the best white paint colors. I selected 20.
Still, even 20 is too many.
Then I wrote a post about the only six white paint colors I've used for walls and trim.
Another old post revised more recently is about the one white trim and wall color that works every time.
Is there such a thing?
Originally, when I narrowed it down about eight years ago, I went with Cotton Balls. Recently, I also included Simply White. And, I should also include Chantilly Lace.
Chantilly Lace is the whitest of those three. One more color that is Universal is Super White. I used it in my old apartment on the trim, everywhere but the bedroom.
What about White Dove, Laurel?
Ahh, yes, White Dove, by Benjamin Moore. It is probably the most popular shade of white in the entire colorverse.
I used it for many jobs and for myself, for the trim, doors, ceiling, and panel surround in my old Bronxville Bedroom. I spent 2.5 years looking at it in all kinds of lighting situations. This room also had three windows facing south, southwest, and west.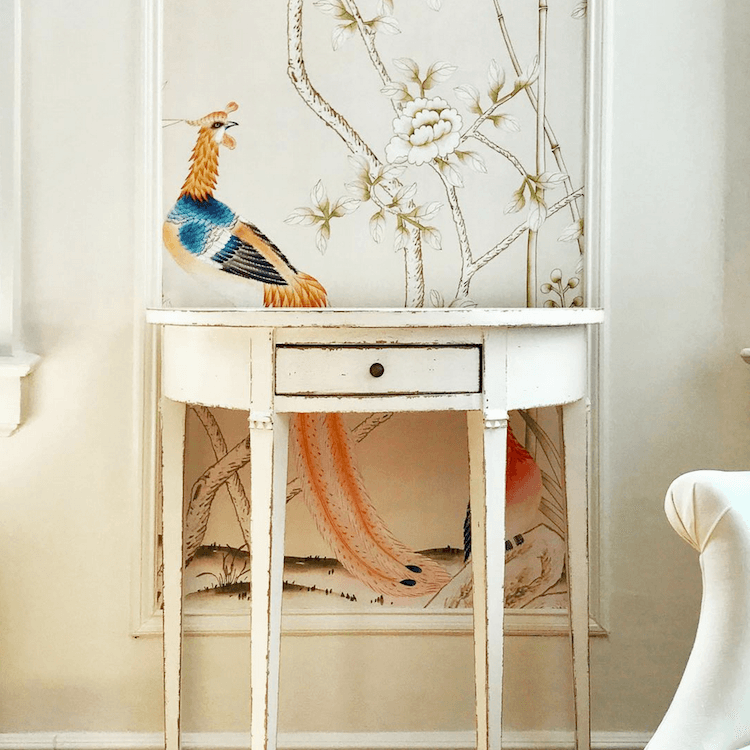 On the south and southwest walls, the color sometimes looked almost gold! It looked like a crisp but slightly creamy white paint on the opposite wall. (See above) Same room. Same color.
This was five years ago, in the days before Samplize. Samplize is terrific. I highly recommend you get their samples as they are movable, reusable, and often over, and there's no messy paint to deal with or waiting time for it to dry.
Mel showed me about four white paint colors, but the fifth one stood out.
It was warm and soft, not too bright, not too gray or yellow.
It was Sherwin Williams Greek Villa, and I said, "That's it!" We looked at it in the kitchen.
Everything looks fine in the kitchen because there is almost no natural light. But, when compared with Alabaster, the more well-known color, it looked better with the Calacatta Marble I'm hoping to use.
In addition, it's a separated at birth twin with Simply White and Farrow & Ball Wimborne White, my favorite F & B shade of white, see above in this lovely DeVOL kitchen.

DeVOL says it's their proprietary color, Linen.
Oh, if they so so! ;]
You might enjoy this post where I suggest which Farrow & Ball colors DeVOL is riffing off of.
Above and below, a kitchen painted Wimborne White. For more of this lovely design by Nancy Keyes, please check out this post.
Okay, here's the thing.
Strictly speaking, I should have the tile and counters all picked out before choosing the cabinet color. Why haven't I done that? I haven't done it because I'm trying to get as many tangible, fully, or partially sponsored items as possible.
However, I've had enough experience to know that finding a tile to coordinate with Simply White, Benjamin Moore's Color of the Year in 2016, should not be too difficult. In any case, the colors are more forgiving because of the windowless kitchen.
Now, did selecting the color yesterday stop me from obsessing about looking at other white kitchen cabinet colors?
No, of course not. Yes, Laurel, the self-proclaimed paint color expert, haha, obsesses about her paint colors too. It's EASY telling someone else what to do and not easy when selecting for ourselves. If that is not true for you, you're in the minority; I'm pretty sure.
Why do we do that?
Well, I think the indecision and second-guessing happen for many compelling reasons.
Color can be quite unpredictable.
We don't want to make a costly mistake.
We're sure there's something better out there.
Ya know… The Bumble mentality. :/
If there were only ten white paint colors in existence, then we'd be able to narrow it down far more easily and quickly. Instead, there are 100s of white paint colors.
But, are there really? As you are about to see, there is this illusion that there are hundreds. There aren't really, and colors which skew strongly to yellow, green, blue, lavender, and pink are NOT white.
Have you ever noticed how many colors have white as part of their name? However, they are anything but white.
This one's not even a pale color!
Here's another point to keep in mind. Benjamin Moore has dozens of duplicates with different names and numbers. However, they are the same formulation. Thankfully, they've come clean about this on their rebranding that happened last year.
Soooooo… I will make a list of the best white kitchen cabinet colors. (Not in any particular order.)
AND, yes, I am sharing their duplicates, not all of them, by any means, or I'd be writing this for a year, but some from Sherwin Williams and Farrow and Ball. There are also some twins in the same company.
The lead colors are by Benjamin Moore. I am trying to clarify what goes with what, but it isn't easy.
As you're about to see, this has been a very interesting exercise.
Please note. I am sure to have left off your favorite white paint color. It is unintentional and doesn't mean your favorite is a bad color.
1. Benjamin Moore CHANTILLY LACE
This is a terrific white kitchen cabinet color for a clean, crisp look.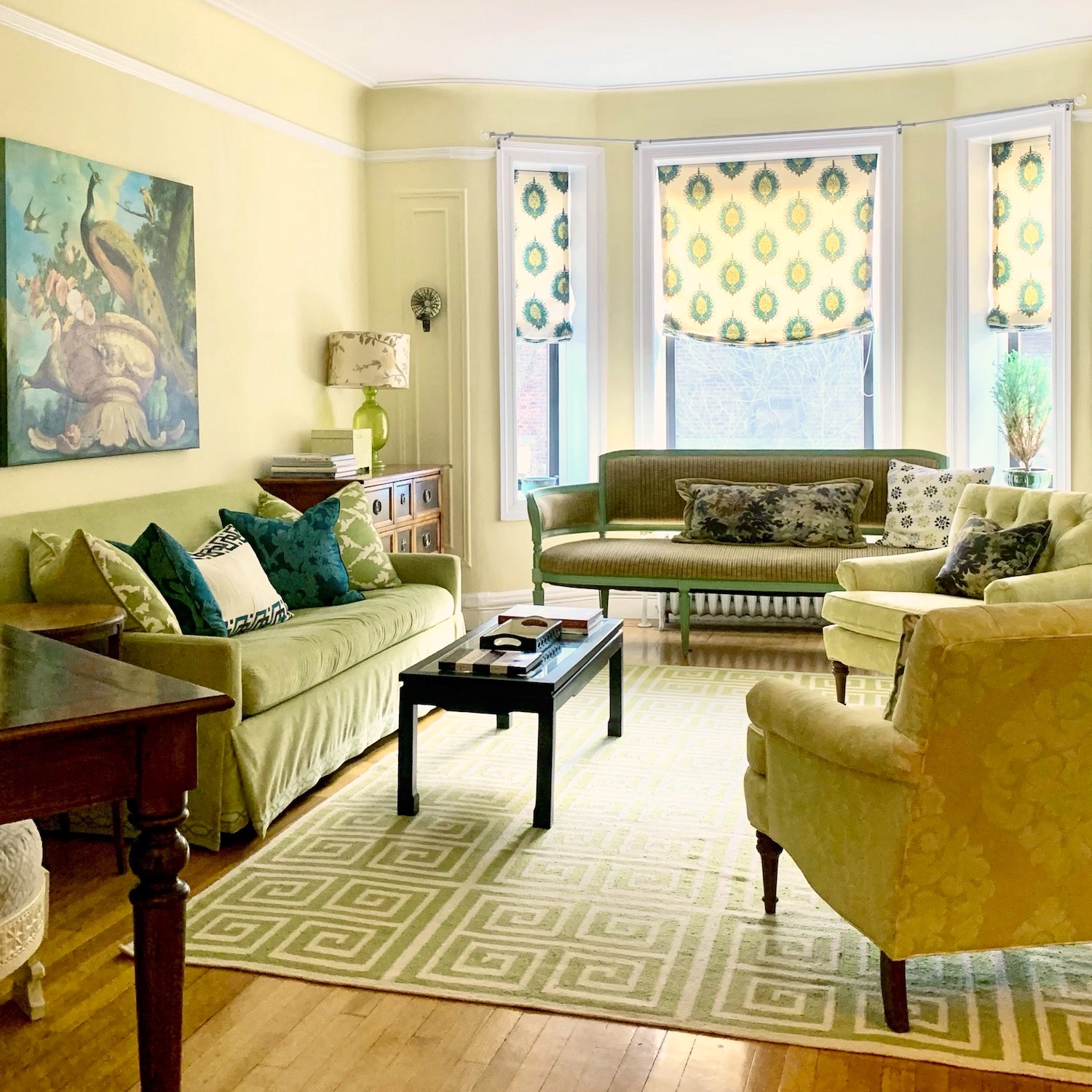 The trim and ceiling are painted super white in this image taken in November 2020, just before I had a buyer for my apartment in Bronxville, NY. The color looked creamier in person, but Super White is a lovely, clean, yet still warm white.
Ahhh, there's my darling Joe who passed away peacefully 13 months later. May he rest in peace.
and its Benjamin Moore Twin, SUPER WHITE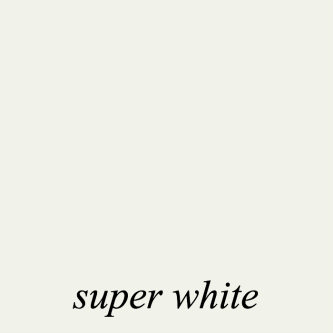 Subs for Chantilly Lace and Super White

Sherwin Williams – HIGH REFLECTIVE WHITE
Sherwin Williams – WHITE SNOW
Farrow and Ball – ALL WHITE
2. Benjamin Moore – WHITE DOVE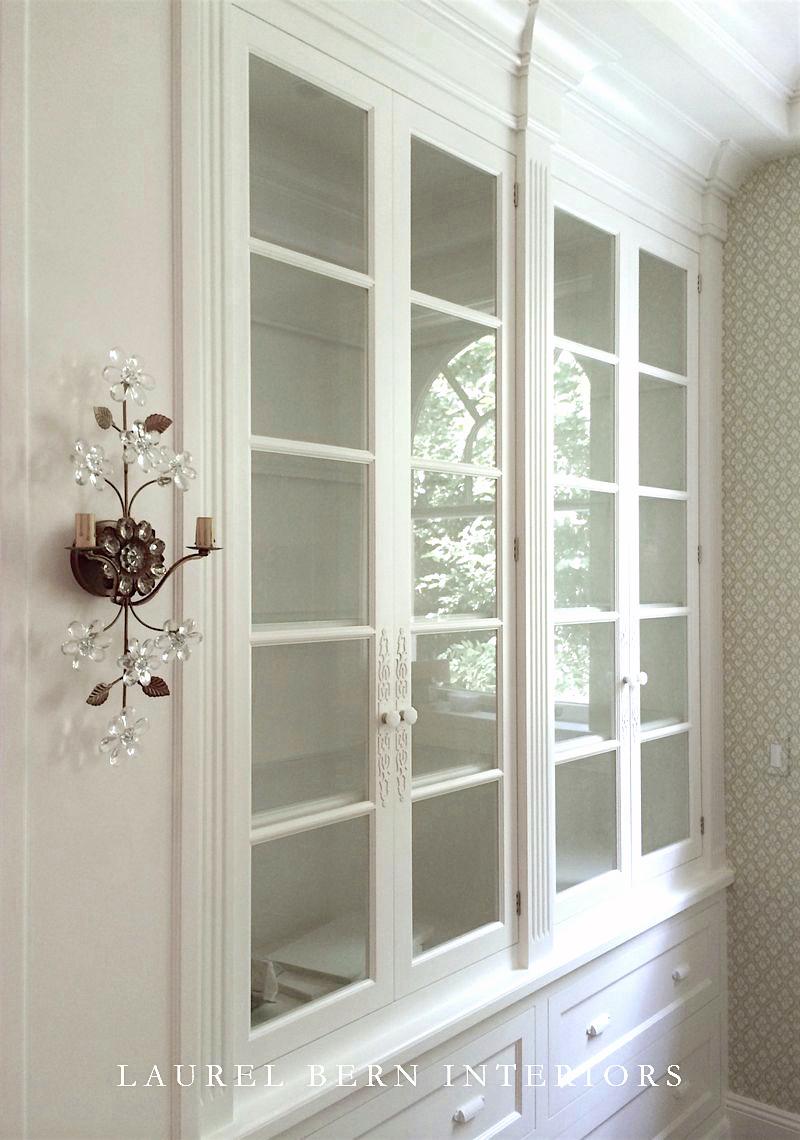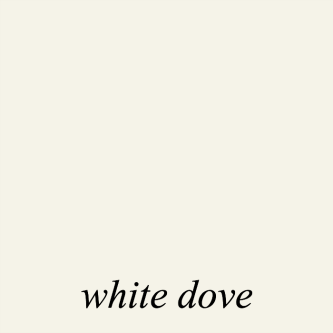 We used Benjamin Moore's White Dove oc-17 in the Bronxville Kitchen, with Calacatta marble, which was stunning. White Dove has a good amount of gray and a chameleon-like quality, making it a great choice.
Many colors are very close to Benjamin Moore and other companies. A great paint color is a great paint color.
Subs for Benjamin Moore White Dove

Sherwin Williams – Alabaster – It is also one of the most popular white paint colors at SW.
and its twin
SW – GREEK VILLA (the color for my new kitchen cabinets!)
Farrow & Ball – WIMBORNE WHITE is also a similar color. (Please note: that these samples are photos of the colors found online. They look much closer in real life than they do on the computer monitor.)
They are all, also very close to the color I lived with for 18 years, seen below in our old townhouse.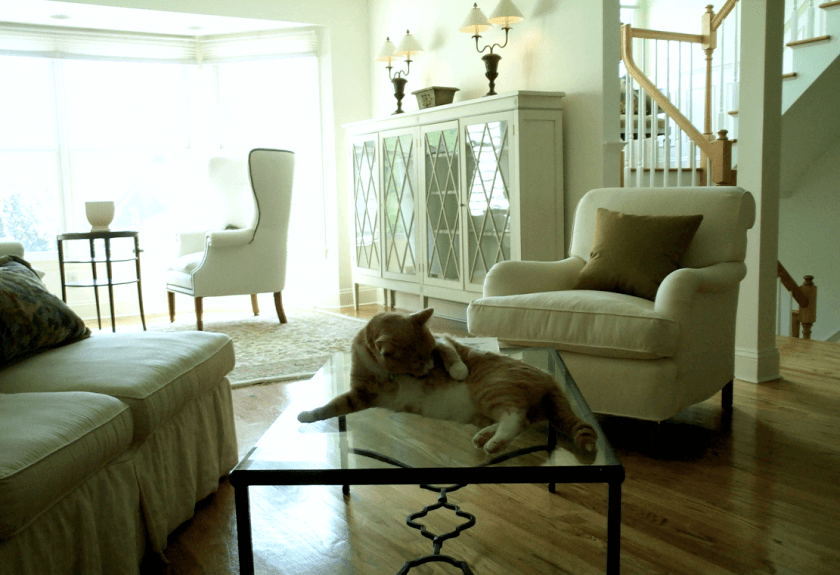 Pratt & Lambert ANCESTRAL (This color)
I loved this paint color. It was in our bright living room, but always beautiful, soft and warm, and never yellow. I miss my Snooky. (Peaches) He passed away in December 2014. Incidentally, this pic is from 2002.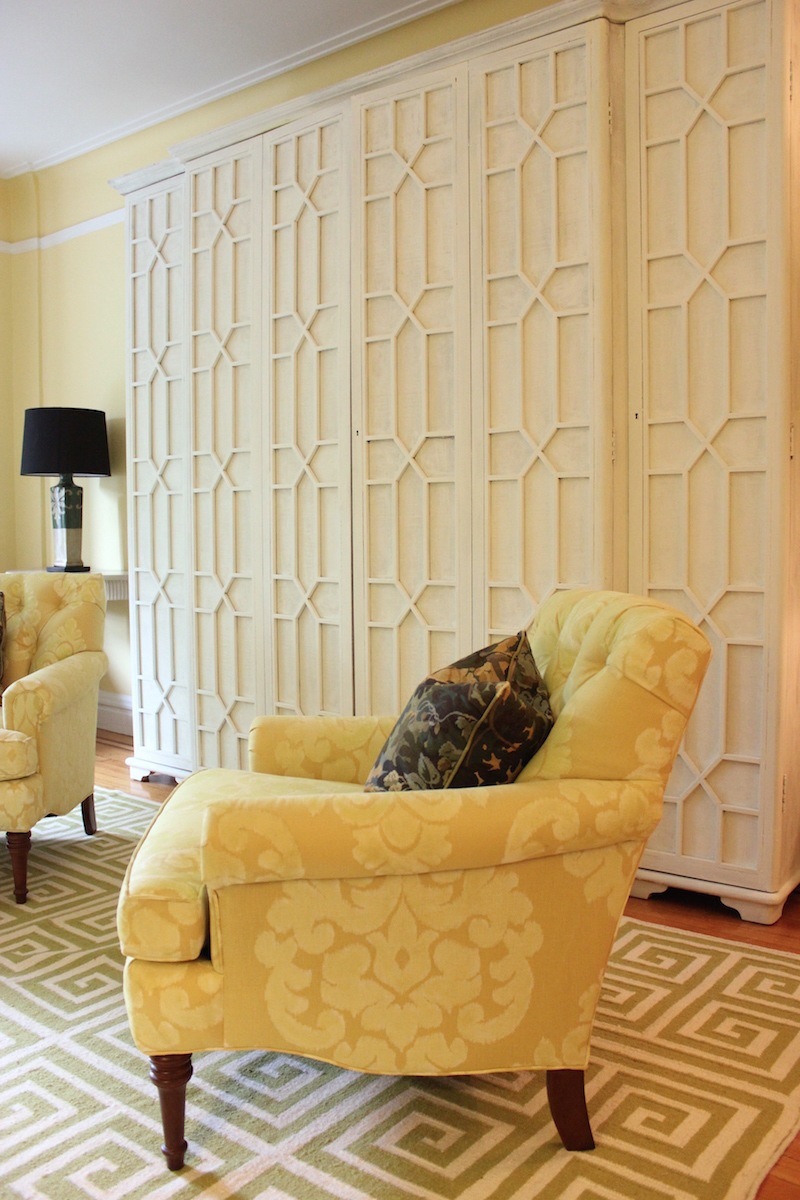 From my old living room in 2013. I painted the cabinet Cotton Balls. I love showing this room. I lived here for at least two years before I realized that the "crown moulding" is ENTIRELY on the ceiling!
3. Benjamin Moore COTTON BALLS (below)

4. and its twin (SIMPLY WHITE)
For the rest of this lovely kitchen, please go to this post.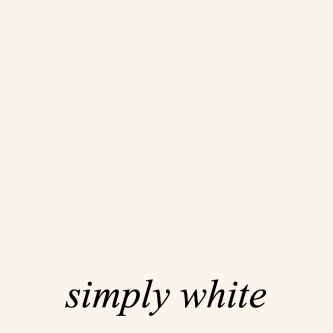 Subs for Simply White by Benjamin Moore

Sherwin Williams GREEK VILLA
Sherwin Williams ALABASTER
Okay, never mind, twins. They're Quintuplets!
Wait a sec; do they have the same counterparts, Laurel?
Yep. Pretty much they do. Look, the paint companies want you to believe that every color they have is unique and, not only that, unique from their competition.
Sorry, they're not. Well, they're not different enough to break into a cold sweat. Let's put it this way. If Simply White works, then White Dove is also going to work, and Wimborne White and Alabaster. So, just pick your favorite from your favorite company. Of course, always test first!
I'm not saying that there aren't subtle differences. However, there are subtle differences between the same color from the same company and coming from a different paint can!
There are also HUGE differences with the same color from the same paint can but on different walls in the same room!
Please reread that last sentence three times. :]
This is why I can't make a video. I can't chirp away why you must do this or that. When I say on video what I just wrote above, I look like a crazy old woman on a day pass from the place where they put the mentally ill.
Not to interrupt myself, but a little break won't hurt. In case you think everything is like a fairy tale here in Boston, there is just enough hideousness to make us appreciate even more what we DO have.

I discovered this Boston uhhh… bastion of what-on-earth-were-they-thinking last year after I walked Cale to the north (train) station.
This is what happens when you don't properly vet your builder. lol
Bostonians, please stay mum. Does anyone else want to take a guess?
Is this where they hold the semi-annual Restoration Hardware tent sale?
Oh, hahahaha! Very good! And, no, but you're verrrry close.
But, of course. If you weren't crazy before, you soon will be.
I did look this place up and it is a well-known eyesore that went horribly wrong during construction. (ya think?)
Hope you enjoyed that little palette cleanser.
Let's keep going with the best white paint colors for kitchen cabinets.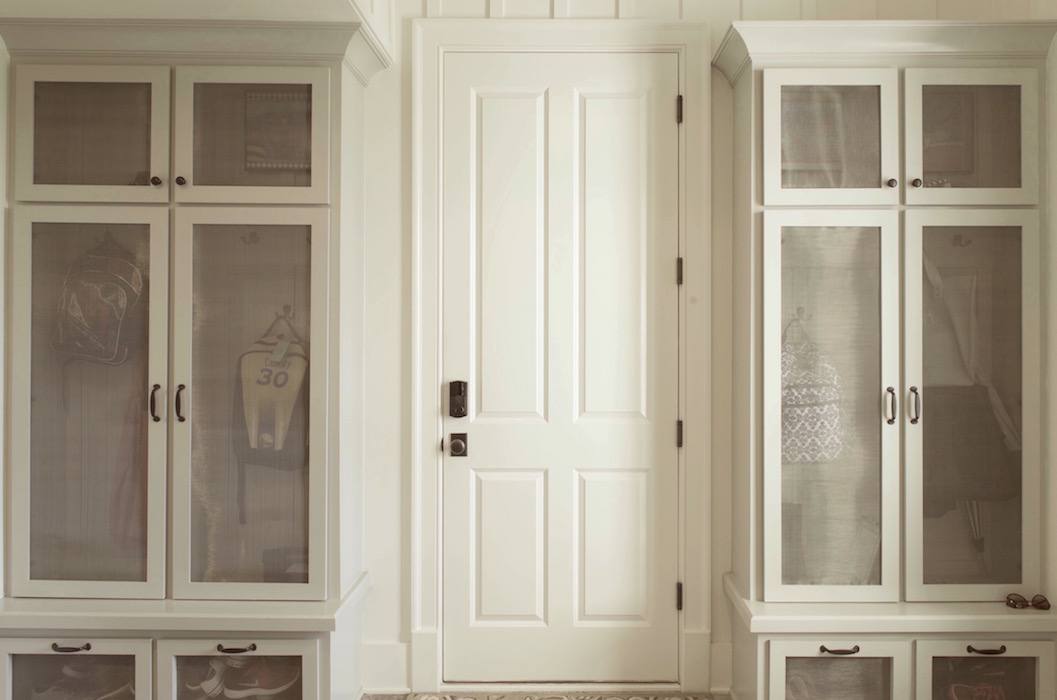 My Kentucky long-distance client from several years ago did IVORY WHITE everywhere. For the rest of her gorgeous new-build home, please go here.
5. Benjamin Moore IVORY WHITE

I have used this color many times. It's the better version of the popular Linen White. LW is great as a trim color with warm dark colors, and it's good in brightly lit rooms. However, ivory white always looks good.  This is also known as Acadia White.
I keep wanting to say, "It's just a wee wink____" like that seriously perky, adorable blogger, Kylie M, on Youtube who talks about every paint color that God ever created. However, I am incapable of actually uttering those words.
Ivory/Acadia White is the creamier first cousin of White Dove.
Subs, Yes, everything, is the same that goes with the other colors so far.
Sherwin Williams  ALABASTER
6. Benjamin Moore SWISS COFFEE
Sherwin Williams SHELL WHITE
Okay, that's it for today.  I hope you enjoyed this exercise!
xo,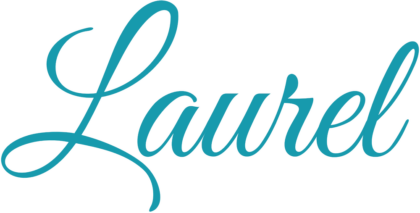 ***PS: Please check out the newly updated HOT SALES
All you need to do is click the link above and forget about it if you're not ready to shop now.
I will earn a small commission at no extra expense for any orders you make within 24 hours of that click. I very much appreciate your support of this website.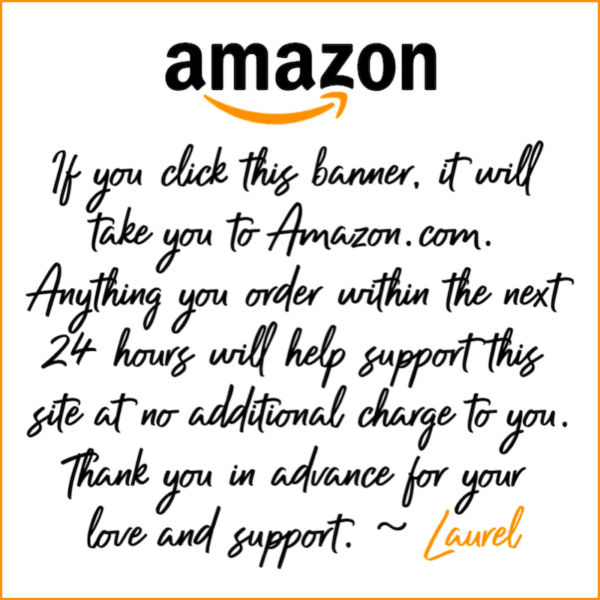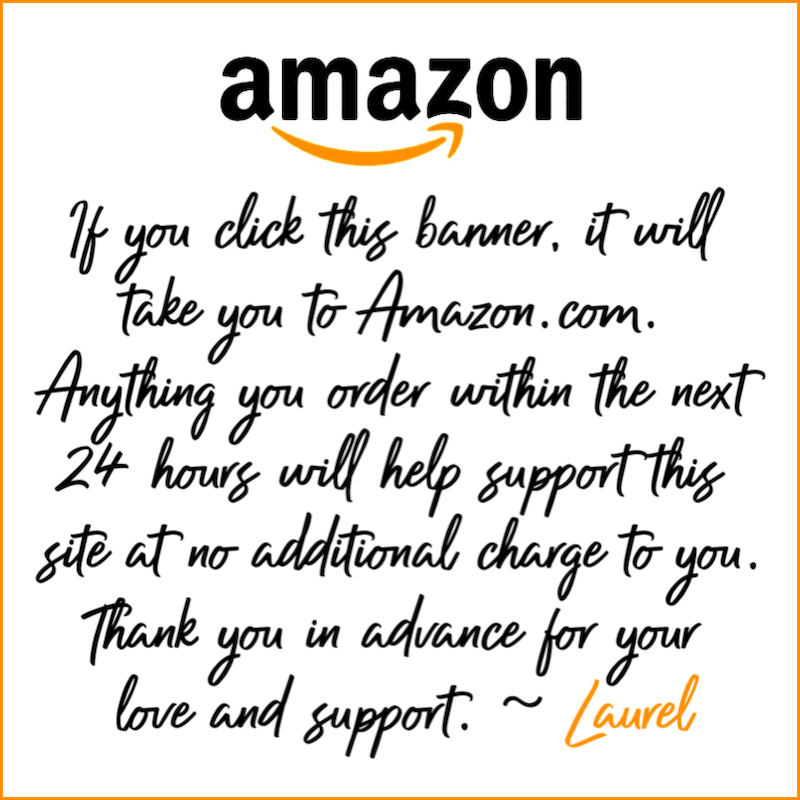 ***
Looking for the terrific Samplize peel and stick paint samples? – Please click this link to order your samples and get 10% off the entire month of May.