Over four years ago, I wrote a post about the top ten best sofas and what you need to know before buying. And, I thought it would be a great idea to update the post, but updating means having to delete the old post and that means also deleting 100 comments in that situation.
Therefore, I've decided to update that post which you can see here 
And, this post is a further update focusing on 15 or so of the most classic sofa styles.
It'll be interesting to see which ones make the cut from over four years ago. A few didn't and it's not because of the furniture, but the furniture company. They deleted my account due to "inactivity."  One day, out of the blue, I got a form letter in the mail. Apparently they aren't interested in the thousands of people, largely interior designers and design enthusiasts landing on their site every year because of the links on my site to theirs.
I see… I'm not expecting anything, but that felt like a slap in the face which I realize wasn't personal, but that's the point.
Why wasn't it? But fine, if that's how they want it. I firmly believe in quid pro quo and so I deleted most of the links to their site.
To be clear, I am not talking about Lee Industries. I'm happy to link them as I never had a direct account with them; they do not work directly with the design trade unless one has a brick and mortar store.
And, while I was grateful to have the wholesale account for several years with the slap-in-the-face manufacturer and sold a lot of their sofas, chairs and ottomans, I became a full-time blogger and was happy to promote them via the blog and Laurel's Rolodex. However, out of dozens of manufacturers and brands that I have net/wholesale accounts with, no one else has shut down my account. And without so much as a phone call.  'nuff said.
Let's move on…
What makes a sofa a classic? Is that the same as traditional?
Good question. ;] Well, in past posts, I've gone over my issue with the word "traditional." I'm not too fond of "transitional either." As I see it; transitional is really contemporary.
Contemporary is what is happening right now in terms of design trends. But design trends are all over the lot, so usually, in there are the classic designs. The thing is weeding them out.
So, what I mean by classic sofas is that they are a style that is going to stand the test of time.
But, also know that a classic sofa can be formal, casual, contemporary or modern. (which really means mid-century) But, sometimes it's the application and type of fabric that can make the difference in some of these distinctions.
If you are in the market for a new sofa and want something you are still going to love 10-20 years from now, I very much recommend the number one sofa. It's not the only one, but it's the sofa that I specified more than any other for over 20 years.
Often, it's called the English Bridgewater Sofa.
Or, sometimes it's referred to as an English Arm or English Roll Arm Sofa. It's all about the sleek, tight, low arm. And then, numerous variations on a theme which we'll see some of them in a sec.
This lovely scroll-back version, designed by Robin Bruce, is called the Brampton Sofa. It's been featured many times here. The Robin Bruce line is manufactured by Rowe Furniture and all pieces are available in numerous colorways on One King's Lane. You can see it on the Hot Sales page in two or three of the images.
I frequently feature One King's Lane because they have a lot of great sales. Some, they don't even seem to know about haha
Okay, let's continue with our list of 15 classic sofas. And then we'll also explore how you can acquire some of them if you're in the market for a new sofa.
But, before we begin. Do you know what my favorite over-all brand is for upholstered furniture? I like several brands, but my favorite and a lot of you already know this, is Lee Industries.
Are they paying me to say that?
No, they are not, but let's not go there. I'm happy to endorse and advertise to thousands of their potential customers for free. lol
Why do you like them, then, Laurel?
Boy, you guys are really on the ball today! That is another superb question.
What sets them apart from just about everyone else in their price-point medium-high-end price-point is—
STYLE
Look. Everyone can make a piece that's going to hold up pretty well. Not everyone knows how to create a piece with finesse. And for the most part, Lee Industries gets it. They understand proportion and scale. They've looked back to the classic pieces from England around the turn of the century. That, IMO was the heyday of upholstered furniture.
Does that mean that they are devoid of obnoxious trends like the flying T-Rex sofa? Anyone remember that dinosaur of a post? (pun intended)
Well, I think I have spotted a few, but it seems that they've already rendered most of them extinct as they should be.
Not all of the sofas will be from Lee, however, as y'all know I adore Serena and Lily and guess who makes their upholstered furniture?
Yeppers. Lee does. And Lee makes the furniture from another darling Williams Sonoma Home. And they make another line for Crate and Barrel too!
So, let's dive into our sofas and begin where we left off with some other cool versions of the English Roll Arm sofa.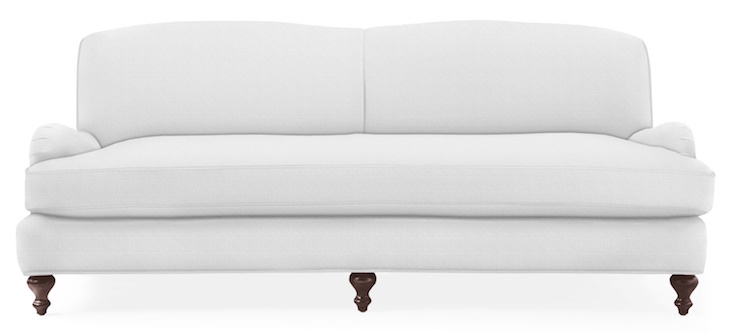 Serena and Lily Miramar sofa with bench seat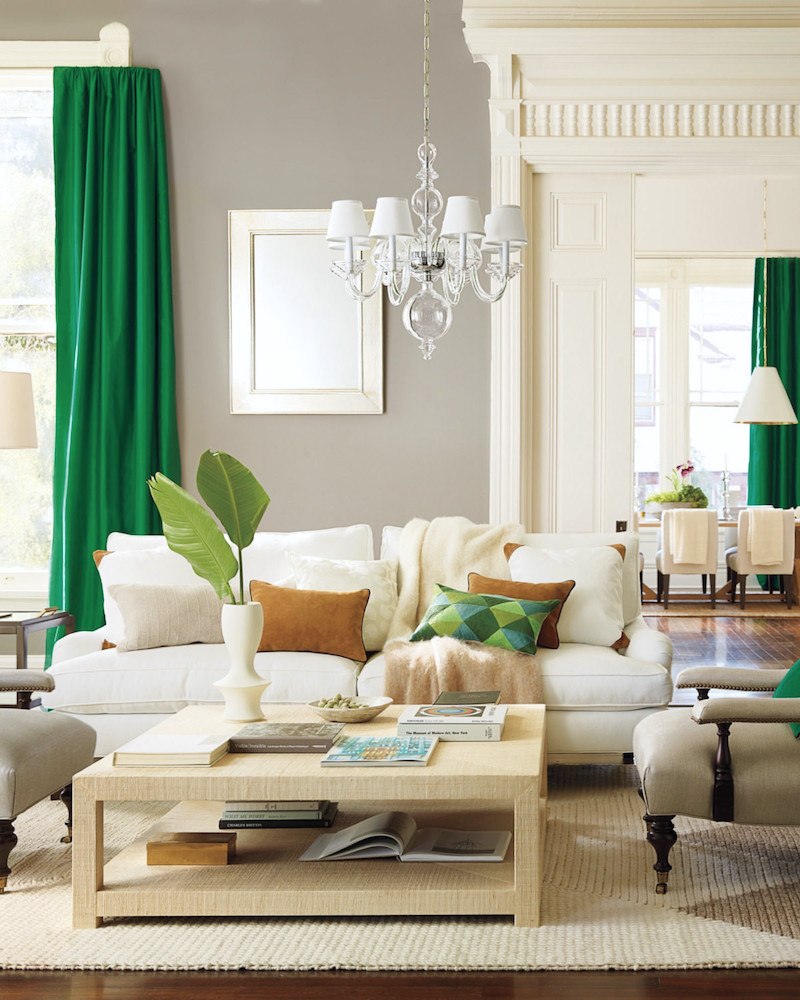 Actually, I think that this is the sofa below which is another beauty. S & L doesn't carry it any longer. But it's similar. And who can tell with all of the pillows?
Lee Industries 1573-32
Robin Bruce Brampton Sofa-As above but in this luscious green velvet.
It's on sale now. What I'm calling One King's Lane's double dipping sale. Most of their site is on sale, but there's a promo code that will give you another 20% off! use code: OKL20CARD
Brooke roll arm sofa Ivory Crypton – Also, by Robin Bruce and also on sale at One Kings Lane. There's also a sleep sofa version. This one is smaller and has a loose pillow back.
Chesterfield and Tuxedo Style Classic Sofas
These are sofas where the arm and back are the same height. The difference is that the chesterfield usually has a big fat round arm. And the tuxedo has a straight, sleek arm. Both are usually tufted. Chesterfields were originally only in leather. But these days, you see them in fabric and might even see one in pink linen. Like we did here.
Classic Chesterfield. This is similar to the one we did which you can see here.
One thing I try to avoid with Tuxedo and Chesterfield styles is a too-high arm. Most people don't like that. Although, there's another style called a Knole sofa which has a very high arm and back.
That link doesn't take you to info about Knole sofas. They've lost their popularity in recent years. But the link above is a good post about good proportion in furniture and also some of the same pieces you'll see here.
And hot off the presses 2018, from Lee Industries is this stunning Chesterfield 3183-11 in olive green velvet. I love that the arm looks like it's been hitting the gym on a regular basis. Trim and buff, he is. ;] And the arm and back height at 31″ is muy bien!  I do think, however, that I would've gone down an inch or two on the throw pillows.
Another classic sofa from Lee Industries 7733-03 is one of my favorite sofas with a 33″ high arm and back rail. We did it for the family room with the green sofa.  We did it with a skirt which I also like a lot for this style sofa.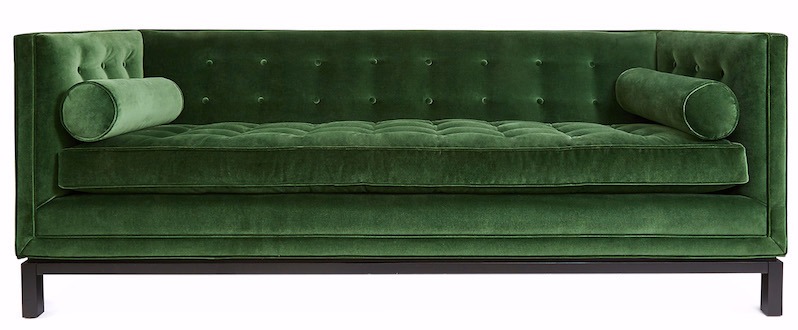 I have long admired the Lampert Tuxedo style sofa by Jonathan Adler
It is available in two sizes and several fabric options, as well as finishes for the legs. I've sat in it and it is surprisingly deep but very comfortable. It's also very sleek and pretty, in person.
Another recent favorite is tuxedo-like, but the back comes up a few. From Robin Bruce the Madeline sofa taupe velvet. It is available also at One King's Lane and there are a bunch of these on sale right now. Use code: OKL20CARD and in most cases, you can get an additional 20% off.
Track Arm Sofas
A track arm sofa is basically a square arm as opposed to a round arm. A round arm is called a Lawson arm or sometimes I've seen it called a sock arm. I don't usually get too hung up on these semantics. But a new scrabble word is always welcome. :]
Lee Industries 1935 sofa – skinny track arm
However, this is another frame that both Serena & Lily and I adore! It's my favorite frame for a sectional because of its economy of scale. It's really the perfect sofa. Not too anything. :] And, it's especially wonderful for a smaller room. It also comes in a very small love seat size which you may recall we saw in this post.
And it also comes in numerous other sizes and various options which are available through Serena and Lily.
And there's also my favorite sectional version of this frame which you can see here and here.
Beautiful Spruce Street sofa from Serena and Lily (this version sans nailheads)
And the coffee table which I love too, is on sale which you can find here.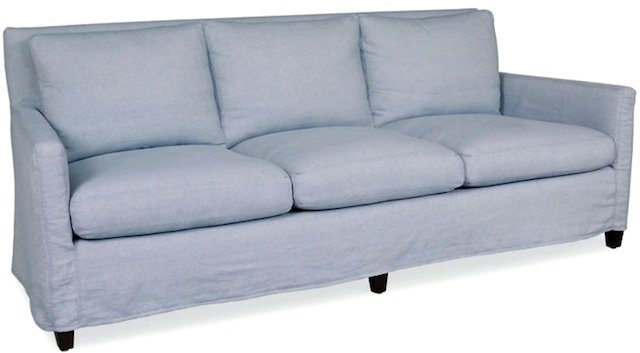 Lee Industries Slipcovered Sofa C1296-03
I have admired this slip-covered track arm for at least seven years. It just has the word "relax" written all over it.
Lee Industries Classic Sofas 7073-03
This is another one at Serena and Lily and one of their newer frames they are calling the Grady Sofa
The scoop arm is a nice detail for those who think some of the others are too boxy.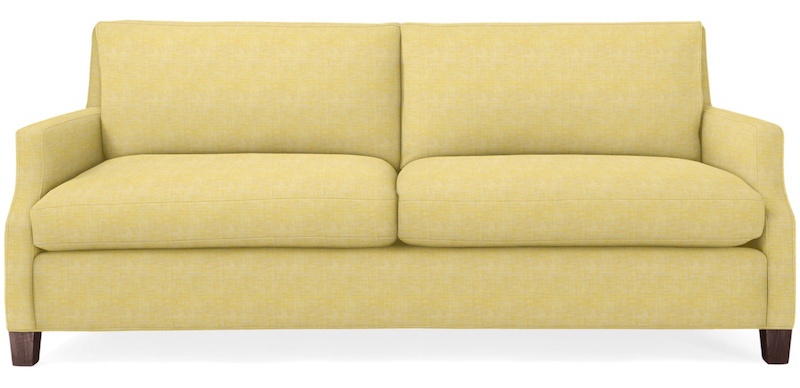 Here it is in a vibrant yellow linen. S & L has dozens of beautiful fabrics to choose from.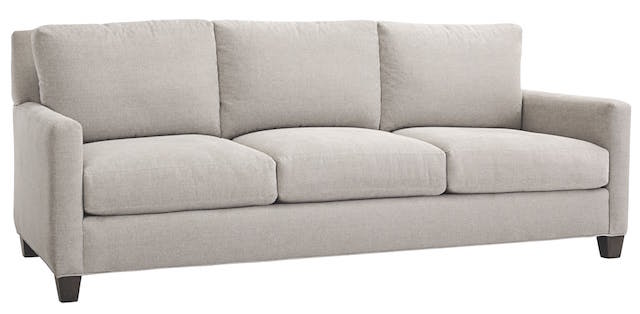 This is a more typical classic track arm style 5807-03 from Lee Industries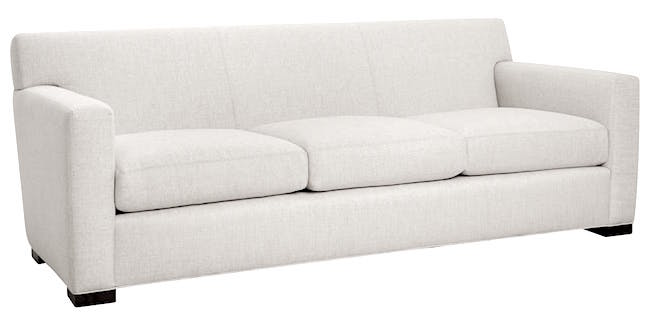 And the last track arm is this Ruhlmann inspired sofa from Lee Industries 3232-03 which always takes me back to the earlier part of the 20th century. I think that Lee's interpretation is done very well.
Lee Industries Sofa 5710-03
Above is a classic Lawson arm sofa. Often, Lawsons will have a skirt. The fuddy duddy so-called traditional Lawsons tend to have fatter arms and kick pleat skirts. For fuddy duddy and what to do about it, click here.
Another small sofa I've long admired is this pretty piece by Lee. This one has a slipcover, but it can be ordered without.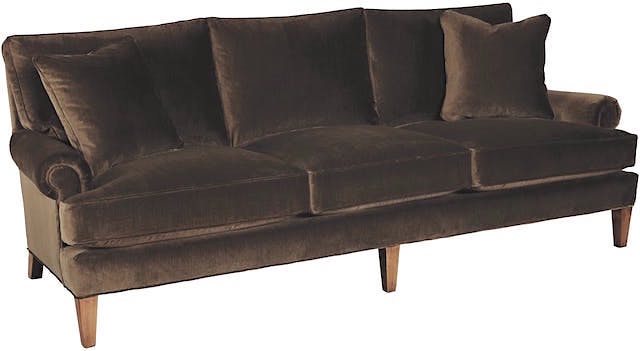 Another beauty from Lee is this handsome Lawson arm sofa 3143-03. It comes in many varieties. Casters, no casters, two-seat, three-seat, etc. and there's also a track arm version. They think of everything!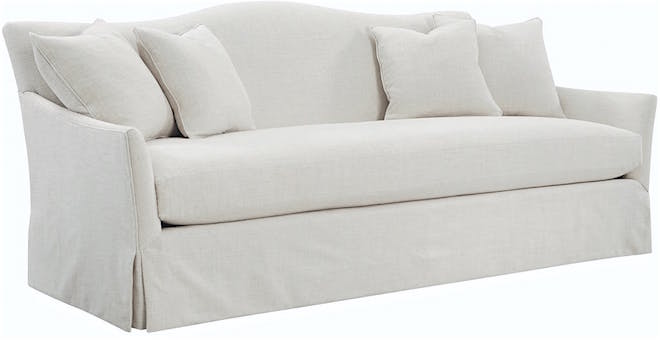 My one long-distance client from three years ago, had to have this camel-backed beauty. And since her room is hunky with high ceilings, I felt that it was a good choice for her and her large family. She already had two wing chairs from Lee and this was also a good fit with those pieces.
You can see her sofa in situ and much more of her very lovely new-build home in Kentucky, here.

Please pin this graphic to your pinterest boards as a reminder of classic sofas you might consider when shopping for sofas.
Are there other classic sofas?
Yes, of course. There are hundreds of them!
But, there are only 24 hours in a day and some of them are required for sleeping, unfortunately. It really is a drag sometimes.
And wow! There are only two days left to 2018. Please enjoy what's left and a very happy and healthy New Year to all!
Cheers and Love,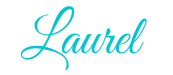 Oh, and don't forget to check out the hot sales pages if you haven't already. So many new things to see!