Dear Laurel,
Throwing this out there in case you might be looking for inspiration for a blog post.
Decorating Advice For REALLY Broke Girls
As in really NO money.
It happens.
My situation is that my spouse of 16 years, came home from work one day. No warning whatsoever; and announced that he was leaving me and our two girls ages 12 and 9.
Yes. pig. No wait. Pigs are sweet creatures. This one is… well, never mind, I'm sure that you understand.
I'm 48 and have been a stay home mom since our eldest was born.
So, we sold the house but right now, without a job, I need to be super careful.
I've been in the process of furnishing a condo on next to nothing.
The living room which is nearly finished has cost me a whopping $755. Don't ask, but a friend of a friend knows an older couple who were unloading their good quality Sherrill sofa and two chairs. It's true, however; the fabric is not my taste at all.
The sofa is a pink-ish floral tapestry and the chairs are just plain pink. And it's all pretty faded. It isn't what I would have chosen, but I'm working with it because I have no other choice.
Plus, the walls are a pinkish taupe and the landlord had just painted them and won't re-paint. Actually, it all sort of works in a dusty, but dated way.
I know exactly what you're thinking Laurel.
You think that I should've had a plan, but can I just say that I'm not thinking too clearly these days?
But before I go any further and make a bunch of mistakes, what should those of us in this situation prioritize spending on?
Plus, are there any great resources that we might not know about?
Any other tips for getting an expensive look on shoestring budget.
Should it be boring curtains or a print of some kind?
If I get a print to pull paint color from (planning to paint one wall) which one…a chair, bed set, curtains, rug??? Can I even find multiple print type items that will work together? Do I need to stick with one print and then do everything else plain? Trying to keep it bright and cheerful, because I need all of the good cheer I can scrape up.
Katie
Oh Katie, (who is a real reader but the name is slightly different.)
I feel for you and can relate to all of it.
But, before I get into the furniture advice, if I may, I'd like to address the over-riding issue. And it's an issue that I've had and so don't think I'm sitting here all high and mighty.
What Katie's husband did is frighteningly common, sadly. But first of all, know that it's all about him and he's chasing some elusive fantasy that doesn't exist. So be it. He'll find out, eventually. In the meantime, good riddance!
However, being in a marriage, hell life itself, is like driving a car.
Remember how in driver's ed, the instructor's mantra was "leave yourself an out?"
Well, I think that applies to just about everything we do, but I think that we often forget to leave an escape plan just in case we're confronted with something horrible, we didn't expect.
Did you leave yourself an out? A way to avoid tragedy?
I am not saying that it's bad to be a stay-at-home Mom, but if you're not wealthy to begin with, I think that it's wise for all spouses who are the ones "staying at home" and raising the kids (which is the most difficult job in the world), to have a backup plan.
And this doesn't just apply to marriages. It can apply to any catastrophe such as fire, flood, earthquake, etc.
End of sermon. And I fully realize that this isn't going to help Katie with her predicament and I certainly don't want to give her or anyone further cause for anguish or self-recrimination over something out of their control. And like I said. I've been there and it sucks the big petunia!
Getting decent home furnishings for nothing or next-to-nothing takes time.
But here is a terrific article that shares some great sources for free or nearly free furniture.
If you're very lucky, it'll be perfect, but you could get some wonderful upholstered pieces and then spend a wad on reupholstery or even custom slipcovers.
My favorite source for slipcovers is the Slipcover Maker. I'm sure that her prices are reasonable. I'm not sure if she can make a slipcover long-distance.
ComfortWorks say that they can do it from photos and measurements, most of the time. They're on Etsy and have great reviews, so I guess it's worth a try.
Another terrific decorating trick is that you can do are to take some cheap ready-made drapes and add trim to them. And in so doing, make them look custom and expensive.
You can do this, even if you don't sew with stitch witchery. It's an iron-on adhesive. I've seen tutorials out there which explain how to create all sorts of things without sewing.
Unless you're knowledgeable and talented, I wouldn't attempt to do this because the tutorials for slipcovers are usually dreadful.
I mean, dreadful.
There's also this darling idea where I woman took a plain roller shade and embellished it with iron-on tape to make a Greek Key design. I love this idea.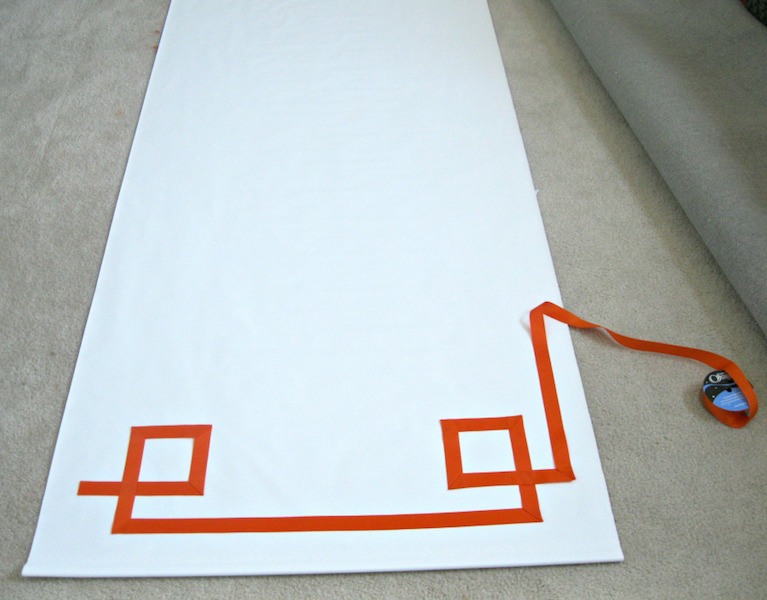 I would've made the corner key a little smaller, is all. But I love this idea. The tutorial is in the link above.
By the way, I've been working on the design for the shades in my bedroom. I just have to show you!
The design is with a ribbon trim.
And then…
The top is actually a little valance so that the shade can go down, or up! More about this later.
Anyway, I just ordered a whole mess of French grosgrain ribbon trims from Samuel and Sons in 5/8″ width.
Okay, where were we?
Oh yes, we just swerved to avoid a head on collision with our bank account.
And I KNOW because so many of you have told me again and again how much you ENJOY going to consignment shops, tag and estate sales and the like. And that's fine. You can do that.
However, as painful as it might be to hear this, I think it would be a better use of time to figure out how one is going to support themselves and their dependents so that we're not having to scrounge around. And not knowing any more of Katie's story, I'm sure that she's doing that too.
I'm really sorry honey. Life handed you a sh*t sandwich. But, I just know that you're going to find a way to make banana cream pie from it!
At this point, let's touch on some of Katie's questions regarding decorating advice and my best tips.
Anyone who's read my blog for more than a few weeks probably has figured out that an over-riding theme is the room itself. The architecture. The proverbial "bones."
But, what if it's a rental and we can't change the bones?
And what if all we can afford is a plain boring box painted a color that looks very much like the time I upchucked my mom's salmon croquettes?
Most of the time a yucky color is only in relation to itself.
In other words, if you have a color that you can't stand, use other colors closely related to it; or ones that complement it.
However, if you really can't stand the color and can't make it work. Perhaps try asking again if you can paint the walls a lovely, soft white?
Storytime
Remember over 40 years ago when I lived in Palo Alto and my Bay Window apartment story?
Well, if you go and check out the post in the link, you will see the first apartment I lived in and me practicing my beloved ballet!
There, you will see the regurgitated salmon-croquette-shade of barfy-pinky-beige walls. It was 1973 and my sister and I would sit in that little living room bemoaning the wall color on nearly a daily basis. But it wasn't just the wall color. Oh no! The sofa was this scratchy thing from probably when the house was built– in the 30s.
It matched the walls perfectly.
And as you can see… So did the rug!
One day, I was out shopping, when I came across some gorgeous floral dark blue and white sheets. That gave me an idea!
So, I bought a couple and took them home and proceeded to make a rather crude slip-cover for the hideous sofa. Oh, it was always coming untucked, but I can't tell you how much better the room looked!
So there it is.
The antidote to barfy pinky beige is dark blue and white!
You can use green too, but just know that green will make the color look even more pink as opposite colors do that. That might be good or not. But certainly some green accents will be fine.
As for the print for the curtains.
Please be careful.
Cheap drapes with a cheap print are not that easy to find. There are some nice designs on Overstock.
Here's a beautiful curtain that Eileen Lonergan did about a year ago.
One of my favorite tricks to get a rich look is with the throw pillows. And we've talked a few times about great sources on Etsy to get designer fabric pillow covers for relatively little money.
That splurge is worth eating beans and rice for a while. I love my beautiful pillows. It's what I SEE, not the 18 yards of fabric on the sofa. And they make me very happy.
And despite being able to get bargains with used furniture, these days there's a lot of furniture that's DIRT CHEAP and it's not bad-looking. In fact, some of it is gorgeous!
My favorite sources for cheap-but-great-looking besides Overstock are:
Wayfair – Although Wayfair also carries expensive furniture.
One Kings Lane – I guess we all know that by now. And yes, some things on OKL are very pricey, but they also have a lot of affordable furniture. They have great prices on some of their accent tables.
World Market – Has an interesting selection of some interesting imported pieces
Gilt – Sometimes has some great deals.
AND a company that has really taken off in the last few years in the home furnishings realm is
my beloved Tarzhay aka: Target
Pottery Barn has some great sales too!
Coming up, is a widget of some cool furnishings from all of those sources except for BBB.
I worked for hours on this today and believe me… I could do this for another eight hours but, hopefully, it will give y'all some ideas and direction. Except for one sofa, everything is under $400 and most things are under $200 and less! Some of the items are on sale right now.
Oh my, there are a ton of Memorial Day Sales. In fact, I should be doing Friday's Hot Sales early this week.
But right now, there are incredible sales going on at the sources linked to above
AND there's and early bird sale at Serena and Lily. Use this code to get 20% off SITEWIDE!!!
SUMMERVIP
No worries. The sale isn't ending. It'll be on through the weekend. I've had to keep that one a secret for a few months now!
Here's the widget with the CHEAP-BUT-DOESN'T-LOOK-IT-FURNITURE.  (hopefully!)

I love the idea of taking those plain white curtains and using the Stitch Witchery and some wonderful trim to make it special.
Oh, you can find some terrific trim on Etsy if you're not in the trade, or even if you are.
xo,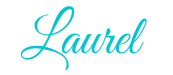 PS: As always most of these links are affiliate links meaning if you click on them and make a purchase, I will most likely make a little commission at no extra charge to you.
For more information on all of my policies including my updated privacy policy, please click the link.