There is One Fiber for A Stair Runner That You Must Never Do
OR
Some say that it's the ONLY fiber they will do for their stair runners
(No, Only, Never, Maybe, Only, No, No, Yes, A Mix, Never, Only, Yes, Yes, Yes!)
What is this fiber?

Seagrass
Which by the way, does not grow in the sea, it grows in large fields similar to rice paddies mostly in subtropical Asian countries. The paddies do get flooded with water, but it is not the sea.
Folks I spent considerable time researching this one and you are welcome to as well, but 90% of the people who said Never use seagrass on a stair runner–
Sell it.
or
Install it.
Those (mostly designers) that actually live with it, almost all, say Yes! Absolutely! or It's the ONLY fiber they will use for their stair runners.
hmmm… let me think.
Do I go with the crabby folks who sell/install or the people who actually live with it.
hmmm…
Difficult decision. ;]
But, wait!
Please allow me to chime in.
While I've done zillions of sea grass carpets, I've only done sea grass one time on stairs and it was a do-over because I goofed and did one of those cotton striped rugs which is worse than sisal. But that was 15 years ago. Please learn from my mistakes!
This client has three kids, a big dog and a big husband and she LOVED the sea grass and it held up super well.
So there.
But before I move on, the reason some say NO is because they say that it's slippery.
Well, it's not more slippery than the bare wood with three coats of polyurethane over it. And it has a rough texture. It also depends what's on your feet.
But some say to install with the fibers going horizontally and then it should be all right.
I'm fine with that, but really, I do not find it slippery and of course, one must always take care when going up and down the stairs.
This is a seagrass in a basketweave that's different from the traditional seagrass weave, above.
The installation here is called a waterfall if you don't already know that.
This is another sea grass weave in a herringbone pattern.
Shine Your Light also has a tutorial about how to install seagrass. However, I really would have a professional do it.
In the previous installation, we have a waterfall style installation and in the one above the stair runner wraps around the nose of the stair.
This is a better example of the wrapped or Hollywood installation.
I do love the wider fabric binding. For rugs we usually do 2″ but for a stair runner I would most likely do 1.5″ unless it's an extra-wide runner. For area rugs, I always do a tone-on-tone color that blends in with the khaki-ish seagrass, however, I also love the black accent for the stairs, in this case.
These are different options for binding. The only one I ever do for seagrass is the mitered corner. On occasion for nylon or wool, I've done the narrow binding, but really prefer the serged edge. (and yes, these are all sisal, but we don't do sisal.) :]
My seagrass both broadloom and ready-made custom rugs comes from Fibreworks – A wonderful source. That's one of the 36 sources in the back of Laurel's Rolodex that I cannot live without! They have a wholesale division for designers. And I think they sell retail, but if they don't, Fibreworks is also sold at Wayfair and other retailers.
Amanda Nisbet used a heavy blue linen binding. The material looks to be a wool or blend of materials. For the binding, you can use any heavy fabric or binding that's made for this purpose.
Wait. Amanda used sisal. Again, this is the waterfall installation.
One thing I learned and it wasn't that long ago is that if there is any carpet installation that is at all tricky, the carpet, not just a runner, can be cut and installed on-site.
original source unknown
One issue with the waterfall is to ensure that one doesn't see the padding if the staircase is open.
Moving on… This week, I received a comment from Kim M. and I told her to send me some images.
Here are the comment/images.
Have just discovered your blog a few months back and love it. Curious if there is ever an instance where you would wrap the stair treads?
I love the look of a runner but don't think I could do it on my stair case. Ours starts out wide and open in our entry hall but after 4 steps it narrows with an angled wall on the right while on the left it stays open for 7 steps.
At that point it is enclosed on both sides going the rest of the way to the top. So currently the 7 steps on the left and 4 on the right have carpet wrapping the tread. Fortunately it doesn't look as ghastly as the shag carpet example you gave!
I would like to use a pattern, but I'm thinking a curvy or all over pattern since there is already such a strong angle. Plus I've seen too many geometric patterns that are crooked and it drives me nuts! It's quite perplexing as to how to address it but after 23 years it's time for new carpet one way or the other!
**********
Okay… First of all, there is no way this is going to go but up. The way it is now, while not uncommon, is wrong.
Not only can Kim do a stair runner, she MUST do a runner, or nothing at all!
The only instance I would ever do wall-to-wall on a staircase is if it's between two walls the entire way, like to a basement. Otherwise, almost never.
The way I would do this is to leave about a 3″-6″ margin of wood at the top of the steps. Then, I would keep that margin until the wall ends and then come straight down the last 5 steps. But, there might need to be some fudging on that. The best way to map it out is to put down blue tape over the treads to see what looks most pleasing.
How do you do all that?
You don't. You have a skilled professional tackle this one.
But, the way they do it is where the steps start to flare out, the tread and riser are cut out individually. It's the same as on a stairwell that curves.
Let's look at some great examples of curved stairs with runners.
Some flare out and others, not as much, but the principal is the same.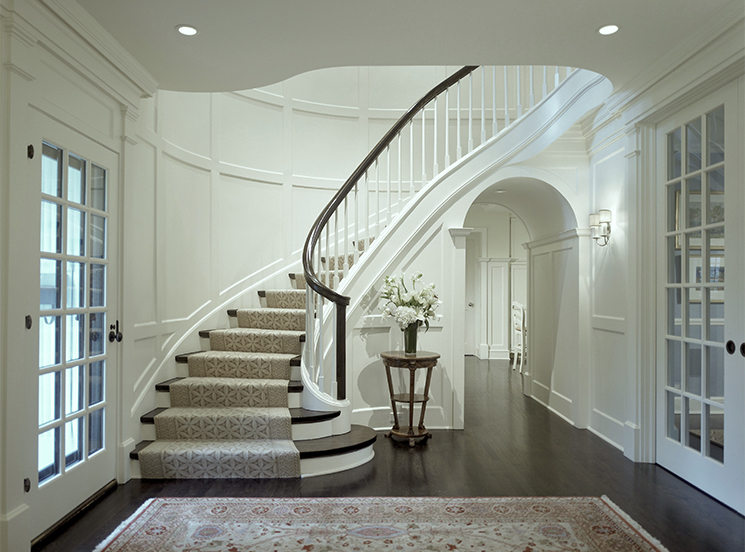 Above is a classic home with a very tricky pattern but I think they nailed it. The margin in this case does not remain constant because the fan would be too pronounced in the runner.
A subtle geometric stair runner on a curved staircase. Usually, I do prefer if the carpet on the stair runner wraps under the first nose (as above) and doesn't extend to the floor. But, it's not wrong to have it go to the floor.
Nelson Hancock photograph – design Markham Roberts – via This is Glamorous

This one obviously goes to the floor which looks good here and it follows the curve perfectly, maintaining the same margin.
Amanda Peet's Home via Architecture Art Designs
This one doesn't flare out and in this case, it doesn't need to because the tread isn't that much wider at the bottom.
oops. It looks like they ran out of carpet!
This one doesn't have a curve obviously, but it's a good example of a runner which meets a landing where the carpeting continues as a runner with a tiny margin of wood showing. Very smart, I think.
Kim, if you're reading, I hope you got some great ideas you can incorporate in your new stair runner!
xo,