Dear Laurel,
I'm so confused. I need a stair runner. AND, I also need four other area rugs to coordinate. Help!
Please do a blog post. Pretty Please?
Sincerely,
Bokara Carr-Patte
***
Thank you, "Bokara," however, this cannot possibly be one post. In fact, it could be at least three posts.
However, I will attempt to do it in two. Part I is going to focus on stair runners.
Stair runners, on the surface, might appear to be a simple post. However, as you are about to find out; it's not. This is a vast topic. It took me years to become reasonably proficient at specifying and implementing dozens of stair runners for my clients. Like most elements of interior design, there's a steep learning curve.
So, let's dive into this topic of stair runners. I welcome your questions. :]
Is there a difference between a stair runner and a floor runner for an entry, a room, or a hallway? 
Most of the time, no, there's no difference except for one thing. The size. Of course, the size of a staircase runner is confined to the size of the stairs. That is also true for other spaces, but there is usually more variety and not as many technical issues.
How Wide should stair runners be in relation to the staircase width?
Well, the answer here is tied into, in part, the different ways one can achieve a stair runner.
Okay, let's run through some of the materials and methods of creating stair runners.
The most common way to create a stair runner is by purchasing a carpet designed for that purpose.
Per the quote from the workroom, one orders a cut specified in linear feet or yards.
This type of stair runner is a machine-made carpet and is bound in the factory.
You can find dozens of widely varying patterns as well as solid textures. The carpet construction can be a loop, cut loop, woven, or a flat weave, amongst other weaves.
These runners generally come in a size of about 27″ wide and sometimes 30″ or 36″ wide. The lengths could be as little as four feet – 14 feet (or more) for machine-made stair runners.
Can you do a hand-knotted, hand-made rug stair runner?
Yes, that is possible. There are two ways to do this. One is to specify the precise size and length needed to create the stair runner. That's going to be very expensive.
Another way is to piece together two to four (or however many you need) program hand-knotted rugs. A program hand-knotted rug means that it's not one-of-a-kind. It is a pattern that the company makes many times over and in different sizes.
Safavieh program 3′ x 10′ rug runner
Rug companies such as Safavieh are well-known for doing program rugs.
The only thing with piecing a few smaller hand-knotted runners together is to ensure the dye lots are the same or close enough to look the same.
Assuming you're buying a ready-made runner, how much material do you need to cover a flight of steps?
Okay, assuming the width works for your staircase, each riser and tread takes about two feet of material. Unless there's a compelling reason or a special effect you'd like to make with your pattern, we do not attempt to match the pattern repeat. Phew! Right?
Sometimes, each stair riser and tread of the stair runner need to be cut separately and installed separately.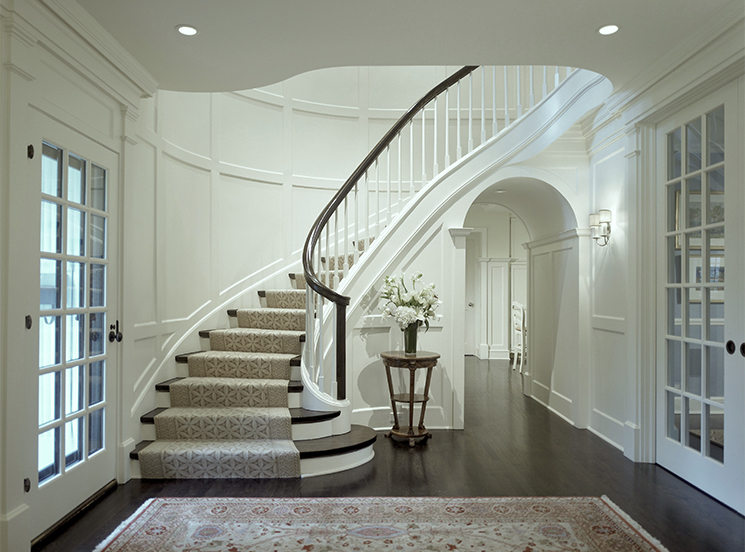 burns + beyerl bbaworld.com curved stair runner
Typically, that happens with curved staircases and stairs that fan out. It's truly an art. Each step is not only cut out individually but sometimes first dampened and stretched slightly, then left to dry before installing. The installer does this to help create a smooth, perfect fit.
As you might expect, this installation is quite expensive and usually a two or three-day job for a staircase like this.
Okay, what if my staircase is only 24″ wide or five feet wide? I already realize a 27″ runner won't work on the 24″ staircase. But, can you do 27″ on a 60″ wide staircase?
Well, you could, and I have seen it done, but IMO, it looks bloody stupid so I wouldn't do that.
In this case, here's what I would do and what I did for most jobs during my years of practice.
I would give a work order with all of the specs to my carpet workroom, and they would tell me the amount of cut broadloom to order. After they received the broadloom, they would inspect the carpeting for flaws. And, yes, occasionally, there were some. Only once that I can recall, the carpet needed to be returned. On other occasions, the workroom was able to work around the flaw.
Another option that might work and also one of my favorite sources for casual rugs of all kinds is Dash and Albert.
Dash and Albert (named after Annie's two dearly departed canines) has always been an Annie Selke brand. But, now everything is sold under the one Annie Selke umbrella, as is the other brand, Pine Cone Hill. This is one of my favorite sources in Laurel's Rolodex.* (please see the note regarding Laurel's Rolodex at the end of this post.)
I have been ordering rugs from Dash and Albert since around 2004.
Over the years, I sold dozens of their indoor/outdoor rugs, particularly the diamond pattern. But, I also specked a lot of their other beautiful rugs, as well.
Annie Selke Dash and Albert beautiful rugs – stair runners
What impresses me the most is that the line has probably quadrupled in size since 2002. And, it wasn't terribly tiny back then.
In addition, their website is like a rug and carpet encyclopedia.
They are also quick to tell you which rugs NOT to do on a staircase. For instance, their flat-weave cotton rugs are terrific. However, the jacquard weave rugs are not. The latter were their first rugs. And while they wear fine on floors, the nosing on the stairs takes quite a beating. However, please know that most of their rugs are exceedingly durable.
However, I didn't finish with how wide the stair runner should be.
Okay, there's an excellent reason that most carpet runners, be they for halls, rooms, or stairs, come ready-made in about a 27″ size. The reason is that magic number of 36″.
The most common stairwell width is 36″.
Hallways and kitchen aisles are also often 36″.
36″ gives a "margin" of stair tread (usually wood or tile) of about 4.5″ – 5″.  I believe the widest wood margin I ever did was about 6″. But most of the time, it was 4″-5″.  Once you go over 6″, I think it looks better to find something wider or go the custom route.
What is the smallest margin I've ever done?
Well, I remember one stairwell in an antique home that was only 24″ wide. I don't remember exactly because it was 21 years ago, but I think we had a margin of 1.5″ on each side, making the runner only 21″ wide.
From a job, we did about 24 years ago! (You can read more about it here.) Horrible staircase and layout. But, here you can see we kept a wood margin of about four inches.
We Interrupt This Program for a Breaking News Bulletin.
Sources say that Laurel Bern, the author of the Laurel Home blog, and a fairly recent transplant to Boston, MA, has selected a cabinetry company to create her dream kitchen next year. Please stay tuned to this station for more information about this important breaking news story.
We now return to our regularly scheduled blog post– All about stair runners + mistakes to avoid!
Okay, where were we?
WAIT!!! Laurel! Aren't you going to tell us who the cabinet company is?
I'm sorry, and I hope you'll understand. I can't today, but I pinky-promise to tell you all about it on Sunday. In fact, I'm going to postpone part II of this post, which will expand on coordinating multiple rugs that live near each other.
We need to keep going with styles of stair runners.
Oh my, well, this could be a separate blog post.  I could break it down further and discuss only the natural fiber stair runners.
In any case, it's an excellent place to start.
Let's begin with sisal stair runners. In a previous iteration of this post over six years ago, I strongly cautioned you to stay away from sisal for anything. In fact, I went so far as to make this cheeky illustration.
It wasn't the apple that seduced Eve; it was a sisal rug. haha.
But, what happened is that four years ago, I went to visit darling Lotte Meister in her gorgeous home in Rye, NY. She had the well-known Pueblo pattern by Prestige Mills in at least three rooms, and with three kids and a big dog who had a lot of accidents.
"Not a problem whatsoever," Lotte said.
What???
Yes, that's what she said, and I was there as a witness that, in fact, her seagrass rugs that had been through several dog droppings looked brand new.
Still not convinced?
Well, skeptical ol' me isn't entirely either. But, here's another wonderful thing about Dash & Albert. Most of the rugs have a very reasonably priced sample available. So, what I would do is pay for two samples. Cut one of them up into four pieces. Get it wet. Poor coffee on the second quarter. For the third, smoosh it like crazy with peanut butter. The fourth one is up to you.
See a post where I did this with a fabric in a similar test.
Let the rug samples sit with their substance(s) for at least 20 minutes.
Attempt to clean each of them, as you would if the item was glued down. In fact, maybe glue it to a piece of wood first. Let the samples dry naturally overnight. You may also use a hair dryer in a medium setting to speed things up. When thoroughly dry, compare to the separate sample. Then, you'll know.
I think getting as many samples as possible, especially if coordinating with other styles or companies, is a great idea.
What about seagrass, Laurel? Can you use seagrass for stair runners?
Some say that seagrass is too slippery. However, I have heard from a reliable source if the weave is turned horizontally, you should be fine. Still, there are so many fantastic alternatives; if you're not comfortable, do something else! Please note that this vertical. See the strong forward cords of the weave. That is the warp. The cords behind them are the weft. They are called weft because they run from weft to right. (Sorry)
And, for a horizontal installation, the warp needs to go from east to weft (sorry, again), but it's going from north to south, as you can see.
How is it finished on the edges if you fabricate a stair runner?
Oh, that is one of my favorite questions. The answer depends partly on what kind of rug and fiber/weave is used.
In all of my years, we either did a fabric binding of about 1-1/2″ like above or two inches wide for a larger area rug. The fabric could either be a heavy woven cut to size. Or, it could also be a wide binding made for such a purpose.
Occasionally, we did a narrow fabric binding. However, instead of that, I far prefer a serged edge, as you can see on the bottom rug or stair runner.
Style of stair runners
There are two style types in how the rug runs down the stairs.
K. Powers
One is a wrap style, where the carpet material wraps tightly around the nosing of the stairs, as you see above.
JK Kling
The second method is called the waterfall style as you can see above. Well, you get it. It just falls gracefully over the top of the nosing. Incidentally, that is the previously mentioned Pueblo Sisal from Prestige Mills. Prestige Mills is in Laurel's Rolodex, but to the trade only.
There is one major potential issue when doing waterfall-style stair runners.
Sometimes there is no choice but to do a waterfall style because the carpet is too stiff or bulky.
However, if you have an exposed side of the stairs where you would have spindles and a handrail, please be mindful that the rug padding is not exposed.
Speaking of rug padding.
What kind do you use with stair runners?
Well, it depends. It depends on what type of carpet you're using, the backing on the carpet, and maybe the construction. There are many types of pads, so here's what I recommend.
First, look to see if the manufacturer of the rug has recommendations. If they do, then great. You'll most likely go with that. If they don't recommend anything, I often asked my rug installer what they recommend.
That reminds me. Maybe you've already picked up on this crucial point. Please, you are free to ignore 95% of what I say, but not this one.
There are places to save money, like fabrics for window treatments is a place to use the cheap but great-looking fabric.
***However, I don't care how much it costs; please, please, PLEASE use the most experienced, knowledgable, reputable, OCD meticulous carpet workroom/installation service you can find. There are too many things that can go horribly wrong, and it could very well cost you dearly.
There is nothing that can bring on an instantaneous panic attack as when a client calls you in that tone that immediately tells you there's a BIG problem.
After being subjected to their rant for 20 minutes, you go over ASAP, and sure enough, the seam that wasn't even supposed to show is fraying like mad. And, the custom rug has only been down for three weeks. It cannot be fixed, and it is not the client's fault. They have no children or pets except for a parakeet in a cage.
If you're the designer and wish to stay in business, you will have to do the entire job over and at your own expense.
Yes, it's excruciating, quite horrid, actually, and a very expensive lesson. But, it could've been avoided.
And, good luck getting any money back from the shoddy carpet installation company. It's disgusting. They never answer their phone OR return your messages, either. Yes, you could try small claims court.
Good times, eh?
Years ago, I wrote about the worst experience in my entire career. And, it happened about nine months after I began my business.  Coincidentally, it was connected to a very costly custom-carpet order.
By the way, if your carpet workroom tells you, "No worries, you'll barely even know the seam is there," I recommend politely walking away and finding someone else.
You WILL see the seam with most carpets, and they sure as heck fire better tell you that.
The trick is to put the extremely visible seam in the least obvious LOCATION. (Like underneath a sofa.) Of course, they will do everything in their power to minimize the seam as much as possible. That's what you want to hear.
For years, I worked with the most amazing workroom. I don't believe they are still providing that service.  However, if you live in Westchester County or nearby, Creative Flooring in Mount Kisco was also superb.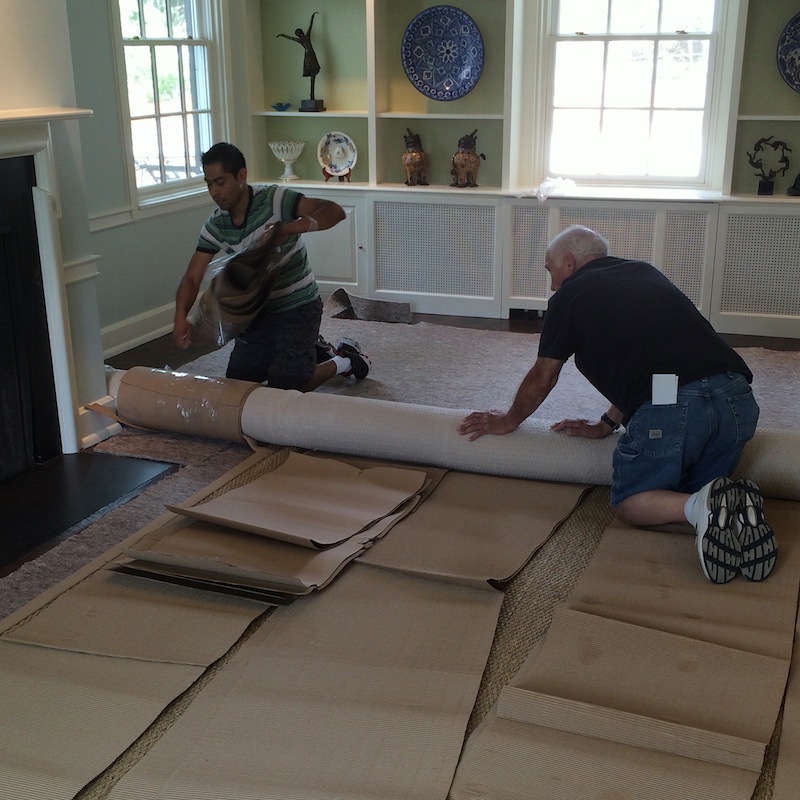 Here are the guys from Creative Flooring doing a bang-up job of installing a custom cut-around-the-fireplace installation of seagrass. This room was perfect. The dining room was not. You can read about that and how the situation was resolved.
Of course, there are dozens of other styles of stair runners in terms of pattern, construction, and type of fiber.
But, here is why Bokara is stuck.
Not only does she see all the rugs going off from each other, they need to coordinate with the stair runner. And, of course, all of the other furnishings.
So, do you pick out the rugs first or the furniture first?
Oh, Honey, Honey, it depends… ;]
We will dive deeper into this topic in part II of this post.
How to find five area rugs that coordinate. There is currently a very old version of this post, but I'm going to do it over and even better. In fact, there are two houses I like, complete with stories. So, I might do two posts on coordinating area rugs. Many of us have open plans or rooms that open up to each other.  However, that post will most likely be in a week.
Sunday, I will be sharing who will be making my new kitchen cabinets next year.
I researched this with a fever pitch intensity, quickly eliminating dozens of companies for many compelling reasons. However, before I investigated the company, I rejected three other strong contenders. What sets this company apart from the rest, I will be explaining, as well. I couldn't be happier. I know that they are going to do a spectacular job!
xo,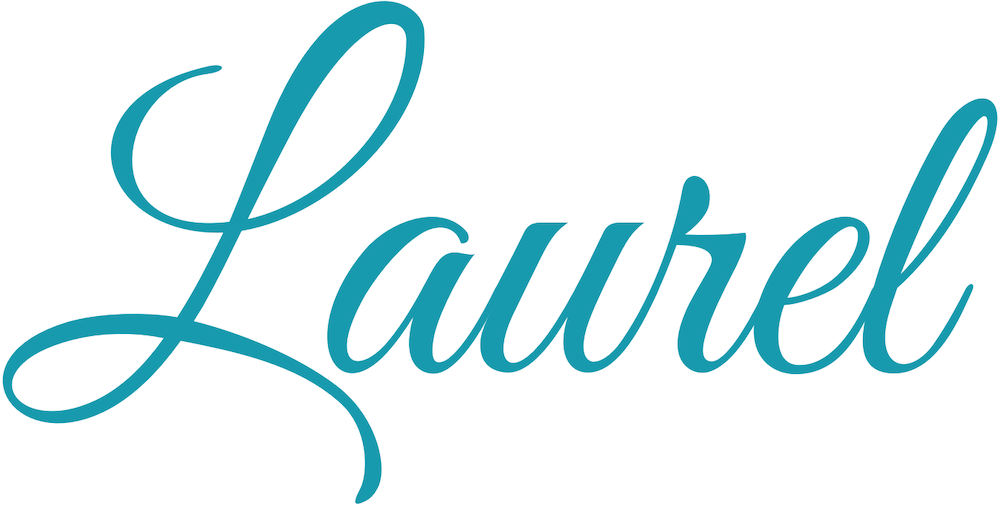 PS: Please check out the newly updated HOT SALES! There's a brand new sale happenin' at Wayfair called WayDay.
Yes, WayDay. Please forgive me. I am only the messenger.