Sorry no red, white and Blue post this year.
There have been some requests to do a post about staircase runners.
It's a timely one for me, because I am working on one right now.
Already, this most gracious entry has been transformed in a pleasing way. (above is the before, in case that's not clear)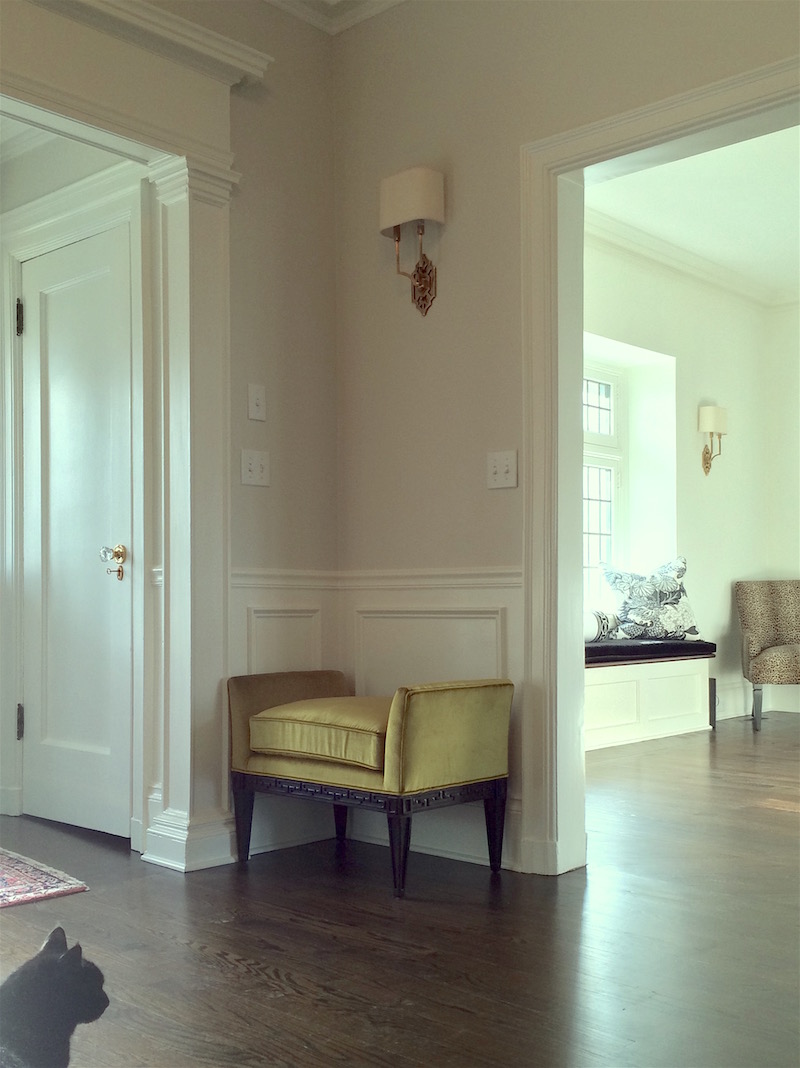 In my 20 years of being in business, I've probably done about 30 or so stair runners.
I have a few wholesale accounts where I get carpet from, (three of them are in Laurel's Rolodex under the sources I can't live without)
But, sometimes I use a carpet store who also does the installations for me.
For the first 10 years or so, this was my go-to runner that I did about half the time from Crucial Trading.
It's a very handsome product made from sisal and wool. But… it is discontinued. This product is largely wool so the sisal in it is okay. (but again, it doesn't exist as far as I know)
Otherwise…
Do not be seduced by sisal!
We've been through this before.
Yes, yes… I know, I know…Sisal carpet proliferates in shelter magazines like a pair of mating gerbils locked together in a cage for a year.
And it is gorgeous! I love this image so much.
I love the way it looks.
But… just because you see it everywhere and it looks good in photos (where no one actually lives) doesn't make it good.
In fact, Did you know that it was not the apple that tempted Eve and did her in?
I mean, a girl's gotta eat. What's wrong with a bloody apple?
It wasn't the apple. She and Adam got the boot from Eden because that damned snake talked them into the sisal carpet!
Oh, it looks good. For about 10 minutes until the cleaning lady spills her bucket of Mr. Clean while going up the stairs.
And then, you're dead. It's all over. Exiled out of the garden forever and forced to wear Birkenstocks for the rest of your life!
Sisal stains like crazy and it ain't gonna recover. There's some stuff you can get that they say buys more time if there's a spill. Anyone have any experience with that? If so and it works, then fine, you can do sisal.
Otherwise, the next most common material is a wool with a pattern of some sort.
They are roll runners and typically come in a width of 27″ but some companies like Nourison also carry a 36″ size.
Since these are runners, usually, we need to see a narrow margin of wood.
Attractive runner and I love the contrast with the white-painted floor.
Anyone, notice what's wrong?
That's right.
There's too much of a margin and it's really a shame because they only needed to split the difference with what is showing and it would've been perfect.
By the way, those rods you often see?

This is very important before you go out and spend a lot of money on something you don't need.
They are purely decorative. They do not hold the carpet down or in place. So, get them if you like the way they look, otherwise, they are not necessary.
Check this next one out in a very large hotel.
OMG! That runner is ridiculously too narrow! This ghastly mistake goes on for miles…
and miles…
It's the Hotel Du Printemps — Holy Marie Antoinette! Heads are rolling over that one! (sorry, I couldn't resist) :]
It's an Axminster which means big bucks; undoubtedly custom-made and at least 12″ too narrow.
It's not safe as it is!*

So how much wood should be showing?
It really depends on the width of the staircase, but the average amount of wood I like to see is 3-4″ but it can be as little as 1″ but really probably not much more than 6-8″ and here is the reason why.
*If someone is walking, they might need to hold on to the hand rail. If there's too much of a wood margin the person might end up walking half on the wood and half on the stair runner.
So, what do you do if you want some sort of Oriental runner and the staircase is 4 feet wide or more and the standard runners are all too narrow?
You can use an Oriental broadloom and have it fabricated into a runner.
I've done this many times and it always looks terrific.
Wool broadloom fabricated into a custom stair runner from Nourison.
A stunning antique runner looks wonderful in this home
I have never seen this before, but apparently, you can have a curved custom stair runner made. That would certainly help the installation folks.
A popular trend that's also an enduring classic are animal print stair runners.
This is one that you either love or don't love. :]
FYI the pattern is by Glen-Eden Carpets called Out of Africa.
Here's the same carpet and it certainly looks nice but lacks the panache of Erin Gate's carpet. Why is that? Erin created high style by painting her banister black and staining her floor a dark walnut color. The art wall also has some black frames.
And she accessorized with her cute black doggie. Shameless, but it works. I would've done the same. ;]
Another animal print runner. I love it against everything else painted white. Very fresh!

The carpets above are quite expensive, but sometimes you can get a great deal on Overstock.
Designers, out there, I know that you're cringing. But I am trying to share lots of options and price levels.
This runner which I guess is a close out from Safavieh is only 100 bucks for a 30″ by 1o' runner. So, if have 14 steps, you'd need 4 of them to allow for waste and so forth. The ends would need to be cut off.
Is installing a Stair Runner a job one can do themselves?
I wouldn't, but lots of people have and you can find zillions of tutorials in pinterest, but here's a great one from Annie Selke manufacturer of Dash and Albert products
This is one of the Dash and Albert runners that has a sisal look but it's actually indoor/outdoor carpeting. We did this last year and it turned out great.
This is a very nice site with lots of examples of gorgeous stair runners. I chose this one because we must be mindful if we're going to shift carpets once we get upstairs. This one isn't terrible, but it isn't great either. I would probably have done a lighter pattern on the rug to coordinate with the hall. I don't recommend a solid navy because everything will show on it.
A  wall to wall installation, or wall to spindle rather. I don't know if I would ever do this bright stripe, but it is pretty cool in this setting, I think. Wool carpet by Louis De Poortere via Kristoffersen Carpet.
If wall-to-wall, none of this Sharpay business. Okay?

And yikes! Sisal aside– none of this either!
And please paint the risers white. If everything is wood, then of course, they would be stained. But they should be the same color as the trim.
Here's one you've undoubtedly seen before. It's a looped Wilton Weave made popular by Stark Carpets. (owned by Prestige Mills so some of the products are the same) It's in every country club that God ever created. Usually with a floral border. No comment.
However, these weaves don't do well on stairs. Just saying, because this product is very expensive.
Here Are Some Definite Do's In Stair Runners
Tailored and ever so chic!
Wool Sisal from Prestige Mills – A bit pricey, but also very pretty and one that I've done several times.
A handsome wool, it looks like on a curved staircase.
Pretty sick, huh? It's from a real estate listing in Florida. Actually, there is no margin but it's not a very wide staircase and I think it would detract from the way cool custom border.
Handsome application at the Hampton Designer Showhouse. Photo by Heather Clawson of Habitually Chic  The carpet is a wool sisal-look with a classic Greek Key Trim.
I adore fabric trim on natural fiber rugs.
This brings me to our next topic…
However, this is already getting really long and it's a holiday weekend. Sorry to leave you hanging, but on Tuesday I'll discuss the other fiber some say you must never do (but many including me, disagree) for your stair runners and a few more technical things about stair runner installation you need to know.
HAPPY 4TH OF JULY!
Please have a safe and fun holiday if you're in the states!
xo,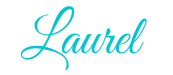 PS: If anyone is interested, a reader informed me that there's a Stark Rug sale happening on One King's Lane right now.