Dear Laurel,
I love you. I love your blog but there's something I need to get off my chest. We are building our dream home. We live in Texas. It is hot as hell here for nine months out of the year.
You my dear (said with love) are from New York. Yes, I know you guys can have some steamy days, but you don't know steam until you've arrived in south Texas!
Point is– We need our ceiling fans! And some of them must have lights! But you said that you're not big on ceiling fans and absolutely no lights!
Please, please reconsider. I hang on your every word!
Fanny Liteswich
*********
Hey Fanny— you do???
I know that I've written that my not liking ceiling fans is absolutely, totally and thoroughly NOT true!
But don't ask me when or where I said that. It's a certain kind of fan that you can see here that I don't like.
And something else it appears that some miss is that my formative years were spent in a place that is insanely hot at least 4 months out of year. Southern Indiana. Or Evansville, to be precise.
See? Southern Indiana is in the humid subtropical zone. I told you so!
I remember the last summer we were there when I was 15. Our air conditioning broke and my mom didn't have the money to get it fixed, so she got these two giant fans which is the only reason that we're still alive.
But before that, we spent our summers at the Surf Club.
Anybody from E'ville remember that place?
I checked. It's not there anymore. It wasn't the prettiest establishment. But there was always the smell of french fries served up with a side of chlorine and a ginormous olympic-sized pool. Oh, and the 16 foot deep diving well; I loved that place! I loved it so much that every summer, I joined the swim team where we routinely dove into three feet of water.
It's a wonder that any of us survived those years!
So, Fanny, I do know hot and I do totally appreciate your need to keep the air in the ol' sweat box moving.
What I don't want to see is this:
eegads!
or this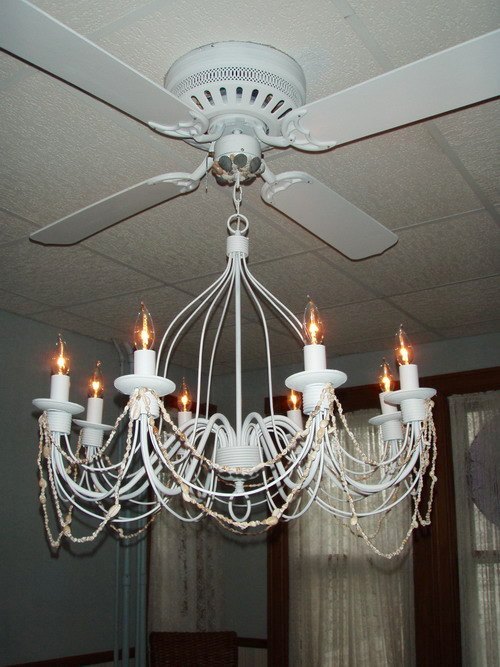 And God forbid– This wackiness!
Okay, let's get the boring stuff out-of-the-way.  Boring, but necessary.
The things we need to consider when selecting a ceiling fan.
Location – Is it dry, damp or wet?
The type of room or location it's going in
The style/colors of the home/room in relation to the style needs of the fan
Ceiling height
The size of the room or area
Lighting options if necessary for the fan and if not, placement of the other lights if in the ceiling, especially.
Air flow. This is a technical issue and to be discussed with your contractor if it's important
Controls – wall or remote
Cleaning supplies
 These good folks put together a whole check list – rules, etc.
My over-all philosophy for most situations is less is more. You really cannot go wrong with simple. That is… unless you want the fan to make a design statement, but please be careful.
Time to jump in for some inspo for our ceiling fans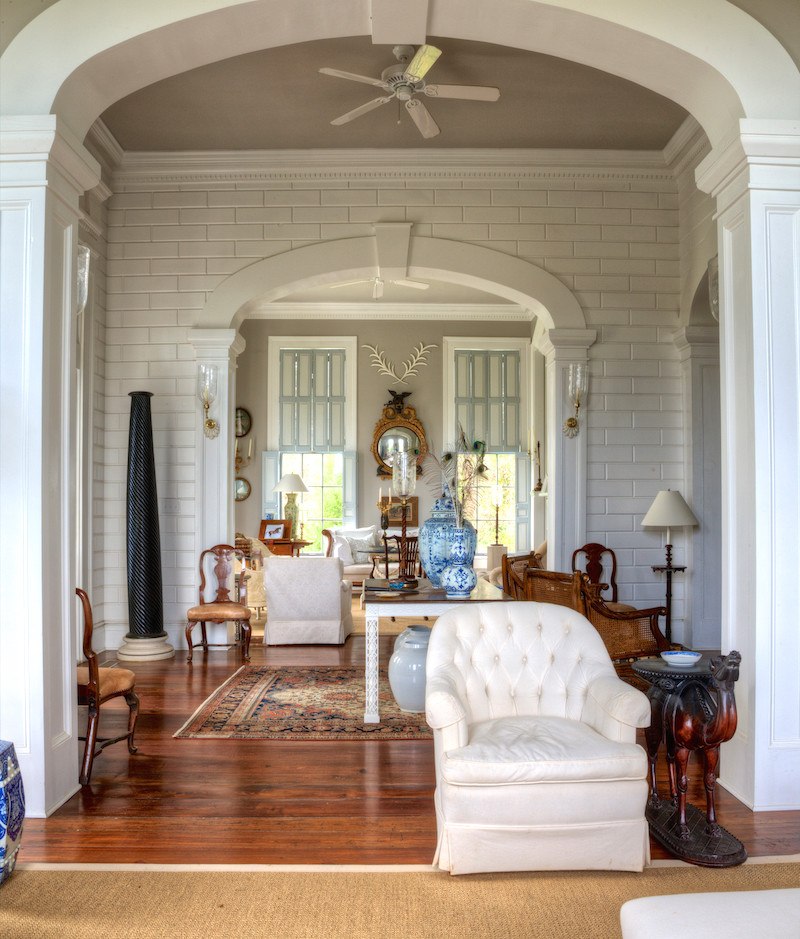 Furlow Gatewood. You barely notice the fan. A simple, classic white fan. No worries. It's coming!
A more rustic Furlow Gatewood room.
Bunny Williams and John Rosselli's home in Punta Cana – where they chose a simple fan to move the air.
The old-style fans moved with a belt and you can still get those at Fanimation.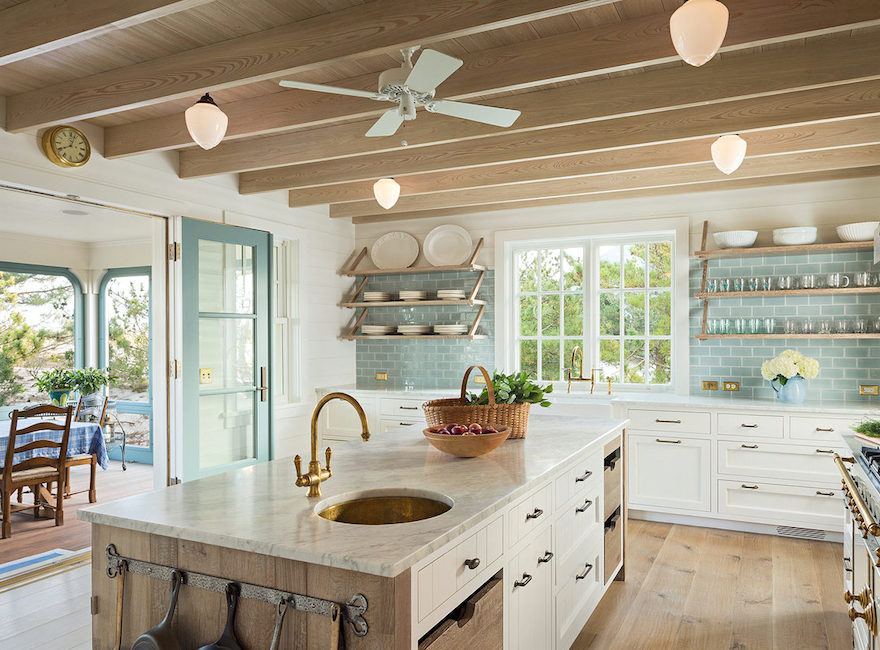 Ceiling Fans from Matthews Fan Company.
Dearborn Builders
Huff-Dewberry Design
My Favorite Fans

Minka-Aire F565-WH, Mesa, 52″ Ceiling Fan, White
Let's begin with Furlow Gatewood's classic white ceiling fan. This one is a flush mount version which is perfect for an eight-foot ceiling. It's under 70 bucks and 75% gave it five stars.
This fan comes in different sizes, finishes, etc.
Here is a link to the 42″ version from Minka.
Hunter Fan Company also makes a similar version.
Casablanca 54000 Ainsworth 54-Inch Ceiling Fan with Five Blades, Cottage White
I like this chalky almost Swedish looking fan.
Hunter Fan 53039 Summer Breeze 52-Inch Ceiling Fan with Five Blades, White
Emerson Ceiling Fan CF755WW Designer 52-Inch Energy Star Ceiling Fan, Light Kit Adaptable, Appliance White Finish
Furlow Gatewood – photo by Rod Collins
All or most of the above traditional white ceiling fans come in other finishes. And Most also have a light kit to fit with ONE center light. :]
Minka-Aire F470-WH, Hilo White 52″ Ceiling Fan with Light
The above fan from Minka is one lovely example already fitted with a light.
Minka-Aire F524-WHF, Roto White 52″ Ceiling Fan with Wall Control
Hunter 59263 Contemporary Cassius Fresh White Ceiling Fan, 52″
Matthews IR5-TB-60, Irene Textured Bronze 60″ Ceiling Fan with Remote
Minka-Aire F556-ORB, Contractor Plus Oil-Rubbed Bronze Energy Star 52″ Ceiling Fan
Fanimation Spitfire Ceiling Fan Model MA6721DF driftwood finish with light
It also comes in a version without a light. I believe that the blades are sold separately. Fanimation is a more expensive brand, but the fixtures are exquisite!
Fanimation FP7910OB Levon Ceiling Fan, Oil Rubbed Bronze Walnut Finish, 8 Blades

Emerald Coast Real Estate Photography
Fanimation FP1280BL-22-L1 Ceiling Fan
Belt driven fan – Room by Tyson Construction Company
Hunter 18865 60-Inch Limited Edition Ceiling Fan, Midas Black
Above and below are modeled after late 1800s two-blade ceiling fans.
Quorum 28682-86, Turner Oiled Bronze 68″ Ceiling Fan with Wall Control
Monte Carlo Cannondale, 56″ Bronze Finish, Bronze / American Walnut Blades
Like most of these, it comes in different finishes.
It's also very striking in these finishes.
Westinghouse Aerialist 52-inch two-blade-Indoor DC Motor Ceiling Fan, Polished Nickel Finish
Matthews Fan Company AQ-CR-MTL Ceiling Fan, Chrome Finish with No Shades
This retro beauty from Matthews comes in different sizes and finishes.
Matthews DI-BN-MTL, Diane, Oscilating Ceiling Fan, 13″ Span, Brushed Nickel
Matthews ME-TB, Melody,13″ Wall Fan, Bronze
That is a work of art indeed! I realize that this is technically a wall fan. But that is a possibility too.
Minka Aire F833-RD Red Ceiling Fan
I think that this red number would be fabulous in a playroom or a kid's bedroom, or even a fun kitchen. I believe that it comes in other colors too and it also comes in white.
Minka Aire F802-BN/CH One Light Brushed Nickel/chrome Ceiling Fan
One more retro dual fan, but a little more trad and with a light :] by Minka.
Y Decor AISLEE-CH Modern, Transitional 48 inch Ceiling Fan 3 Reversible Blade Chrome Base, Light Kit Included By Y Décor, Chrome, Silver
They are calling this transitional which many of you know is a word I really don't like. I see it as being more retro and think it would be cool in a kitchen.
Indoor/Outdoor Fans
These are all UL rated to go in damp places like porches, patios and sunrooms, but please, please double-check. I supposed if it can go outside, it can go inside too. Right? Some state that they are indoor/outdoor.

Harbor Breeze Twin Breeze Ii 74-in Oil-rubbed Bronze Outdoor Downrod Ceiling Fan
Brette Indoor/Outdoor Ceiling Fan with Two 23W LED Light Strips, 23-Inch-Bronze
What is this, you ask? A FANDALIER – And no, I did not make that one up. This also comes in nickel. I think it would be fab in a kitchen. If the kitchen is on the smaller side, unless it's a galley, I would do only one. But it could also go in an entry or hall, stair landing– laundry. Lots of places.
52″ Casa Delta-Wing Bronze Outdoor Ceiling Fan
And this is another version with a light
Hunter Fan Company 53125 Bridgeport 52-Inch ETL Damp Listed Ceiling Fan with Five White Plastic Blades, White
Minka-Aire F572-WH, Sundance, 42″ Ceiling Fan, White
Please save the above image to your pinterest boards!
Well, hope you guys enjoyed that. And please let me know what you think of these fans.
Addendum: Since I've gotten a plethora of comments about this company am adding a fan from BIG ASS FANS! Great name, huh? They are not the cheapest, but the quality is fabulous and they look great.
Haiku Home L Series Smart Ceiling Fan, Wi-Fi, Indoor/Outdoor, LED Light, White
xo,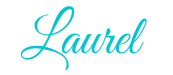 PS: All of the products are highly rated and from fine manufacturers, however, I do not have personal experience with any of them.
this post contains affiliate links for products that I only wish I could have myself!
Save
Save