Today, we are going to look at a bathroom renovation and what I'm recommending.
And especially, not recommending.
And yes, please be warned that this one is pretty snarky, but not without provocation!
Sometimes I feel it's just as important to talk about what not to do as what we should do. Because there's a lot out there that's not good. At least, that's what I think.
By the way… Remember our open-concept one-bedroom apartment renovation run amok? There's an open-house tomorrow. I hope the realtor brings a book or something.
For an apartment bathroom renovation, it's pretty simple. I would stick with something that coordinates with the kitchen.
Most apartment bathrooms are quite tiny, so there's only room for a small vanity, shower/tub and toilet.

Can you put in a pedestal or console sink?
I love them both and they are each appropriate to a large number of styles both modern and traditional.
However, logically, unless there's some other way you can get in some substantial storage, I would not advise that.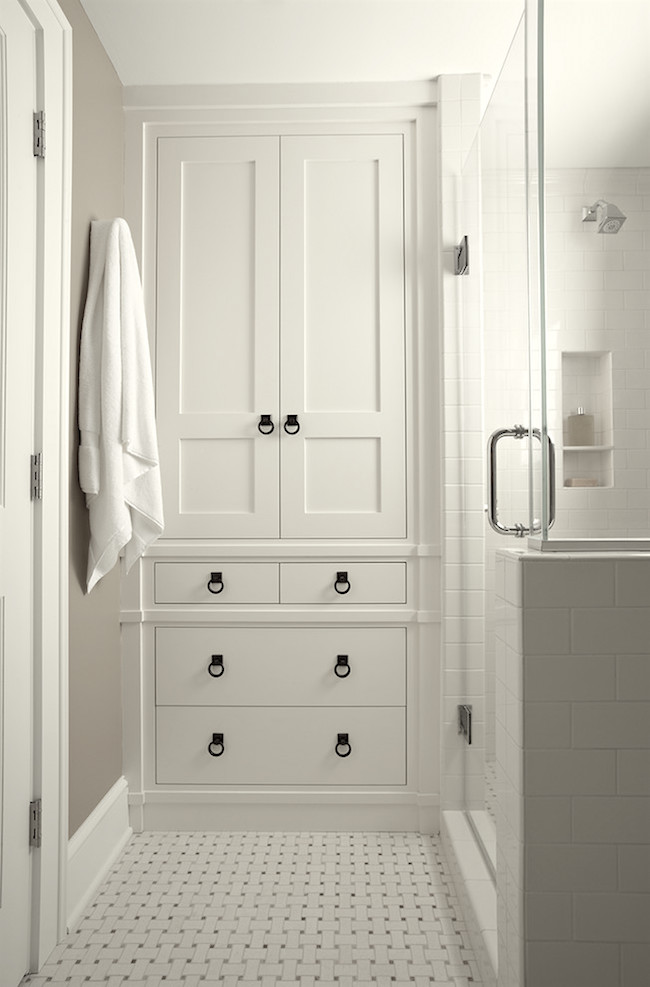 That works! Great bathroom!
(please make note of the door to the bathroom. We're getting to that.)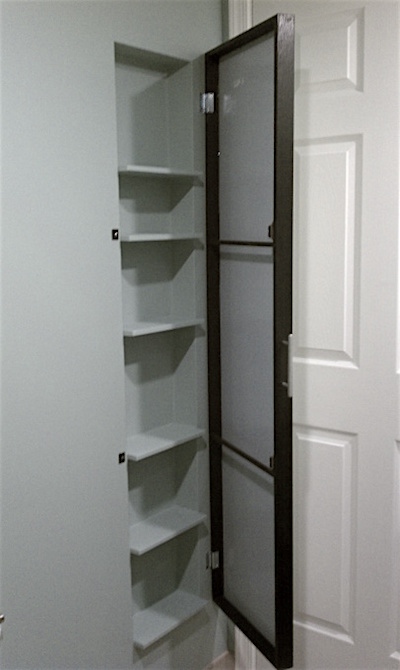 Remember when we were discussing Unkitchens and storage and there were some great ideas for in between the studs storage? Well, that might be an option for a small bathroom.
There are a few other things that I would avoid in a small apartment bathroom renovation.
Avoid gaps between the vanity and tub. I have that and it's very annoying because stuff falls in there and is very difficult to get out.
Vanities with legs are great, but what would be even better is if there is a kick plate, a few inches back so that stuff that fell in on the sides doesn't accumulate underneath the vanity.
I recommend a bathtub/shower combination, even if you're not a bath person, it's better for resale.
Most of the time it's really best to stick with white for fixtures and tile, unless the style of your home definitely dictates something else.
Please learn from history.
This one scares me.
There is actually a trend to recreate these vintage bathrooms.
Fine if you live in Williamsburg (Brooklyn) New York.
Otherwise, I don't recommend that.
Both images via: Retro Renovation
In addition don't feel that you have to add a tile border for some "color" or "interest." IMO, it usually looks too busy, too dumb and can also be limiting.
This bathroom would be far more elegant, IMO without the busy border.
If you want to see some color, paint the walls, put up art, towels, A vase, if there's room, pretty bottles, etc.
But here's the disturbing bathroom renovation trend that has left me immensely bothered and bewildered. (but definitely not bewitched)

The Open Concept Bedroom/Bathroom
I mean like the poo pot is IN the area that is used for SLEEPING.
Wha???
AND the shower, bathtub.
Water, water everywhere…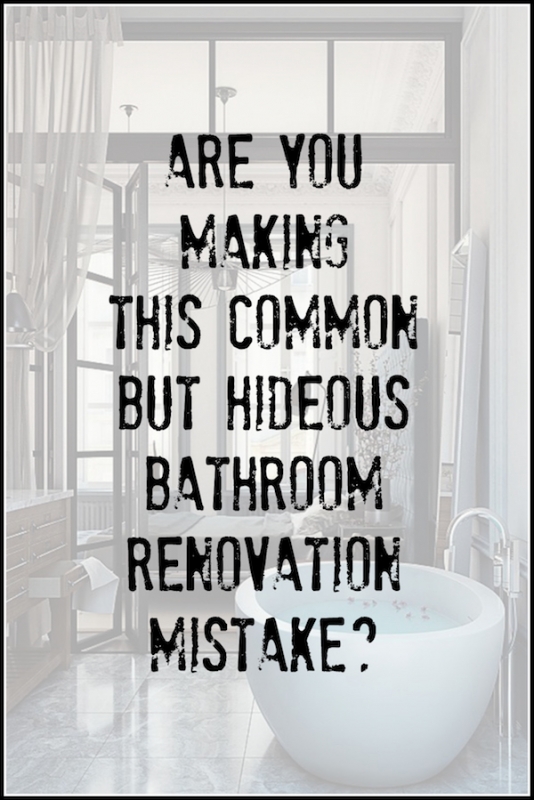 And the results…
(BTW, if one of these bathrooms happens to be yours and you feel highly insulted. That's perfectly understandable. Just kindly ask me to take it down and I will. )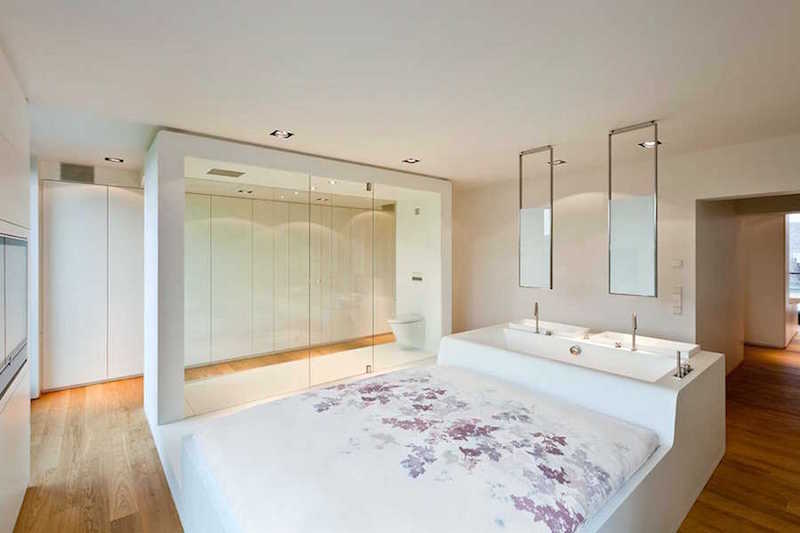 There are just some things I like to do in private. Ya know?
You have to see the rest of this place. It's pretty wild!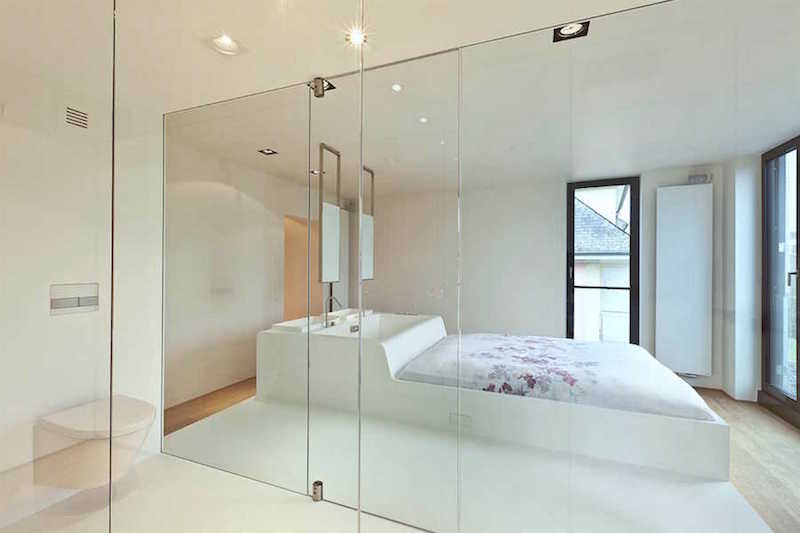 A bathtub headboard?
"Oh honey. Sorry. Did I wake you? Here's a towel." haha.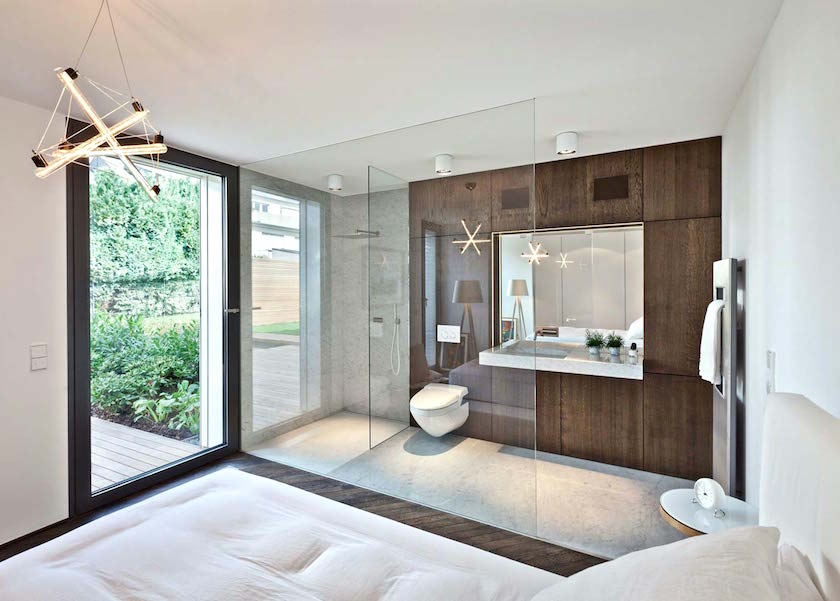 It appears that folks who like to put up mega-expensive frameless glass (and unsafe, in this case since you can't see it) walls, also don't like to put up window coverings.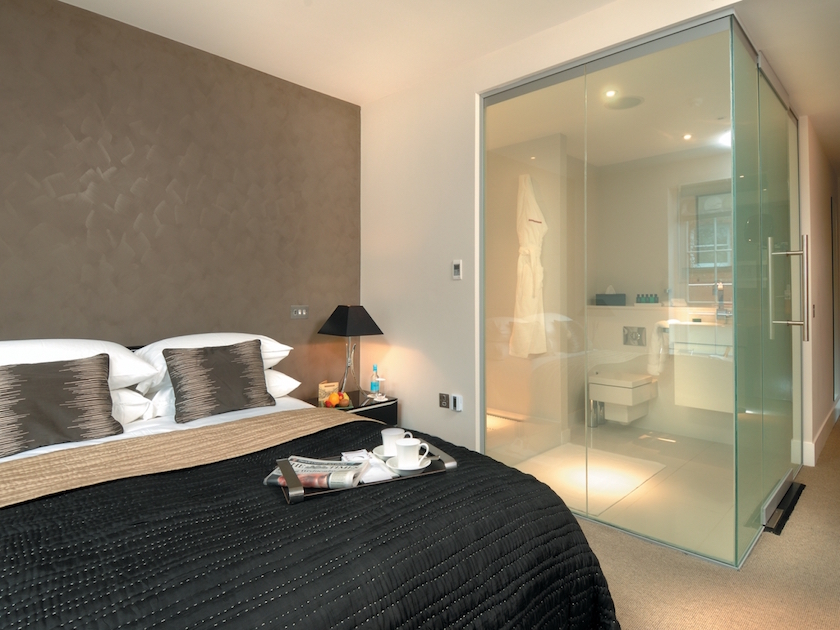 No.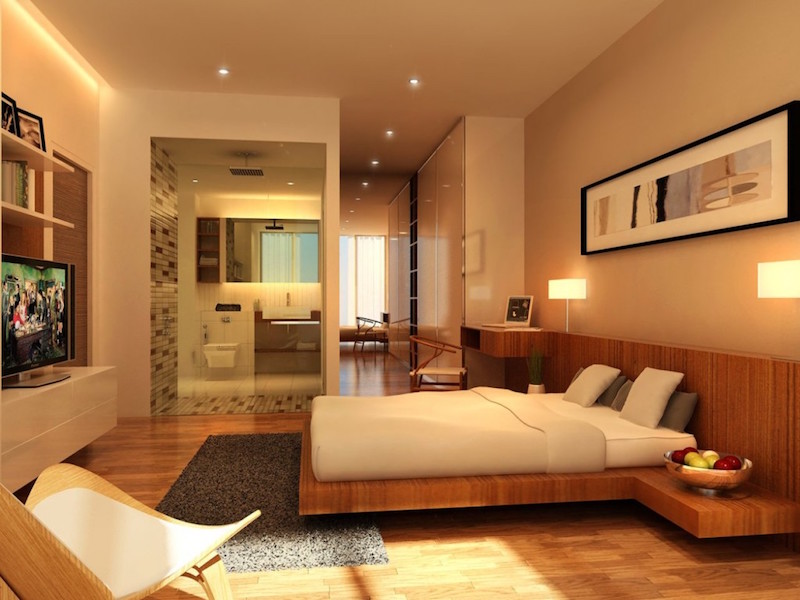 Is that the living room in the background?
This is getting out of hand.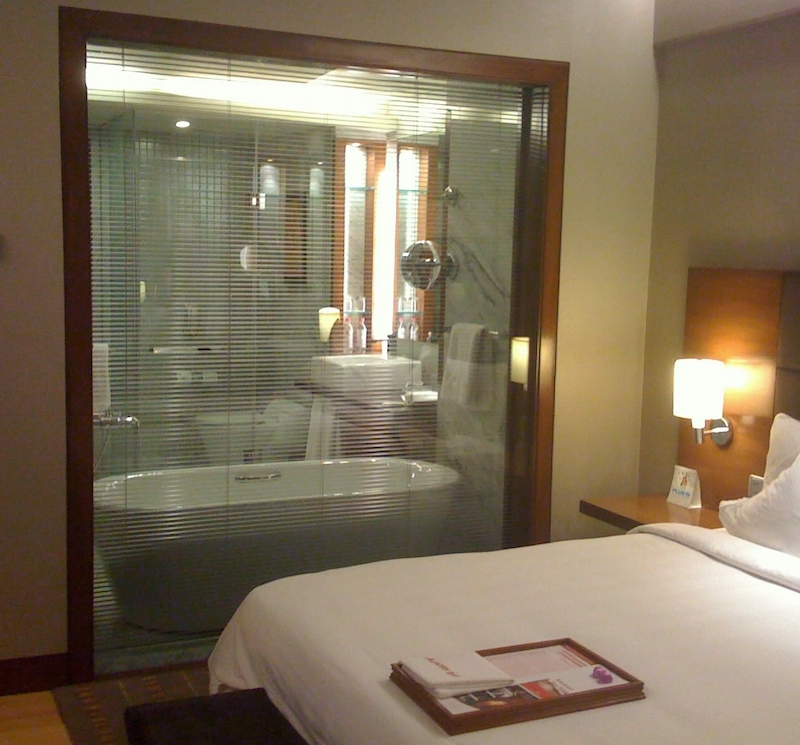 This one reminds me of a diorama at the Museum of Natural History.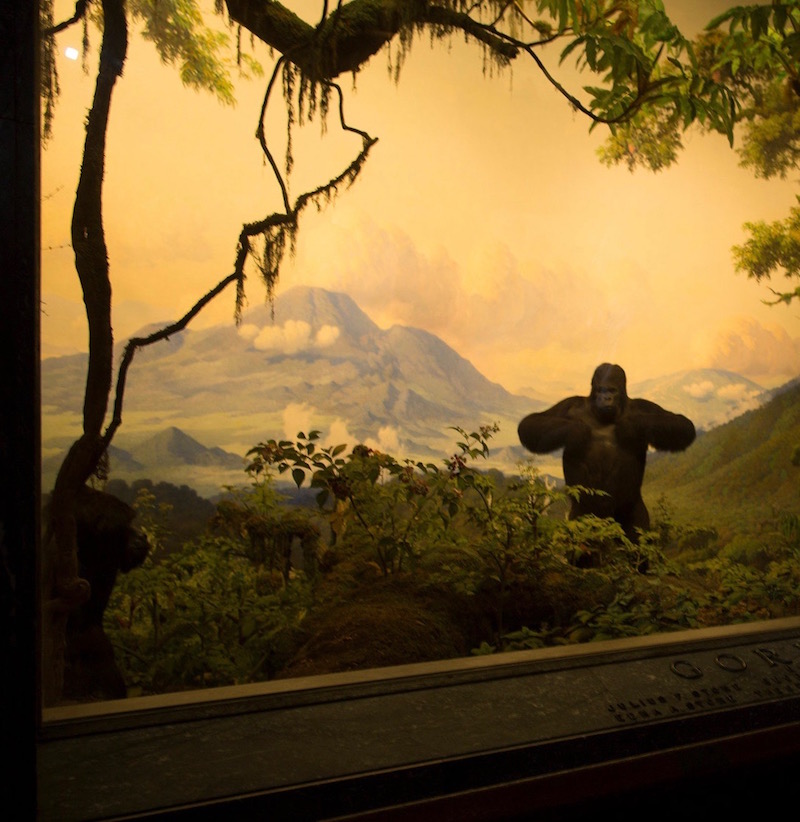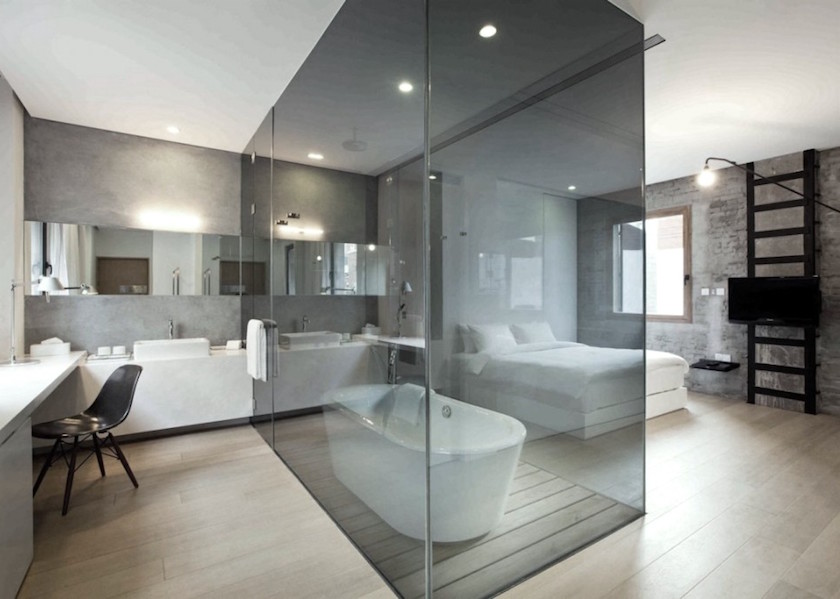 For the love of…
I understand that it doubles as a hyperbaric chamber.
But really. Could we get a little ventilation in there?
Undoubtedly, this trend may have started in some boutique hotel trying to be different.
Indeed.
But as I always say. "Just because you can, doesn't mean you should."
However, it's not just contemporary/modern bathroom renovations that have been invaded by the open-concept en suite loo.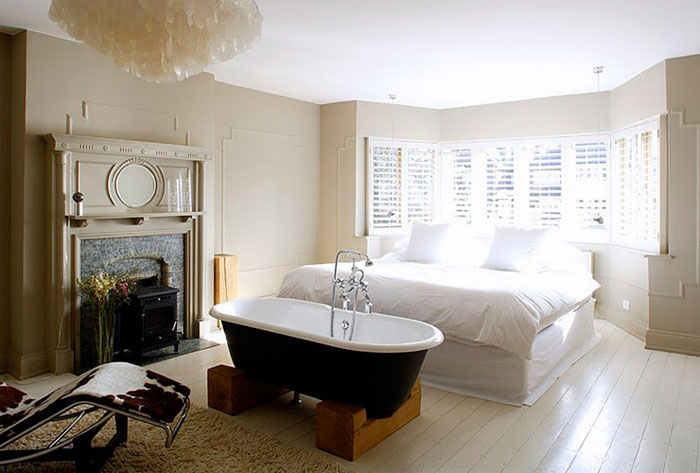 There's the bathtub footboard on blocks competing with the gorgeous mantel. Why?
This one's covering up the fireplace.  Okay, maybe the FP doesn't work. But why can't we at least have a lovely drape to close if necessary? Or bi-fold opaque glass French doors?
Same here. And no. There isn't a pocket door because the wall isn't thick enough to accommodate that. Love the French doors. Drapes?
Such a gorgeous room but what IS that thing?
This is reminding me of something.
Who remembers the Leave It To Beaver Coffee Cup Episode?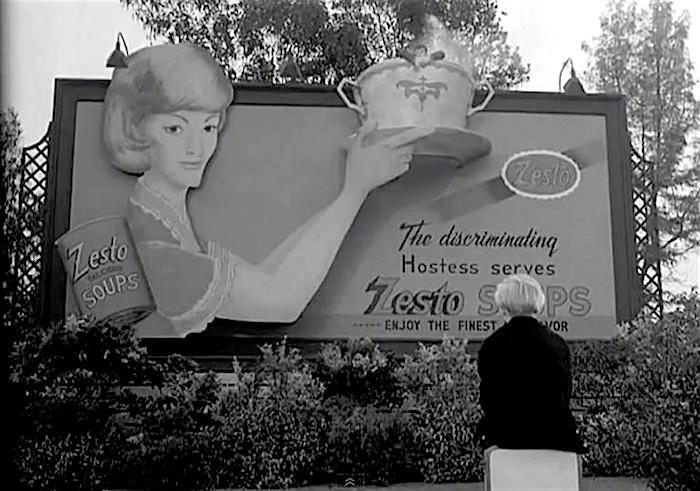 haha

Are they any situations where an open concept bathroom works?
Rarely and really, can we at least have a separate WC?
That is IN a closet?
With a door?
But here are a few pretty cool, open concept bedrooms with a bathtub.
This one feels genuinely like it was always like this.
Great colors and at least they put in a sliding garage door. ;]
I think this one works because of the opaque glass doors, the drapes. And the shower stall feels integrated and jewel-like. Very pretty!
Happy summer!
xo,