Below is a real "dear laurel" letter from a reader who's struggling to find an affordable, chic medicine cabinet.
Dear Laurel,
Love your rolodex!

It's been so helpful with my remodel.
I wanted to comment on your Restoration Hardware post, but it seems appropriate here too.
Converting a chest is a wonderful alternative for an overpriced vanity from RH. However, I am about to cave and buy one of their expensive medicine cabinets. I can't find anything else that has a similar look for less money.
Do you have any suggestions? Thanks!
Victoria
Okay, I bet y'all think I'm lying because the first word out of her mouth was "Love Your Rolodex!"
I always tell you guys when it's a fictitious reader. This one is real. Thanks Victoria for the great suggestion!
Alright, she needs a medicine cabinet and she doesn't want to spend 800 bucks give or take.
Can't say I blame her for that.
I did take a look at the Restoration Hardware medicine cabinets.
And, I think that most of them look quite nice.
However, yes, they are over-priced. We've been through this before. ;]
But, quite frankly, I'd rather just put in a cheap builder's grade like below at Home Depot.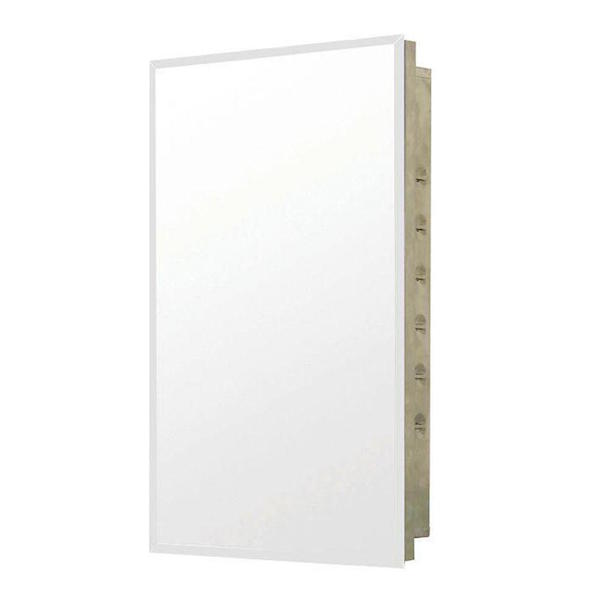 16 in. W x 26 in. H Frameless Stainless Steel Recessed Mount Bathroom Medicine Cabinet
And then replace the door with a cool mirror or piece of art.
In fact, Lowes did this video to show how they replaced the cheap mirror with a piece of artwork.
So, when it's all installed it just looks like a piece of art hanging on the wall, not a medicine cabinet.
You could also do it with a mirror as long as the frame was wood. I think. I'm not 100% sure.  Construction isn't my thing.
I just crack the whip. ;]
Has anyone done anything like that? I have seen it before and it's such a clever idea.
At any rate, there are tons of great medicine cabinets out there.
Medicine cabinets UNDER $400.00 and most that I found are well under that. A few slightly more, but they are very nice.
But sure; there are also some mega expensive medicine cabinets.
This is the way I look at it. A medicine cabinet with a mirror over a vanity or sink is just one part of a bathroom or powder room.
We did do a good discussion about storage ideas of small bathrooms in this post.
Some of my favorite bathrooms have integrated storage. Integrated into the architecture of the room. Or, I guess, we could say, BUILT-IN.
Here, let me show you what I mean by that.
The first three images are by JAS Design Build. They have a TON of gorgeous bathrooms on their site, so please check them out. And if you are curious, they are in the Seattle area.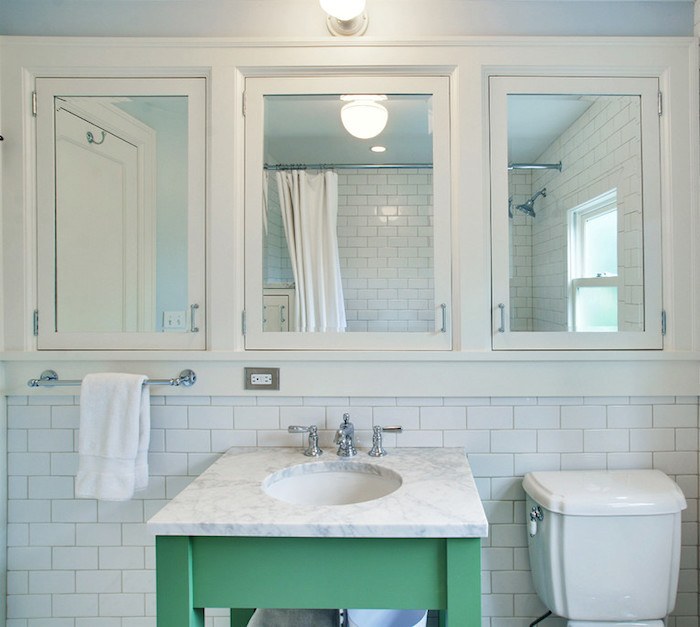 Perfect for a kid's bathroom. But, it could be any bathroom.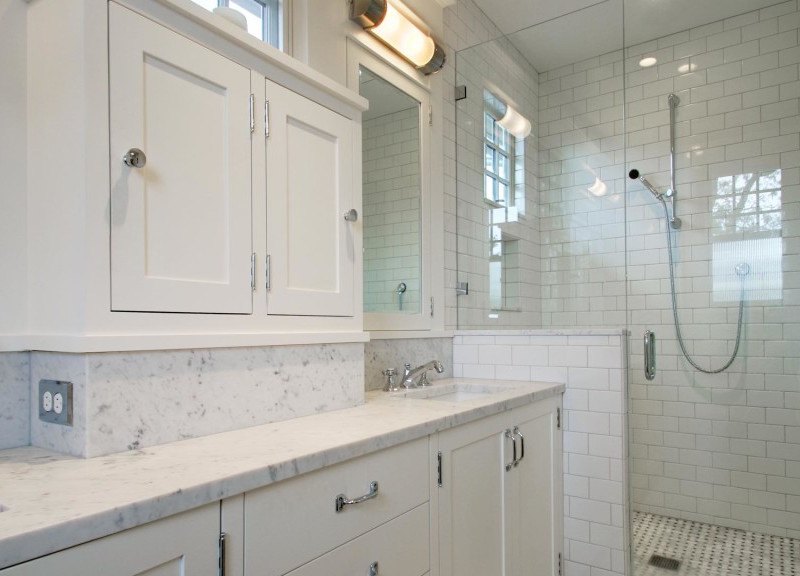 Fabulous built in storage and design in this bathroom. See the medicine cabinet above the sink?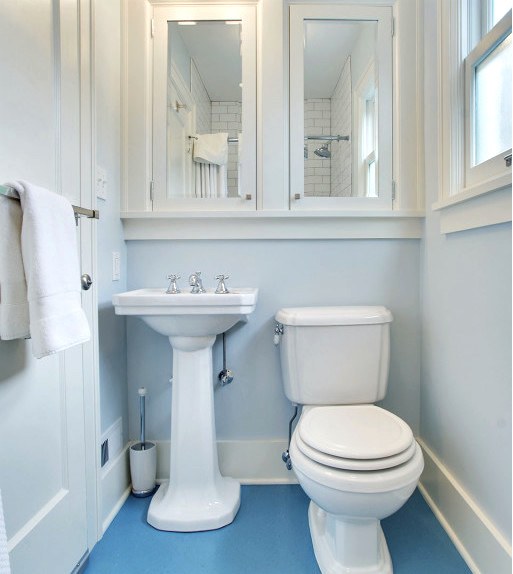 And a wonderful solution for a small powder room.
Actually, what am I saying? Everything she does is amazing!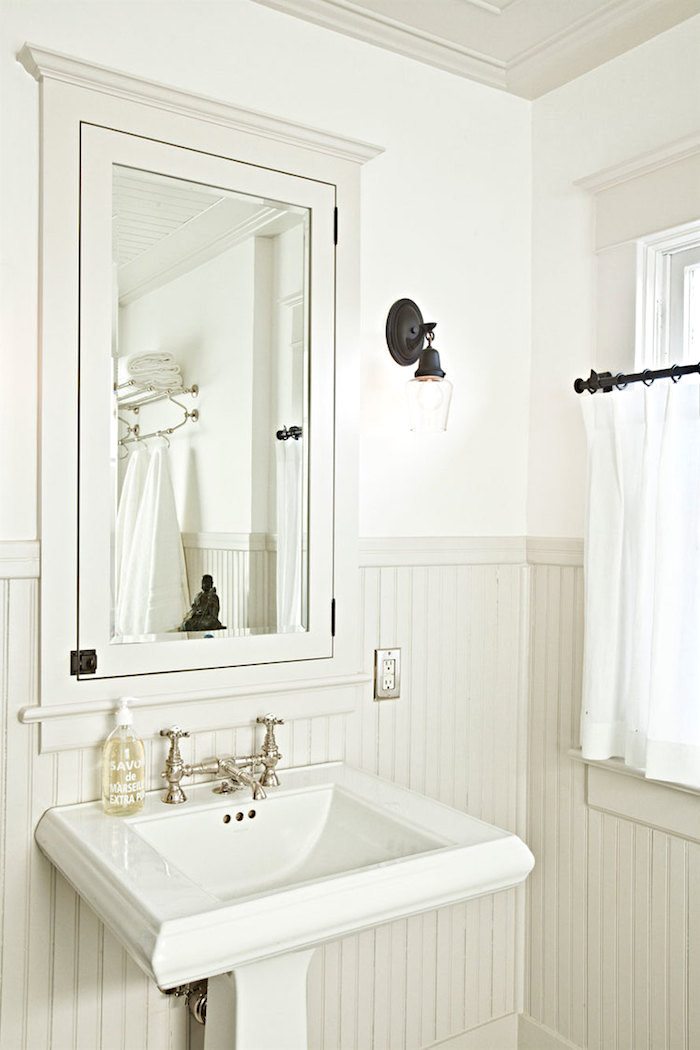 See what I mean?
But, this is only the warm-up.
Feast your eyes on this jewel box!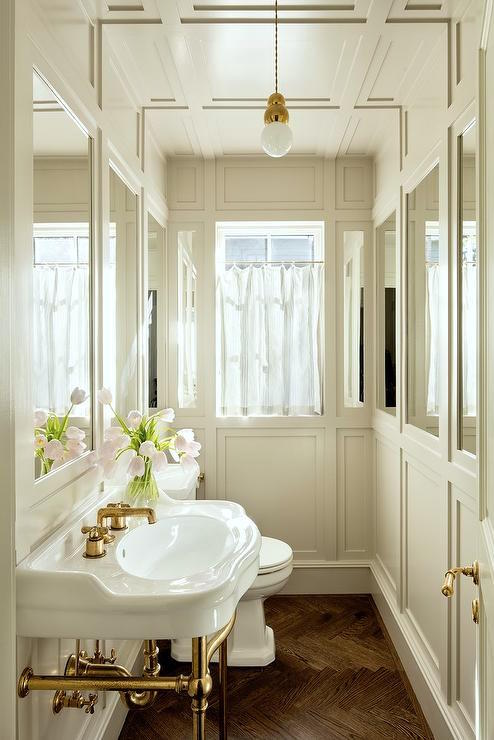 She sure did not phone this one in. Nosiree! This is a brilliant design!
And the space, itself, SUCKS! Look how narrow it is? But, she subtly used every trick there is to widen it and you don't even notice it until you break your shin on the toilet. Oh well. Not her fault.
I have a fantasy that each of those mirrors opens up to reveal storage behind it. That would be more than just cause for the contractor to commit murder, I would think. Right?
Actually, there probably are some building contractors out there, who would enjoy such an insane challenge.
But Jessica also does the type of medicine cabinet that is not integrated. Well, at least not into the mill work.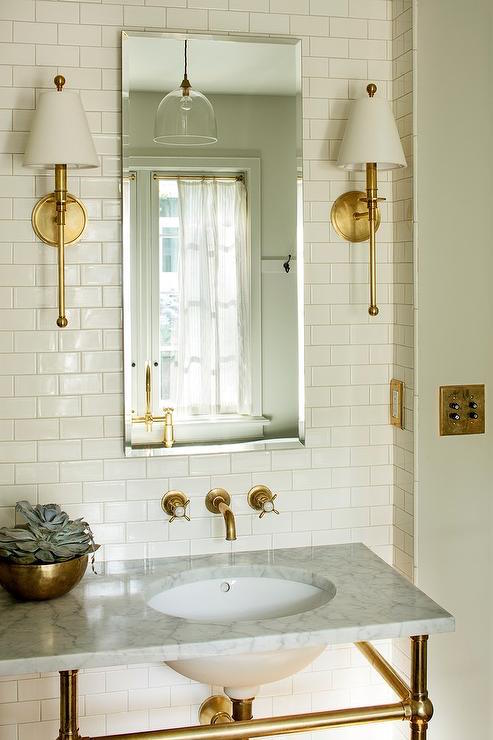 In this case, the very simple medicine cabinet works perfectly with the console sink and impressive sconces. Although, I am not sure if that is a medicine cabinet or just a mirror. But there are medicine cabinets like this one.
For another beautiful Jessica Helgerson room, click here.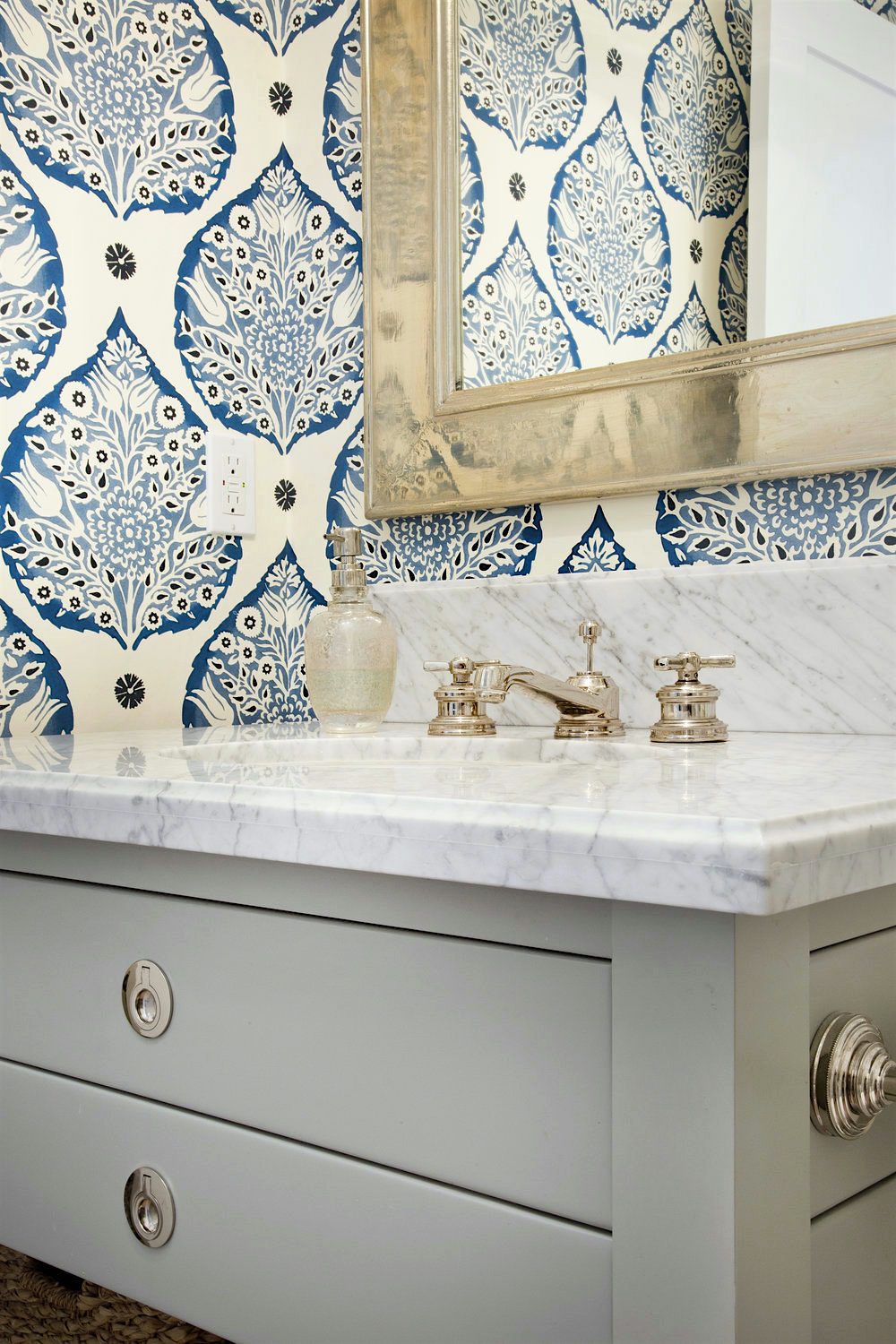 Love this little bathroom vignette by Erin Hedrick Design -I don't know if there's a medicine cabinet behind that mirror or not, but there could be. The wallpaper is by Galbraith and Paul.
See more gorgeous Galbraith and Paul here.
and here. (although, I think this is probably the most lame blog post on here. But oh well. You can have a good laugh, if you're bored.)
Those of you who own the Laurel Home Paint and Palette Collection may recognize the Galbraith and Paul pattern. I did it in a few of the palette boards in a different colorway.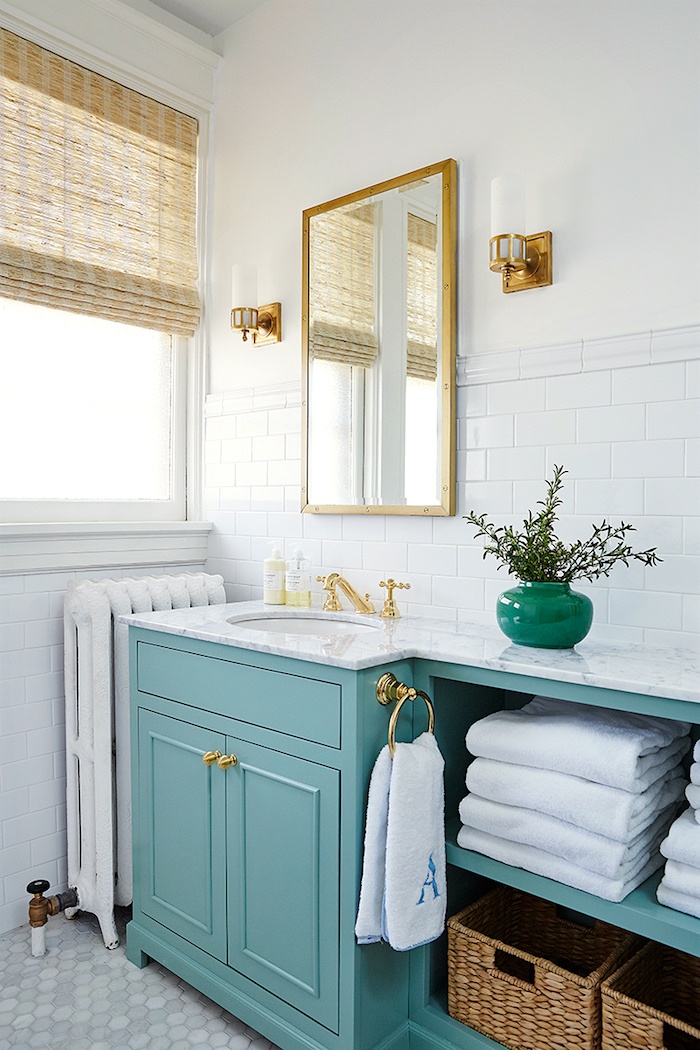 This fresh lovely bathroom is by Amy Corley. And actually, this is the Resto Rivet medicine cabinet. But before you get too excited, the brass finish is discontinued. It does come in two other finishes, however.
But, there are less costly alternatives to this one, in any case.
So, where ARE the inexpensive but gorgeous medicine cabinets?
Well, there are a ton on Wayfair. They are the most prolific with over 1,500 listings.
But, hands down, my favorite is good ol' Pottery Barn.
Yes! PB is my favorite source for inexpensive but, chic, stylish medicine cabinets.
Here, I'll show you.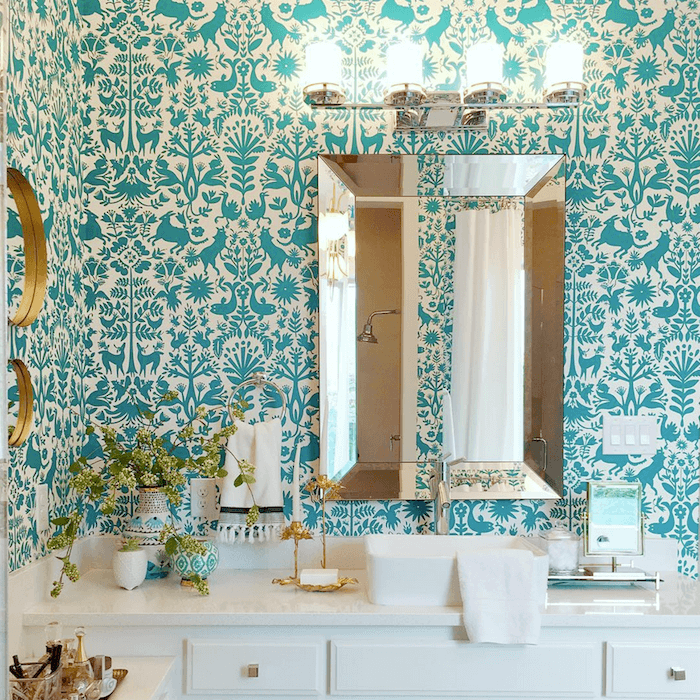 Via @shaunaglenn on instagram
Pottery Barn Astor Recessed medicine cabinet – wallpaper Hygge and West Emily Isabella Otomi.
Yes, that's a medicine cabinet! You will be able to find it also below in the widget of 12 of my favorites.
photo Alyssa Rosenheck – design Nicole Davis
I'm not sure if this is the PB Vintage Recessed medicine cabinet or not. But, if not, it's very close.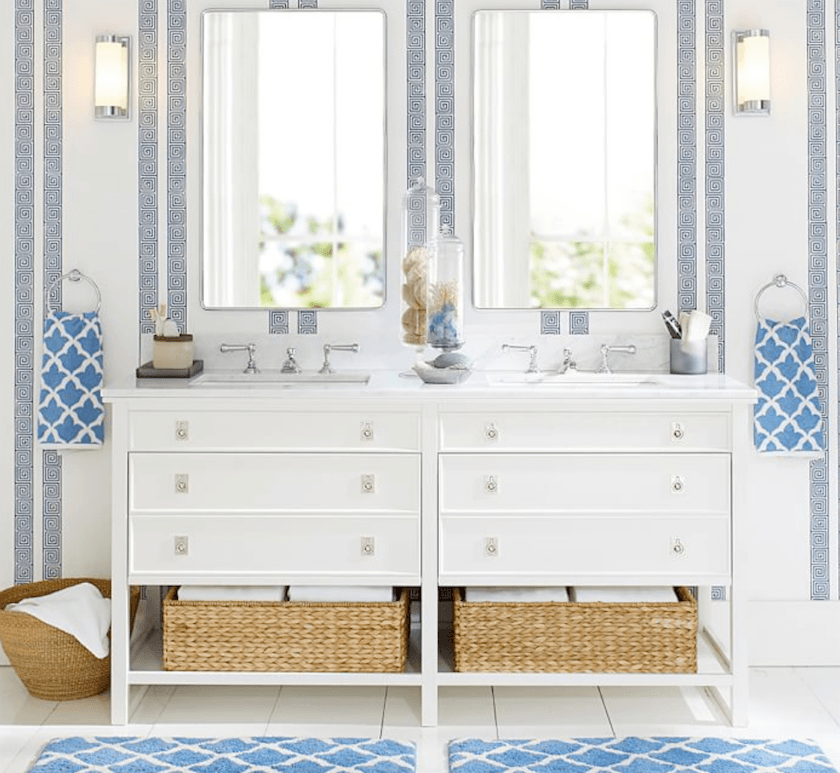 This one is definitely the Vintage medicine cabinet from Pottery Barn
I also love the PB Hotel recessed medicine cabinet. It's been a long-time favorite.
And below is a widget I made including some you've seen and some other medicine cabinets, as well.
Please click on the individual images for more information.

I hope this helps Victoria and others with some ideas for a bathroom medicine cabinet and other bathroom storage solutions.
Here are some more bathroom posts that you might enjoy reading.
Here's How To Get The Cool High-End Bathroom for a lot less
A Disturbing Bathroom Renovation Trend To Avoid
Bathroom Art Ideas You're Gonna Love
21 Interesting Bathroom ideas for bathroom people
Best No-Fail Gray Paint Colors For Bathrooms
xo,