Dear Laurel,
I recently found this post about hideously dated furniture. And then heard the term "Granny Decor."
Is that like "Granny Chic?"
My grandmother had exquisite taste and so I don't get the term, "Granny Decor." It sounds pejorative.
Can you explain these terms a little better?
LC D. Wolf
***
Hi LC and everyone.
Those are all great questions and ideas.
I realize that there's some confusion here.
My definition of Granny Decor is this:
Granny Decor is a style of home furnishings that is not classic. It is generally lacking in style, proportion, cohesion and reeks of all that is cute and precious.
Granny Chic is an ENTIRELY different animal. But, quite frankly, Granny Chic is simply a new marketing term for country cottage. Or, maybe country cottage with some bohemian thrown in. And, perhaps with a strong mid-century bent and bright, fun, happy colors. It is often full of whimsy.
A great example of Granny Chic decor is the beautiful, charming work of the design firm, Madcap Cottage.
Madcap Cottage is the interior design firm of John Loecke and Jason Oliver Nixon.
Madcap Cottage via One Kings Lane
BTW, You can find well over 300 cool and fun Madcap Cottage products at One King's Lane. AND the promo code OKL20CARD will give you 20% off on them! They have some wonderful wallpapers and many of their items are vintage! Also, when they say that a pillow is vintage, they really mean that it is a custom pillow. Their pillows are not used!
So, then, What IS Granny Decor? And is it a pejorative term?
The definition of Granny Decor according to the Laurelcyclopedia ;] of interior decorating terms is as follows:
It's a style of decor that is lacking in classical, timeless style and that either reeks of saccharin sweetness, or is phenomenally tacky, tasteless, banal, disproportionate, unbalanced and looks exceedingly tired and well— old.
Granny decor is NOT a function of the age of the person. However, some aspects of Granny Decor are vestiges from an earlier generation.
However, I have seen dozens of homes of YOUNG FOLKS who decorated, not in Granny Chic, but in Granny Bleak, we'll call it.
Another aspect of Granny Decor is decor which is fake (aka: ERSATZ, Laurel's favorite word) and thoroughly CHEAP LOOKING.
Before I go on…
I am well aware that the readers of this blog fall into all economic classes. So, I want to make it clear that I am not in any way trying to shame those who have little money to spend on home furnishings. I've been there too and understand the struggle, more than you'll know.
However, in some recent blog posts, we have looked at some talented readers who created a beautiful family home without spending a lot of money.
You can find them here, here, here, here, here, here and here. (some of these are posts about furnishings too.)
In fact, sometimes Granny Decor is about home furnishings that are not only unnecessary, they are bringing down the entire space. So, that is what this is all about.
***And, this is super important.*** This is only STUFF. And, stuff is not nearly as important as people. Not even close. I am saying this because I know that some of you are going to have some of this stuff in your home. You might even like it. Or maybe you've stop seeing it.
Just know that I love you just the same, whether your home is beautifully decorated or filled with what I deem to be hideous dreck- bad design. haha. I have some things that aren't so great in my home too. (although it's getting better— slowly)
So, let's get into the specifics of Granny Decor. And, please, do not pin any of these frightening images. Of course, you may pin the beautiful ones and the ones that I've made as a graphic.
art work that's too small, ditsy, cheap, or cutesy.  Well, actually, anything that's too small, ditsy, cheap or cutesy.
please pin me to pinterest
Indeed
Really? Just do some finger paintings. Anything would be better than this.
Plus, could they have made that wall any uglier?
I don't understand this.
NEVER HANG ART IN THIS FASHION. DO YOU HEAR ME??? IT EITHER GOES SIDE BY SIDE OR ONE ON TOP OF THE OTHER. ALWAYS!
Sorry to shout, but I don't know what it takes to get this to stop! Maybe if we all start shouting together. on the count of three.
1.
2.
3.
STOP IT!
Paris apartment of design dealers Laurence and Patrick Seguin features a wall of artworks – via Architectural Digest – photo: Simon Watson
This is a beautifully executed art wall.
For more gorgeous art walls, templates and ideas click here.
Let's move on with more Granny Decor Don'ts
plate-glass over table tops
lace doilies – at least, in the living room.
Not to mention that the photo in the contemporary steel frame and the placement of the table is all kind of random and not working at all.
But, Laurel… How are you supposed to protect the table?
Thank you. That's a very well thought-out and lucid question. The answer is that if you have something abrasive going on the table, THAT is what needs some felt under it. Nothing says Grandma or Granny more than things like glass on the table or plastic slipcovers.
cheap curtains – either lace and/or polyester
Ruffles
and more ruffles and saccharin pastels. icky-poo.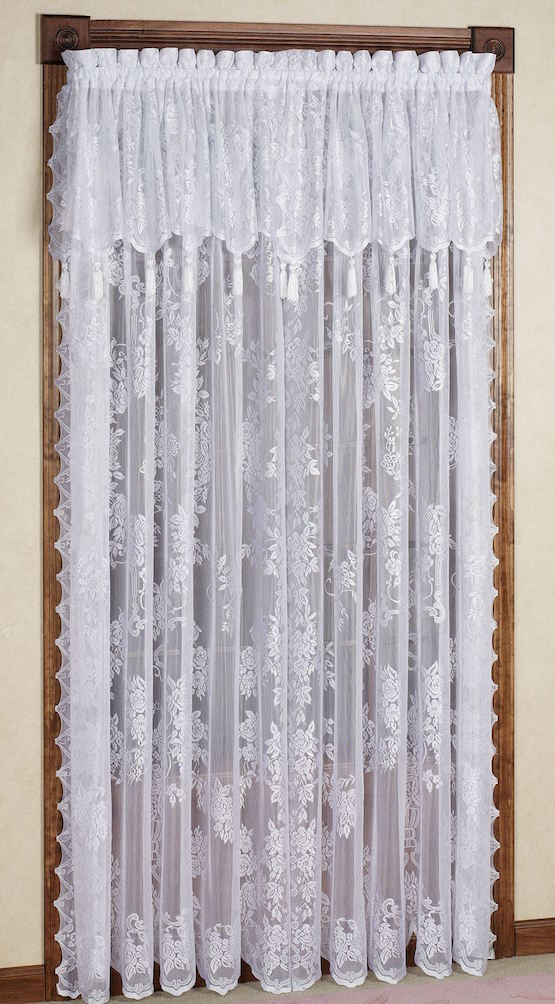 Ugh. Not only is it neon white, polyester lace. It's neon white, polyester lace against stained wood with the wood showing. Absolutely grotesque.
This is like a woman who forgot to shave her legs, AND her slip is showing.
But… Does anyone actually wear a slip these days? A few years ago, I walked into a Victoria's Secret looking for a slip and the sale's lady looked at me as if I had said, "Do you carry napalm?"
Ruffles and a shell theme. No.
And valances alone, usually say Granny unless very tailored.
Of course, never any heavy swags; only if you're really super formal.
Most people aren't these days. Not even the royals!
Above, Miles Redd uses florals and a bit of ruffle judiciously. Although, I'm still on the fence about this ruffle too. But I don't think it says Grandma. It's just a little too feminine for me. But, at least, it's classy and sophisticated.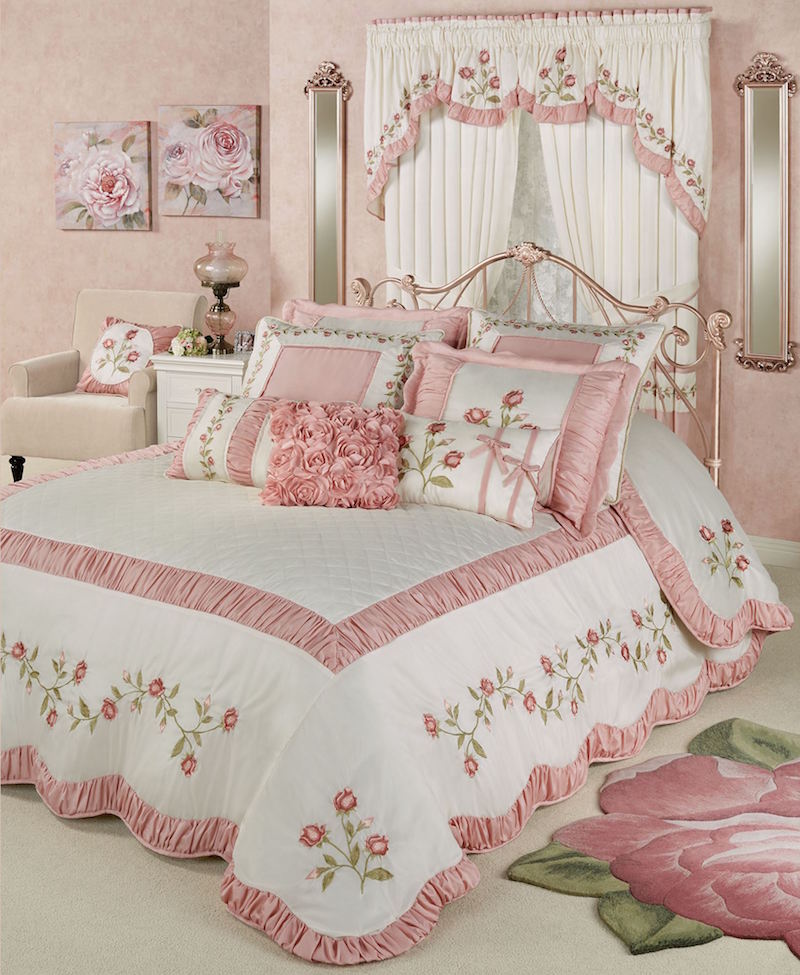 and rouching– for DAYS…………
Eegads! It's like the worst bridesmaid dress you've ever seen!
All that's missing are Granny's eye glasses and her copy of Reader's Digest.
At least there's a hardwood floor.
no flood-length drapes— please! And, of course, the rod should be hung higher.
One tip I'd like to suggest is that if you moved into a home and I don't care if it's 20 years ago and you are STILL living with the same horrid window treatments the previous owner put in— And they don't do anything except scare burglars away, please take them down.
I promise. It'll change your life in positive ways.
They're actually trying to sell this place. What's with the dried fake leaves over the doorway? So weird. Even Gran thinks so.
cheap ill-fitting slipcovers
Actually, this is more like crash-pad decor. But, we'll let it go for now.
But, remember the floral slipcover in Ben Pentreath's kitchen? It's a proper English tea-drinking-Granny-floral-slipcover but the acidic yellow wall color is what makes it work. And Laurel's orange Michael Kors handbag. haha. I still use it and love it! It's holding up very well!
shiny polyester – anything. Please try not to have any of that.
wall-to-wall broadloom in the living areas (many examples throughout these images)
Maura Mcevoy – photo
If you need to do wall-to-wall carpeting, IMO, it should preferably be tailored and woven, like this Berber carpeting, above.
cheap t'chakas. You know what I'm talking about.
mismatched photo frames and tables filled with family photos. (Make a family gallery wall in a more private part of the house.)
muddy dusty pastel color scheme. (It's all very one-note. zzzzzz…)
crochet granny throw (although, used correctly, they can be fun)
This is from the set of the show, Roseanne. It sure ticks a lot of boxes. It's Granny Decor on acid! And, here we go again! The window casing should NEVER show when hanging drapes. Granny needs to hire a professional window treatment installer!
For more info about how to hang drapes and everything else you'd like to know click here.
And for difficult windows, please check this out.
all tables, chests, cabinets, etc. are dark brown. It all gets very heavy and difficult to live with unless the walls are also a hunky color. But they usually aren't in Granny Decor.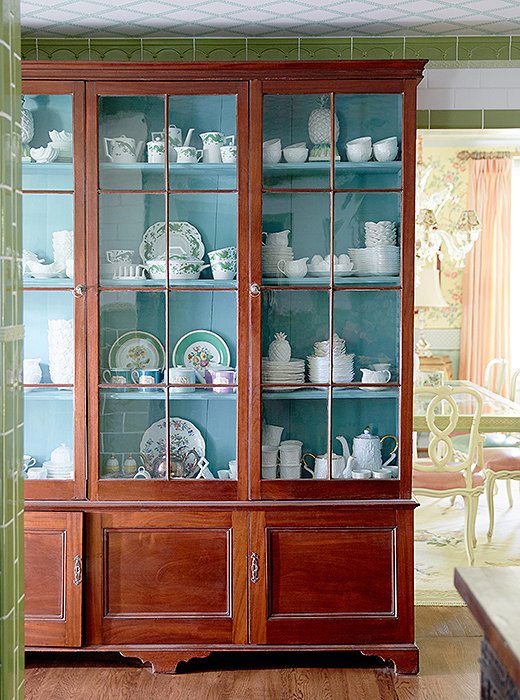 I love painting the inside of china cabinets. This is another beauty from Madcap Cottage.
Also, please check out the china cabinet I designed and had made for a client a few years ago.
dated lamps and other lighting fixtures, as well, with ersatz finishes mimicking what, I don't know.
it goes on and on… That is a very bizarre finish on that lamp. It looks like Lawrence of Arabia after six months of riding a horse through the parched desert. Why would anyone want that in their home?
Who dreams up this stuff?
Actually, I found most of these things on one entire website devoted to Granny tacky.
Their tagline is A HOME LIKE NO OTHER.
No shite!
I can assure you that they are never going to be in Laurel's Rolodex!
But, there are dozens of fabulous vendors on Etsy and Chairish in the newest edition of Laurel's Rolodex which came out in November.
Note to current rolodex owners, if you can't find yours, it was sent to you at the email address you purchased it with. Please first do a search of your email before contacting me. You can put in SENDOWL. I very much appreciate that. Any link, even if it's three years old will give you the updated rolodex for you to download. The change is on my end.
For some good ideas for cheap lamps that don't look it, click here.
There's still more Granny Decor Faux pas to go!
cheap, ditsy wallpaper and horrors – a wallpaper border
Oh, so bad… Looks like Granny is sharing digs with her grandson.
Actually, this isn't the worst wallpaper. It's just not right for here. And that window!
@ f o r t a n d f i e l d  on instagram
Anthropologie floral shower curtain
Above is a beautiful use of a floral in a bathroom shower curtain. I love the juxtaposition of the flowers against all of the white. It looks fresh and stylish. And loving all of the brass too!
They should never have existed in the first place. There is nothing more hideous. Well, almost nothing. They're not explicitly Granny, however.
More like Grandpa.
;]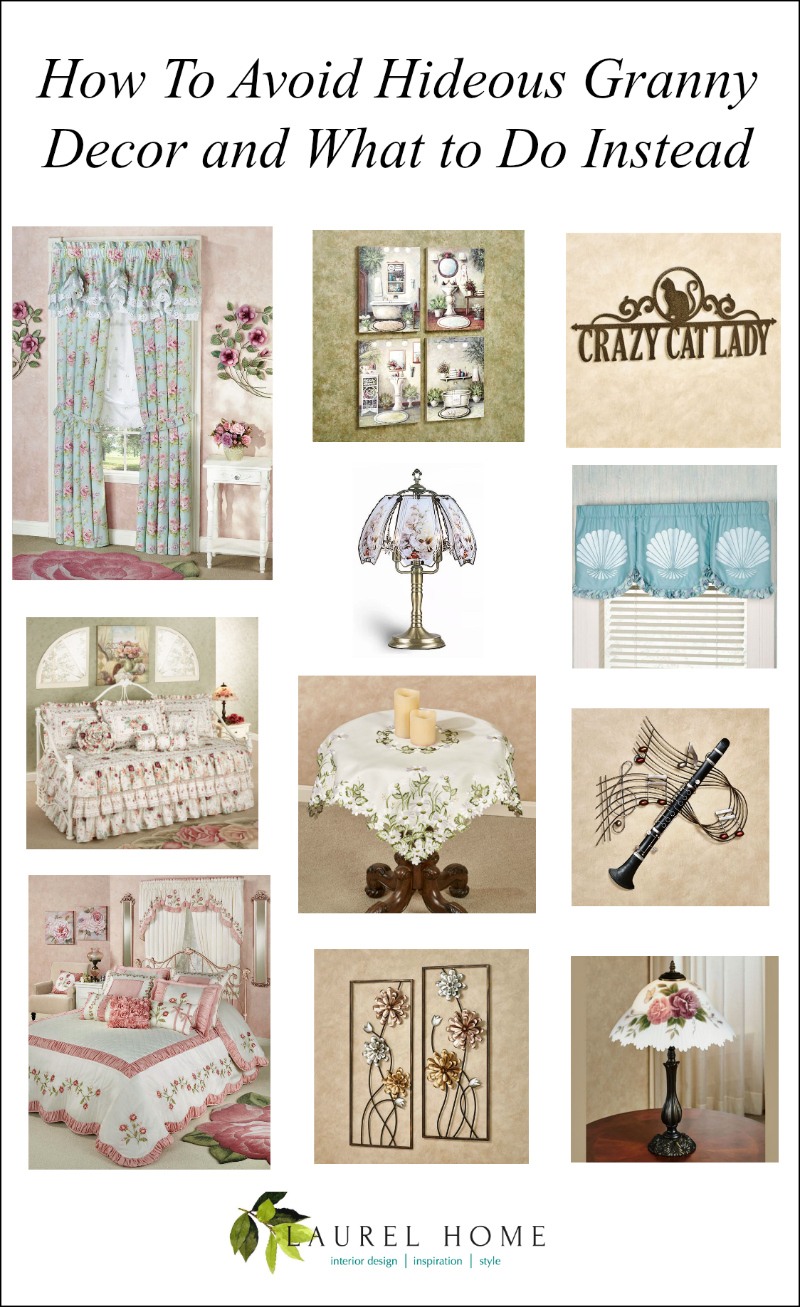 just a little reminder to pin to Pinterest.
Well, I hope that you enjoyed that. I think that the main take-away regarding Granny Decor is that they make it because people buy it. If people stop buying it, they won't make it. Right? There are alternatives.
Speaking of…
Please check out this week's hot sales. There are so many fabulous sales going on and beautiful new pieces to see in the widgets. And, some of the sales are ending very soon!
xo,