Dear Laurel,
If I had to write a headline for a blog post, it would be An Anglophile In Texas.
The Anglophile is me and the home I'm moving to is so not me, it's not funny.
It's actually a log cabin of sorts, but bigger. A

dark

rustic home.
And I hate it!
So, why am I going to be living in a home that I hate?

Thank you. That's a very good question, Laurel!
Well, I'm going to get married to the love of my life. This time I'm quite sure that I've got it right.
Oh, please don't harangue me, about the fact that he can't be all that great if he's making me live in a house that I hate. It's just that he built the house with his uncle 15 years ago and it's his pride and joy. It would be awfully selfish of me to make him give up his dream.
But, there HAS to be some middle ground where we can both be happy. No?
So far, we have a Persian rug for the living room. It's similar to the one below.

Antique Heriz from Herat Rugs on Overstock
I have to say that I do love this, But, Oh geez… Now what?
Maybe you could do a blog post about those of us with a rustic home or a log cabin? Ya know, a house with a lot of wood and stone and then more wood and stone…
Thank you so much,
Woody Lovettenot
Woody is not a real person. But she's made up from a lovely comment I received yesterday and a few others who've written. In fact, one I recall is from Texas. She's the Anglophile. Forgive me if I don't use your name. It's not personal, in the slightest; but it's difficult to find comments and who wrote them.
The first one is Annette and I told her that I didn't think it would work out to talk about a log cabin because how many of us actually live in one?
But then, I got to thinking that while we may not have a log cabin, many of us do have a rustic home that's very wood-y and husbands who would sooner lay down in heavy traffic than paint it!
The great thing is that you don't have to paint it in order to get a lighter, brighter room.
I discovered that it is not all that easy to find great examples of rustic homes that have a lot of wood that are also beautifully decorated. AND— beautifully photographed.
However, there are enough that I found for our purposes.  And if you already love rusticity, you might be in love.
Let's jump in. When we talk about a rustic home or a log cabin, paneled room or any room that's predominantly wood is that we're talking about stained wood. And unless it's cerused, which makes it grayish, it's usually some shade of golden brown.
And I think, if we think of all of this wood as a color on regular walls, it's going to help a lot in selecting furnishings and other colors that are going to make the room, not just bearable but really gorgeous.
The problem is that too often what I see in these rustic log homes, Adirondack "shacks" and the like, is more brown– brown leather…
Add to it the de rigueur brown cow-hide. Brown antlers. Brown moose head mounted high up on a brown and gray stone fireplace.
Can you picture it?
Instead of posting images, this link to many rooms, clearly spells out what I'm talking about.
Well, one doesn't have to live in a sea of muddy brown, if this is not your taste.
This is not a log home, of course, but this wonderful room by Mark D Sikes has colors that look fabulous with the wood of the cabinetry. And this could be transferred to a more rustic log cabin and the like.
All shades of blue look fabulous with stained wood tones.
When using red, I prefer the warmer tones like below.

This home designed by Shope Reno Wharton and interiors by Victorian Hagan shows an elegant scheme of red and gray, along with the orange-y brown. Please notice the English roll-arm sofas.
Interestingly, I don't think I've ever seen Victoria Hagan do red in a room. She has always favored blue and white.
But also notice the black and white paintings and neutral accents. Without the black and white, the room would fall a little flat, I think.
These are more typical Victoria Hagan colors in this beautiful bedroom in the same rustic home.
She just ignored all of the wood and did what she normally does; light and lovely and it looks great. Okay. I'm sure that she didn't ignore the wood and stone, but she didn't give into the hackneyed heavy brown-on-brown look.
Everything she does is gorgeous which is why she's one of the 20 designers I would hire.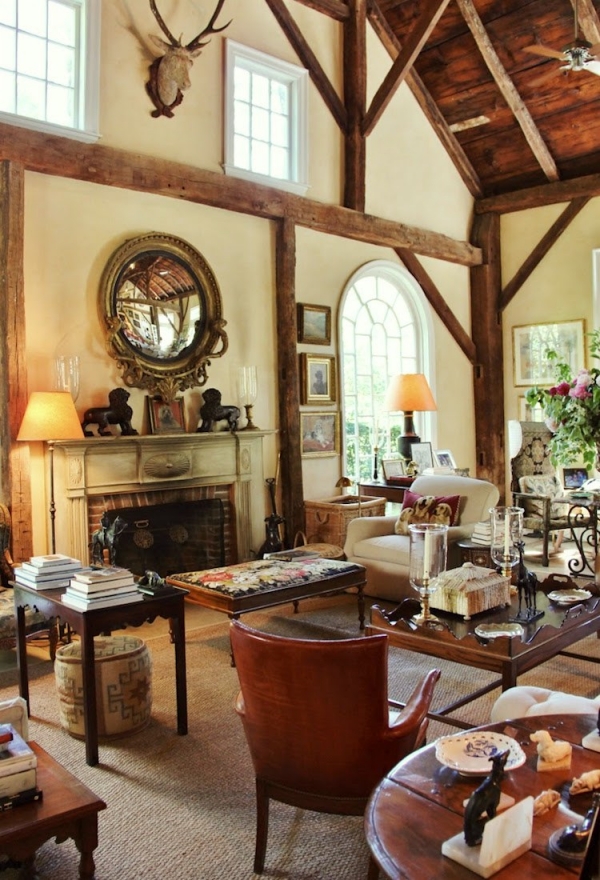 Bunny Williams and John Rosselli's converted barn in Connecticut. That reminds me. I MUST book for their annual spring tour of their amazing house and gardens. It's about time. Don't you think? photo by Phyllis Higgerson of Henhurst who did a guest post for Loi Thai of Tone on Tone.
This is a colorful, eclectic room by Samantha Knapp via Lonny. (photo: Melanie Alcevedo) No heaviness whatsoever. And I love the tiger rug!
Next up is the lovely rustic home in Oxfordshire, England belonging to Amanda Brooks. While not sa log cabin, we could imagine that it is and this would still work! It's definitely old and rustic.
Here's her cool kitchen. Very unkitchen, isn't it!

And she has orange-y floors, so I shouldn't stress.
And here's the kitchen again! It would appear to be a later iteration; more finished. I believe the top one is an Ilve convection that she replaced with a La Canche. Maybe, she didn't like the convection range? But notice, no hood on the gas range!
Gorgeous room by the immensely talented, young designer, Tammy Connor via Traditional Home.
The rest of the home is quite spectacular, (which you can see by clicking the link) although not as much wood as we see here.
This is an example for Annette, although it doesn't show much. But the sofa could be a pale beige or off-white. I could see more of the blue greens and maybe a little of the coral. Love the contemporary lamps on the desk which are what's keeping this room completely fresh.
And always, try to put some a little black and white into the mix.
It's those details, that I think make the difference, between the tired same-old and a room that's chic and uplifting.
And now, more Tammy Connor from her portfolio. The next five images.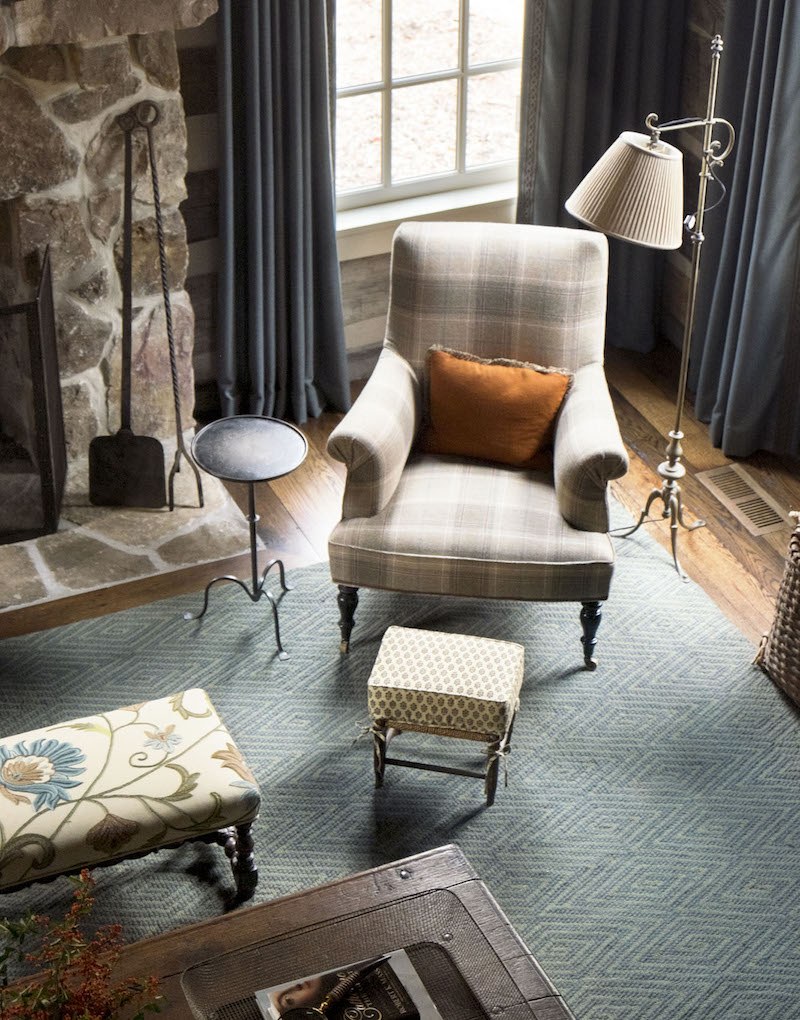 Tammy, is one who I think totally gets it. Her use of color, furnishings and fabrics, is exquisite, IMO. Oh, I love that Napoleon III English club chair. This is reminding me of my trip to England.
Seee??? We CAN do English furnishings in a rustic home! And this one is very wood-y. Although the wood is more gray which I prefer, over-all. But even if it were the more orange-y color, this palette would still be beautiful.
To My UK friends. Are there wood cabins in the UK?
Or are they only an American thing because we have so many trees! Or did, back in the day.
It's absolutely fine and desirable, I think to mix the cerused wood with typical orange-y brown wood.
LOVE the kitchen! The sage green looks perfect!
An incredibly charming bedroom.
This bedroom feels Swedish and works beautiful with the rustic wood.
For a more contemporary and exceedingly handsome bedroom, nobody beats Bobby McAlpine and Greg Tankersly, et al for sophisticated designs in a rustic home. Much more Bobby here!
Another more classic contemporary and minimalist living room by Timothy Johnson
And the fabulous light gray kitchen in the same rustic home by Timothy Johnson with marble! Hey, why not? It's gorgeous!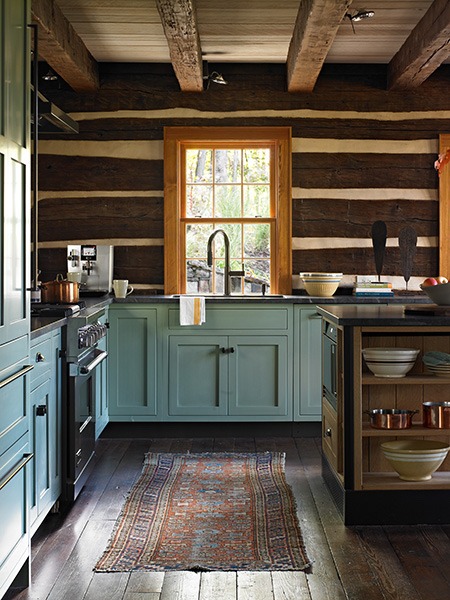 I love the blue cabinets in this rustic log cabin kitchen. Photo by Helen Norman
And then there are still places or rooms in some rustic homes that can be painted. And the effect is wonderful!
Before shot by Celia Becker who pens After Orange County.
Please go to her blog to see the after. It's quite lovely!
This is a before shot. duh
Please check out the rest of this beautiful reno. They did a fabulous job! With before and after of every room.

And then, there's always the option to just paint it out. This amazing space is actually a venue in Dallas, TEXAS called The White Sparrow Barn. As you can imagine, it's very popular for weddings.
via Rue Mag
And Yes, even a log cabin can be painted.
It might be a tough sell, but it's worth a try?
But, I wouldn't hope for too much.
But… on second thought. I would make the best chocolate cake in the world to butter (cream icing) him up. ;]
It's the chocolate cake that will make you plotz and get you anything your heart desires– usually. ;]
Serve it at room temperature with a scoop of vanilla ice cream BEFORE showing him the awesome photos of walls painted white.
I hope that for all who have a rustic home, that this post is helpful.
xo,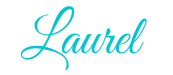 PS: Thank you to everyone for your sweet supportive comments after Sunday's post about my bedroom. And guess what? I ordered a rug– from Overstock! It's a beautiful hand-knotted 8 x 10 pale beauty and it was only $1,800 and free shipping! That's a great price! And no, I'm not going to show it to you— yet. ;] I do love my current rug, but it really is too small for my bedroom. I guess that I'll give it to my son.
And Please check out the hot sales. They should be up-to-date. (I hope).