This is a real Dear Laurel email I recently received wanting to know how to tell if she's getting classic furniture or something she'll need to replace in ten years.
Hi Laurel
Ok, so you hate to shop and so do I. But worse than hating to shop, I hate buying things that I stop liking before they are ready for the pick-up truck.
Here's the current issue I'm having about buying furniture: everything I like has that white wash type of stain. And I'm suddenly in love with french style legs and curves — but just a while ago I was gaga for Asian.
I hate being so fickle. It makes me think my mother was right about me never being able to settle down. I am letting the trend-setters give me an identity complex.
Can you please address whether you should just plan to over-haul every ten years right down to the floor stain OR is there a way to ride the wave of capricious trends and keep your style anchored in the classics?
I have no idea even what classic furniture is at this point!? Can you walk us through keeping steady in the maelstrom and costly mistakes. How do you hold on to the artist in your design?
a fan–
Margaret A.
********
Well, Margaret is asking a very compelling question about what makes furniture – classic furniture
What does that mean exactly?
How do we know what classic is?
Well, first, I think that we need to define classical in terms of history. And that means architecture from whence the term was first used.
For that, we need to go back to the times of the Ancient Greeks and Romans. And for more info on that, please check out this post which pretty much explains it all.
The Greeks and Romans were all about math, proportion and form. And they identified a precise formula that was most pleasing to the eye. But, you'll need to read the post above to read more if you don't already know. No sense in reinventing the Golden Mean!
There was a resurgence of these exquisite proportions in the neo-classical period. That occurred in the late 18th century and early 19th century. Ya know… the time of Thomas Jefferson.
BTW, it also coincided with the classical music period. You know those too: Haydn, Mozart, Beethoven amongst others. And since music is math, we can conclude that the perfect harmonies created are related to the aesthetically numerical codes that apply to classical architecture.*
But this formula was not created by these men; that was accomplished by God, or higher power or the universe. Whatever your belief is. But it is inherent in every living thing on this earth.
Unfortunately, it is not inherent in every man-made object created.
Fair enough. So how do you know if the piece of furniture you are buying is following the code for classic furniture? Do you get down on your hands and knees and measure every inch of the piece?
I don't think that's necessary and we'll get to why in a sec.
Well, can't we do things differently and still be classical?
Sure. Some things, like fabric and finishes, yes. Form and proportion, not very much.
Although listen to Mozart's The Jupiter Symphony #41 (please enjoy this fine version!) and you will hear on occasion, some sounds in the final movement that remind me more of Stravinsky than anything classical. A friend of my son's who plays the viola says that this was Mozart "just having fun." I listened to this a lot right after Peaches died and it helped a lot. Too bad Mozart had to die so young.
Classic, to me, is like this.
Take a classic banana cream pie.
On the bottom we have a delectable, classic graham cracker crust.
And then a layer of sliced, ripe, (but not-too ripe) bananas.
Followed by creamy, rich vanilla custard pudding.
Then, another layer of bananas.
And topped off with mounds of fluffy, sweet (but not too sweet), (real) vanilla flavored (real) whipped cream.
You wash it down with a hot, sweet English tea
and a Crestor. ;]
It's a classic dessert and man, I wish I had a slice of that pie right now!
But then, some idiot misguided soul, who just opened up a bakery with the "latest trends in baking" decides that he needs to use Tabasco sauce instead of vanilla. After-all, it's the latest thing. Hey, don't knock it until you try it, he says… It's AWESOME!
You take a bite and can't wait to spit it out.
And at this point, I need to mention that I have a standard for any company going in Laurel's Rolodex. If they go over 25% of their offerings with fake, ersatz, strange, bizarre, absurd in furniture design, they will not appear in my guide. And most sources have little to none.
Although, make no mistake, there is a tremendous variety of styles. You will not, however, see anything like what you are about to see— Tabasco Laced Styling masquerading as traditional classical furniture.
(BTW, just a reminder that there's an update of Laurel's Rolodex coming November 1st and then the price of both the rolodex and paint guides are going up on November 13th.)
Now, let's take a look at what our Tabasco laced banana cream pie looks like in the form of furniture. And we will compare it to the real-deal classical furniture version.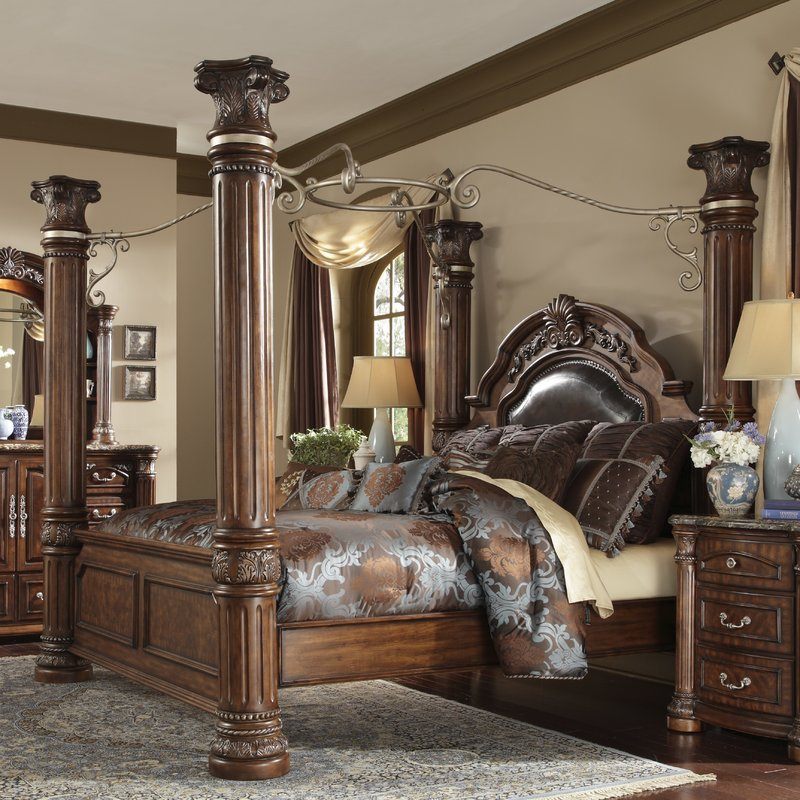 Let's begin with our fake neo-classical column thing that will guarantee you to have nightmares in. They can't even do a proper acanthus leaf. And this bed is several thousand dollars. The weirdtastic bar thingy might be good for pull-ups, however. (if it's strong enough)
Or, this tabasco laden weirdness in the fake rococo style. Hope that metal thing doesn't fall on your head. Oh, that footboard. Freak!
Traditional beds have beautiful, pleasing to the eye ornamentation that makes sense with lovely scale and proportions.
David Flint Wood via Architectural Digest – photo: William Waldron
Or this amazing English-colonial-style bed from British Khaki which sadly no longer exists because they went out of business.
All of the beds on this page are classics, IMO. Oh dang. The Serena and Lily bed and linen sale is over but the upholstery sale is still on through the 26th. One of the best deals of the year.
However, Tabasco laden furniture posing as sweet banana cream pie, exists in all areas of home furnishings.
Tabasco upholstered furniture has curves on top of curves and exaggerated forms that have no relation to anything of a classical nature. Don't you love how they repeat the weird design motif over and over ad nauseum?
And it's BIG! Overblown. Exaggerated. Disproportionate. Fake.
Or, this bizarre contemporary thing about to take flight. There's a lot of this around. And some of it is even worse.
I know that you guys get it. Even the ones who just landed here, get it. When you see it without some sales person breathing down your neck to place the order already, it is very clear that the emperor is butt neked.
Here are three pieces of classic furniture – Sofas
And know that everything I recommend on any of the blog posts or furniture sales pages is classic furniture; be it a traditional classic or a modern classic.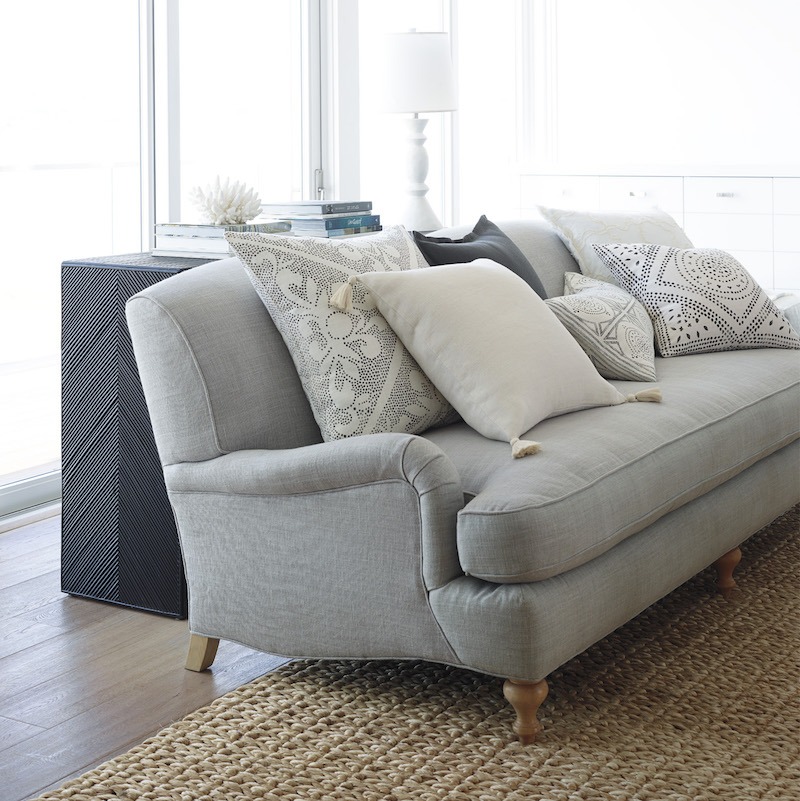 The number one style sofa, an English roll-arm or Bridgewater sofa.
This is one of the beauties on sale at Serena and Lily for six more days.
A classic contemporary sofa by Jonathan Adler.
A modern classic sofa by Barclay Butera.
(sold on One King's Lane. OH! They are offering FREE SHIPPING including WHITE GLOVE for free, but ending tonight, they say. promo code: OKLFREESHIP)
I could keep going on and on…
But what about antique sofas?
Sure, you can find antique sofas in lots of places.
Antique shops
Estate sales
Flea markets (occasionally)
Consignment shops
Auction houses
Online.
Favorite sources are
Chairish
Viyet, (OMG, please ignore their home page!!! Bitter irony!)
and I love 1st Dibs too but find them quite pricey.
I found this unusual French neo-classical (Louis XVI) beauty at Chairish. (sorry, it's sold)
Oh, and it is not Louis 16. (Thanks to our dear Cynthia Lambert, a bonafide expert for pointing that out!) It is actually Directoire which is the period after L16. The corresponding period in England is Regency.
And a Louis XIII early baroque settee from 1st Dibs.
So, how do you keep all of the Louis straight?
You don't. haha.
But, I have some tips. ;]
Louis XIII was a boy when he became king. The furniture at the time was late Renaissance going into the Baroque era and had Dutch and Flemish influence. I have no idea what is going on here unless those two lasses are trying to straighten him out. ;] Louis XIII was Louis XIV's daddy.
Big dif between 13 and 14. I have a soft spot in my heart for 14 because the roots of the art of classical ballet* began with him. And no wonder. He had a great, sexy pair of legs and such tiny, delicate feet! Mon Dieu! Très belle quatrième position! Je suis amoreux!
Excusez-moi! The sight of Louis XIV brings out the French in me! :]
This was the era of baroque furniture and you know the saying, "If it ain't baroque… don't…" sorry.
A fine example of a heavily decorated and gilded Baroque era fateuil (arm-chair with open arms)
Louis XV is associated with the Rococo period in design. Still ornate, but not as much.
Another lovely pair of gams! And notice those shoes!  They remind me of pointe shoes!
For all of you balletomanes out there. I am obsessed with this incredibly lovely young, Russian ballerina not yet out of the Vaganova Ballet Academy.
Remember this name. Maria Khoreva. She's the real deal!
Here's a short clip of her dancing a few months ago.
Louis XV Bergeres (closed arm chair) had less frou-frou but lots of curves.
But these curves are based on organic forms and are in scale with the piece.
Louis XVI – The classical King who unfortunately faced a barbaric end.
But, design-wise, 16 gets my vote as he's the one associated with the neo-classical period which is my favorite. Straight legs. Les ornamentation. Painted.
Below, a contemporary interpretation of the neo-classical style in a settee.
Louis XVI style settee by Bling Home
So, what is the answer?
Did you forget the question?
haha. me too.
oh yeah
How do you recognize classic furniture and figure out what you really love?
I think that the answer lies in Education + self-reflection
Do you have to take a formal course?
Well, you could. Most interior design schools have a course on historical styles. But you can also teach yourself.
You could get a book.
Here are a couple of terrific books.
The Elements Of Style
Here is a more complete list of French Furniture Styles
As for self-reflection…
This one is more difficult. But you need to ask yourself.
What do I REALLY love?
Forget about the hottest trends coming out of XYZ market.
We already know that those are designed to benefit the manufacturers who want you to buy their furniture. They are doing everything in their power to trick you.
Are you still confused about classic furniture?
Well, just about every designer I link to in this blog is classically based. There are three posts that hi-light my top 20. (as of that writing). But it's a great list. You can see them here, here and here.
The last thing to remember is that classical furniture does not necessarily mean "traditional furniture."
Most of what is deemed to be "traditional" is anything but, in any case. It's not traditional or contemporary, or modern, or country. It's made up drek, IMO.
Bottom line. Look for good, pleasing proportions and lines. I don't care if it's being touted as the hottest design trend of 2018.
If it looks weird to you, in any way. Believe yourself. It's weird.
*only 6 more days until I leave for the YES, CLASSICAL ARCHITECTURAL TOUR (with classic furniture) IN ENGLAND !!!
And OH! I have my Via Spiga Trenchcoat!!! I got the medium and it's perfect!!! Thank you all so much for your sage advice and encouragement.
Calm down!!! lol It is not this light. It is the classic khaki color, but the shape is just like this and it is the single breasted version. Very smart. I found it on Amazon!
Oh, and I splurged (but it is on sale) on this orange Michael Kors handbag. I found it at Lord & Taylor. It came today too and it is GORGEOUS! And the perfect size. The leather is very soft, and of excellent quality.
And the blog will keep rolling while I'm away. A week from today will be a special post I think that you guys will enjoy because it requires a lot of participation. (if you want).
And the following Sunday, I'll be sharing some hi-lights of the trip.
xo,