This is a post that I've been wanting to do for a while.
We're still on green, but these greens aren't vavoom greens or saturated greens. They are very subtle greens. In fact, except for one, none of them are called "green." Most of them are called "gray." And while they all certainly have gray in them, when up on the wall, most of them are unmistakably green.
And these are the most calming soothing greens of them all!
I thought… piece of cake. I'll just rattle this post off in no-time. (no-time is about 5 hours). Noooo, nothing like that. And no. I'm not going to tell you how long it took me to produce this post because you'll think that I'm some kind of nut-job.
Today's green paints are brought to you by Benjamin Moore who is not paying me to endorse them. (I wish!)
Let's begin with the color that says "green" which really looks like a warm brown. However, up on the wall, the green undertones begin to pop out.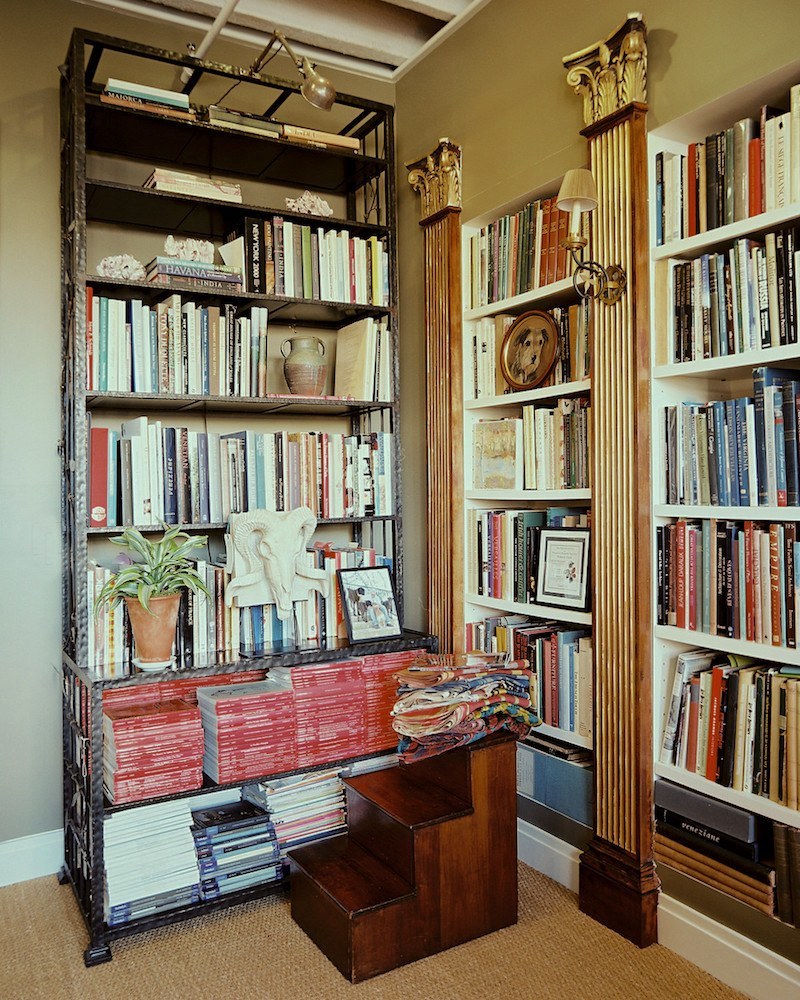 CLEVELAND GREEN 1525
I'm going to be honest. I've never used this color and quite frankly, when I look at this color it doesn't do much for me.
However…
This just happens to be one of Bunny Williams' favorite colors. The room above is her office and her library is also painted this color. I would describe it as a toasty golden brown with gray-green undertones. Bunny says that it's a fabulous backdrop for art and she loves pairing it with turquoise and other bright shades. Therefore, I am going to trust her that this color is much more than meets the eye!
Hold on…
This is from another page I saved. Mine looks like something the dog dragged in, but I found this one online.
And there's Bunny's magnificent lamp that I saw at Lee Jofa a few months ago
520 SPRING BUD
This is from my old home. Our small north-west facing den, with a huge hill blocking even the sunset. The color it ended up being was me mixing about 4 cans of left over paint. haha! However, it is almost identical to spring bud. This color, I have used a few times. You'd probably run right past it on the fan deck, but up, it's the prettiest pale celery green. It has just enough gray and brown to keep it from looking minty and sickly.
RAINFOREST DEW  2146-50
If you can't decide what to paint your room and you want it to always be uplifting, you cannot go wrong with this color. It isn't yellow and it isn't green. It's a soft whisper of chartreuse and very easy on the eyes. By the way, a fabulous room by the brilliant designer Cathy Kincaid
RICHMOND GRAY HC-96
Another exquisite Cathy Kincaid room. I've used richmond gray a few times. It's a rich khaki-green that looks wonderful with wood tones.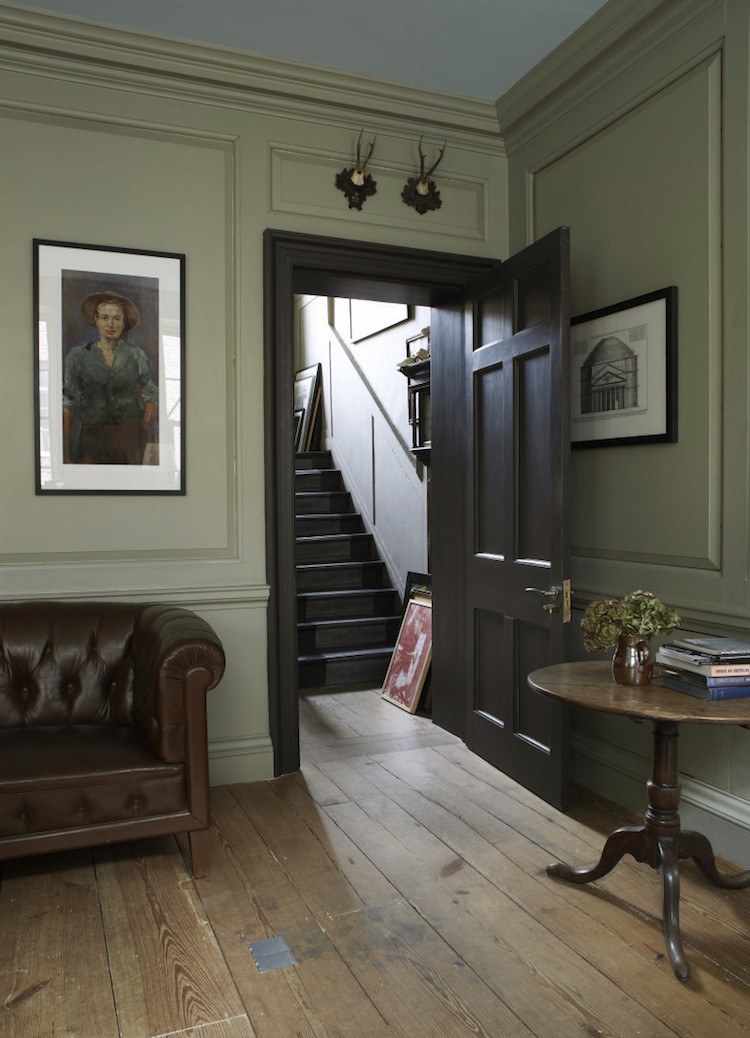 NANTUCKET GRAY HC-111
Alright. I cheated. This image is from Farrow and Ball for their French Gray. That's a nice color too. But since Benjamin Moore has sooooooo many of these colors, I thought I would stick with them.
Below is another image I found using Nantucket Gray.
Catalano Architects
I have to let you in on a little secret.
(Just between us, okay?)
At least half the colors I specify are HC – the Historical Colors from Benjamin Moore. There are only 174 of them and most of them are wonderful!
Image from Ralph Lauren Home
I saw Nantucket Gray in someone's kitchen about 15 years ago. I think it was a friend of my son. It's a great color and definitely goes up greener than it looks on the chip.
Peter Zimmerman Architects
GRAY MIRAGE 2142-50
This is a classic sage that has a good amount of gray in it. Light greens can easily go minty, icy and hospital-ly. They need some brown and/or gray to be rich. So, if it looks kind of muddy on the chip, it's probably going to be glorious on the wall. But again, please test your paints!
Fabulous bedroom by McAlpine Booth and Ferrier. Anyone else notice that the painting seems to be stuck onto the face of the mantel? lol It definitely makes the room, but can't quite figure out what's going on there. Photoshop? If you want to see more of the wonderful (aka: badass) :]  Bobby Mcalpine / Tankersley / Booth / Ferrier it's all there in the link.
via: Benjamin Moore
DESERT TWILIGHT 2137-50
I used this color 10 years ago (I can't believe that it's been that long!) for the same client with the carpeting debacle,  but 8 years later and another home. I do have a photo that was in Westchester Magazine, but the colors are so off, it's pointless. This color is way cool, however. On some walls it looks gray and others it looks green and sometimes it looks more bronze. It's very, very handsome and looks great with art and wood tones.
Above and below by Amy Morris
I have another secret about green paints. (that don't scream GREEN!)

There are a lot of these types of colors in the Historical section (HC) of the Benjamin Moore fan decks.They proliferate between HC-79 through HC-108. The colors I've used and liked in this range, include:
CROWN POINT SAND HC-90
DANVILLE TAN HC 91
CARRINGTON BEIGE HC 93
ABINGDON PUTTY HC 99
COPELY GRAY HC 106
Well, I'm pretty greened out paint-wise, but the trees ARE starting to bud, the forsythia is in bloom. Better stock up on some allergy meds!
xo,