Do you watch HGTV? I do. Mindless entertainment and better than a martini. However, time after time, I hear the same false information. I sit here muttering to myself… Are they f-word kidding me? And then, I remember what the deal really is…
HGTV EXISTS SOLELY FOR ENTERTAINMENT PURPOSES

The problem is… Some of you actually believe that what you are hearing (and seeing) is something you need to know and adhere to. But I bet for a lot of you, there is some still small voice that is saying, "really? It must be me. After-all, this is HGTV and they wouldn't mislead me? Would they? Those cute property brothers (who never lose a sale) and that couple that's not really married but everyone thinks they are because they are always bickering non-stop about whether their clients are going to Love it or List it?" (like does anyone really care?)
I'm going to tell it to you straight. HGTV is like a really good tranquilizer without any side effects; well, maybe some mild nausea on occasion.
Okay wait. no. There was this one time… that my blood pressure went through the roof. In fact, I was so incensed that I had to write the producer about this absolutely Dreadful [infuriating] kitchen they put in. Here's what they did. They took a really cute vintage kitchen with a charming vintage stove…
All it needed was a perky paint color and a vintage school-house pendant light, white subway tile backsplash…and for f sake. DO THE DISHES! Oh, and some anaglypta (embossed) wallpaper on the ceiling to make it look like a tin ceiling. and some cool vintage accessories.
but no… nothing like that. This is what they did to it, to make it better?
yuck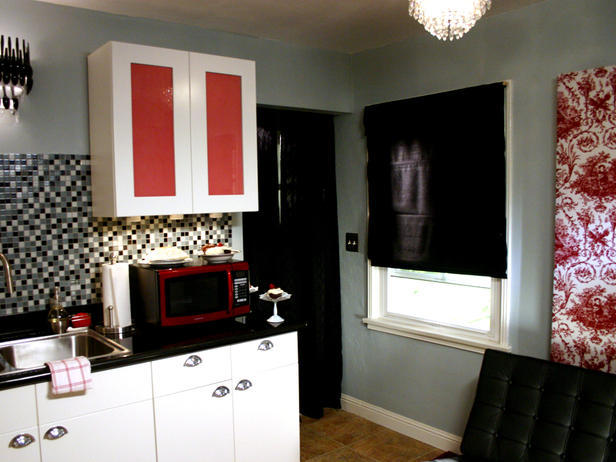 and even yuckier
What's with those cabinets with the weird plastic red panels just stuck on the wall? (probably literally) A black Roman Shade and curtain. Huh??? Dizzying back splash. It positively reverberated on TV; some weird pseudo-French cheap-looking toile fabric [on sale at JoAnn's I guess] hung for no apparent reason. And for an additional dash of the bizarre… a Mies Van Der Rohe repro Barcelona chair.  Everything but the kitchen sink. literally. (you can't see the kitschy wall decor) And to boot, you can't even get into the room without killing yourself tripping over that big Barcelona chair! This is a TINY kitchen!
Are they barking mad? I remember the clients trying to look thrilled with the results. I'm sure that they wanted to choke that overly perky "designer."
*more about that later
***
Here are 12 half-truths, misconceptions and out-and-out lies that HGTV wants us to believe (and then, the truth.)
Everyone loves and wants "OPEN CONCEPT" LIVING.
Folks, I've been in this business for nearly 25 years… and not once in that time has anyone ever asked me for an open concept floor plan. People generally want light and airy living spaces. They want their small rooms to feel larger and their large rooms to feel cozier, but no one wants to live in only one room. Yes, some of us do have great rooms that open up to the kitchen, but most homes have some separation. In fact, more commonly, we actually need to make MORE separation by making some overly large openings SMALLER!
Everyone loves granite counter tops.
Truth. I can't tell you how many of my clients sheepishly confess to me that they HATE granite. Well, me too! Most of it is hideous. We love marble, [yes it's porous, however you can seal it!], oiled soapstone and quartz. No need to have some closet hatred of the speckled often barfy colored stone. Shout it out from the rafters.
GRANITE SUCKS!!!
Don't you feel better now? You knew it all along, but were simply afraid to swim against the HGTV nasal grraaaannnite tide.
Everyone wants mixed stone and glass tile in this weirdly elongated psychotic brick pattern
I'm trying to imagine how that all got started. Hmmmm… the (stoned) stone mason didn't order enough. They discontinued the color. Shite! Oh, I have an idea… let's take some of this stuff they have on close-out and mix it in… cool…
Everyone wants a matched set of "stainless steel" appliances.
The range yes. Everything else can be clad in wood paneling. We also like white appliances and in some instances, black works. The appliances don't have to be stainless steel
Everyone wants dark stained kitchen cabinets
no. Painted cabinets are still the most popular around these parts. Look in all of the high-end shelter magazines. You will not see this look. ever.
Almost every room can benefit from a "feature wall" or "accent wall" painted a different color
We've already been through this travesty.
You can read about that on this post about hideous mistakes that people make. Most rooms are not enhanced by an accent wall. Some are, but only in specific circumstances.
Dark walls make a room look smaller
NO! they make the room look LARGER, albeit darker. Dark colors make the walls recede, just like black pants make your legs recede.
You can renovate a kitchen, living and dining area in only six weeks.
Six to nine months— minimum!
Every woman has a vast shoe collection and needs a closet larger than many apartments in Tokyo
I like shoes, but they don't like me and I know that I'm not alone. Most of my clothes are the folding kind. I have a very tiny clothes closet and it is plenty adequate.
Everyone ENTERTAINS  like crazy and needs a large open concept room and yard to accommodate that.
I get the ears!
Truth. None of my friends ever entertain at home. We always go out. always. always. always. When my kids were little, there were very few people who even dared to enter our home. (can't say I blame them) Then, when the kids got old enough so that we could finally let them out in public, their friends started arriving with electric guitars and basses. This was to hook up with the drum set just below the kitchen table. Kinda hard to have an intimate adult dinner party when there's Nirvana covers blaring from the basement and a steady stream of 16-yr-olds coming in for the show. That is real life.
You can fix your place up for resale with 2 thousand dollars
Truth. You can't do jack with only 2 thousand dollars. Most people need to spend a minimum of 20k on their homes before selling. We did and we got every penny back and then some and we had a buyer within one week of going on the market.
Everyone is ecstatically happy with the results.
Before I close. There ARE some fabulous designers on HGTV but not this one. Fortunately, they finally pulled his quack show.
It might've been after he did this.
who me?
xo,

PS: If you enjoyed this post, please share it with your peeps on FB, Twitter, Pinterest, +++ or wherever you like to hang out
PSS: Forgive my crass advertising– below. :] However, please scroll back up and subscribe to the Laurel Home Blog – if you haven't already so that you'll never miss a post and you'll also get in on all of the private stuff available only to subscribers. And please be assured that I will never share your address with anyone!]
***
Save
Save
Save
Save
Save
Save