Occasionally, in the summer months, the thought of the Christmas Season will cross my mind and it will actually feel repulsive. Foreign. Weird.
Like the duck in the movie, Babe who keeps yelling – CHRISTMAS MEANS CARNAGE!!! for me, Christmas means the beginning of three months of freezing my arse and getting my faced slapped by what feels like thousands of stinging needles… Car stuck. Stuck inside. There's usually at least one really nasty cold in there too. The only thing good about winter is how euphoric I feel when I see that first sign of spring yellow-green!
However, something happens come December 1st. I fall prey to the magic of the season. It's a quick affair of the heart for it ends quickly in January. Don't want to see another Christmas decoration, except for the little white lights. Those can stay up until the time changes in March.
Therefore, as my gift to you please enjoy the magic of the season with some of the best Christmas Decorations never seen before on laurel home.
Skona Hem
This reminds me of the many homes when I used to live in Northern Westchester and in the neighboring New England communities of Connecticut.
Beautiful and enchanting, isn't it?
Alright. Sorry, but I need to take a little detour.
I've driven past thousands of homes like this. Obviously, the people inside don't have a care in the world. Their children are perfect and their spouses are always loving and faithful. Right?
Oh, stop rolling your eyes! You're going to hurt yourself and I don't want to be responsible!
For those of you who live in cold-winter areas, just join along in song.
You know the tune.
Fa La, La, La Laaaaaaahhhh…
For those of you and I know you're out there, who've never actually SEEN snow, and bitter cold, much less lived with it, I bet you think this is how it is—The cozy home where everyone is living a blissful, perfect life while the earth is covered in a blanket of soft, fluffy yumminess.
Sure.
For about 10 minutes.
Cause peeps still have to get around and it's quite slippery. duhhh… So… they send out plows who spread this stuff all over it to melt it (a little) and make it less slippery. That doesn't stop people from driving like maniacs, however. Nope.
The Evil Snowplow Man
They used to just use salt on the roads and sidewalks.
But not any longer.
Now we are treated to something that is a combination of salt, sand, black dirt, tiny pebbles and when it gets dumped on the pretty white snow becomes…
SNIRT
City, country, no matter. They throw that shit everywhere. It covers everything and gets tracked into our homes. There's a reason why they are called MUD ROOMS! Right?
Snow is only beautiful if you own a ski resort or if you're a kid and they close school.
Otherwise, it sucks.
Still don't believe me? (Northerners, please go ahead and keep singing)
Here ya go. Here's where my car was parked last March 6th.
It's one of these.
Sure, go ahead and laugh.
(BTW, I'm #2 for a spot in the garage!)
Spring refused to arrive.
At the end of March it was still here.
The "snow."
I took some shots one day around my neighborhood in the tony town of Bronxville, NY.
Yes, my friends, that big black thing that looks like a giant chunk of coal or petrified dinosaur dung is SNOW!
See the Audi SUV? There's bucks in this town, but not enough bucks to cart that crap away, apparently! And yes, ironically piled in front of the soccer shop!
Pretty, ain't it?
Nuclear Winter?
NO, IT'S WHAT THE SNOW AND NEKED TREES LOOK LIKE AT THE END OF A VERY LONG COOOOOOOOLD, SNOT-FREEZING WINTER!
That's my building down yonder–
Butttt, it's supposed to be 60+ degrees on Christmas Day! (like 16 degrees celsius)
Laurel???
Yes?
Is this our Christmas present getting to hear you bitch and moan about the snow/snirt/snot?
No, silly! But I felt it important to keep the magic grounded in a little reality.
Hey, some folks are crying that it's going to be in the low 60's on Christmas Day!
Alright. 'nuff said about that! (for now). :] I'm sure I grumble about the same thing every year.
Bah Snowbug!
We now return to our regularly scheduled program, The Best Christmas Decorations – 2015
Beginning gently with a shot of a job in progress here in Bronxville. Lovely clients! And a beautiful old home. You may recall a mood board I did a few weeks ago which will give an idea of what we're doing here. The wonderful  Thomas O'Brien unlacquered brass sconce is from Circa Lighting
Wall color is the number one white paint color!
And for good reason! We painted both the dining room and living room this color, walls and trim. I've been there on sunny days, cloudy days, morning, noon and late afternoon. And it always looks wonderful!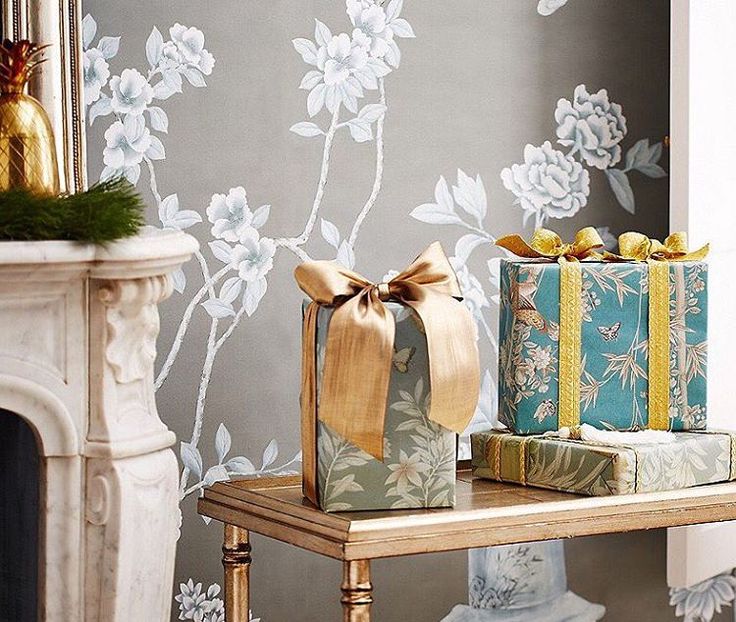 One King's Lane on Instagram
French Country Cottage
Who doesn't love a flocked Christmas tree and I love that this one is blessedly unadorned except for the lights. This is by the lovely and talented Courtney Allison one of the delightful designer/bloggers on the High Point Market Design Bloggers Tour.
Charming, charming blog and shop. I adore the colors here. Bailey McCarthy, owner of the charming shop, Biscuit Home said that she thinks the wall color is Benjamin Moore JAMESTOWN BLUE HC-148
And Jamestown Blue is one of the 144 colors in the Laurel Home Essential Paint Color Collection which is sold with the coordinating Paint Palette and Home Furnishings Collection.
To find out more about that, click here.
Above and below from Mecox Gardens Instagram
Love all of their vignettes and shops!
Carolyne always does the most elegant vignettes.
David Fuller
I am positive this amazing animal is the reincarnation of Winston Churchill. One of my favorite photos—ever. David is one of the most talented people I know. A true renaissance man!
Aerin Lauder
Everything she touches turns to gold. Some people just have "it." And it has little to do with her pedigree. Sure, it opened some doors, but for them to stay open means something.
Portavideki
Portavideki
Portavideki
Portavideki
Portavideki

Pretty amazing stuff.
Skona Hem
Sometimes, the snow does look like this. Magical. But like most magic, well… it doesn't last very long.
Here's wishing everyone the most joyous, warm holiday season!
xo,