So, this is the post I was supposed to have for you on Tuesday/Wednesday, but that didn't happen.
I began it last Sunday 30,000 feet up in the air, on my way to San Diego.
However, my regulation Apple Macbook charger was so loose in the bloated socket that the only way it would stay IN the outlet was if I bent over and held it in place. haha.
I'm so glad so many of you have been enjoying the last two color posts, before the loft renovation in San Diego post.
Both are a heavy reworking of posts from SIX years ago! You can see the monochromatic color scheme post here.
And, the analogous color scheme post here.
I featured a lot of rooms by one of my all-time favorite interior designers, Mark D. Sikes.
And, in my post, I said that his rooms are like a text book in how to decorate a room.
And, then we got this comment from Val.
I'd love to read about warm and cool mix. I'm so interested, can't wait. Mark D. Sikes is so nuanced. He is the professor of color and subtle patterns. And, timeless and serene, layers etc. I will never tire of reading about his decorating tricks and formulas.
He is so great that I never can deconstruct his work by easy digestible chunks of tricks alone on my own. Only a strong decorator can do this.
Thank you Laurel. I vote all day for your blog.
***
Well, thank you so much Val, a frequent contributor to the comments. I so appreciate your support.
So, let's get back to the idea of deconstructing the gorgeous work of Mark D. Sikes.
First of all, the very notion is audaciously presumptuous.
But, hey! When did that ever stop me? lol
And, if Mark happens to see this, I do hope that he is flattered rather than offended. I adore his work and wish I had the same ability, but I don't.
However, Mark's a designer for the top 1% and maybe even the top 1% of the top 1%.
In other words, he's out of reach for the vast majority of us.
BUT, his rooms are soooo pretty; so beautifully executed.
And, so with a quickly waning battery on my five + year old macbook– [ that really needs to be replaced because my zero/parenthesis key doesn't work half the time. And, the i key is beginning to stick, too!]
I am going to attempt to break down the elements that appear in many of his rooms, so that you can have something of a formula from which to work with.
Well, that's the goal. Strictly speaking, I should have about 40 hours to complete that task. But, hopefully, we'll make some headway.
In the meantime, there are two posts from a while back where I do break down his work with furniture.
The first post is how to get the MDS look for less money
And, shortly thereafter, I tackled that beautiful outdoor patio space we all adore.
However, most of the furniture in those posts from 2017 don't exist any longer. Welcome to my world.
For this post, we're going to examine some of my favorite Mark D. Sikes rooms so that we can recreate the look on our own.
And, before I go on… Mark's work like most designers is ever-evolving. And, in no way am I intimating that it's as easy as plugging in some coordinates and voila, it'll look like Mark, himself did our room.
But, there are many elements that Mark Sikes frequently uses.
Hollye Jacobs Residence in Santa Barbara, CA for Santa Barbara Magazine feature
Mark almost always mixes stripes. Here, we have a pinstripe on the walls and a variegated stripe on the chair.
Learn how to mix patterns here.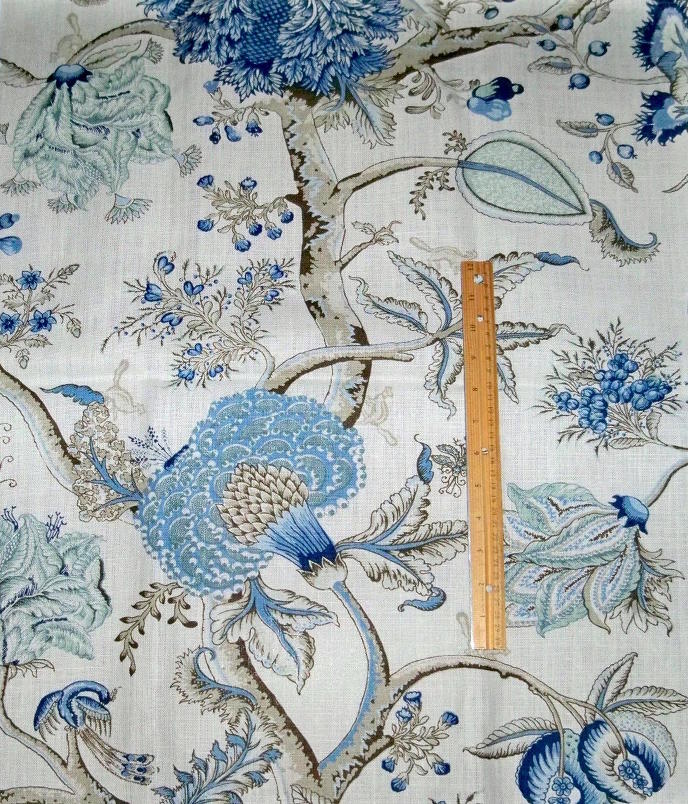 The sofa is out of Scalamandre's Pondicherry Linen print in Delft
However, Mark's blue and white rooms never feel cold. That's because he balances out the blue with plenty of white and warm tones.
Mark's living room. But, I believe that he sold this home.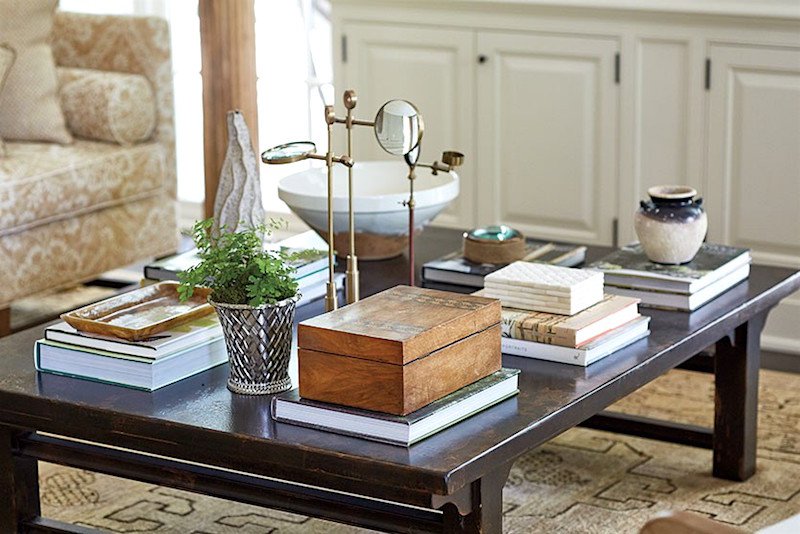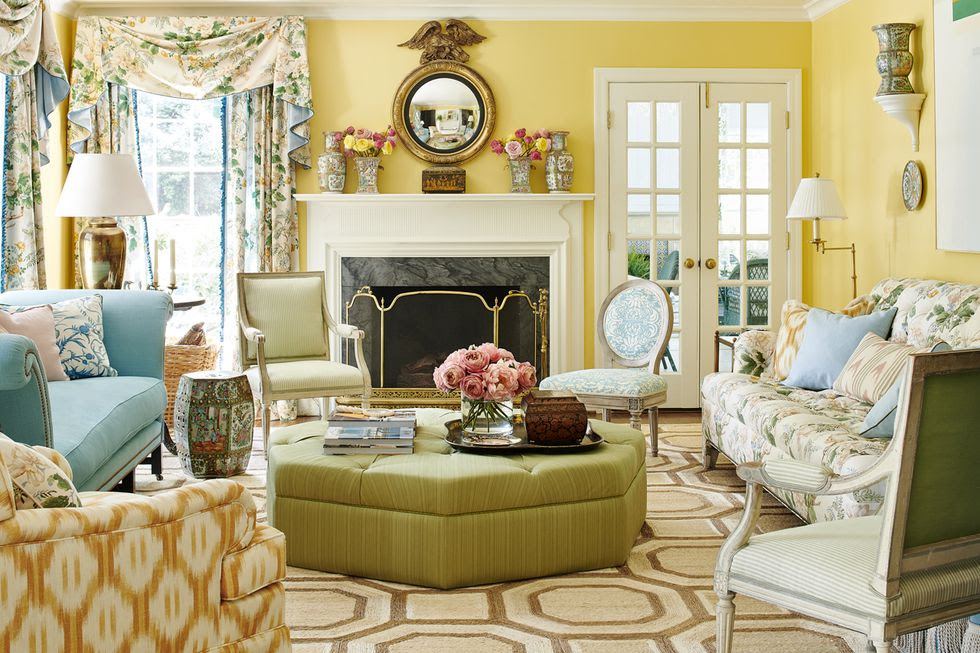 Mark does do colorful rooms, sometimes.
He also uses lots of whites and creams
And, gold accents
He's a master of symmetry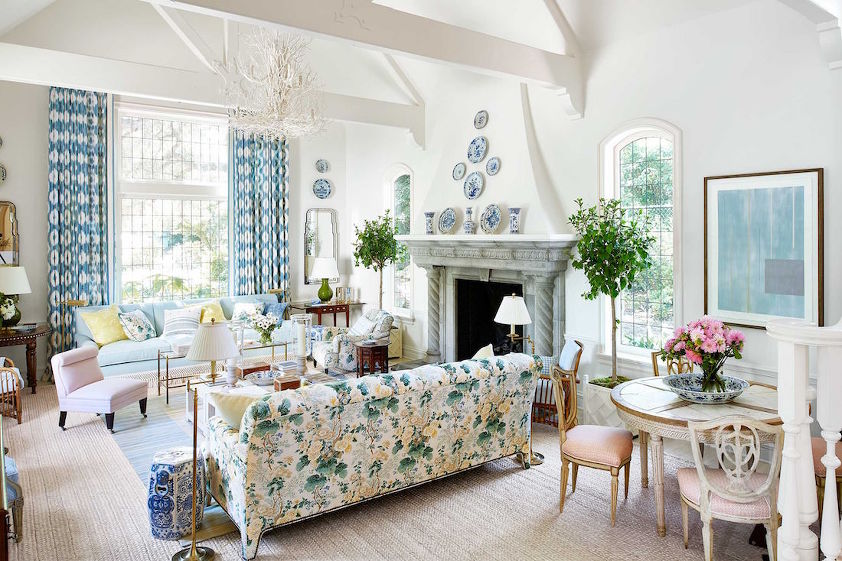 He achieves tension in spaces by adding in small amounts of a color that is unexpected.
The rooms are beautifully styled. And, the elements are layered.
There's a variety of texture from shiny to nubby.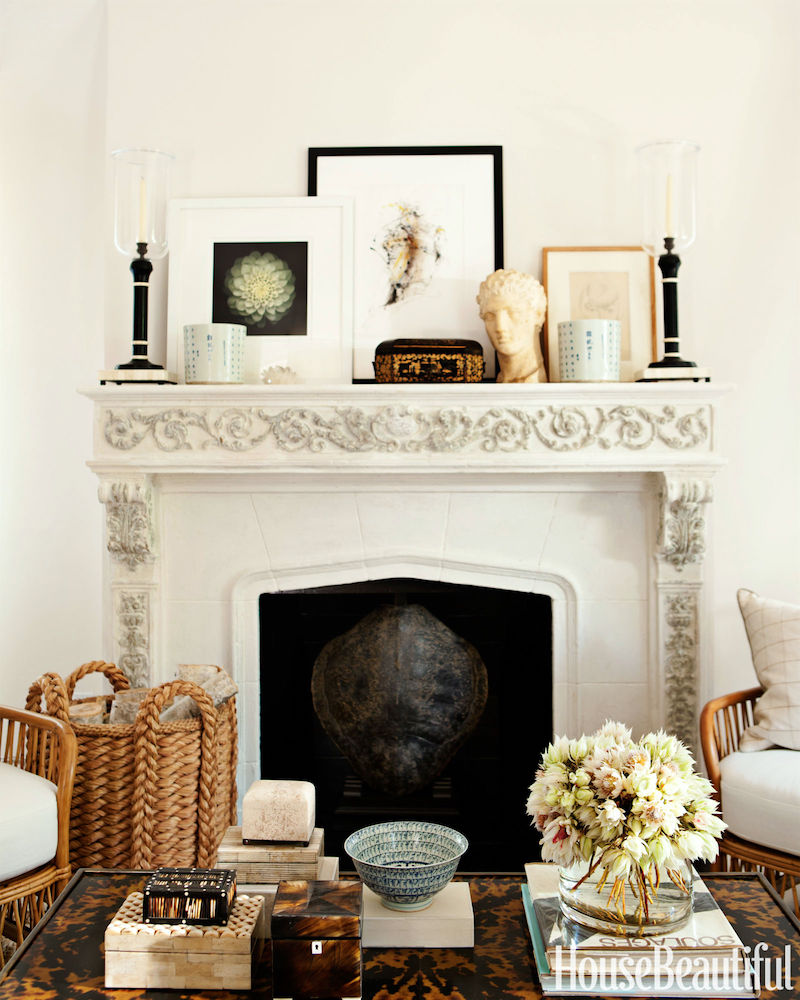 Mark loves large woven baskets
He uses lots of decorative art prints
And he likes large-ish abstract art.
Most rooms have one or a pair of mirrors
His furniture is all beautifully scaled.
So, where do we begin to deconstruct a Mark D. Sikes room?
Let's begin with the ground up.
Most of Mark's rooms have hard-wood floors in either a fairly light to medium stain.
He frequently layers his rugs.
And, almost always begin with a natural fiber rug.
He uses different weaves, but typically uses a jute rug. But, sometimes sisal or seagrass. These natural fiber rugs are not expensive. In addition, they're completely timeless. You can't ever go wrong.
Sometimes he uses the natural fiber rug alone, but usually it is layered with either a hand-knotted Oriental or a flat-weave rug with a striped pattern.
Of course, there are exceptions to this.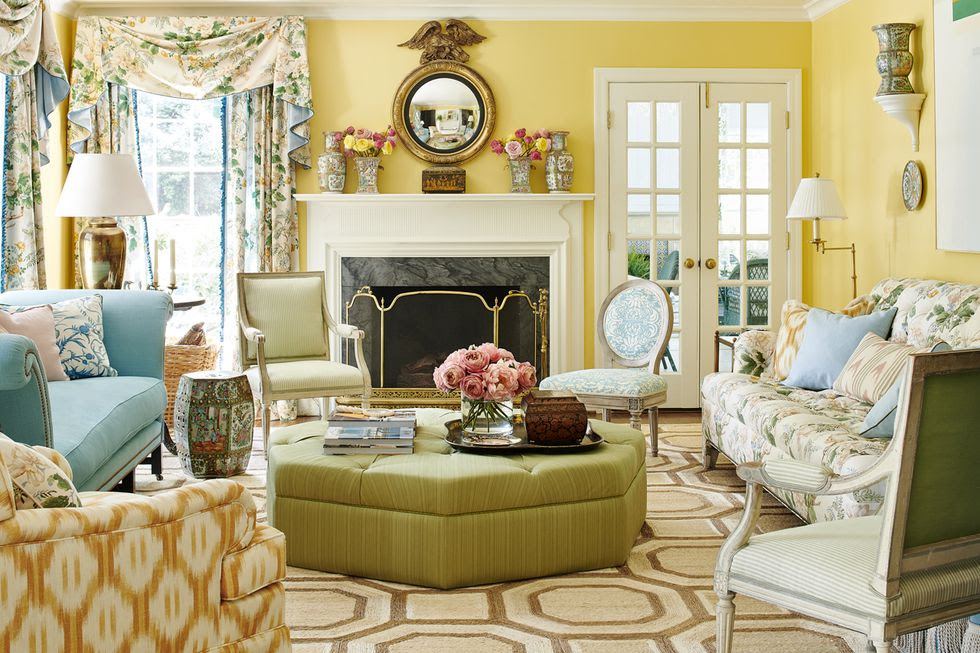 This is still a natural fiber rug, just with a more pronounced geometric pattern. The room also has more color than most of his rooms. However, it is the epitome of the young-traditional look in that there's a relaxed formality.
Another view of Mark's living room
Beautiful window treatments and pillows by Lynn Chalk
Above is the same fabric that Mark used on his chairs. It's one of my favorites as well. It's Quadrille's Veneto. This is a different colorway.
It's the same fabric I used in this room.
Mark uses this handsome hunky table in a lot of his rooms. I believe that it's manufactured by Henredon like Mark's other furniture. I'm not sure what's going on, but they don't seem to be stocking it right now. There's a note on Mark's website that if interested, you can contact them. I put that info in the link above.
A Chinoiserie cabinet by Henredon that anchors many of Mark D. Sikes' rooms.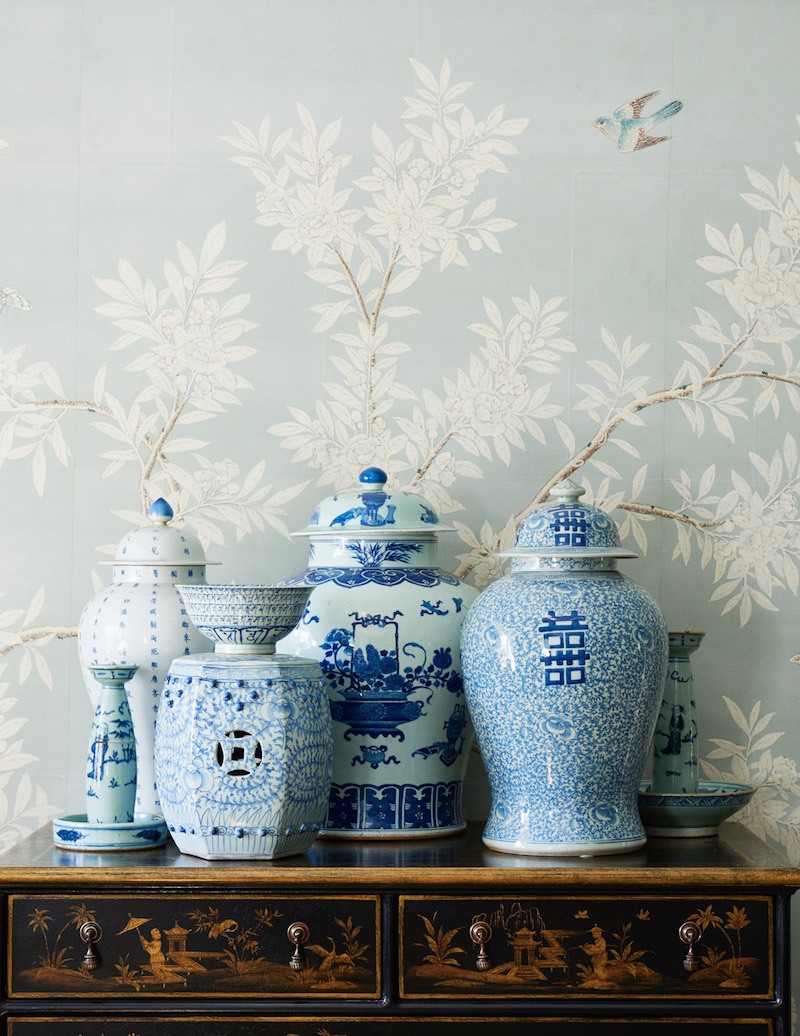 Classic Chinoiserie vignette. The wallpaper is by Gracie, another favorite source. If that's not in your budget and you love the look, please check out this post featuring numerous Chinoiserie panels.
This is another favorite post featuring Chinoiserie mixed with Swedish Gustavian.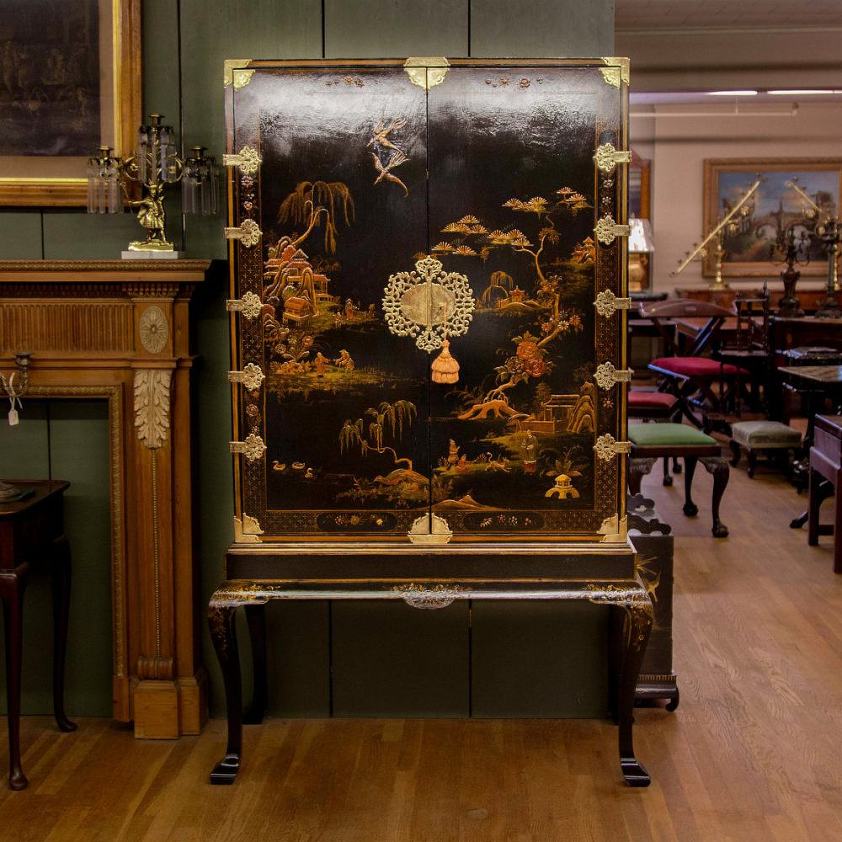 Beautiful Antique Chinoiserie Cabinet – The Parson's Pleasure on Etsy
I love all of Mark's bedrooms. Speaking of bedrooms, the Serena and Lily bed and linens sale is almost over. Great savings on all of their linens and beautiful beds!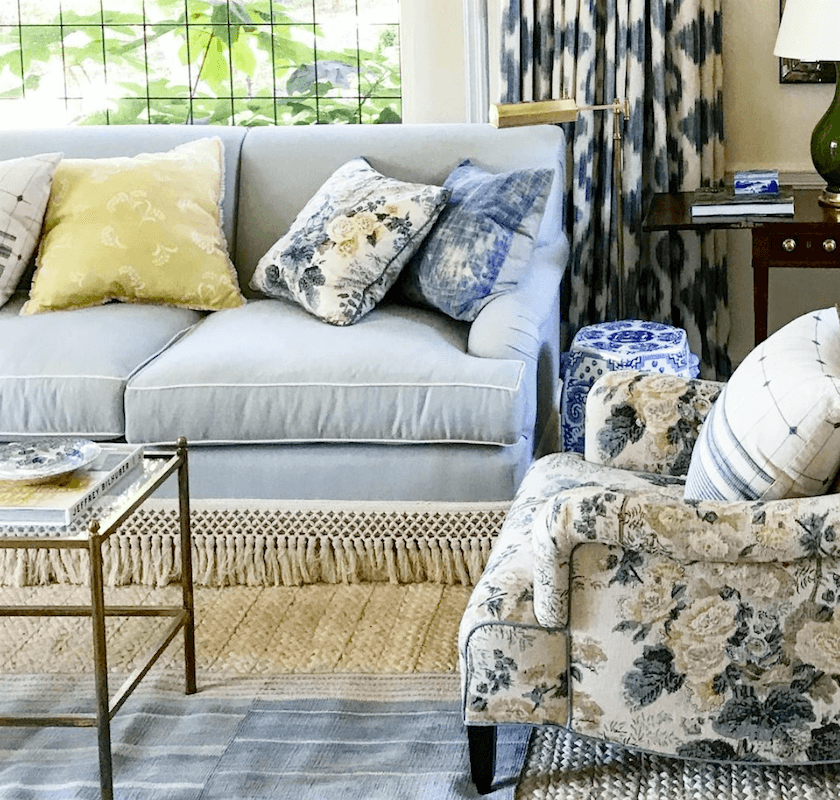 A detail shot of the room near the top of the post.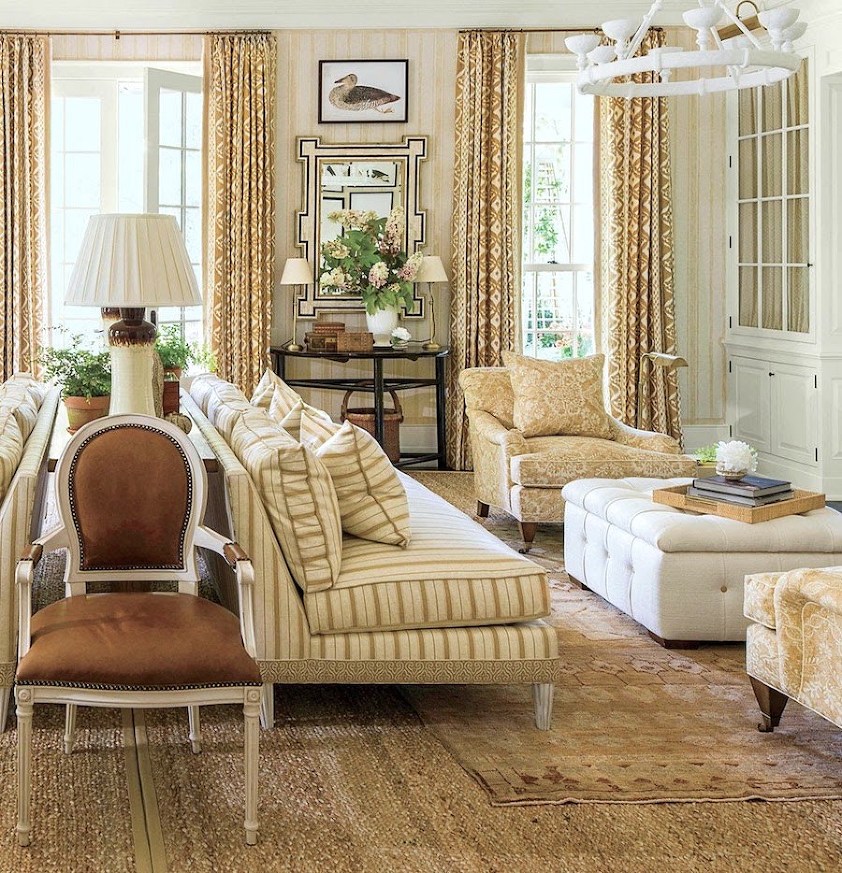 Above, a beautiful monochromatic living room that Mark did a few years ago for the Southern Living Idea House.
Mark uses these sources for the bulk of his fabrics.
The last three sources can be found retail, at Decorator's Best.
I just saw that they're having a 10% off sale on almost everything. That's very good.
This room looks like it could've been done by Mark but it's by Sarah Bartholomew.
If you scroll back up, you'll see a lot of similarities with the styling. I don't know. Maybe they used the same stylist. haha.
Below I created a widget with over 80 items one might find in a Mark D. Sikes room. Of course, this is only a sampling.

I hope that you enjoyed this post.
Did we come up with a formula to a Mark D. Sikes room?
Well, no, not exactly. However, I always feel that if we study someone's work long enough, the essence of it will rub off. Mark was influenced by designers before him. The greats like Bunny Williams, John Rosselli, Albert Hadley and Furlow Gatewood are a few who's designs I can see in Mark's work.
And yet Mark D. Sikes has interpreted what he learned and made it his own.
I think that we can do that too.
Or, if we're lucky enough, we could hire him to help us create an exquisite home.
I would definitely hire him!
Thank you again for your time and support.
You guys are the best!
xo,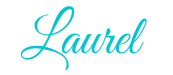 PS: Please check out the newly updated hot sales. Many new things to see this weekend!