Oh Laurel,
Well, I'm on my second marriage and it's already not going so well.
And can you guess? We just had a huge fight over his big black sofa.
It's this big tufted thing and actually, it's technically brown, but the room is already so dim, it looks like a black sofa.
He said that he endured years of flowers and bows with his first wife, and after she tragically passed away 5 years ago, he decided to make the place a lot more masculine.
It's just not what I would've wanted and the room isn't terribly large. Oh right. That's the other thing. He said that they struggled for a full hour to get the damned thing in the house. They had to saw off the legs and then a furniture repair guy had to come and secure them back on.

"the black sofa stays!"
That's what he said.
We're actually in Maui now on our honeymoon and he went to play a few rounds of tennis to calm down. I guess I need to calm down too. I really do love him. Geeezzz, it's just a sofa!
But, I want a light, bright living room. So, what can we do to lighten it up?
Oh wait. Forgot to mention the walls. He chose a color that I can only describe as Noxema foundation– errr.. Cover Girl. Am I dating myself, or what?
And hold on. I found an image of the sofa on the internet– at Wayfair.
It's from a place called "Hooker." Is that really the name of a furniture company? lol
Hope that you can turn this into a blog post.
Thank you,
Terri Slutsky
**********
hmmmm… That's not a bad sofa. AAMOF, I actually like it a lot! Sure, it's big and dark but that is a classic Chesterfield Sofa. I did one very similar to that one for a client about 5 years ago.
When I first heard "husband's big black sofa," it conjured up YEARS of seeing one version or another of this sofa.
The Big Black Sofa or bachelor sofa as I not-so-fondly referred to it. I can't tell you how many young clients have had this sofa, but it was a lot of them.
In my initial interview with my prospective clients I would always hold my breath for a few waiting to hear.
"Can't wait to get rid of this thing!"
And this one isn't even the worst one I've seen.
And some of these recliners are quite awful too.
But this very dark sofa is a classic with a slight twist in the arm detailing.
The question is, however…
Can you lighten up a black sofa?
Well, you can as long as you balance out that big dark mass.
And that means that there must be other dark things.
But often, it is best to do a deeper color on the wall because then the sofa won't stand out as much. Some of you might remember this beautiful living room from a reader a while back. She was worried when she first got the sofa, but when she moved things around a little and created crisp black and white art, it pulled the entire room together beautifully.
Let's begin with a more neutral space to see how that might look with a dark or black sofa.
The room could take on a more classic contemporary feel with some traditional accents like this beauty from Williams Sonoma Home.
Oh, just have to tell you that they are having a 20% off sale on their entire site for a few days with code: FRIENDS
The walls here appear to be grass cloth, but if painted, perhaps a medium darkish shade like Benjamin Moore Chelsea Gray would fit the bill. There are several deep neutrals in the Laurel Home Paint Collection of 144 colors that also comes with dozens of palettes and much more.
Don't forget that this product as well as Laurel's Rolodex are going up in price on Monday November 13th at 11:59PM EST.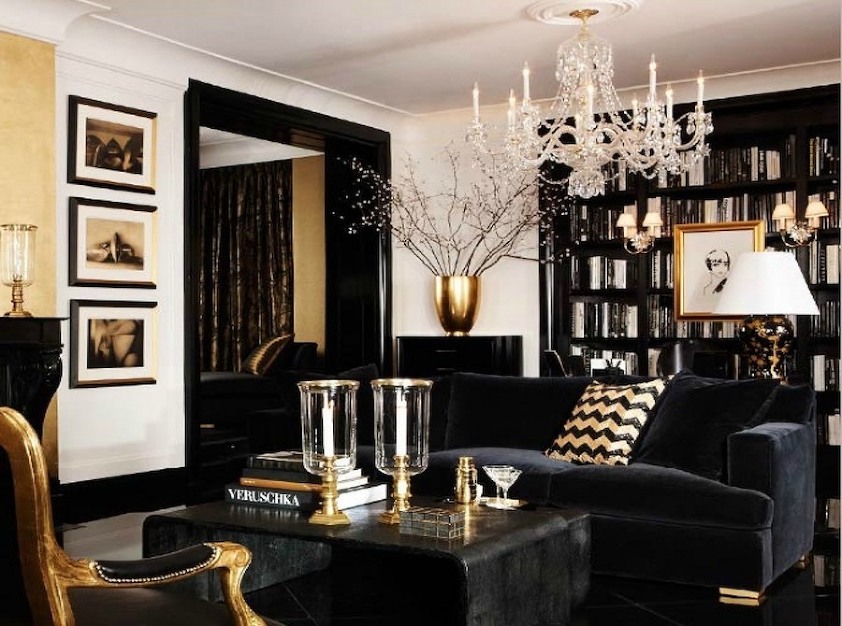 Ralph Lauren did a striking black and white room that feels very elegant. It's probably a little too elegant for the leather sofa, but if scaled back a little could also work.
This room has a combo of gold and white walls. If doing white walls, then there needs to be some hunky art with some black frames. Or at least some of the frames in black.
A designer to check out is Heidi Woodman who uses a lot of black in her designs and beautifully too. I think that her balance of light to dark in this space is absolutely perfect.
Below is a widget I've created that gives some ideas for furnishings to go with the dark brown or black sofa. Not everything would be in one room, but just some things that I think will help elevate the space.

Back to Ralph.
I usually associate Ralph Lauren with more saturated tones
I know that these spaces are too messy for some of you, but the idea is more the colors and warmth
Ralph Lauren's library in his Bedford, NY home.
And what could be more elegant than Aerin Lauder's chic, elegant, DARK living room, from Vogue Magazine!
Below is the dark sofa with more color in the room and two beautiful Oriental rug possibilities.

Again, please don't forget about the price increase for the paint/palette collection and Laurel's Rolodex. And also, if you haven't seen the holiday post, please take a look.
And also don't forget that Anthropologie is having a terrific sale on all of their home items right now. They have fabulous holiday decor and great gifts too.
There are lots of ideas for Holiday decorating as well as gifts at Anthro.
xo,