Many of you may have noticed that kitchen pantries are making a comeback. But for a lot of us, especially here in America, we've never had one.  Well, I haven't. But oh do I wish I did!
Or for those who have had a pantry, it was some utilitarian closet filled with dry and canned food.  And yes, that is one definition of a pantry.
In England, I believe they call that the larder.
It's a tough word for us Yanks, because larder sounds like where they keep the recipe for a heart attack.
And then, there's the butler's pantry.
I see the butler's pantry sometimes as almost another kitchen, only there's no cooking done there and only a small prep sink. And of course, only the top .001% here has an actual butler.
Finally, there's the English Scullery where the washing up is done. I don't think it's ever called a scullery pantry though.
In the kitchen section, only food preparation happens and the only storage are for pots, pans and other apparatus needed for day-to-day cooking. Do I have that right?
You can't blame me. I was raised in the all-in-one. The storage, prep, cooking and clean-up all occur inches from each other. :]
Well… I have thoroughly enjoyed myself, collecting pantries for you.
In fact, it is getting very late, so I must stop my research and write the bloody post! I have to admit that collecting and editing the photos is my favorite part of blogging. If there is no credit, it means that I couldn't find the original source, despite numerous attempts.
I found some more obscure pantries as well, because some of these have been widely circulated. Of course, that usually means that they are superb examples.
Christina at Hackberry Hill, wrote an excellent post about the history of the pantry.
Kitchen pantries do a variety of functions other than actual cooking. I guess that we all know that much.
I was fascinated to learn that some pantries are not the closets we associate them with. In fact, some are closer in size to a football stadium! Or at least they were in some dwellings.
Whoa! That's the butler's pantry? Pantry??? At the Breakers in Newport, Rhode Island. Ever been there? The Newport mansions are not to be missed.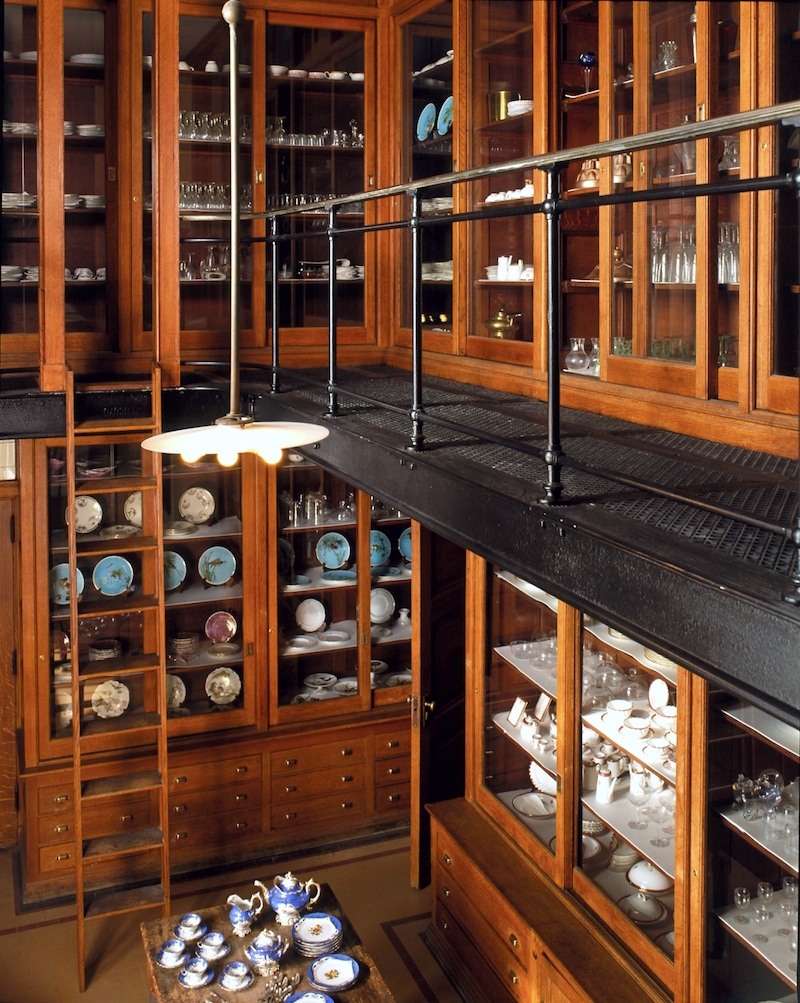 The pantry at the Biltmore House. It looks more like I imagine Bergdorf's did about 100 years ago.
Staatsburg House built by McKim Mead and White the awesome Beaux-Artes architectural firm who also designed the legendary New York Public Library and many others. I think that this is gorgeous, but I long for a large slab of white marble on the work table.
The Henry Lippitt House of Providence, Rhode Island
I included these classic old pantries out of rich stained wood. I actually love the idea of a small antique walnut finish in an old home–especially a Victorian or Edwardian period home. Accents of wood in a white kitchen is handsome too.
A Gustavian butler's pantry at Thureholm decorated in the 1740s! via Trouvais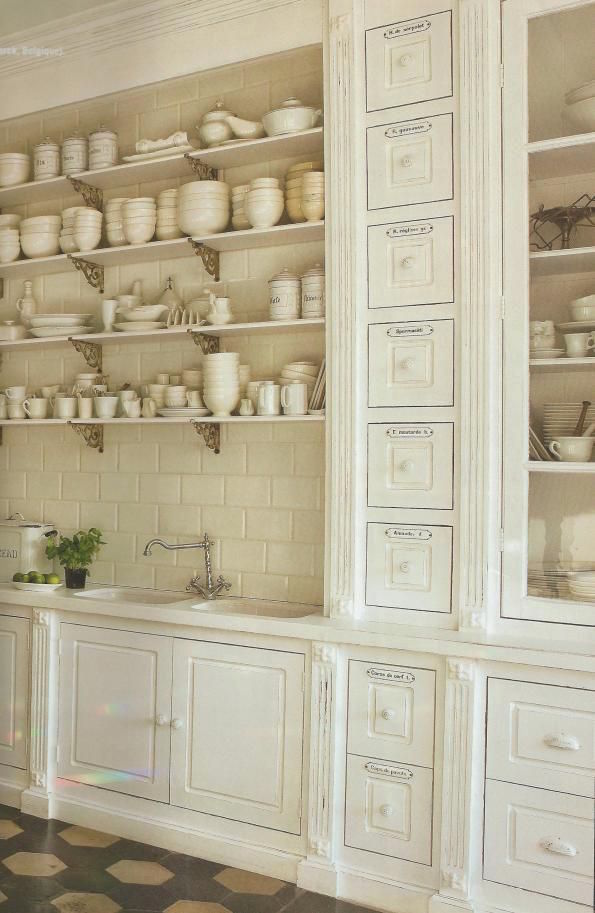 Who wouldn't want this?

Sorry the image is so poor, but it's by Albert Hadley and I adore everything he did. I so long to see the rest of the space!
If you have a collection of ironstone and/or creamware, it would look fabulous in a dark pantry.

I love the idea of a hidden pantry room. That way when your guests are all congregating in the kitchen, you can make a hasty exit, shut the door, lock it and prepare your meal in peace. :]
This is from the magazine, The World of Interiors. It's quite an extraordinary publication. If you are longing to free yourself from the anti-transitional-houzz-HGTV-medicocrity, you will enjoy it.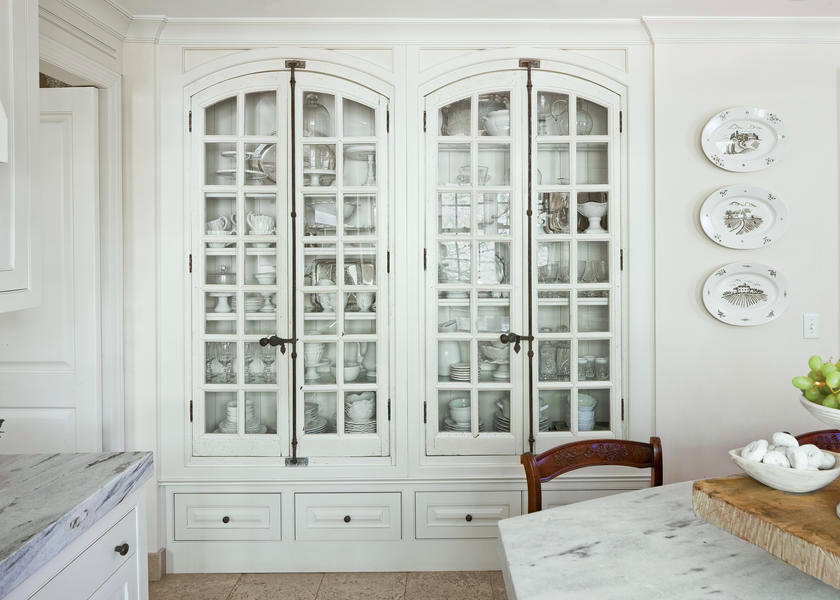 Southern Living – photo: Laurey W. Glenn
A very popular image on pinterest, however, the one that's floating around is much lower res than this one. It took some doing, but I found it.  And while this isn't a separate pantry, per se, it could be.
Okay, I'll tell you my trick. I took the high res image on their site that was covered with social media icons and pinned it to pinterest. I have a secret board for that sort of thing. And voila, there it was.
How pretty is this pantry that actually could be a mud-room and/or the laundry. Some pantries do double as the laundry.

I'm not sure if this is a pantry or not, but glass doors in the pantry and this pretty periwinkle blue are beautiful. I think that the pantry is a great place to try out a more daring color or a fun wallpaper.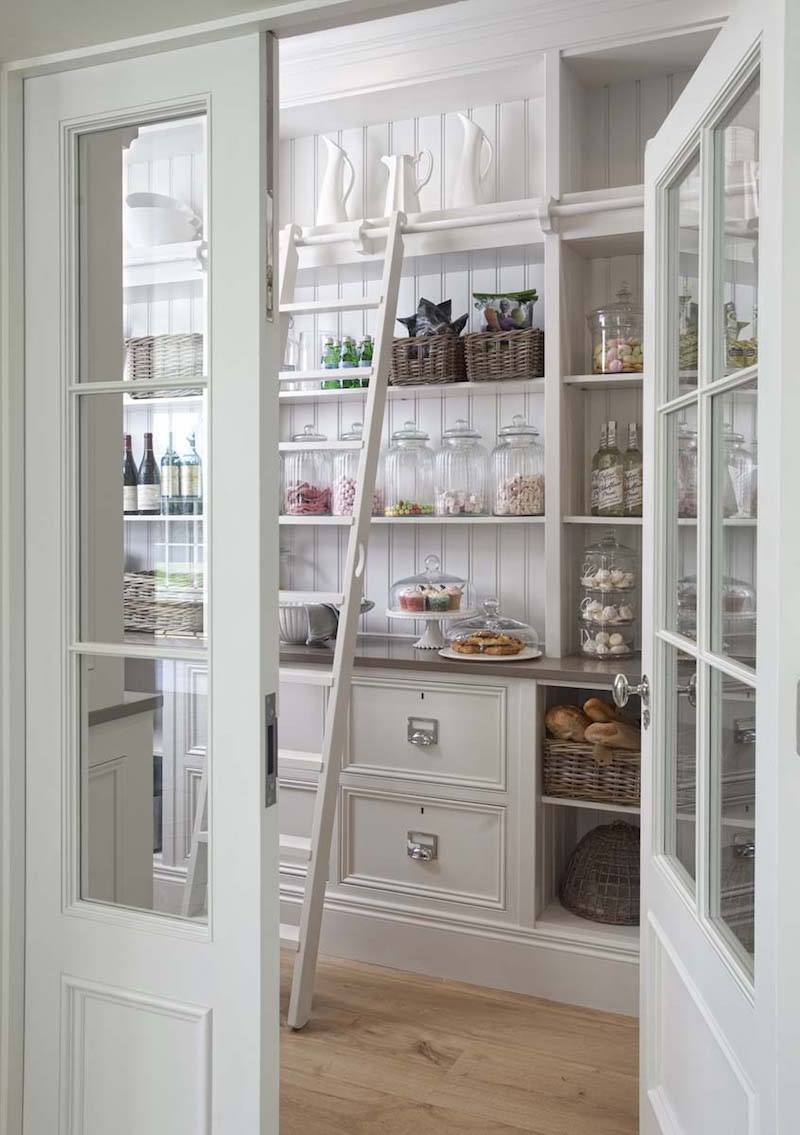 Fine. Yes. It's THE most popular pin on pinterest, but that doesn't mean you've seen it. But, it doesn't hurt to see it here, if you have. It's perfect.
Jeffrey Alan Marks
I wish that this image was a little better, but I love the French doors for the pantry. It's like a little shop in the kitchen.
And how clever is this idea and why haven't I ever seen anything like this done before? It's bloody brilliant and makes so much sense!

Another little hidden pantry. This is probably not a good idea if you have young children who enjoy scaring the crap out of you by hiding out for hours and hours. (gorging on cookies and soda, no doubt)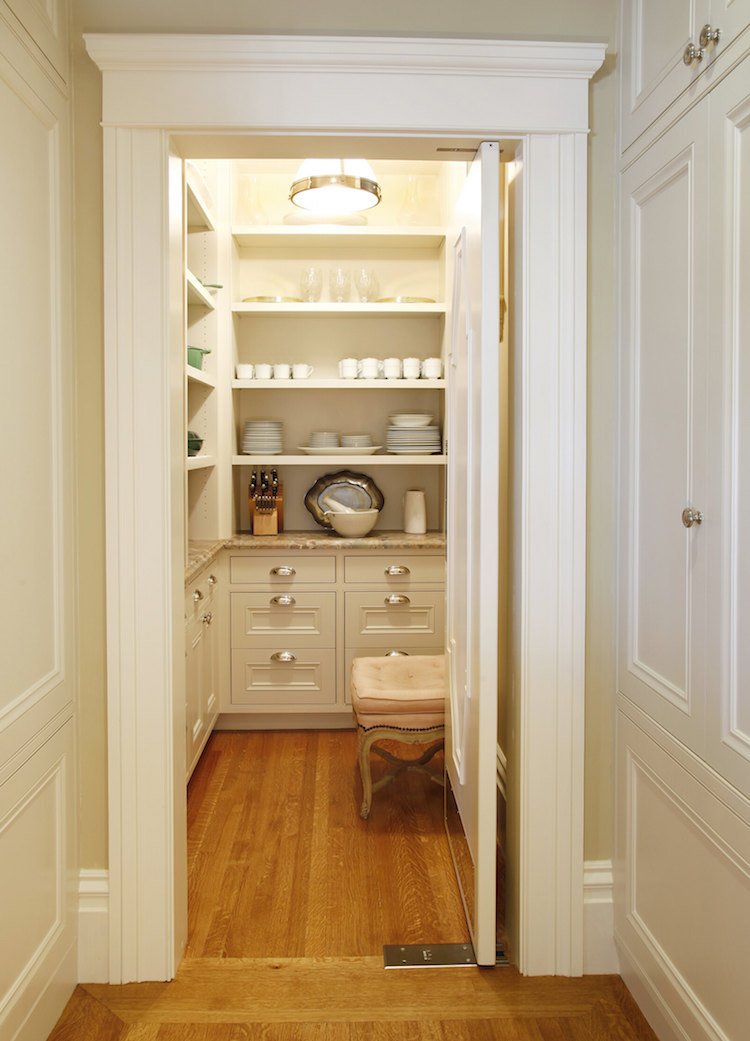 This one's too pretty to have a door on it. But maybe it keeps going around the corner.
Glass fronted cabinets that end up at the gates of heaven. Yes, please.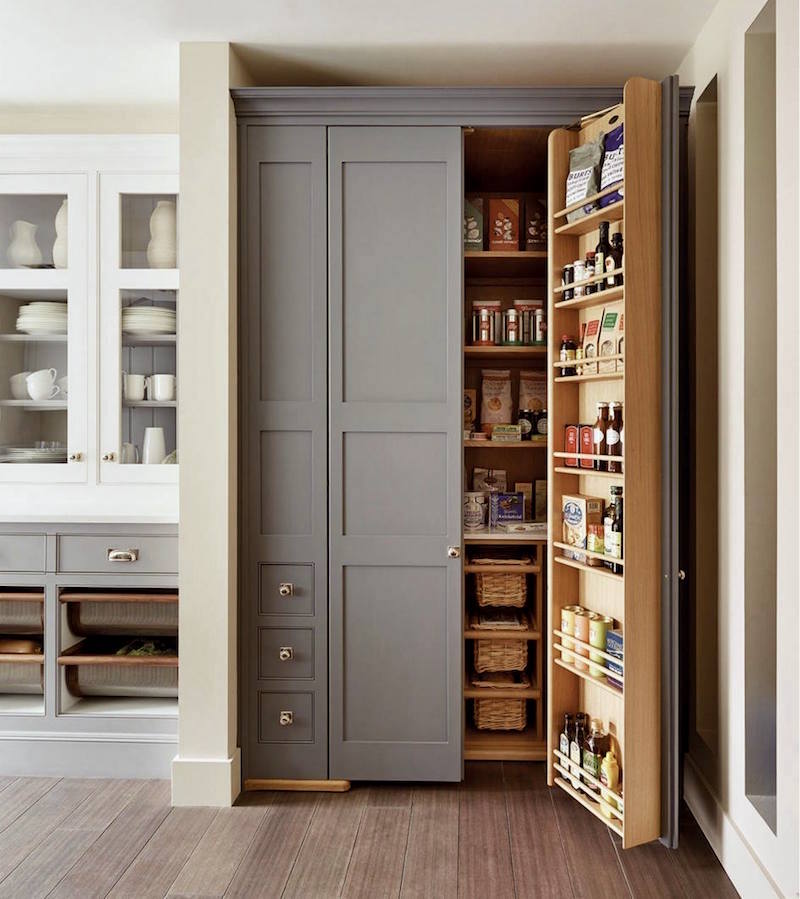 I just adore these English pantry cabinets from Smallbone. They hold a ton in a very small amount of space. American companies have a version of them too.
There are a lot of great storage solutions here.
Classic and the rest of Julia Reed's home is amazing too!
Another extraordinary creation by Heidi Piron. She's an incredibly talented kitchen designer.
LOVE.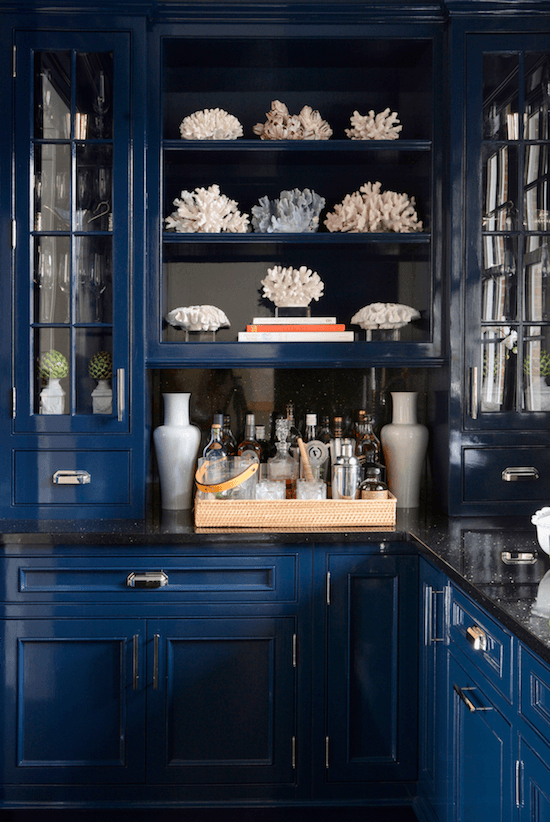 And I can't resist sharing once again Sue Di Chiara's perfecto dark blue butler's pantry designed by Muse Interiors. For the rest of the home, please click the link. It's quite gorgeous!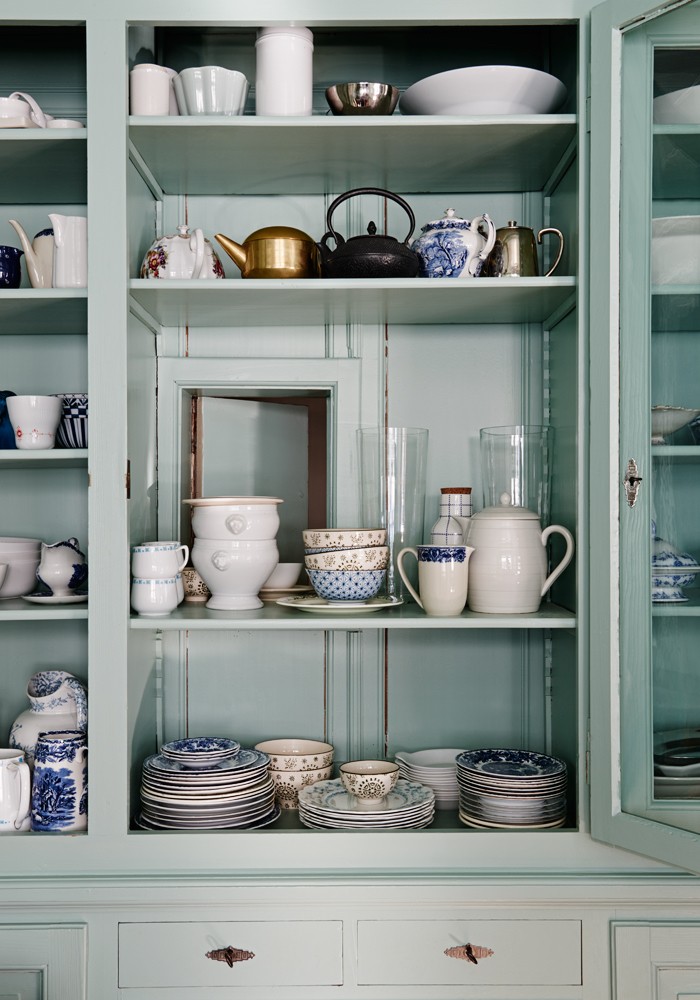 I just put this on instagram. Oh, how I wish that I had a collection of vintage china.
And don't you just love that little door?
Is that where the hostess stashes an extra glass of wine for herself thinking that nobody will notice?
Andrea Hubbell_photo – design Sandy Muraca
I don't know what the rest of the kitchen looks like, but I love the little drape that softens the opening. Very stylish. I also adore the ironstone and creamware.
xo,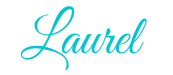 PS: In the related content there are links to many more kitchen posts and many of them also have pantries in them. You can also do a search on kitchens in the search box and they'll all pop up.
Save
Save