Well, it's that time of year again.
It's when three giants of the paint and color industry Pantone, Benjamin Moore and Sherwin Williams announce their COLOR OF THE YEAR.
Of course we all know that all this is, is marketing bullshit.
There. I said it.
So, thanks for stopping by and you can go back to your gift wrapping and cookie baking.
When it comes to the announcement of the Color of the Year 2017, it's very much like having a baby.
You get pregnant and it's nine months of nausea, pain, getting fat, pain, worry, pain followed by an excruciating labor and delivery followed by a helpless ball of butter that throws up and poops every two hours.
And then, two years later, it is all completely forgotten and one decides to do it all over again. haha.
The color of the year is just like that.
Why?
I don't know.
But every once in a while, like the hamster experiment with intermittent reinforcement, I think that they get it just right.
And although many disagree with me, which is fine, I thought that Benjamin Moore's choice of Simply White for their 2016 color of the year was simply mahhhhvelous, divine and exceedingly brave.
very dark.
And for the color of the year, they choice a deep, deep shade called Shadow.
Shadow is a deep, deep purple.
It's not a bad color. In fact it is one down on the strip below my bedroom color and a color in the Laurel Home Essential Paint Color Collection, Tropical Dusk.
However, there is a tremendous gap. Tropical Dusk is medium dark and Shadow is just downright dark and with a distinct Barney undertone. And for those reasons, it makes it a very difficult color to work with.
Also. Nobody is using it. One way to find that out is to google the color and then hit images.
Just click this and you'll see what I mean.
Oh, you'll see images, but they are all Benjamin Moore's marketing images for color of the year 2017.
It definitely needs to go in a small space like maybe a powder room.
But I think that there are better choices if one wants a deep, rich aubergine.

I think a better choice, if wanting a deep purple would have been Benjamin Moore's Caponata AF-650 (above) It has more brown and red which gives more richness, in my opinion.

But actually, their color of the year for 2011 was Vintage wine– very similar to Caponata. Just found that out.
I'm surprised that they went with another deep purple so soon.
Jane Scott Hodges – photo: Paul Costello
This is more the color I wish it was.

Another view of Shadow, but notice the bright green.

If we go one shade brighter, we'll come to Pantone's color of the year 2017 – Greenery
It's not a complete disaster; Like the others it's close.
But if only the swatch didn't look so much like a green hi-liter.
Or remind me of one of the most disgusting scenes ever shot in a movie.
Sorry. I hope you weren't eating dinner or something. ;]
I mean, I love green and I adore yellow-greens.

But this color "Greenery" does not exist in nature.
unless acid-green toxic waste is considered natural.
I would've preferred one of the yellow greens in my paint collection which believe me is plenty bright
Benjamin Moore Green Thumb CSP-870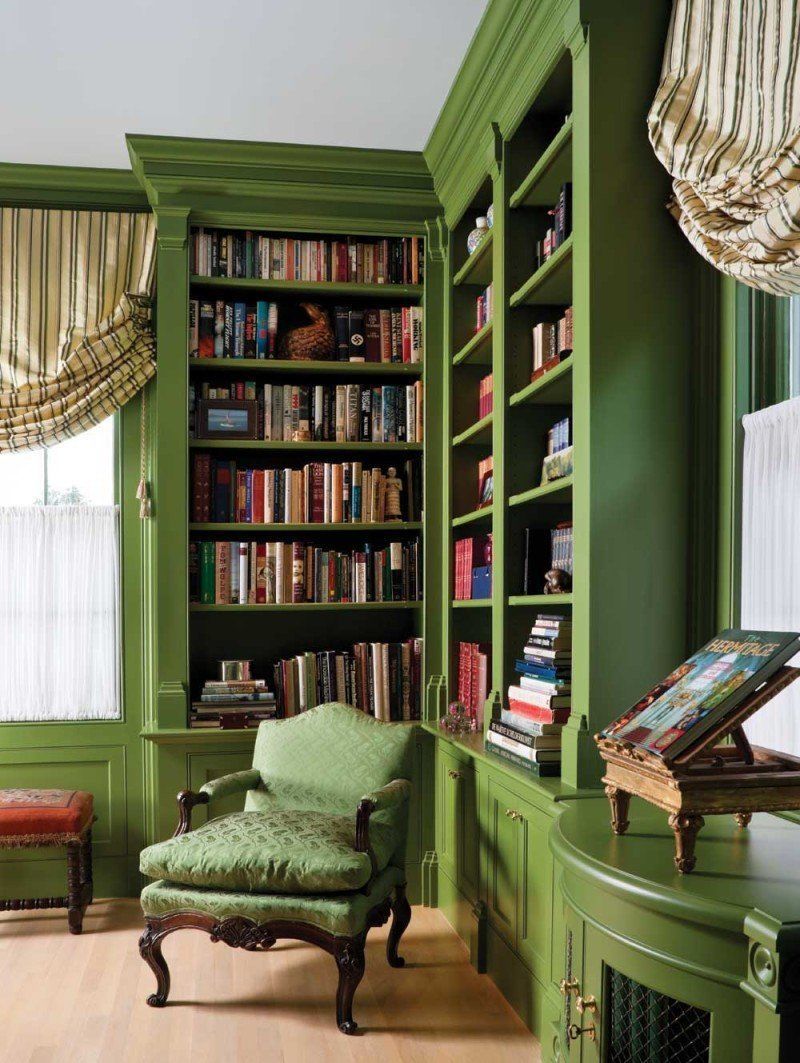 And here is close to what it looks like in this beautiful library by Charles Spada.
For more great shades of green, please click here.
Sherwin Williams pick for Color of the Year is their Poised Taupe 6039.
And actually, I do like this color.
In fact it is very close to another Laurel Home Essential Paint Color Collection Color – Smoked Oyster
These colors are also purple. Yes, there's a lot of gray and brown, but the purple is definitely there. Only Sherwin Williams is leaving that part out.
And the other thing I don't like is that their marketing shots are off.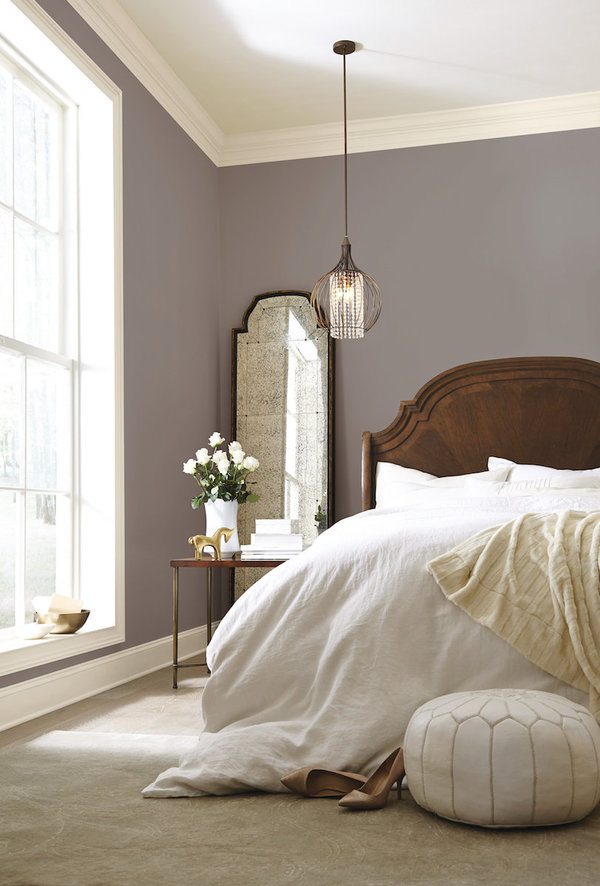 These are too pale and look like the color one or even two above poised taupe!
The shot below is much closer to the depth of Poised Taupe.
The poised taupe above on the right of the room is closer to how deep it really is.
But, one of the worst problems is the colors that both Benjamin Moore and Sherwin Williams paired their colors of the year with.
Above is Benjamin Moore's palette and below is Sherwin Williams palette.
Yuck. Both are phenomenally depressing to me and with clashing shades. And notice how similar they are? Maybe there are double agents or spies involved. I don't know, but that's a little freaky.
I really wish one of these companies would not be afraid to come out with a rich navy like Gentleman's Gray (warmer) or Deep Royal (cooler) – both fabulous colors and again, part of the Laurel Home Collection. And that also includes the paint palettes now.
And I'm getting the sweetest comments too!
Here are a few of the recent notes I've received
Claudia said: November, 2016
I have purchased the original color palette and use it DAILY on my phone. I love it…I love you! You are a godsend! I bought that back months ago.
Teresa said: November, 2016
I am really enjoying the boards, Laurel. I consider them my training guide. As an example, soon I'll be buying lamps because I have learned from your blog that I need lamps. (I plugged in some really ugly lamps I have from the bedroom, just to test the lamp light theory.
Wow, I've been missing out! ) Anyway, I have been studying the lamps from your examples so that I will make good decisions for a change. I am being stubborn about spending hundreds on a lamp. I know, I should just do it. It is so funny what we decide to place importance on. I'll drop hundreds on a tree for the yard yet refuse to spend money on jewelry…. or lamps!!! It is really weird, but there it is.
my inconsistencies aside, the boards are a very good learning tool! I'm trying to get to the point where I see timeless design, good design, and these boards are great for that.
Monica said: November, 2016
Thank you for sending the code.  I'm enjoying my purchase.  Can't tell you how many times I have referred to the Rolodex!
Candace said: November, 2016
Love your blog, your paint color collection (helps me to simplify when choosing client colors), as well as your Rolodex. I've found some great resources that I had never heard of. Thanks for sharing your immense knowledge and experience. And for doing it all with a sense of humor. If we didn't have a sense of humor we'd have to have gotten out of this business a long time ago, right?
The reason I'm mentioning this is while I did promise no gift guides—
But IF
you're desperate, or even not desperate for a great last-minute gift, please consider purchasing one or both of these great products for someone(s) on your list.
Yes, these are PDF files, but there is an option to give as a gift after you've put the item(s) in your shopping cart. You put in the person's name and email address and you can even put in when you would like your gift to arrive.
Any questions, please just contact me on the contact page and/or leave a comment and I'll respond.
Well, I will see you on Christmas Day because it's on a Sunday this year. But of course will understand that many of you will be busy with your families.
Much excitement coming up but I'm going to have to leave you in suspense for now.
Please have a joyous, safe and healthy holiday!
Much Love,