Hi Everyone,
Thank you all so much for your immensely kind comments regarding my small unkitchen design procrastination.
After last week's little mockup, I have renewed energy for completing my plans for submission.
However, what have I been doing?
I've been looking at mural wallpapers. lol
Actually, it's not really that funny. I could look at them all day long. What is funny is when I do a search and come up with my own blog post.
One thing I've discovered is that there are some document designs from the 19th century that are apparently part of the public domain. L'Eden and Bresil are two of the most popular ones.
However, I need to exercise some discipline and finish my drawings for my small unkitchen.
An idea I've been mulling around to lighten up my load a tad is to write a relatively short post, with only a handful of images at the most, to start a discussion about a topic that is one of the following:
Controversial
Not part of the mainstream
Current trend
A challenging aspect of interior design and decoration
Then, I'll pose some questions, and you guys can voice your ideas and respectful opinions on the topic.
Well, today, I am kicking this off with the post about my small unkitchen.
For the newer readers who are not familiar with the term unkitchen, I've written about this numerous times in the past.
In general, an "unkitchen" is a place where meals are prepared that does not look like the typical 20th century American kitchen with:
What makes it an unkitchen?
Unkitchens have:
lower cabinets
an island if large enough
floor-to-ceiling cabinetry without a counter
clever and efficient storage solutions
pantries
And, something else that goes for pretty much every room. That is off-site (away from the kitchen) storage when:
space is tight
for items rarely used (incredibly if bulky)
for reasons of convenience
One of the most controversial aspects of an unkitchen is the elimination of over-the-counter cabinetry.
I realize that for some of you, this is like saying we should ban oreo cookies.
However, if you look at some of the previous unkitchen posts, you'll see that the overhead cabinet is a stock market crash phenomenon, and that's the first one in 1929.
Since most of us were born after that, that's all we know. But, that doesn't mean that it's necessarily the best solution.
In addition, after the first shelf, everything else is above eye level. With floor-to-ceiling cabinetry, we have the use of that golden 18″ space for hidden storage.
Another huge consideration is how many people are living in the home.
If 95% of the time, it is one or two people, that is entirely different than what is necessary to maintain a family of two adults and four children.
In my case, I am designing a home that was built in 1879 and completed in 1880.
The kitchen was where my bedroom is, on the lower level. This, the lowest level, was the coolest part of the house, except for the opposite end, which were servants' quarters. However, the kitchen in the back had direct access to the alley. So, for practical reasons, that's where it was.
Plus, a dumbwaiter went directly to the butlers pantry (now, my den/second bedroom). That, of course, is next to what was the formal dining room, now my living room.
Where my smallish galley kitchen is now was a reception area between the front parlor and formal dining room.
A few points I'd like to establish are as follows:
I cannot alter the central doorway between the entry/kitchen and living room, nor move the front door.
Although, I can move back the center wall and plan to do so by about two feet. In addition, I plan to widen it a few inches.
While we're in the entry, I'd like to establish what else I'm thinking of.
It would be cool to do an over-door to beef up the dinky front door and give it more presence. I want to add mouldings to the door and maybe paint it black. I'll need to do some more drawings for this too. However, I don't want anyone thinking the closet is the front door as has happened.
So, let's take a look at the floor plan for my unkitchen.
This is actually from several months ago. The basic idea except that the coat entry closet will be all the same depth.
Okay, I still have one more elevation to do, but I did do two of them for the small unkitchen and entry.
As a reminder, here is the schematic I did last week for the entry and kitchen. I may add wainscoting to the entry. By the way, I intend to put some sort of varnish or polyurethane to protect the mural and allow it to be wiped down.
Remember the hidden doors post? You can see some terrific examples there.
For those who don't know, an elevation is not in perspective. It is actually the measurements as they are, but in a two-dimensional image. That's why it looks a little strange.
On the left, you can see the three hidden doors in the entry. The two areas on either end will have a little extra space, so I will make them the coat and broom closet. The door in the center will be the pantry and additional storage. And, yes, I definitely plan to put pull-out drawers inside.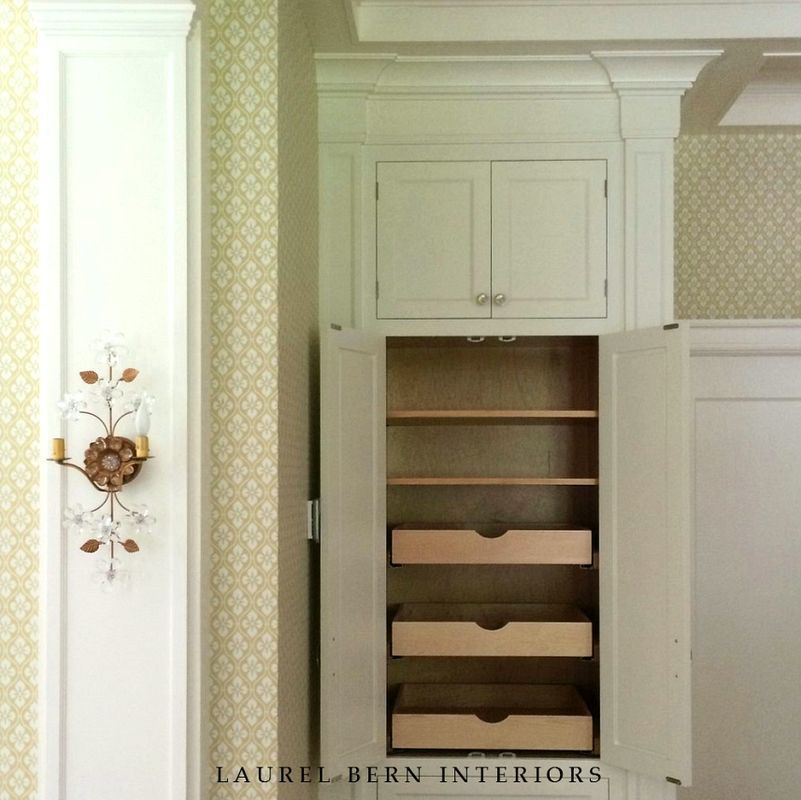 Something like this kitchen we did several years ago.
Yes, I know, these drawings are a little rough. And, I'll also need to do some detail drawings. Oh yeah and I'll draw the range wall, too, but that one should be fairly easy.
I stole copied this pretty much from Jean Stoffer's design of a kitchen in her showroom.
An earlier iteration shows that wall in it's entirety and before the little shelf went in.
In addition, I'm planning on having a small fridge/freezer downstairs and also some additional storage.
However, a point I feel the need to stress is that there is going to be more than enough storage for my things. But, I will still have a sleek, stylish, and small unkitchen.
Hooray, my son told me that he's coming tomorrow and I only found that out this morning. It seems he told everyone but me. lol
Anyway, it's good timing to help me uninstall the air conditioners.
I realize that I left a lot out of this post. It's fine if you remind me what I already know. haha. Still, I don't know everything.
***Oh, one last thing regarding a small unkitchen, especially a galley kitchen.***
I am totally fine with you doing upper cabinets over the counters; as many as you like. And, especially if you don't have room for a pantry or, you absolutely need the extra storage because your home is smaller than mine. Or, you have more things.
Space was at a premium in my old apartment and there, I definitely had to have the upper cabinets. But, also the kitchen wasn't on display as this one is.
So, whatever you need to do is absolutely fine. The point of these exercises isn't to say that one way is right and another is wrong. It's to get us thinking about alternatives as possibilities.
xo,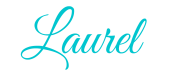 PS: Please check out the newly updated HOT SALES!