Ahhh, yes, the quintessential ugly stone fireplace. Do you have one?
I have to be honest and say that 95% of the time, I am not a fan of stone fireplaces.
They usually look sorely out-of-place, for one thing.
But there are exceptions.
In an antique home– usually.
In a home that is genuinely rustic, through and through.
My parents had a rustic home that they built in 1980. And blimey, I spent a considerable amount of time looking for a photo of it. I know I must have one, but can't find it now. It's also upsetting because her next door neighbor purchased the home 4.5 years ago and then tore the whole thing down.
But…
The home was in the shape of a hexagon. The living room was two-stories with floor to ceiling windows. In the center was a magnificent Lannon stone fireplace that formed the core of the home. That is an indigenous stone to Wisconsin and reminds me of something I would expect to see in an ancient ruin, but not as crumbly. In fact, my mom had a wonderful painting of the wailing wall in Jerusalem on the wood mantel.
It was truly amazing as the staircase to the second floor wrapped around it.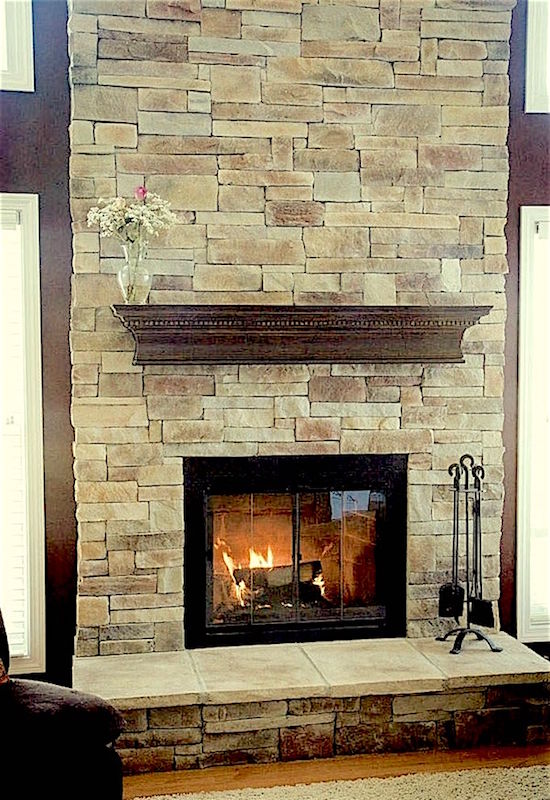 This is the look of the stone, just to give you an idea. The home was contemporary and rustic– and situated on a bluff overlooking lake Michigan. It felt appropriate.
But all too often, I'll see an ugly stone fireplace that looks like: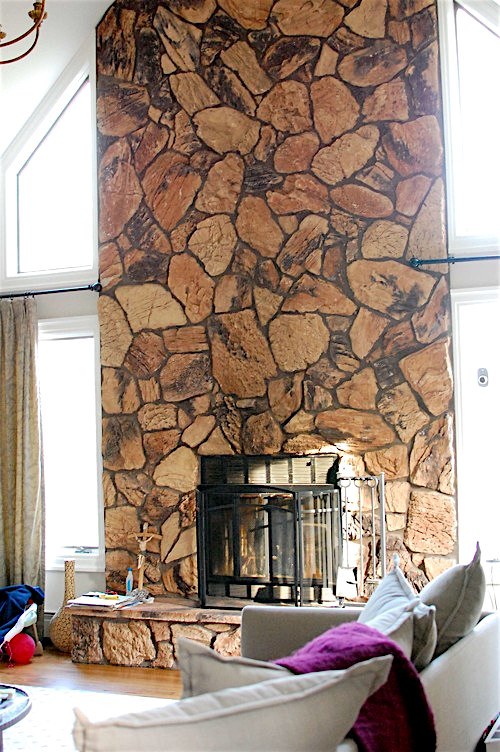 this overbearing (IMO) monstrosity.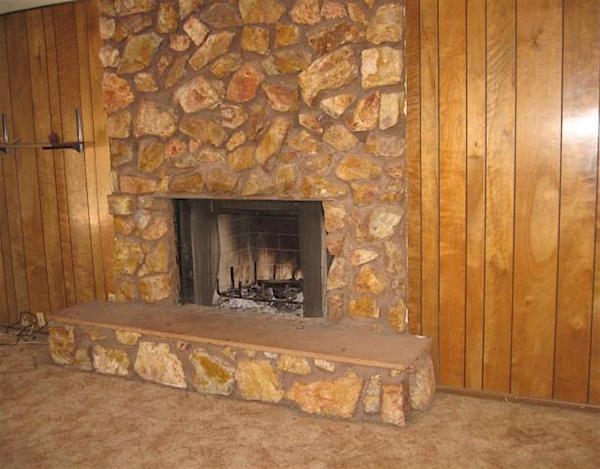 this – with matching fugly 70's wall paneling
or this, with coordinating barf-peachy-beige walls.
It has always confounded me with all of the beautiful choices out there, how some come up with this stuff, but there it is.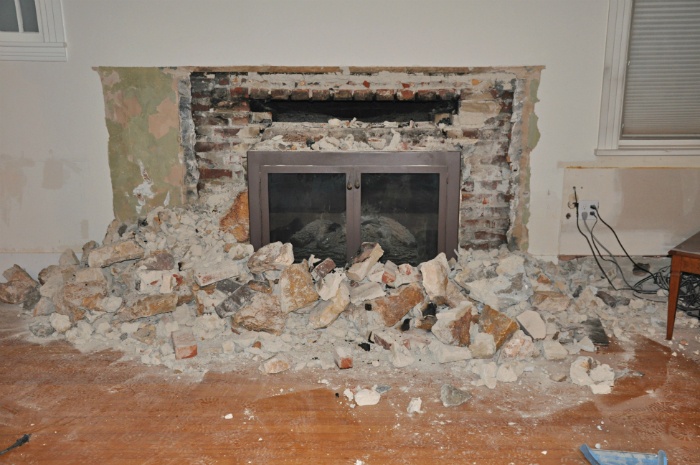 There is this option. Tear the damned thing down!
It's massively expensive, massively dangerous and there will be toxic dust that will never go away. And this is only a small mantel.
A lot of this goes for ugly brick fireplaces too, but today, I am focusing on the ugly stone fireplace.
There is a wild debate out there.
Well, can I just paint the frigging thing?
If you had asked me a year ago, I would've said
NO!!!
And this is why. I once saw a stone fireplace that was painted and it was a gloppy shiny, weird mess.
But then, so was the rest of the home! And now, I realize that the rest of the home is what made it objectionable to me.
And then…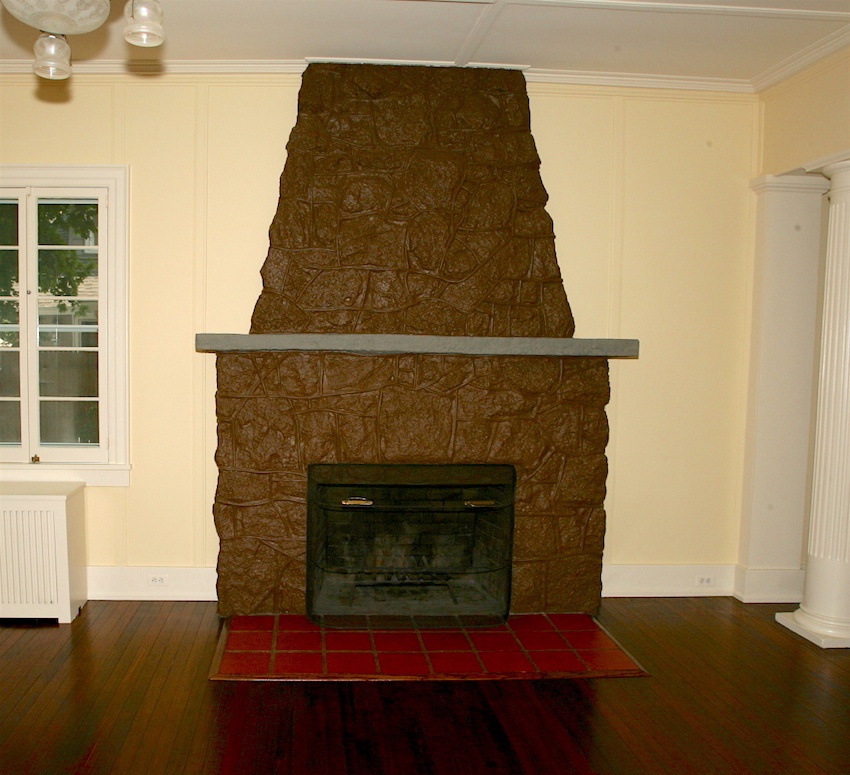 There's this piece of gorilla dung.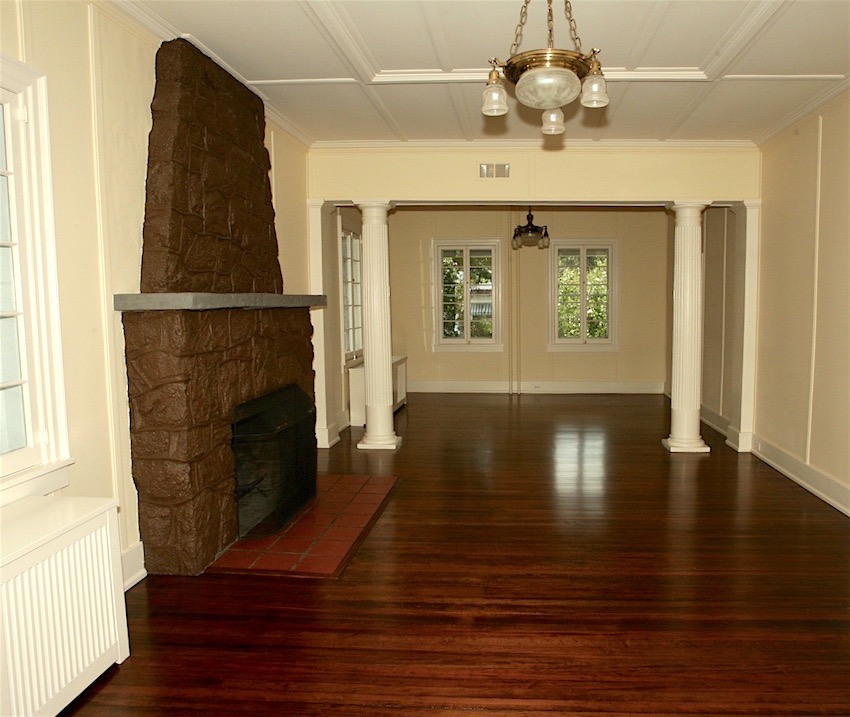 Gorilla dung – side view
But hold on just a sec.
Let's cover up that piece-of-shit (sorry) and take a closer look at this room.
It is very lovely. And this is definitely not a new home. The mouldings, pilasters, columns, high ceilings – give it away.
Now, I'm going to show you something shocking!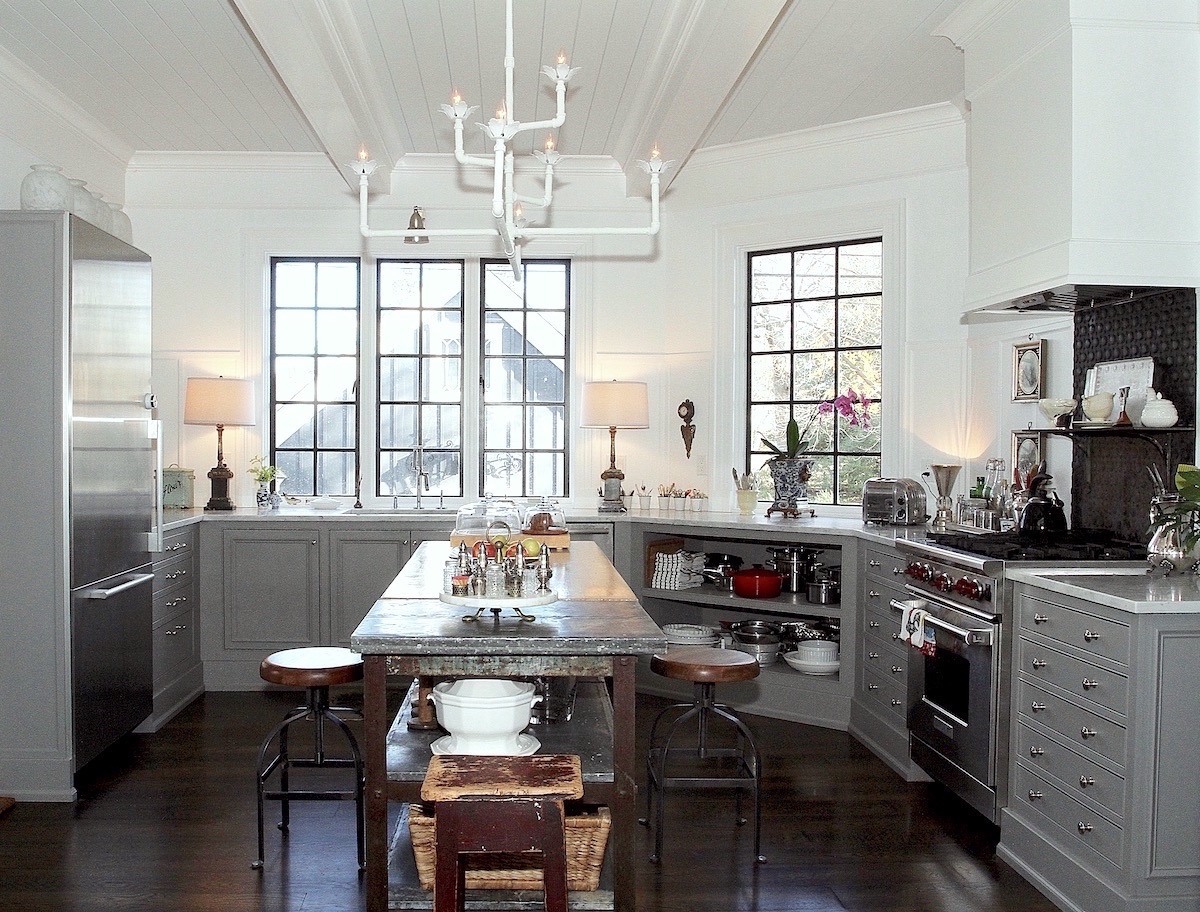 This bizarre living room is in the same home as the wonderful kitchen we've all been dying over!!!
That's right. Nancy Keye's magnificent kitchen, shares air space with a giant turd.
Well, it did, that is.
Please Prepare to die.
Are you ready?
I promise, there will be no pain; in fact many report an intense euphoria. 😀
Welcome to Heaven.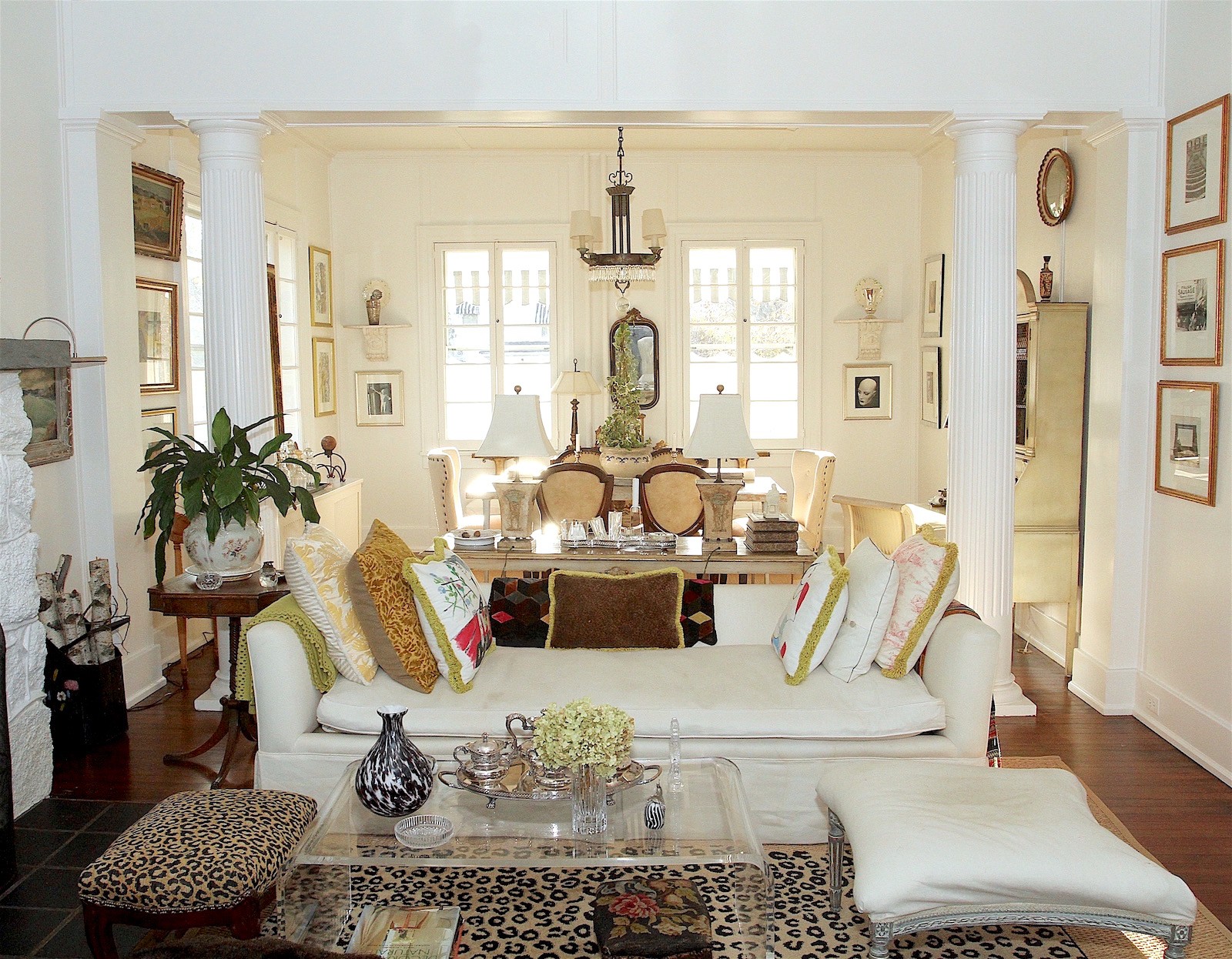 I know… insane, isn't it???
you don't have to scroll back up. It's below in a graphic. :]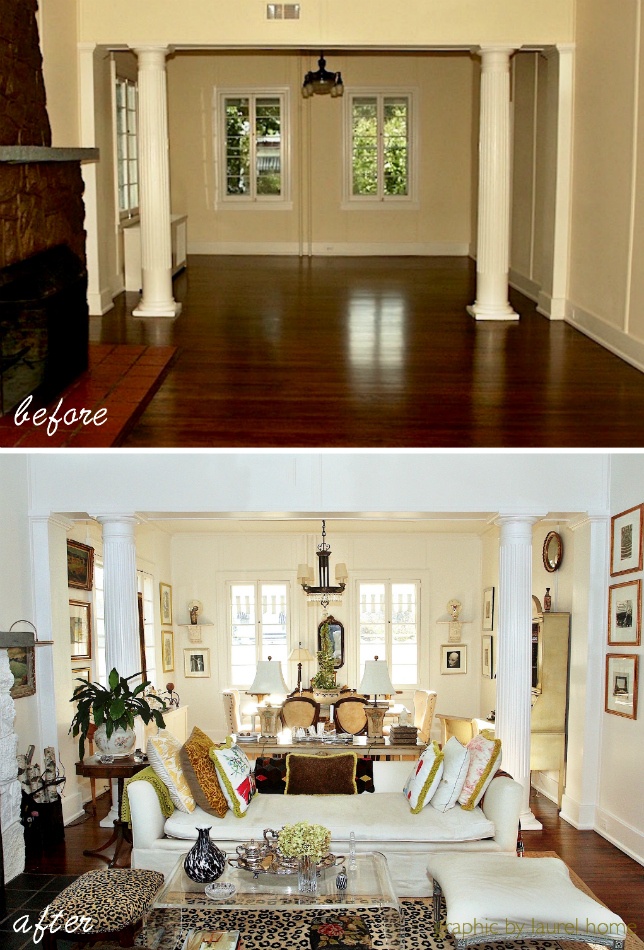 and
dung-be-gone
Please pin images above to pinterest if you like
Oh Laurel, PLEASE tell us what shades of white she used?
I just happen to have the answer, but it's an answer that's going to be another shocker for many of you.
Are you ready? (you need to come back to life for this one) :]
PAINTED ONE COLOR!
Scout's honor – it is one gorgeous shade of white that I was unfamiliar with until now.

Benjamin Moore – Winter Snow – oc-63
It is a cool white, but not always as you can see.
Some may argue otherwise. But in my experience. Light is everything!
Nancy says that she did add one drop of magenta to the gallon mix.
***Correction*** – December 8th. My bad. Nancy did not add the magenta to the gallon. The gallon FORMULA calls for one drop of magenta. It's not possible to divide one drop or 1/96th of an ounce. (something like that). Therefore, it is omitted from the quart versions of Winter Snow.
My experience is that if you want a true reading of the color and it says that it's available in gallons ONLY – believe them!
She also says that it's a chameleon color.
And so does Darryl Carter. He calls it Somerset White DC-05. It's really a Benjamin Moore color but just with a different name.
If you don't know this, the wonderful blogger, Michele Ginnerty of My Nottinghill "cracked the Darryl Carter Paint Code"

Winter Snow is very close to Benjamin Moore White Diamond oc-61 which is just a hair cooler.
But I wouldn't stress too much over it!

Nancy used decorator's white in the entrance foyer. That is the same color as the kitchen walls. It's probably the coolest of the three, but please remember that it is relative and very much light-dependent!
This wasn't meant to be a color lesson, but it's also a case in point about how inter-related everything is.
Hopefully, some of you will better understand why it's impossible to do color consults long distance and based on a description. All it is, is a guessing game and a stressful one at that!
Okay!
Back to the ugly stone fireplace!
Five seconds after Nancy closed on the house, she had the fireplace painted. haha.
The intention was to have that be a temporary fix and then to box it in and just get rid of it.
But then… she decided that she liked the look of the painted stone and so do I! It almost disappears except for a touch of texture. It all looks very French/old-world to me! Perfect for New Jersey! Sorry, you know us New Yorkers are constantly ribbing our western neighbors! There are parts of NJ that are too beautiful for words and Nancy lives in one of them– a stone's throw from the Ocean–literally!
But Seriously, the way she has it staged. The gorgeous mirror, charming lights–Too pretty!
Here's the thing. Let's say that Nancy had painted her living room the color that the hall used to be.
(Nancy Keyes' hall and staircase before.)
And then filled it with a couple of brown sofas and a big, black, misshapen leather chair; horrible lighting and faux marble-painted the columns. lol  I guarantee that the painted stone would not fare so well.
And that brings me back to another point I made and am constantly harping about.
EVERYTHING is interconnected.
In fact, I just attended a wonderful lecture with Bunny Williams who quoted Sister Parish as saying that if you don't get the room right, the furniture doesn't matter.
Now, you might say that you like the hall and the stairs.
It's okay. The hall and stairs are already inherently charming with the wainscoting, arched doorway, high ceiling and wonderful old newel post.
It's certainly not bad, but it's mundane.
And it doesn't go with Nancy's fresh collected style.
Here is the after!
By the way, the home was built in 1910. Great period!
please pin the staircase if you like
I'm nowhere near finished with the topic of ugly stone and brick fireplaces.
It's an extensive topic and I promise that I will be sharing more solutions to consider.
I will leave you for now, with two more images of Nancy's elegant living room!
Whoever said that white is boring…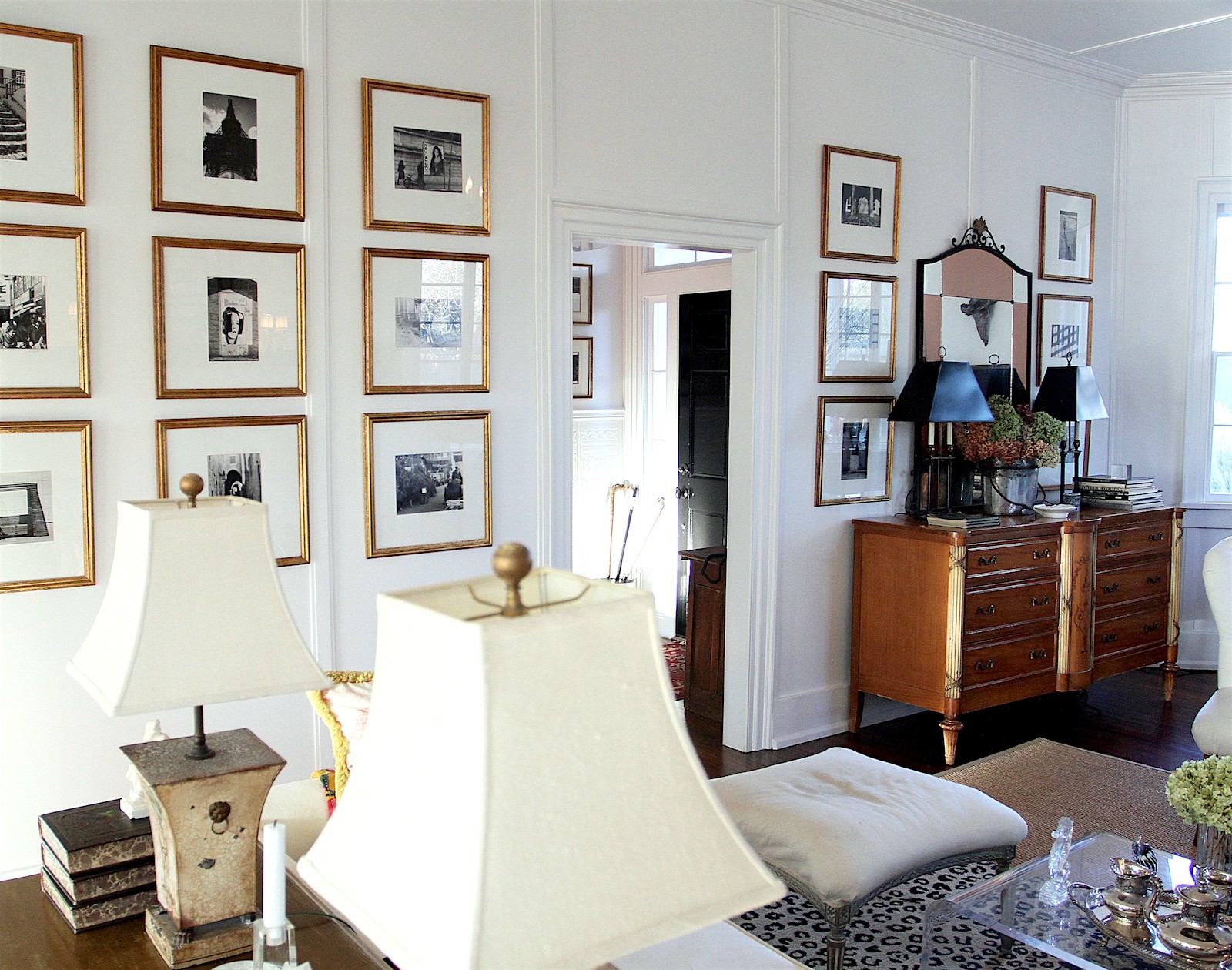 Hasn't seen Nancy's home!
And I found it fun to go back to this post and see how many things she has resurrected in this home.
Again, I promise to continue with more information on other options for brick and stone fireplaces. Nancy used Benjamin Moore paint in semi-gloss on the fireplace stone.
I'm sure it needed a lot of primer to cover the brown. I mean, who paints stone brown?
That wasn't really a question. haha
xo,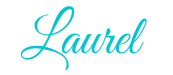 PS: Jennifer had a question about what to do if there's no backsplash. I didn't have a good answer, at the time, but this is what Nancy and her contractor came up with. Please check it out here.