This is the problem with green. Well, it's not exactly a problem, but it is.
Probably about a quarter of the colors in the fan deck are some shade of green. There are a zillion shades! It takes nothing for green to pop out of colors that don't look green UNTIL they go up!
In fact, here's a post with some of my favorite shades  of green paint that don't say "green."
green, green, green
This is especially true in north facing rooms. One time, several years ago, I was helping a client with her bedroom. Everything and I mean everything looked green. Even pink looked green. It was the weirdest. Finally, we went with a lovely cream which took on a very pale celery color and it was lovely.
With that in mind and that you probably want to go to sleep at some point today, I'm going to give you the usual 9 fabulous shades, but am going to steer clear of the less obvious shades of green for the most part.
Maybe. I don't know.
You see… there are too many fabulous shades! I could probably list 200! But I won't.
This post will center around shades of green paint that are unabashedly green. Nothing to make you go blind, but 9 really great shades for you to try out.
What is the common mistake with shades of green wall paint?
I've been through this mistake before but in case you missed it or this is the first time with us on laurel home, here it is.
You get all nervous that it's going to be "too much" and you dilute it with white. (mixing it at "50%" or something like that) Or, you wimp-out and pick that really sickly, icy tooth-pasty minty-green. AKA: Hospital green. Or Crest Toothpaste
Please don't. You'll hate yourself if you do. And after you read this post, that lovely sage green is not going to look like too much, I promise you.
One thing to always keep in mind and I forget it too is that unless the room is a basement or something, most rooms have windows, doors, furniture and stuff on the wall. Usually, the paint color is a backdrop, not the main event.
Many of the greens today are not ones that I have done, however… they came highly recommended by people I trust and I checked them out and I approve.
source unknown but it's a cool color chart for sure.
Nancy Braithwaite
While I think the styling is a bit lagging, and some of those hurricane jars look like they haven't been cleaned in a decade, this is such a wonderful dining room. The rich mural, chairs and drapes all out of the same cloth is just right.
Annie Sloan Chalk Paint in Antibes Green with dark wax finish and gold leaf accents.
Annie Sloan has become pretty hot. Apparently, painting furniture with her paint is about as idiot proof as one can get. Smart lady. And she provides lots of tutorials to show you how easy it is (for her.)
Miles Redd
Benjamin Moore AMAZON MOSS 2037-10 
I adore Miles so much! He can take a really ugly green like this and make it glorious. I mean, it really IS billiard cloth green. Like ewwww… But here, no. That's genius!
Another thing I've realized is that green loves itself more than any other color I think. If you don't like the green you've chosen, select art with other shades of green and it'll start to come together.
Mario Buatta
Benjamin Moore 416 TASTY APPLE
Benjamin Moore CHIC LIME 396
I love this cheery chartreuse. What makes me laugh is the little chair facing the adults? And the end table blocking the door. You're not leaving until we say you can leave! haha.
Madcap Cottage
Benjamin Moore PEACEFUL GARDEN CSP-830
John Loecke and Jason Oliver Nixon, the guys behind this company, gave a charming talk at the Design Blogger's Conference last month. They're all about traditional elements expressed with exuberant color and fun fabrics. This green is a classic sage but not boring.
Buaia Burge & Associates
I couldn't resist sharing this charming dining nook featuring green Chinoiserie wallpaper
Hotel Particulier in the Marais en Paris
Farrow and Ball BREAKFAST ROOM GREEN 81

Tres French
Maison Jansen via 1st Dibs
Gotta have a little Chinoiserie detail from this fabulous over-priced chest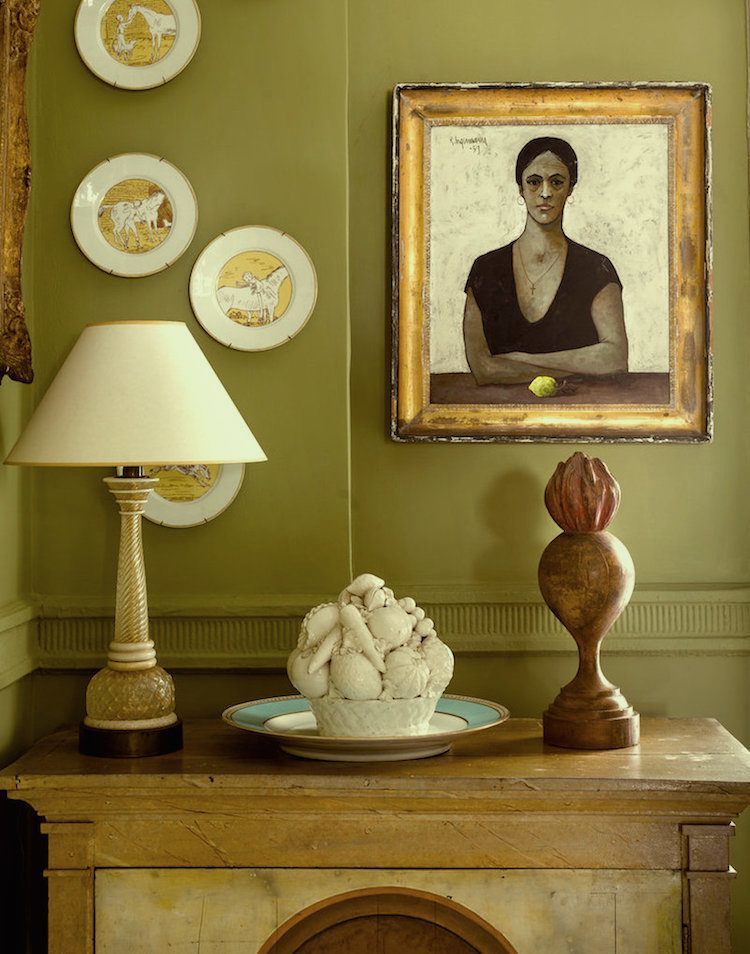 Above and below by the extraordinary Sheila Bridges. You may recall that she's one of the top 20 interior designers that I would hire. This color is said to be
Farrow and Ball CHURLISH GREEN 251
which is a fabulous green-yellow. The original images looking nothing like Churlish, so I edited them. They were both far greener than this lovely yellow-green.
The lesson is: Never trust a color from an image. 9 times out of 10, the real color will look very different.
Gil Schafer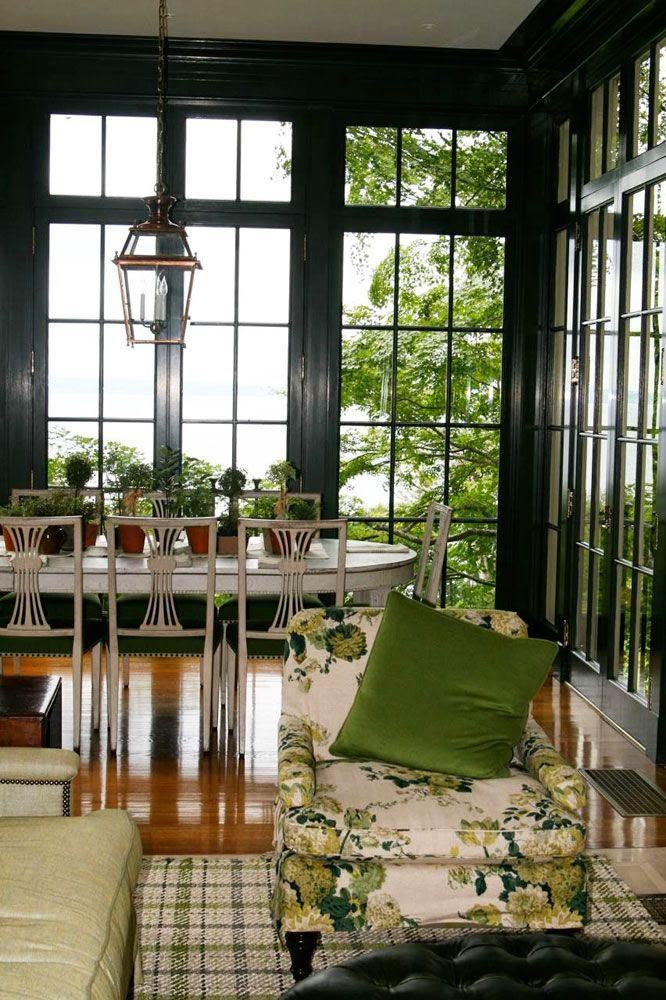 Windsor Smith brings the outdoors inside, in this lovely room with a spectacular view
Farrow & Ball STUDIO GREEN 93
This green is almost black but it's not; very sophisticated.
Love this enigmatic painting by Malcolm Rains
Photo by Julie Bidwell for the Wall Street Journal
Benjamin Moore FRESH CUT GRASS 2026-50
A very yellow-green, but fresh and lovely as you can see here.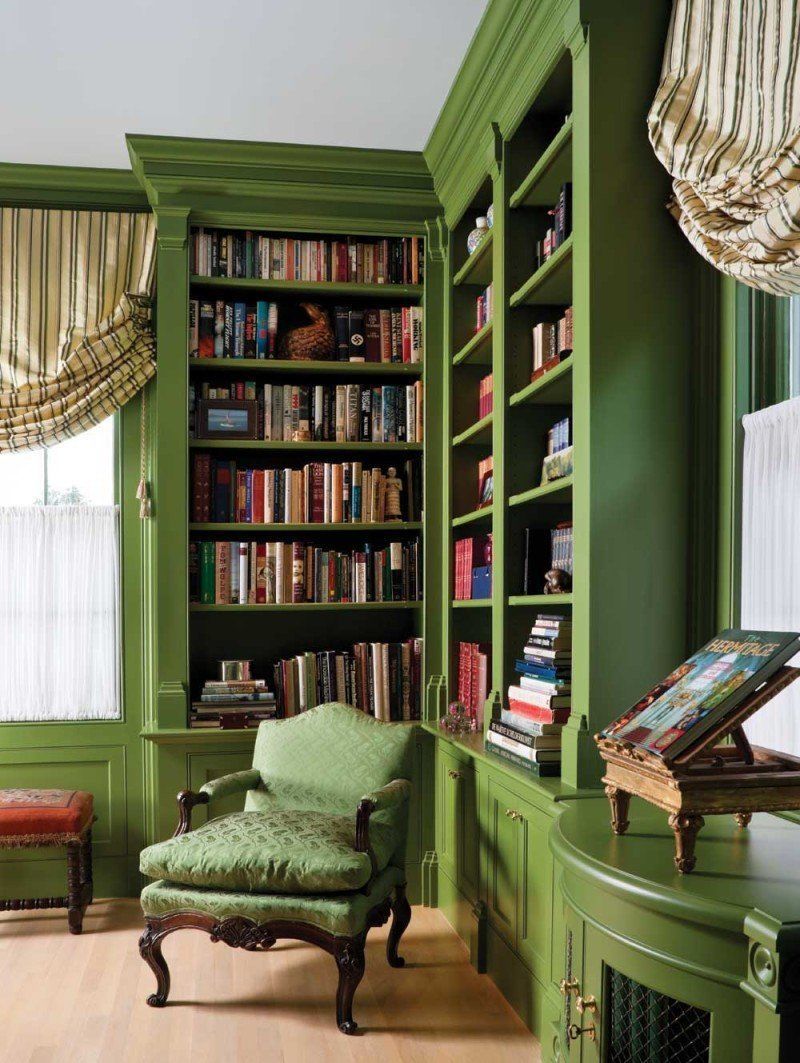 Charles Spada
Benjamin Moore GREEN THUMB CSP-870
a true grass-green from Benjamin Moore's newest collection of colors–Color Stories. I've been following Charles since I was a student back in the 80's. Fabulous interior designer!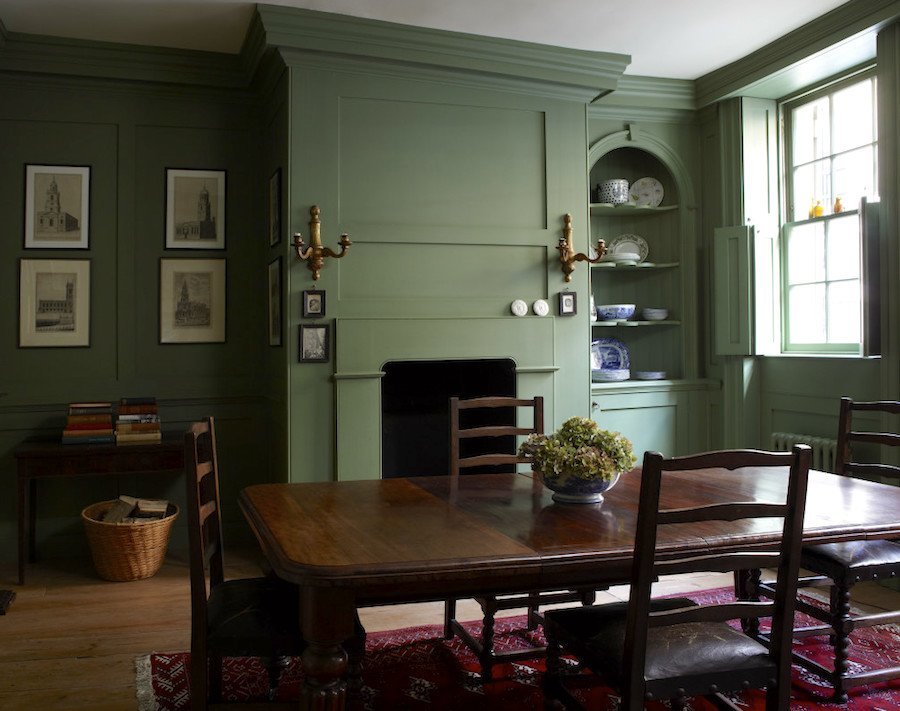 Farrow and Ball
Farrow and Ball CAULKE GREEN 34 
Is a true English library green, but could be used in other rooms as well.
*********
And here is the info graphic with all of the colors except for fresh-cut grass and the Annie Sloan color.
Spring has sprung in New York. The trees are finally budding, the birds are chirping. Interesting things are happening. Much more to come!
For more outstanding shades of green, please click here.
xo,