Dear Laurel,
I really liked your last post! However, I have just one little problem. My home has no foyer entry whatsoever. You open the front door and now you are in the living room. My husband and I just purchased this home and love it otherwise. It's a darling cape built in the 1930s. Oodles of charm, but at 1300 sq feet (two stories) is pretty small, although the living room is not a bad size.
Is there a solution to create that lovely sense of entrance short of building out the front entrance? Maybe one day, but right now, we don't have the funds for that project. I just hate walking straight into the living room.
Sincerely,
Nada Rien-Hall
*********
Dear Nada,
This is a very common issue and one that has some great solutions. Some are more costly than others and some are dependent on a certain amount of space. However, I have some interesting solutions to share with you.
What To Do When Your Home Has No Entrance Foyer
If there's enough space, consider putting up a wall or partition to create an actual foyer entry
Use furniture and/or area rugs to create a separation
create a welcoming feeling with tables or chests artfully styled
create adequate storage if necessary, but try to keep the area as neat as possible
attractive baskets and boxes can be used to store necessary items
if there is a tiny vestibule, it's quite charming to paper it in a pretty wallpaper
add visual interest with mouldings and wainscoting
a small cabinet or bookcase can make a good room divider
Below are several examples of homes that have no entrance foyer and the solution
Alright, truth be told. This is Billy Joel's townhouse in NYC designed by Nate Berkus. This is a brownstone and obviously, there WAS a foyer entry, but they took it down to create an "open concept" living area.
And they took down the wall between the living room and dining room too. Or at least made the opening wider. What a gorgeous place!
Therefore, point number one is don't worry too much if your home doesn't actually have a separate enclosed entrance or one that's obviously separate from the main living space. Here, separation was simply created with the living room area rug.
Lonny Magazine's Ashley Putman's small vacation home and again, it feels natural. A sense of entrance is created with the two tables beautifully accessorized.
Little Green Notebook
An old chest got a fresh coat of paint and a pretty vignette was created in the no foyer entry
From House Tweaking. Wonderful transformation with this very dated small home.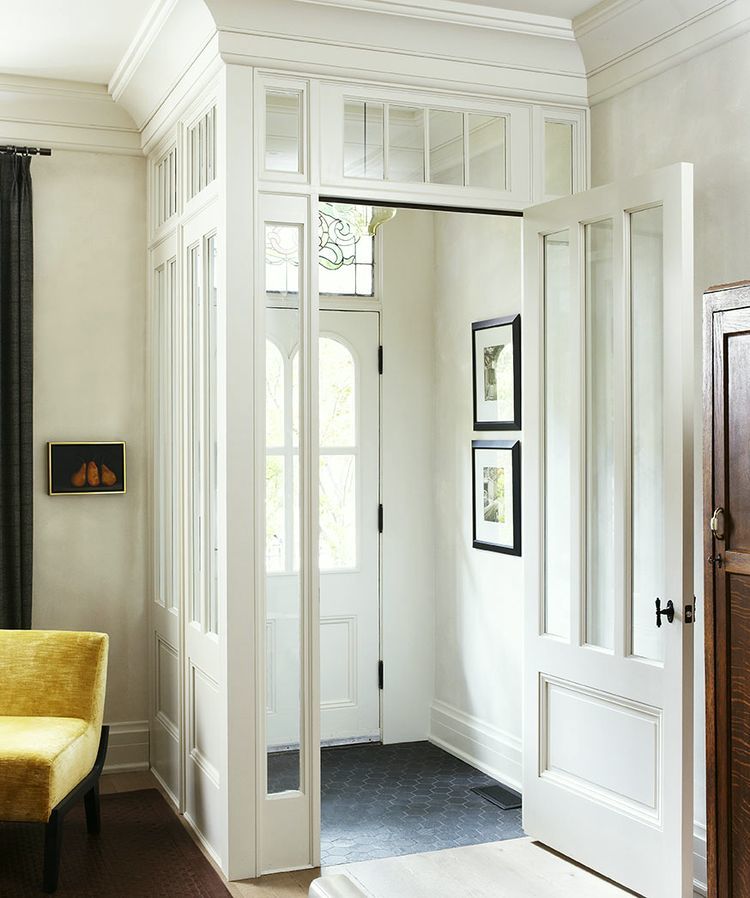 Douglas Design Studio
Another case where an old vestibule was taken down and a more updated one was added, still in keeping with the Victorian architecture. This is a great solution for those "polar vorticies" ;] and to claim a space to store wet boots.
via
A tiny vestibule with Farrow and Ball wallpaper
photo by David Papazian
For all of you Feng Shui lovers— the deal here is that there is no foyer to speak of AND the stairs are directly in front of the front door. They say that the energy of the house then escapes through the door. To counteract that, a partial wall was added and embellished with beautiful mouldings. Nicely done! If space permitted the partition could even be a bookcase on the living room side.
A show house room with the front door on one side and the back door on the other! In effect, the space between the two doors becomes a hallway! Great layout and design as always by Phoebe!
In other news… I am planning on having my first blog GIVE AWAY— very soon, so stay tuned for more info about that!
xo,

PS: If you enjoyed this post please share it with your peeps. [the little sharing buttons are below] Oh, and if you haven't already, please scroll back up and subscribe to the laurel home blog so that you will never miss a post. It's easy and rest assured that I will never share your email address with anyone else.