With your paint brush! :]
Oh, the lowly, lowly ceiling. It's the poor oft-forgotten step-sibling to that whiny drama-queen–the floor. Sweep me. Mop me. Vacuum me. Don't walk on me… I'm wet… Murphy's Oil Soap will ruin me forever! (that one is true, BTW) Meanwhile, the ceiling which is providing us shelter and light is meekly gathering cobwebs… ignored and forgotten. And it's a crying shame because I guarantee you that after you've finished this post, you will never look at your ceiling in the same way again.
This post about ceiling decor is  largely devoted to flat ceiling decoration, not so much  about coffers, tracery, vaults and the like. That is another post. This decor is either painted on or papered.
Folks, this was stenciled on. I have a lot of respect for someone who has the skill, patience and spinal column strength needed to accomplish something like this. If you like this or just want to fantasize about the possibility or can afford to have someone else do it, please take a look here. It's an incredible site filled with tons of wonderful images.
Here's the same pattern done on the wall, reversing the dark and light. I rather love it!
Gorgeous home of Lauren Weisbarth. You can check it out here.  Love the lacquer, but please be warned, if you want to try this, the surface has to be absolutely perfect!
Love this unusual pantry and that dreamy deep taupe ceiling. Photography by Evan Joseph
If this is the Butler's pantry, then I wonder what the rest of the place looks like? Kara Mann used silver leaf here and took it all the way around for a jewel-box effect. Elegant, ain't it?
Unusual elements in this contemporary kitchen by Mick De Giulio.    I think the gold ceiling fixtures make the space as well as the interesting faux finish on the ceiling. You can find the fixtures at Circa Lighting. Okay, yes… that's not the same fixture. Either the one above is discontinued or House Beautiful has their fact wrong. I did send a link to another very cool fixture designed by the fabulous Suzanne Kasler!
Sorry, I don't have a source for this image. I see a lot of painted coffers and every time, I love the look!
Rusticity meets Queen Elizabeth haha! and I love how they took the grandeur all the way up and onto the ceiling; very charming.
The hackneyed ceiling cloud mural is surprisingly refreshing and lovely in this dining room by British designer, Nicky Haslam. I hope that didn't sound like faint praise. I really love this room!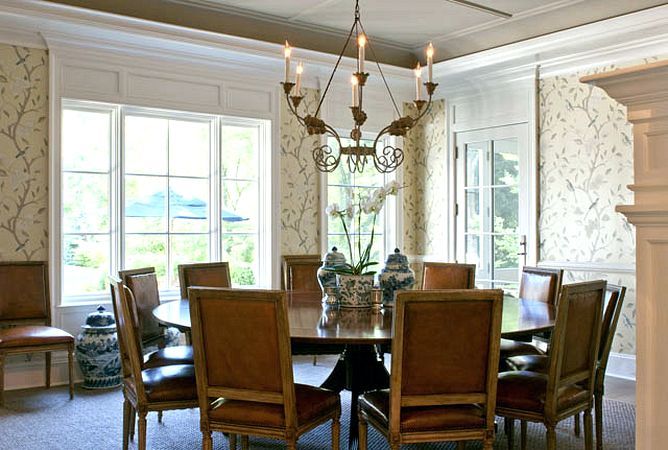 I think painting the ceiling the taupe provides great balance in this elegant dining room
And here too. While darker colors make a ceiling look higher, the deeper color also adds warmth.
White-washed boards in a beautiful room by Sarah Richardson
source unknown but looks like Benjamin Moore Quiet Moments. (one of my go to colors.)
Striking entrance by Laura Covington. Pale blue, grey, greens are absolutely gorgeous for ceilings.
Pretty hand-painted ceiling. I could see this in a powder room or some other small space.
Interior design magic by "it girl" interior designer, Mary McDonald. Analogous color scheme which always makes me a bit nuts (in a good way) punctuated by a gold leaf ceiling.
Repeating this from a previous post which you can see here.
These two above are repeats from the post on flush and semi-flush mount light fixtures which you can see here.
Cool, cool room by Mother-daughter brilliant team of Caldwell-Flake (sorry about the music. But, their work is great!)
 Lazaro Rosa-Violan  Those windows!!! The black makes the space oh-so-chic!
An oft-pinned room on pinterest by the incredibly talented designer, Annie Brahler Bjorn. I couldn't find a website for her, but here is a pinterest board devoted to her, here. Not only did she choose a very handsome and deep, warm grey-brown for the walls, she continued it on the ceiling.  Such a handsome, handsome bedroom!
Love how designers Deb DePeter and Becky Tellefsen took the paper all the way around to the ceiling. Again, I think this is a great look for a smaller space like this entry.
Love the instant warmth and texture of the grass cloth on this ceiling in this elegant room by interior designer, Brian Gluckstein.
Leslie May Covered the ceiling in China Seas for Quadrille Aga in reverse. 
source unknown
Can you get more dramatic than a red lacquer ceiling? Love this stylish room by the adventurous and immensely talented
Another oft-pinned room and for good reason, but unfortunately, not always credited. It is by the wonderful firm Bear-Hill Interiors. The paper is by Manuel Canovas. (now, called Canovas, represented by Cowtan and Tout)
An immensely elegant bathroom by Kerry Joyce.
I have a board on pinterest that I call "kids rooms (that can grow with them.)"  I hate BABY baby rooms. ya know? Okay, maybe you don't. Most traditional nurseries are what I think parents have some idea that since their offspring are tiny, they somehow will only like  tiny colors. Right?  But, never-mind, I know that most of you won't listen to me. It's okay. :] This cool, cool room (LOVE the chinoiserie chest) is by Kristen F. Davis. She said that she stenciled the star design, but it does come ready-made in wallpaper from Osborne and Little. Yes, you'll save money if you DIY in the short run. You might, however, end up spending more in chiropractic, physical therapy and surgery to correct your broken neck. just sayin'. :]
Whimsical and colorful room by designers John Loecke and Jason Oliver Nixon of Madcap Cottage. They are really fun! Oh, and that paper is Bamboo Lattice by Thibaut and I believe the drapery fabric is from Brunschwig & Fils.
Just plain cool, by California Interior designer, Emily Mughannam
Hey… just take the color all the way around. by Ken Fulk. He's one dude I'd like to have at a party, if I ever had a party. (You'll know what I mean if you see his website.)
Do you ever notice that everyone on House Hunters (HGTV) "entertains like crazy?"  Even if they've moved half-way across the world, within three weeks. OH, it's fake, you say? hahahaha…
Time to sign off! Starting some nice new projects.
xo,
Laurel (can't seem to download my signature or anything else. I think my program went to sleep!)
Related articles
Save