Hi Everyone,
Well, I was starting to write one post today, and then my phone rang. It was my upstairs neighbor who's been here for many years and is an architect. In fact, she and her architect husband originally renovated the apartment. Therefore, they know this place better than anyone.
Of course, our convo put a bee in my bonnet, so I thought it would be fun to go over what I learned.
And, also show you what I'd love to do with two of the doors in the living room.
First, a little background.
Below is the floorplan of the main floor.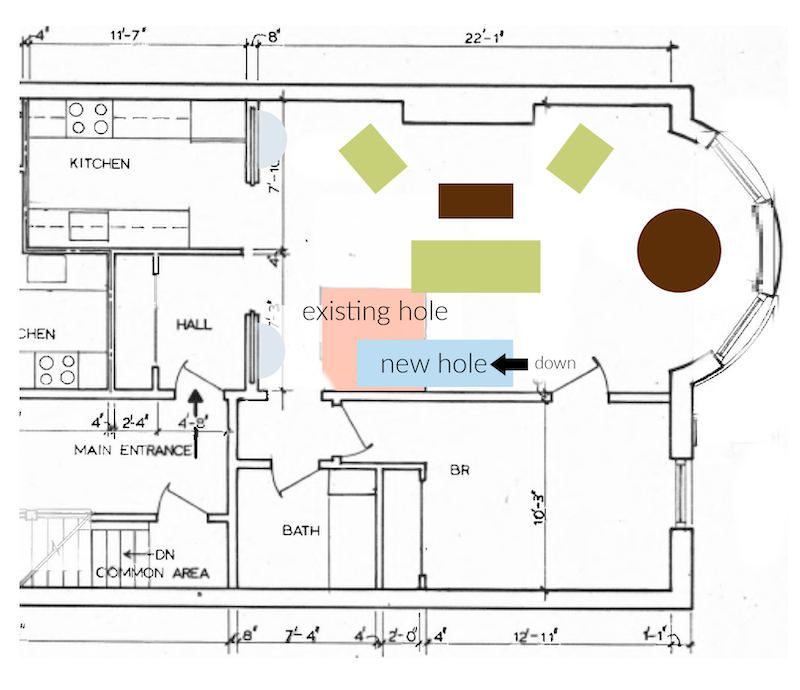 Please ignore the stairs and furniture for now.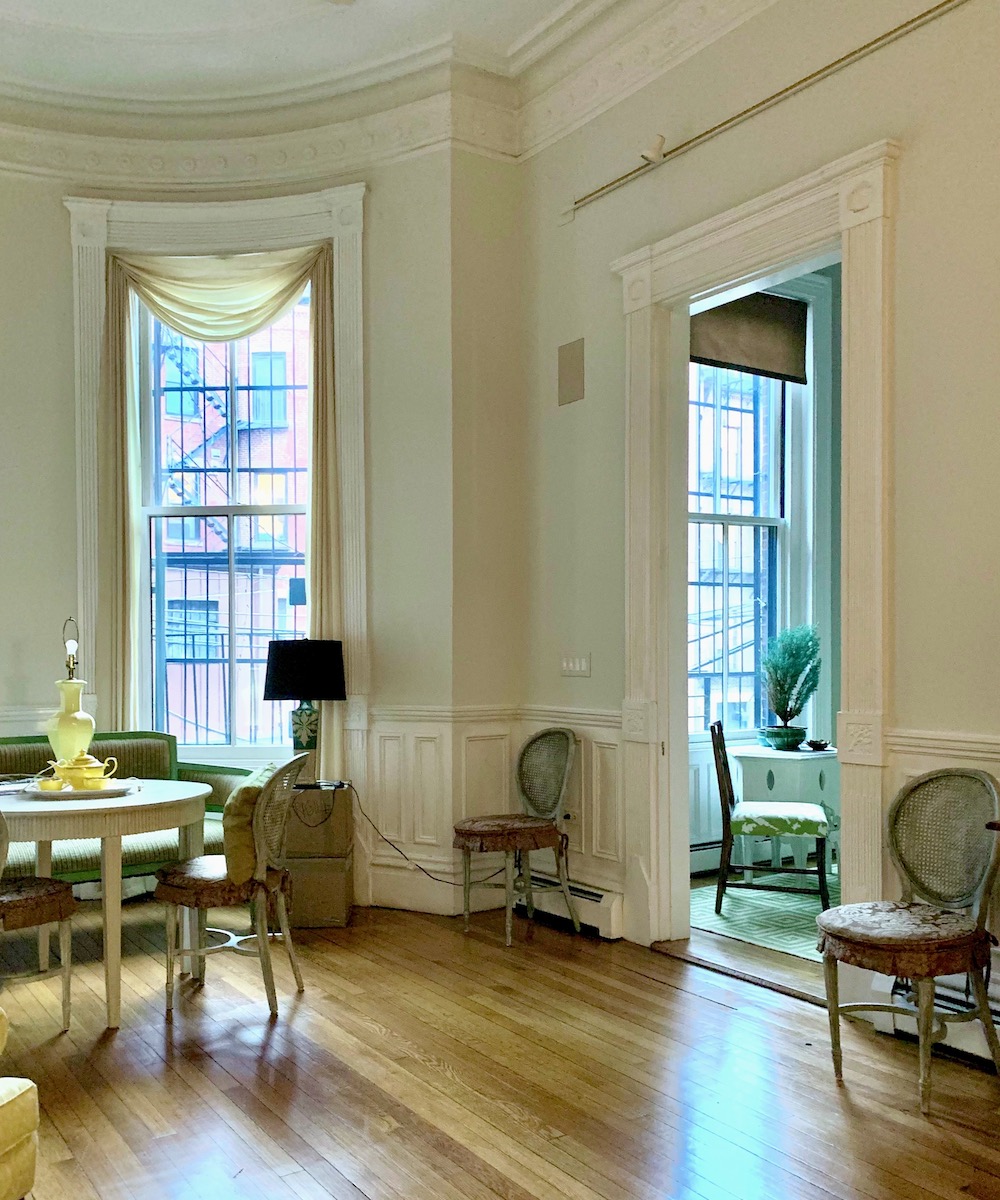 However, flanking that wall with the staircase, there are two doorways; one goes to the den.
The other goes to the bathroom and den, where there is a third doorway is the only one of those that currently have a door on it. But, as you can see, when the door is open, it's actually covering the entrance to the bathroom. That's odd because not only is there plenty of room to open the door into the room, into the room is typically how doors go.
But, not here.
Here you can see better that indeed there is another door that goes with the bathroom. The den is to the left.
There is a door, however, to the other entrance to the den.
Would you like to see it?
Of course, you would.
Here it is!
Why is it like that?
I'll tell you.
In the middle of the fastest real estate transaction in recorded history, I was asked if I wanted the door. I figured, sure. I don't know where it was being stored. However, as soon as I saw it, I realized that it was a mistake. I don't want it. The door is 35″ wide, NINE FEET HIGH, and two inches thick! Plus, it weighs a ton. I mean, I cannot move it.
It is in front of the closet because the Verizon guy moved it from the wall behind where the chair/lamp is now to in front of the closet and didn't put it back.
However, I would like a door from the living room into the den, just not that door. It does block the view. It's in the way.
On the day that I made my offer at the end of September 2020, the listing agent had a brilliant suggestion. He said, why not put up a transom and then a set of French Doors?
Immediately, I said, YES, that's perfect! And, while I'm at it, it would be great to have the same thing on the other doorway, just to the right of the spiral staircase.
I knew exactly what I wanted, too. In fact, I showed the basic idea in this popular post about my new bedroom. Although, for the rendering, I used a different transom. For one of my favorite posts about transom windows, go here.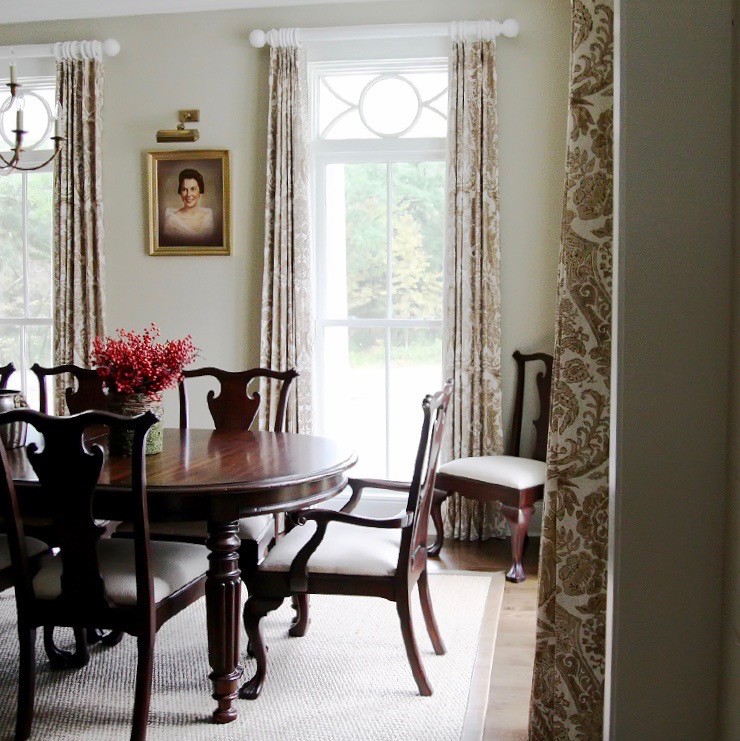 Above from a decade-old image from Urban Grace is the transom window I've always wanted.
The same window is in this beautiful Greenwich, CT home designed by Inson Dubois Wood.
We already know that we have nine feet to fill. That's 108″ to fill with the transom and two French Doors.
It will all need to be completely custom.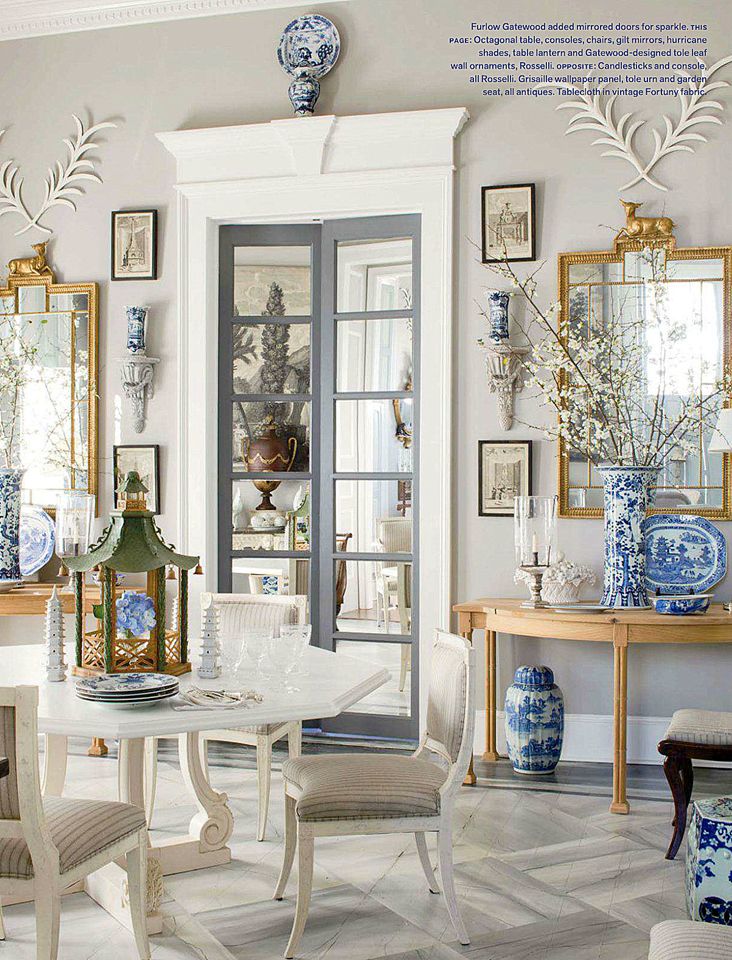 The French doors would look something like these that Furlow Gatewood designed.
So, here's what I came up with to create custom French Doors with a transom.
It's a little sloppy because to make it less sloppy would take hours. But, you get the idea. I love it, and it will be money, well-spent! I believe quite strongly that it's classic details that make a space special and memorable. In fact, I love these French Doors so much that I'd like to have a third set like this going into the den on the other side.
That is unless I put a closet there. I'm still not sure about that one. I do like the entrance into the den and the gorgeous ceiling detail.
In the meantime, what else did I learn about the apartment? Anything earth-shattering?
Let's begin with the killer spiral staircase. Remember, we discussed it at length very early on.
As I suspected, some steel beams are almost definitely running from east to west and supporting the fireplace and chimney. Does that mean that doing a straight-run staircase is out of the question?
No, it doesn't. However, it means spending a crapload of money. And, in the end, I don't think it'll be worth it. In the future, I'll be going over what I have in mind instead. It won't be cheap either, but it'll be safer and quite beautiful. Sorry, you'll have to wait on that one. But, for now, changing the opening is asking for lots of problems.
And, in the end, I don't really need a big sofa in here.
What about the fireplace?
Let's begin with the mantel. Which side were you on? Did you think it was original or not?
If you said that it's not original, you are correct. Nancy (not her real name) said that there wasn't much here when they renovated this place back in 1978. This mantel was salvaged from a home in Brookline, a suburb of Boston. I'm still in two minds about it.
However, if I decide to change it, I won't feel guilty about ripping out something original to this beautiful home constructed in 1880.
Oh, speaking of fireplaces, I ordered these beautiful Staffordshire dogs the other day. Believe me when I say that I've looked at a LOT of them. These weren't too expensive, but I love their sweet faces and detail in their fur, basic shape, and large size.
But, here's the good news.
I've already made an appointment to have the chimney inspected (January 20th) and cleaned if they deem that's the proper thing to do. However, today, I also learned that the fireplace had a complete overhaul about 20 years ago and is indeed lined! Hooray for that bit of good news! That means that, most likely, it only needs a good cleaning and maybe a small repair to the masonry in the opening.
One more thing. I really scored this week with finds. After searching on and off for nearly two years, I finally found a gorgeous vintage silver footed butler's tray with a gallery.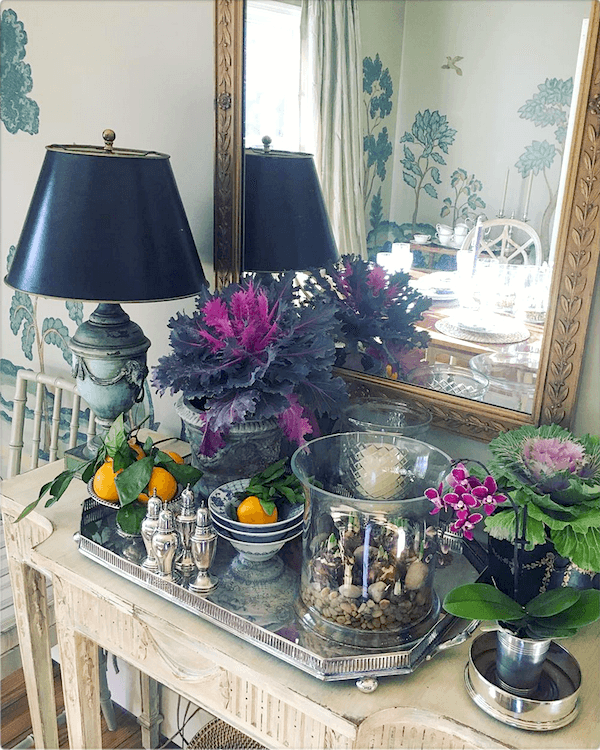 And, it also had to be in a hexagonal shape, like Maura Endres' tray. And, it had to be under $350.00.
One more photo with Maura's incredible styling. Please follow her on Instagram!
You'll see many more images that include her fabulous tray.
These date back to the Victorian days and were used by the butler.
Below is the tray I bought from circa 1930.
I love the gallery on this one. I love Maura's as well.
In closing, when I was unpacking, there was a quart of paint in the linen closet that had been used in the bathroom. It said Benjamin Moore – Marilyn's Dress 2123-60
Marilyn's dress is one of the cool grays in the Laurel Home Paint and Palette Collection! That made me smile to see that.
It feels so wonderful being here. I'm blessed with lovely neighbors. And, enjoying feathering my new nest. I'm quite excited about those French Doors!
xo,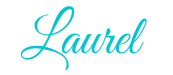 PS: Please check out the newly updated HOT SALES!