Two days ago, I went for a visit to my lovely client in Larchmont who just had a room full of furniture delivered.
This was the room last January. I wrote this post about our plans to create a room where Mom and Dad can entertain grownups.
In an effort to branch out, we made a little spur of the moment video. It's only 55 seconds and you'll get to see my ass for nearly half of it as I walk away from the camera. haha. I put it on GOOGLE-TUBE first. And some of you may have seen the 15 second teaser on instagram or facebook.
Alright, well, that was very in-depth, now wasn't it?  Well, it's my first attempt. We'll get better at it. But never fear, because I'm going to spell it out here in the blog post.
6 Easy Ways To Style a Chic Side Table (including night stands and small consoles)
Something tall – usually a lamp
Something horizontal – usually books or a small tray
Something sculptural or organic like a plant
Picture Frames? Maybe one, on a nightstand
Think in threes
Think composition, color and complementary materials
In other words, if it was a wedding gift, it probably won't go with anything else you have. :]
 Inspiring Ideas To Style A Chic Side Table
via Skona Hem.
The ceramic pieces have a similar weight and feel.
Little Green Notebook. Fabulous post about how Jenny Komenda turned the legs gold with Rub 'N Buff; one of my favorite products for instant "gilding."
I've posted this before. From the living room of the big Bronxville House. The client had the leopard rug and bookshelf. Everything else we did together.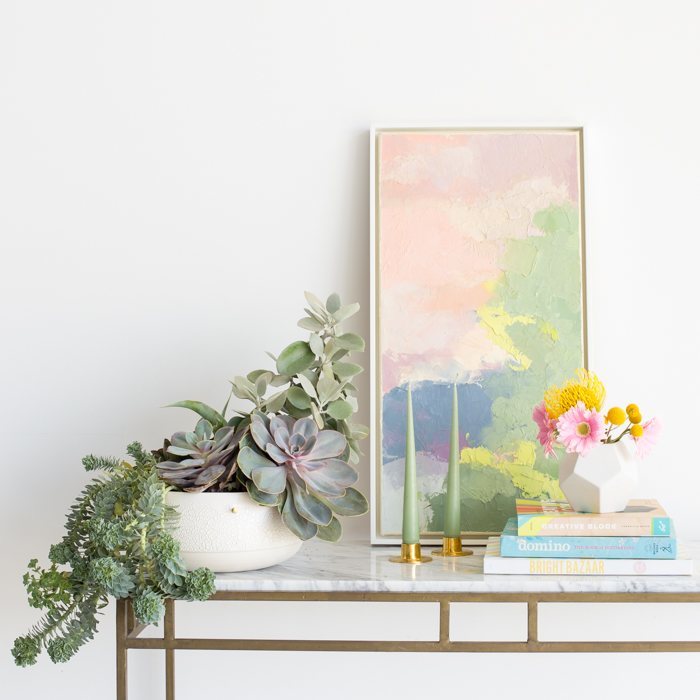 Emily Henderson
Alright, this is technically a console table, but the colors are so pretty and it's so well done, I couldn't resist putting it here.
Suzanne Kasler for Ballard Designs.
Sweet little side table.
Charming vintage feel. Martha Stewart Livng – October 2007
Danielle Moss Apartment Therapy
Interesting side table used as a night table. Beautifully styled table and a lovely mix of yin and yang.
House Beautiful Style Writer, Sarah Bray
Mount Pleasant Road Co.
I was going to include ten of my favorite side tables. And some rules of thumb, but then it was starting to get very loooooong, so we'll save all of that for another post!
Happy Sunday!
xo,

Please check out the newly updated HOT SALES!