Hi Everyone,
Tuesday night's post looked at 12 classic dining tables. And, as promised, we are going to look at numerous dining chair and table combinations.
It's one of those things that we're cautioned not to make the dining chairs and table too "matchy-matchy."
So when it comes to choose a dining chair or chairs to go with one's dining table, how do you know if it's going to work or not?
And, which comes first, the table or the chairs? Or do you have to select the dining chair and the table at the same time?
Those are very good questions. Thank you. ;]
I don't think that you have to decide at the same time. For instance, let's say you're on vacation and you walk into a consignment shop and find THE perfect dining table. It's the one you've dreamed about having. And, impulsively, you get it.
Just wait until you get the shipping bill to get it from San Francisco to Bethesda, MD. hehehe But, that's another story.
Of course, there could be a chair that you've had your eye on, as well.
In fact, a very good friend of mine purchased some chairs from such a shop, but local to her. (smart) and she also got four lovely vintage chairs for a song. Great job.
Of course the dining chairs and table need to coordinate with the rest of the furnishings. This is why you need a plan.
Here's the other thing. All tables will look great with a number of different chairs, but within a certain parameter.
But, here's the problem with many chairs in the marketplace.
Can you guess what it is?
It is the same problem as with a lot of other furniture in the marketplace.
I'll end the suspense and tell you that the problem is that many chairs are too big.
Admittedly, some 18th century dining chairs are a little too small. But, really, just a little for the average person. At 5′-7″, I'm pretty firmly in the middle between most men and women.
But, there's only one way to explain the issue at hand.
Let's begin.

Exhibit A
Is the ubiquitous "traditional" dining room set.
Now, before I ruffle some feathers; I'm fully aware that some of you may very well have a dining room set like this or something along this vein. And, it's fine if you bought it because you love it.
My only point is that this is NOT traditional. That is, unless "tradition" began sometime around 1980.
When I speak of traditional, I'm talking about the heydays of classical style. And those dates are largely from around 1750 – 1850. There is no style from that period, in any country that is remotely like this chair.
But, let's take an even closer look at this monstrosity chair.
I'm trying to wrap my mind about what on earth is going at the bottom of the hind legs.
Is that some kind of necrotizing fasciitis of the chair leg?
Or, did the poor thing simply poop all over himself and forget to clean himself up?
Sorry.
No, not sorry.
There is no such chair leg that exists in the history of all mankind.
It's vaguely like a Queen Anne. But, a Queen Anne on acid.
As for the size of the chair.
It's 45″ tall.
The average height of an 18th century dining chair is about 35."
Now, to be fair, there are some classic chairs that are meant to be tall. But, this isn't one of them.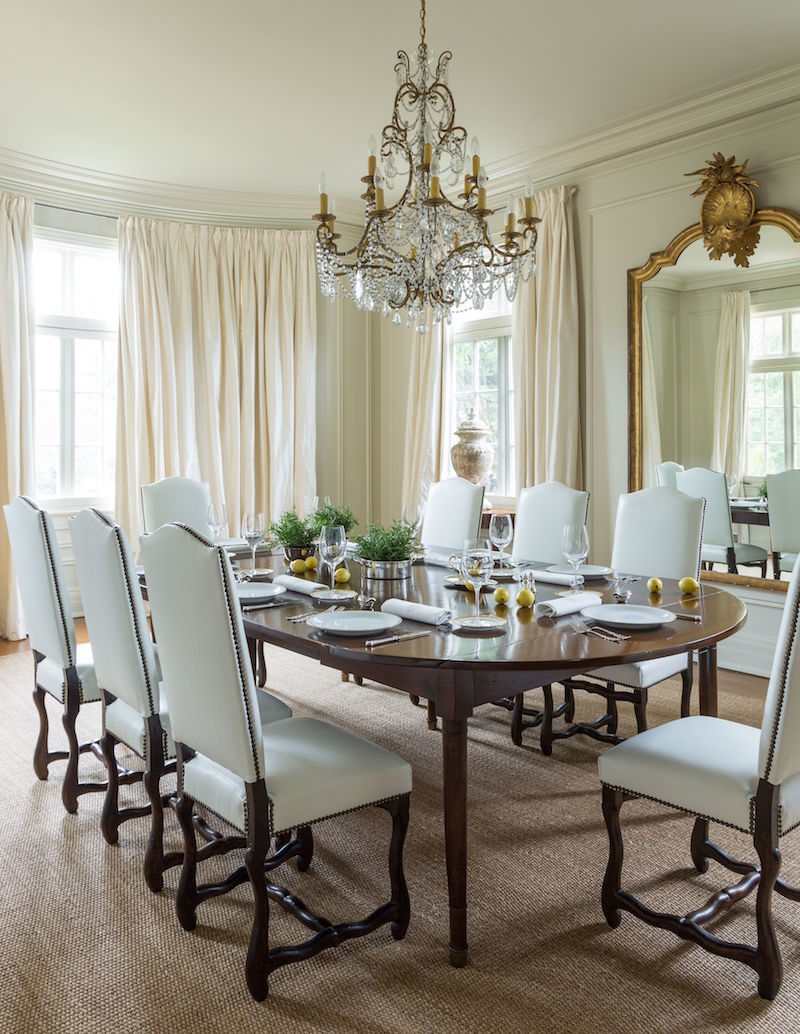 An example of a dining chair that's meant to be tall is this traditional English, maybe William and Mary style chair. This handsome dining room is by Rivers Spencer. However, this simple drop-leaf mahogany table would look great with just about any classic dining room chair.
The William and Mary style dates from about 1695 through the mid-1720s. It is named for the king and queen who reigned together over the UK in the late 17th century.

Okay, now we've seen what NOT to do; or, at least what I think should not be manufactured in the first place.
Let's jump into the classic dining chairs and then I'll pair them with each of the 12 tables
But first, what IS a classic chair?
A classic chair is one that's stood the test of time. It is a recognizable style from the 18th through mid-20th century.
Elizabethan (1520–1620) – Heavy and ornate
Jacobean (1603–1625) – very heavy, ornate and not always upholstered
Baroque (1600 – 1700) – quite ornate, lots of fancy gold pieces called ormolu and inlay
Carolean/Restoration (1660–1685) – heavy, walnut, dark
William and Mary (1690–1730) – also heavy, walnut, dark
Queen Anne (1702–1760) – more delicate, curves with cabriole legs usually
Rococo (1730–1770) – ornate but more feminine than Baroque
Neo-Classical/Georgian, Colonial (1750–1830) – Chippendale, Sheraton, Hepplewhite era
Regency (1762–1830) – Another classical style
There are a bunch of styles after this such as Victorian, Art Nouveau, Arts and Crafts and Art Deco. But, I'm not going to concern myself with those right now.
Much of Victorian was either a redoing of the 16th-18th century styles. The ones in bold, above, we'll focus on.
However, another style which I know I'll get taken to the mat if I don't mention is the ladder-back chair. This is a style all will recognize as it was the chair of the masses in Europe. It was also very popular with the Shakers in America. And, is still popular to this day.
Antique ladderback chairs from 86 Home on Etsy.
And yet, even these are only 40″ high!
And then, we'll jump to the mid-20th century modern as our final classic style.
Now, this is a blog post, not a text book. I took a year-long course on furniture history. But, of course, there are many variations on these styles depending on the country.
One of the most popular is the Gustavian Swedish style which ran concurrently the last four styles in the main list. Gustavian furniture to my knowledge is always painted. At least the chairs are. And painting IMO, always makes a dining chair seem less formal, no matter what style it is.
So, let's talk a bit about formal/traditional and when does it make the leap to casual?
I think that we can all agree what makes for a truly formal, traditional dining room.
All of those "period rooms" at the Metropolitan Museum of Art, for example.
Formal dining chairs are usually a dark wood and in the style of the late 18th century. Anything in the style of Chippendale, Hepplewhite, Sheraton in a medium to deep wood tone is what I deem to be "formal." The Queen Anne style is also formal.
Above is Thomas Jefferson's Monticello. The shield back dining chairs look to be in the style of Thomas Sheraton.
Museum of Fine Arts Houston – period room- Bayou Bend – Massachusetts Room
Above, another fine example of a traditional parlor where tea would be served. Hmmm… That's looking very much like Pantone's color of the year! Finally, a deep rich blue. I've been longing for this for the last five years!
However, today's "formal" dining room can still have a youthful, non-museum style to it.
Above, one of my boards from the Laurel Home Paint and Palette collection. This is very similar to the table that's second from the bottom. You don't have to look now.  Here, I mixed a Chinese Chippendale style side chair with a vintage tufted arm chair. These chairs, I believe, are from Ballard Designs.
By the way, if you purchase the paint/palette collection, or Laurel's Rolodex or the Six Figure Income Blogger or any combo, you'll get the new rules guide for FREE. And, if you missed it, part II is coming out in one week. The 14th.
Above, in a gorgeous dining room by Loi Thai, A Gustavian Swedish chair in the Queen Anne style. Usually, you see these chairs in stained wood. They're so much lighter and friendlier painted, I think.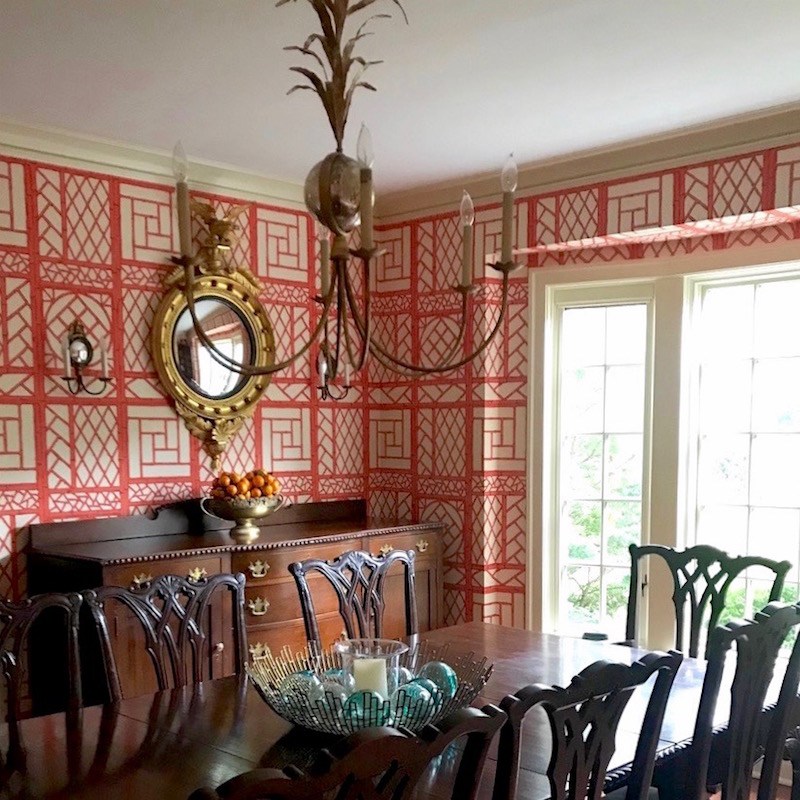 Sarah Wagner's gorgeous new-trad dining room, features traditional furnishings and that gorgeous Quadrille wallpaper. For more of her lovely home, click here.
Okay, that's nice, Laurel. But, what about "transitional" dining chairs and dining rooms. Where does that fit in?
I'm glad you asked that. In my opinion, there is no such thing as "transitional." It is a term that furniture manufacturers made up to explain their made-up designs that don't fit squarely in either classic traditional or modern styles. However, it doesn't mean that their "transitional" styles are bad.
I see them falling under the umbrella of contemporary. That's all. And, maybe there will be another post about this. But, for now, let's get into our dining chair and table combos!
Sorry, hold on a sec, because this is important. Before we get into the tables and chairs, I want to go over what I feel are the best proportions for a dining room chair. And, a few other things.
Dining chairs come in side chairs and arm chairs. And, you can certainly do the armchair version of the side dining chair. I feel it's a more formal look, but it's absolutely fine. However, I did do a post with some cool chair combos. That one didn't focus on the table, however.
My Ideal Dining Chair Proportions
Side chairs are usually from 18″-22″ wide.
The seat height is from 17″-21″ but the average is 18-19″. In addition, I've also seen some very low seats on antique chairs. Maybe 16″.
My preferred over-all height depends on the style of the chair. However, for most chairs, my preferred height is from about 34″-39″
However, there are some side chairs that look good taller, like Jacobean, Queen Anne, and some ladderback chairs. Oh, and wing chairs.
In addition, if your ceiling height is high, a higher back is fine.
Arm or Host Chairs
The arm or host chairs can be the same size or taller, depending on the style. For instance, a small wing chair used as a host chair could be 15″ taller than the table. The only exception is if doing a barrel chair as a host chair.
Above is a barrel chair I've done more times than I can count.
These are about 32″ high and I think it would be fine to do a side chair with them that's 35″-37″.
Here it is again in another room we did a few years ago.
Dining chair arms are usually from 4″ to 12″ above the seat depending on the style of chair
I read recently that the arms of the dining chair need to be able to go under the apron of the table.
Well, if space is tight and it's a major pathway, you might need this. However, most dining room arm chairs are set back from the front of the seat, in any case. In addition, I feel that chairs look best not pushed all the way in, but maybe only a few inches under the table. When people are sitting, it should not be a problem. Nobody tucks their chair under the table while sitting at it.
Below are the 12 dining tables from Tuesday's post. And, underneath each table is a mini widget of four chairs.
Underneath the tables will be an explanation and some other ideas. For more information about any of the chairs, just click on the individual image.
If you'd like to know the source of the tables and more information, please refer back to it here.
I hope that my explanations are clear. Of course, there are hundreds of options, but this at least, should give you an idea. Most of the chairs are quite affordable.

The first two chairs are from Williams Sonoma Home. The blue chair is an adaptation of a parsons chair. There are tons of them in the marketplace and I'll be linking to one I like a lot that's quite affordable.
The third chair (blue and white) is from Anthropologie. It comes in other fabrics.

I love wicker in dining rooms. I had two wicker chairs in my old dining room that I paired with my antique painted oval back chairs. Oh, there's a photo somewhere, but I don't know right now. I realize that's lame, but there's much to cover.

The first chair is an outdoor chair from Pier I. It's great looking and inexpensive. Next are some vintage chairs very similar to my oval back painted chairs. These could be painted as well. The next chairs are really interesting. They have a rustic Queen Anne look to me. And, I would actually mix it with the wicker chair on the ends.
Or you could always do a slipcovered parson's chair. (It's coming up)
Below is the Serena and Lily Reese dining table. And Frankly, this table is so versatile, you can hardly go wrong.

Ahhh.. there's the Parson's chair. That one is from Target, believe it or not.  The chair on the right is from Serena and Lily
The Traverse extension table (below) is practically the same table except it's less expensive and it extends.

I think the first two chairs would look terrific together. But always check finishes first when ordering from two different companies. That is, unless you're prepared to paint one of them if it clashes.
The Wishbone chair is a classic design that you'll find at numerous companies. This one is from Wisteria.

For the Ralph Lauren table, I thought it would be fun to do a Vicente Wolf. What is that, you ask? Well, he's been known to mix three chairs around a round table. The painted Queen Anne style is from Wisteria. You could also pick only one of these and just do that.

We saw this table on this recent post and you can see the two chairs we chose. All the furniture is in and looking great. I'm going there on Monday, so I'll take some photos.
The second chair above, is from Wisteria. And the two on the right are from Serena and Lily. Since this table expands, you could do both of these chairs together. I would do four of the white ones for every day use. And put the two indoor/outdoor barrel chairs somewhere else until needed.

I see this table in a breakfast area or apartment. I think any of these chairs would be charming. The one on the left is an indoor/outdoor chair. One of you asked about what to do with young children?
I wrapped my kids in saran wrap. ;] Hope that helps!
But really. There are so many wonderful indoor/outdoor chairs. They're comfy and you can hose them down. What could be better than that?

The chair on the right is from Wisteria and a classic oval back chair. The originals would've been from the late 18th century at the time of Louis XVI.
And, for the more formal tables

The chairs on the left are part of a set of gorgeous antique chairs I found on Etsy. They are probably in the Regency style. But, they also say Louis XVI in the listing. Lovely lines and scale. The side chairs are
37″ H x 19″ W x 20″ D x 18″ Seat height

Third from the left are Chippendale style chairs. But these vintage chairs are in a great scale:
H: 38" x W: 22.5" x D: 23.5" x Seat-H: 20.25"
The chairs on the right look to be in the Regency or some other neo-classical style. That would be in the early to mid 19th century.

This is a classic table.
The top is a bit shiny for my taste. If that was knocked back some, the table would still be formal, but not so precious. I always specified a French polish which is layers of wax buffed to a beautiful patina.
The ribbon back chairs are another Chippendale style.
As for the oval cane back chairs, I would paint these. They would be beautiful in a gray-blue like mine.
Wait. There's a glimpse of one of mine! Hooray!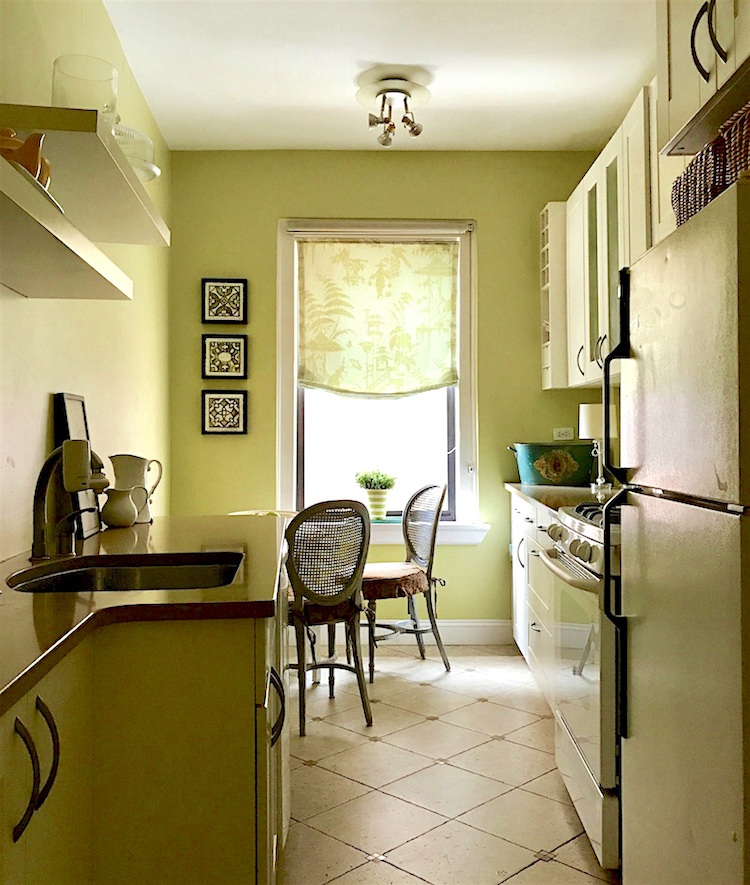 Here there are again, in my kitchen.
Well, I hope this gave you some good ideas about dining room chairs and what dining chairs might look good together.
There are so many possibilities. We've only barely scratched the surface!
Please pick up your rules guide here, if you'd like one.
And, the hot sales are newly updated with many new beautiful things to see and many wonderful holiday-time sales! Also please check out the holiday shop, crammed with great ideas for holiday gifts and decorating.
xo,