Hi Everyone,
It's so weird. I was thinking that surely I've written this post before.
But, I looked and looked and came up dry regarding this particular topic solely. And, while I have definitely talked about Chinoiserie Wallpaper Panels, (most recently in the high-low Ralph Lauren post) I'm continually finding new sources.
So, here are the latest findings. (I'll be linking to the oldies throughout the post)
Anyone who's been reading my blog for at least a year, knows that I'm mad for Chinoiserie— everything! And, nothing gets my juices going into over-drive faster than some gorgeous Chinoiserie Wallpaper Panels.
Well, almost nothing. ;]
First of all, what ARE Chinoiserie Wallpaper Panels?
The Chinese Garden by Francois Boucher
We've discussed that Chinoiserie which had its roots in the 18th century is not Chinese. It originated in Europe as a fanciful depiction of what the artists of the time imagined this exotic eastern culture and life to be like.
That is, in terms of paintings, fabrics and wall coverings. The porcelains from China are authentically Chinese.
Remember this post from four years ago about the Chinoiserie vase that was 7.66 MILLION DOLLARS?
No, of course you don't recall that post. I know that you don't remember because hardly anybody read it! haha.
Well, you can't win them all.  But, it was about a trip to the Metropolitan Museum of Art with interior designer Meredith Heron and her husband. It was a fun day. And you should click the link. I mean the vase is nice, but so are the ones from Legend of Asia. Quite frankly, I couldn't see much of a difference.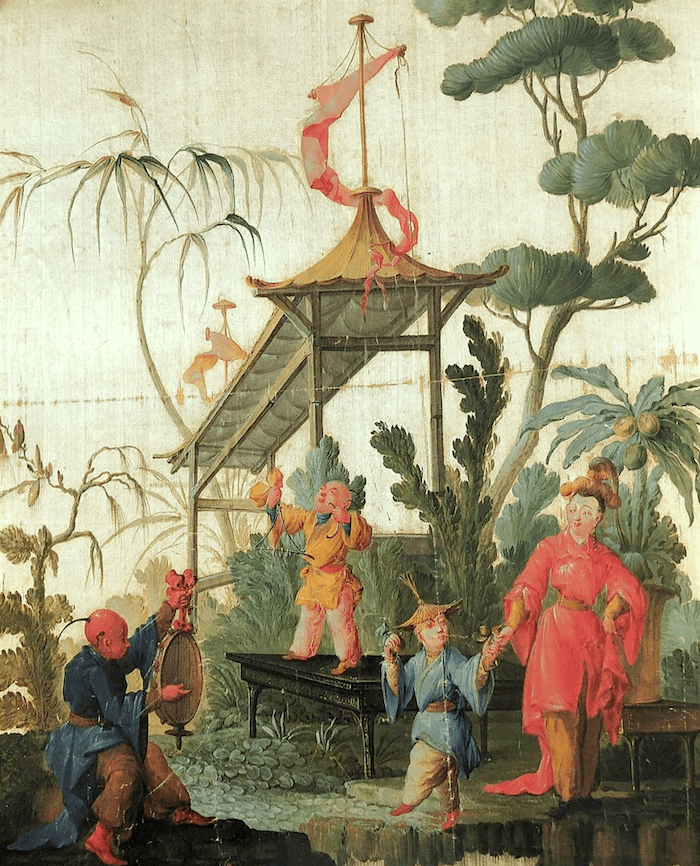 Above is a mid-eighteenth century painted silk panel – Chinoiserie wallpaper panel – via @nicolefabredesigns – instagram
Michael S. Smith – Photo – Ricardo Labougle
And, who isn't swooning over these antique Chinoiserie wallpaper panels in his newish digs in Madrid.
If you're not swooning, okay. But, if you are, these antique beauties, of course, are anything but affordable. Please check out my post dedicated to Michael S Smith.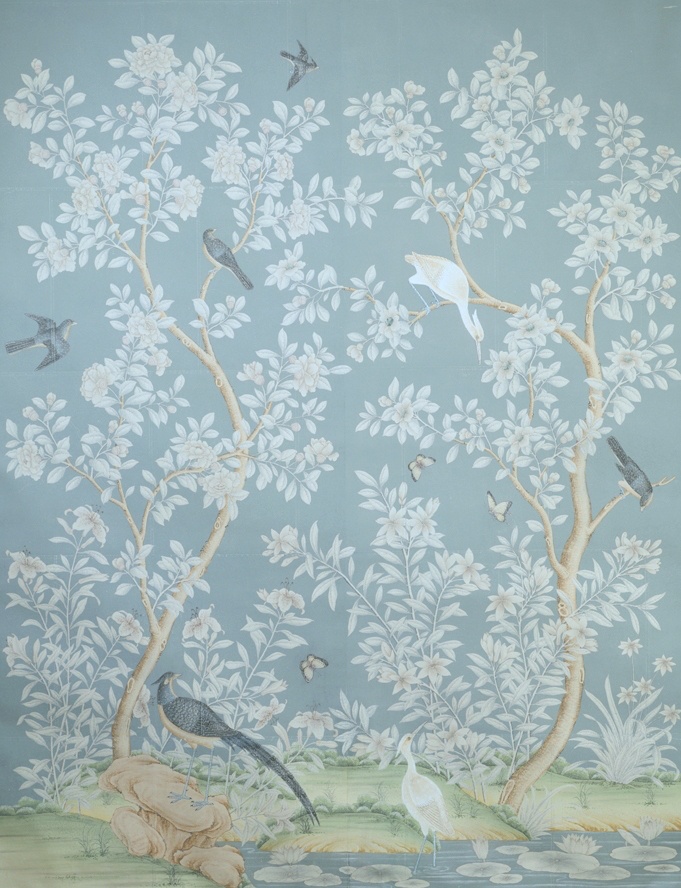 Above and below via Mark D Sikes.
Mark has become synonymous in his designs for regularly using Chinoiserie wallpaper panels.
His favorites are by Gracie. Mine too!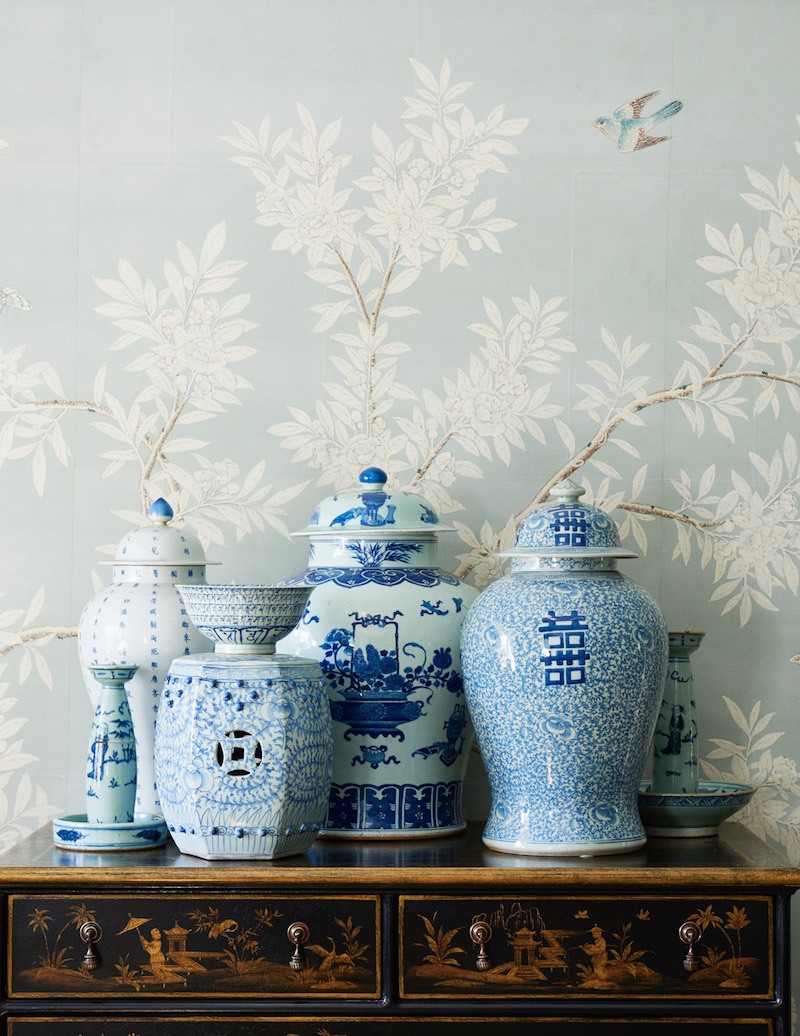 Mark's work has been featured numerous times on this blog. You can see those posts here.
Or, please visit Mark's portfolio and terrific blog for more of his style.
Here are some other posts which feature Chinoiserie wallpaper panels and murals.
And, this post does have some affordable options, as well.
When I'm speaking of Chinoiserie wallpaper panels. That means that it could be fully papered or the panels could be in frames. I like that look a lot and if they are separate frames from the wall, then of course, they are easily portable.
I've found a few new (to me) designers who are doing lovely work with Chinoiserie wallpapers.
Love this new-traditional dining room by M and M Interior Design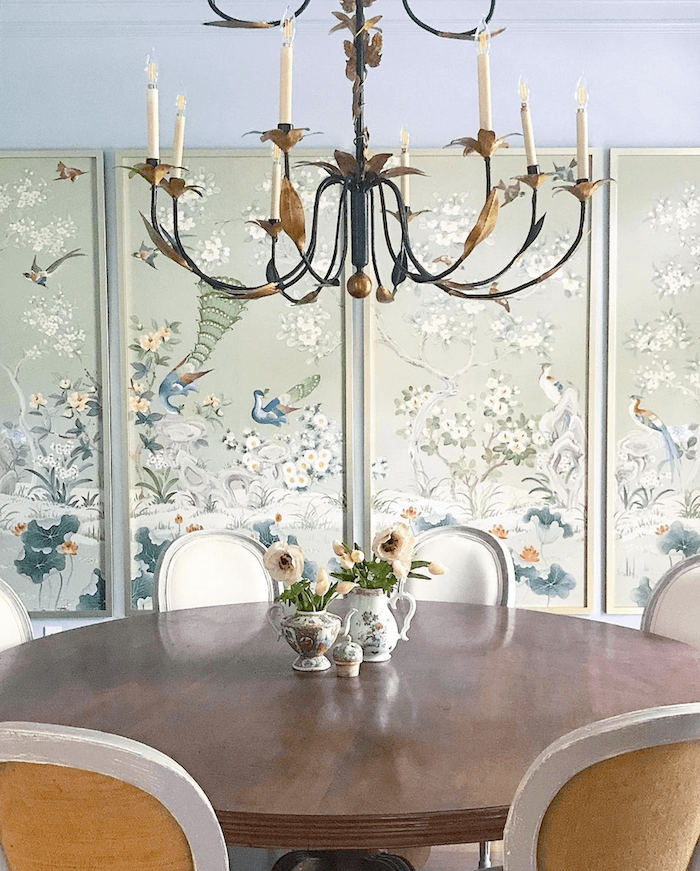 Another beautiful dining room, this time with framed Chinoiserie panels.
via @jessicalevantiques @jenniferbarroninteriors on instagram
I think that these panels are so pretty. I'm not sure if they are hand-painted or not. They are from Natural Curiosities via The Well Appointed House. I featured N C's cool art and furniture in this post.
But, recently, I've some new options to get the look for less than the most expensive hand-painted panels from Gracie and De Gournay.
@collectiveandcompany – instagram
These framed pieces are only $1,799 for the set which I think is quite reasonable. They have only a few styles so far. Beautiful instagram page and website here.
There are some affordable companies selling Chinoiserie wallpaper panels and murals on Etsy.
There are no reviews for them. However, I had a question for the owner and he got right back to me. That's always a good sign. :]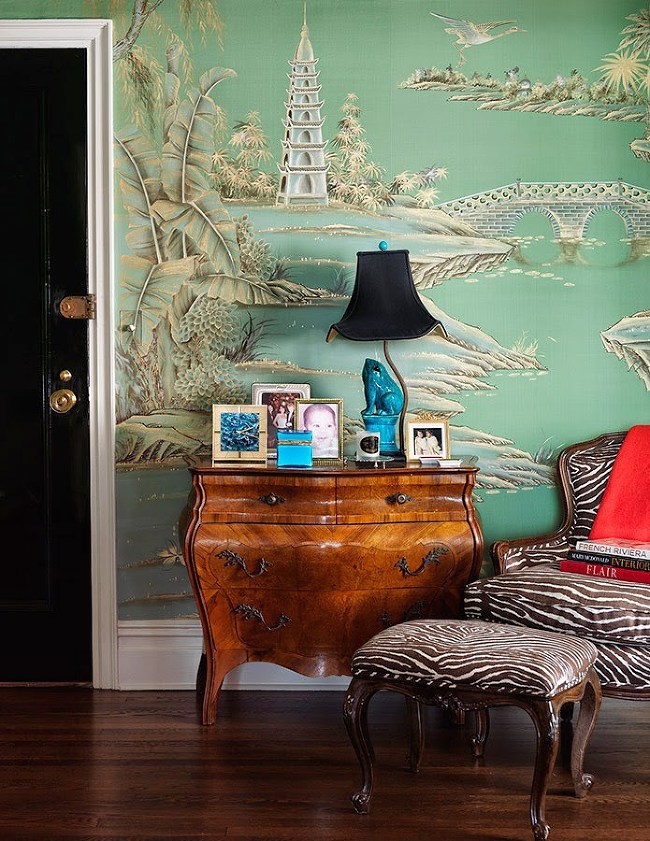 This is a paper they make. Now, I also found this on a real estate listing in New York City. haha. And, the paper is probably a De Gournay design. So, what's the deal?
What I think happens is that people who formerly painted in China for these companies, leave the companies and then start their own business. So, the designs are very close to the originals.
The other company has a ton of reviews and they are all exceedingly positive. The name is similar too. This one is Chinese Home Decor.
hand-painted Chinoiserie wallpaper panels – Etsy – Chinese Home Decor
These sell for far less than their originals on De Gournay.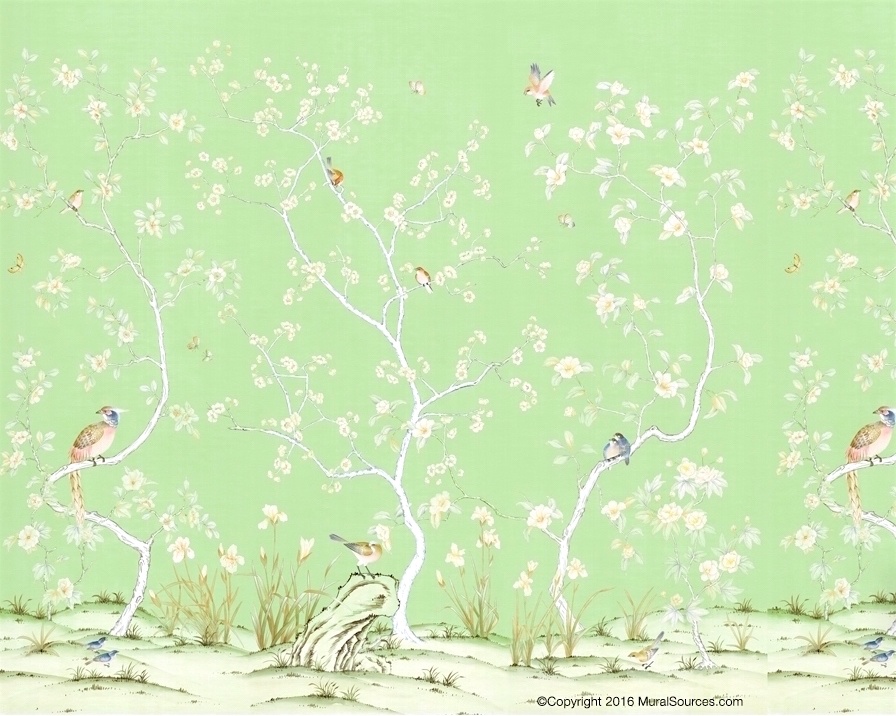 And of course, my favorite source for affordable Chinoiserie wall panels is Mural Sources.
You can see more mural sources here in my not-yet-finished bedroom.
Below is a widget of some other Chinoiserie wallpapers from a few sources.

Hope that gave some of you some new sources for Chinoiserie Wallpaper Panels.
xo,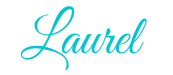 P.S. – Please check out the newly updated Hot Sales Pages and also the Mother's Day Guide.